Want to live dangerously and bake a cake simultaneously? Well, this apple crumb cake recipe will allow you to do both.
Mickey's Cake
We also call this cake "Mickey's Cake," after the mischevious hero of Maurice Sendak's In the Night Kitchen. This is because the cake is best baked the night before you plan to eat it. This leaves time for the flavors to meld overnight. It also makes an excellent breakfast.
Now, you may be thinking that the "living dangerously" part of this recipe is in reference to Mickey's (mis) adventures. As you may recall, he nearly gets baked in a cake. He also wears a cake batter suit, flies a dough airplane, and falls into an enormous jug of milk. We always feel very relieved when we get to the end of the book. We also always wonder how Mickey (or really, any three year old boy) survived to adulthood.
In fact, the "living dangerously" is in reference to the controversy surrounding In the Night Kitchen. Some readers hate this book because of Mickey's frequently naked state. Who knew?! In belated honor of Banned Book Week (September 26 – October 2), we'd like to celebrate Mickey and his very controversial but anatomically correct nudity (yes, it pays to have a urologist in the family) with this recipe. So, with this in mind, give In the Night Kitchen another read. Ideally, please enjoy a slice of this delicious apple crumb cake recipe alongside the book — and live dangerously, friends!
A Very Short History of Apple Crumb Cake Recipes
Fortunately, this year, Banned Book Week coincided with our serendipitous discovery of Luisa Weiss's fantastic Classic German Baking, which so clearly revealed the German origins of this recipe. It is perhaps properly known as Apfelstreuselkuchen — yep, say that one three times in a row! And so, we will leave you with this fantastic quote from Saveur on the topic of streusel: "Crumb cake is Germany's gift to baking." Amen, Saveur, Amen.
Useful Tools for Making this Apple Crumb Cake
An Apple A Day…
In addition to having a urologist in the family, one of the Eat Dessert First sisters is also married to a gastroenterologist. He lives by the adage "an apple a day keeps the doctor away." His version of this is to eat a fresh apple every day. Our version of the adage is to bake a lot of cakes containing apples. If you fall in the cake camp, here are some options for you!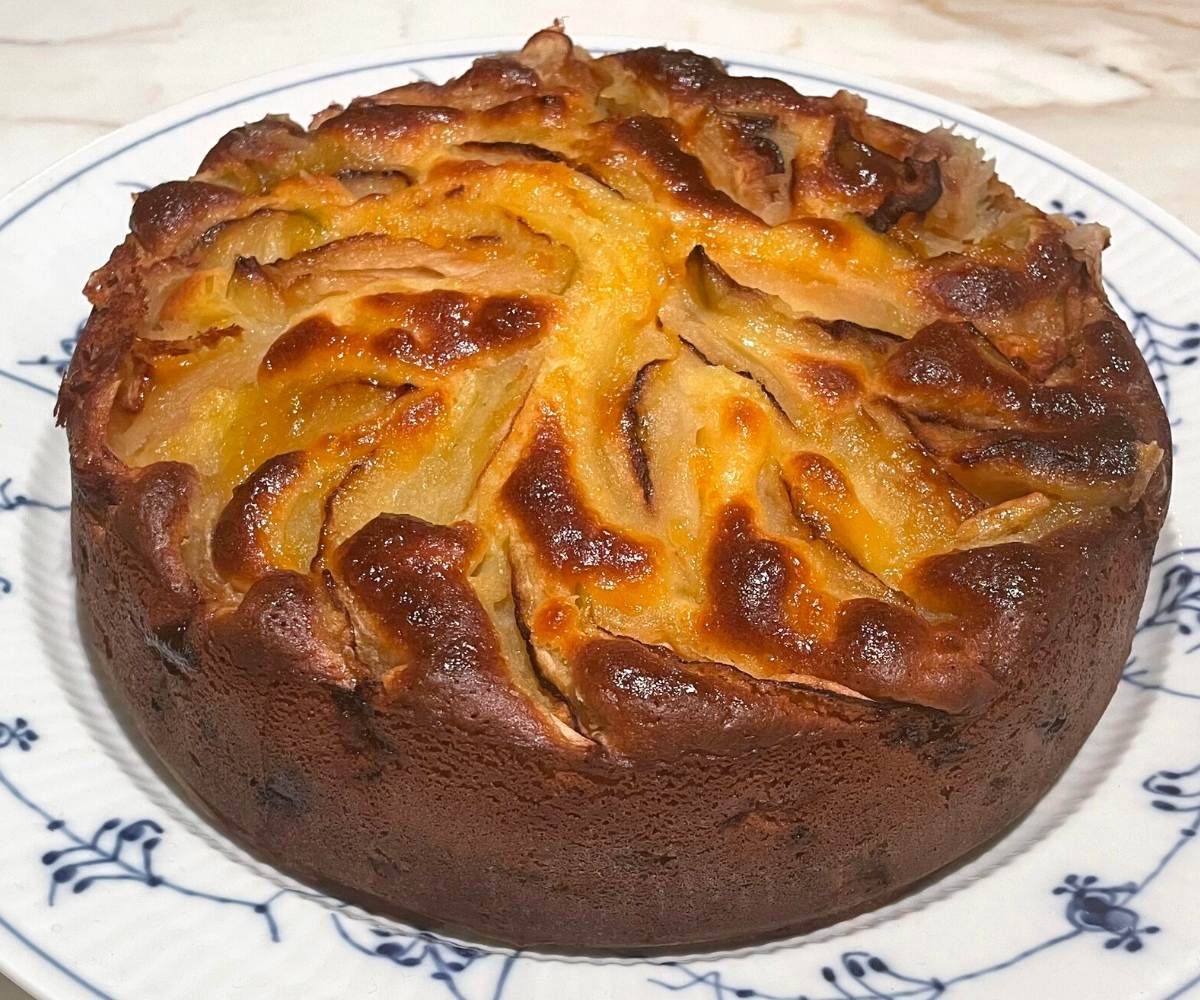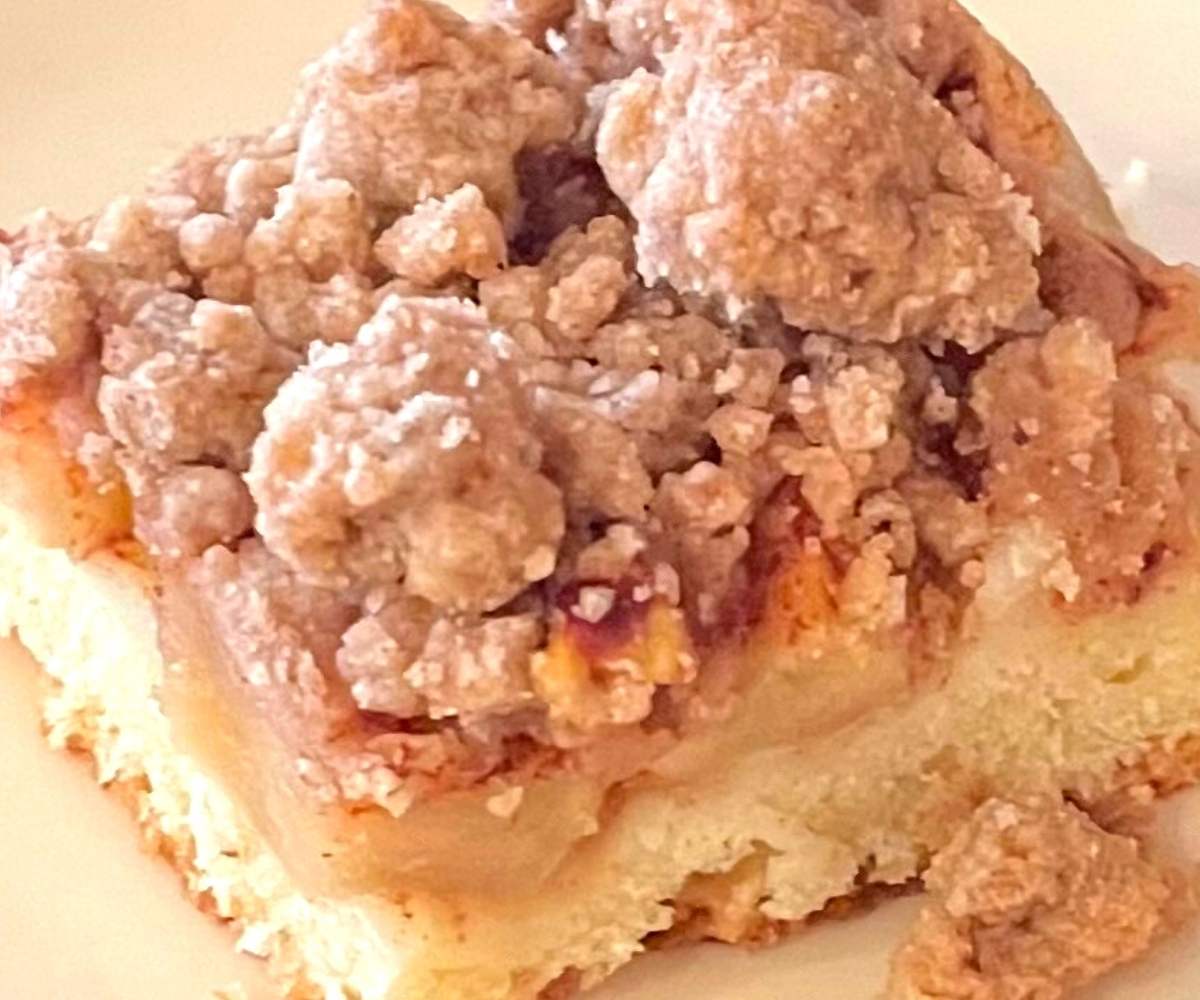 Apple Crumb Cake
This apple crumb cake is everything you could wish for in a fall dessert – buttery, crunchy, and appley.
Equipment
parchment paper

8 x 8 inch square pan
Ingredients
For the Apples
2-3

fresh apples

peeled, cored, and cut into twelfths.

2

tbsp

lemon juice

1

tsp

ground cinnamon

1

tbsp

sugar
For the Streusel aka Crumb Topping:
1/2

cup

unsalted butter

1/3

cup

light or dark brown sugar

1/3

cup

granulated sugar

2

tsp

ground cinnamon

1/4

tsp

salt

1 1/3

cups

all-purpose flour
For the Cake:
6

tbsp

unsalted butter

at room temperature

1/2

cup

granulated sugar

1

large egg

1

tsp

vanilla extract

1/3

cup

sour cream

1

cup

all-purpose flour

1 1/4

tsp

baking powder

1/2

tsp

salt
Instructions
Heat oven to 325 F. Grease and line an 8 x 8 inch square cake pan with parchment paper.

In a small bowl, toss the apples with the lemon juice, cinnamon, and sugar.

Make the crumbs: In a small saucepan over medium heat, brown the butter. Stir in the brown sugar, granulated sugar, cinnamon, salt, and all-purpose flour into the melted butter. The mixture should hold together in clumps. Set the streusel aside.

Beat butter with the sugar in the bowl of a stand mixer using the paddle attachment, at medium-high speed, until light and fluffy.

Add in the egg, sour cream, and vanilla extract. Beat until combined.

Sift the flour, baking powder, and salt, into the wet ingredients. Then beat until just combined.

Pour the cake batter into the prepared pan and smooth the top using a rubber spatula.

Dump the apples on top of the batter and arrange to form a relatively even layer. There's no need to make them pretty, since they're about to get topped with streusel.

Dump the streusel on top of the apples in handfuls, squeezing bits of of streusel together to form large-ish clumps.

Bake 50-55 minutes until a toothpick inserted into the center of the cake comes out dry.

Cool 5 minutes in pan, then remove (using the parchment paper as a sling) to a wire rack to fully cool.
Notes
No need to be precious about the variety of apples here, since they're about to be covered with ungodly amounts of butter and sugar. In fact, this is a great way to use up random apples lingering in your refrigerator.
This apple crumb cake recipe can be stored wrapped loosely in covered in plastic wrap for several days.
Affiliate Disclosure: As Amazon Associates, we earn a small commission from qualifying purchases when you click on links embedded in this post.