This applesauce cake recipe is the perfect antidote to your fall doldrums. The days are short and grey, and Christmas festivities are too far away to add cheer. Bake up this quick applesauce cake to feel extra warm and cozy.
Christmas in July; National Applesauce Cake Day in June
To us, nothing screams fall more loudly than a moist applesauce cake. We were, therefore, shocked to discover that there is a National Applesauce Cake Day but, oddly, it falls on June 6th. This makes no sense to us – had they run out of fall days that could be chosen to honor a baked good? All kinds of delicious fruits are coming into season in June. Who would chose to bake with applesauce? We love this cake in late fall, when there are a limited selection of tasty looking fruits available in the supermarket, and we are happy to have a pantry full of jars of applesauce (and, we are ashamed to admit that these are not homemade applesauce jars, but kudos to those who have it homemade!).
A Short History of the Applesauce Cake Recipe
Setting aside our horror at the timing of National Applesauce Cake Day, we wanted to share the brief (and illustrious!) history of the applesauce cake recipe. Applesauce seems to be very old, with the earliest recipes found in 18th century Colonial cookbooks. Presumably the cooking and preserving was a good way to store apples for extended periods of time. It seems that applesauce cake itself emerged in the 20th century, likely like so many other quick bread and cake recipes, with the mass marketing and availability of chemical leaveners.
During World War I, during a period of sugar, egg, and butter shortages, applesauce cake was marketed as a patriotic baking effort, since the applesauce could replace, if needed, all of the above ingredients. The modern recipe is quite a bit more indulgent, including buttermilk, eggs, oil, and sugar (not to mention the frosting!). It retains the moist texture and gentle sweetness of its historic precedents. This easy cake comes together quickly and makes for a fun fall afternoon of baking.
Alternative Baking Projects for Your Fall Doldrums
Feeling the fall doldrums but don't have any applesauce? Check these fall baking projects: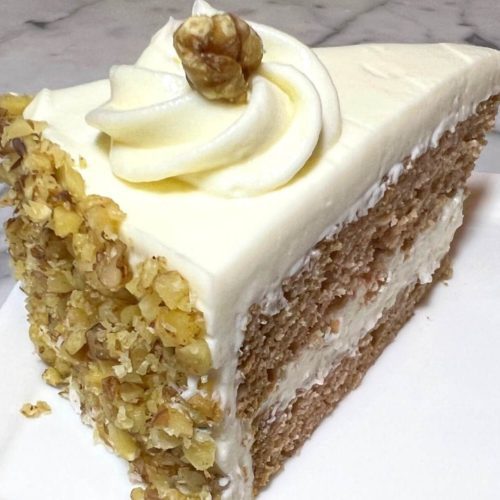 Applesauce Cake
This tender applesauce cake comes wrapped in a whipped cream cheese frosting. Fall in a bite!
Equipment
8 inch springform pan

parchment paper

disposable piping bag

star tip

bench scraper

rubber dough scraper
Ingredients
For the applesauce cake
1 1/2

cups

all purpose flour

3/4

tbsp

ground cinnamon

3/4

tbsp

ground ginger

1 1/2

tsp

baking soda

1

tsp

salt

1

cup

unsweetened applesauce

2

eggs

beaten

1/2

cup

sugar

1/2

cup

buttermilk

1/4

cup

canola oil
For the frosting
8

oz

cream cheese

at room temperature

1 3/4

cups

powdered sugar

2

cups

heavy cream

1/2

tsp

almond extract
To decorate:
1

cup

walnuts or pecans

toasted and finely chopped

8

whole

walnuts or pecans
Instructions
For the applesauce cake
In a large bowl, whisk together the dry ingredients (flour, cinnamon, ginger, salt and baking soda).

Add the wet ingredients (eggs, sugar, buttermilk, applesauce and oil) to the flour mixture, and whisk gently until combined.

Use a rubber spatula to pour batter into the prepared pan.

Bake until the cake is just barely firm to the touch, toothpick inserted into the center of the cake comes out clean, and the edges of the cake begin to pull away from the pan — about 55 minutes.

Let the cake cool on a wire rack, then use a dinner knife to loosen the sides and invert the cake onto the rack.

Remove the parchment paper. Wrap tightly in plastic wrap and place in freezer for at least 30 minutes to make slicing easier.
For the frosting
In the bowl of an electric mixer, using the paddle attachment, cream together the cream cheese and powdered sugar at medium speed until smooth.

Pour in the heavy cream and almond extract and beat to combine.

Switch to the whip attachment and whisk at high speed until very think, with a consistency like a mousse.
To assemble:
Use a serrated knife to trim the top of the cake and cut it in half.

Place the top half on your cake card. Cover the top with a thick layer of frosting.

Top with the second half of the cake. Spread a thin layer of icing on the cake (crumb coat) and then chill another 30 minutes in the refrigerator to set.

Ice the cake, making the sides and top as neat as possible (use an offset spatula or a rubber dough scraper, leaving a half cup of frosting to decorate the top of the cake.

Use a bench scraper to gently press the finely chopped walnuts into the sides of the cake.

Put a small star piping tip in a disposable piping bag and trim off the bottom of the bag. Use a rubber spatula to scoop the remaining frosting into the piping bag. Pipe 8 small rosettes at evenly space intervals around the edge of the cake and top each with a walnut half.
Notes
This is the perfect cake for a fall party – it freezes unfrosted extremely well. It can be defrosted overnight in the refrigerator and iced and decorated the day of a party.
Affiliate Disclosure: As Amazon Associates, we earn a small commission from qualifying purchases when you click on links embedded in this post.