This rolled chestnut cake recipe is the perfect festive winter treat, highlighting the decadent flavor of French Crème de Marrons.
Wintry Chestnut Treats
When we lived in Paris as teenagers, chestnuts abounded. In the winter, you could buy a paper cone full of roasted chestnuts on street corners to warm your fingers as you walked around. A favorite sneaky treat was to eat chestnut puree (creme de marrons) by the tube-full. You could buy sweetened chestnut puree any grocery store and if you were a naughty middle schooler you would purchase a small tube for a few euros as you exited school and savor it slowly as you walked home (yes, STRAIGHT OUT OF THE TUBE). And so, we associate sweet chestnut flavors with winter holidays and treats.
Ill-Advised Pandemic Purchases and a Chestnut Cake Recipe
Sadly, now that we live in the United States, chestnut puree is a bit harder to come by. So, from the moment we treated ourselves to a ridiculously enormous bag of creme de marrons in a moment of pandemic-induced depression, we knew we had to come up with a great way to use it. This is the special occasion cake to end all special occasion cakes.
For this recipe, we use our favorite very light Japanese-style Chiffon Cake, and twirl it around chestnut cream lightened with a bit of whipped cream. Because the whipped chestnut cream is so darned delicious, we also slathered it on top, before decorating with some seasonally appropriate sprinkles. This would, however, be the perfect place to add in some classic candied chestnuts and maybe even some edible gold leaf if you're feeling fancy.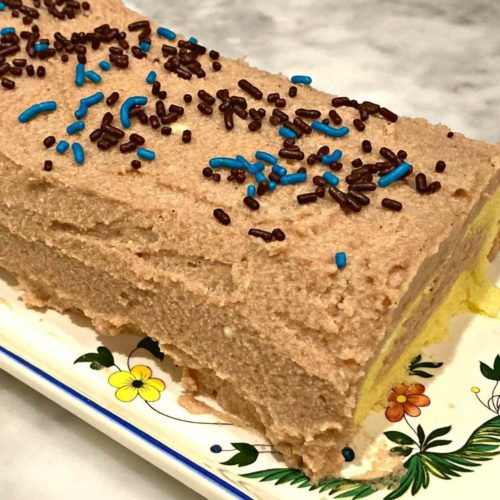 Rolled Chestnut Cake
This chestnut cake is decadent and festive; the perfect end to a holiday meal!
Equipment
parchment paper

baking sheet
Ingredients
For the Japanese Style Chiffon Cake
1/8

cup

sugar

1/4

tsp

baking soda

1/2

tsp

cream of tartar

1/8

tsp

salt

1/4

cup

whole milk

3

egg yolks

2

tbsp

vegetable oil

1/4

tsp

vanilla extract

4

egg

whites

1/4

cup

granulated sugar

1/4

tsp

cream of tartar
For the Rum Syrup:
1/4

cup

sugar

1/4

cup

water

2

tbsp

rum
For the Chestnut Cream
1 3/4

cup

Crème de Marrons

1/2

cup

butter

(one stick)

1

cup

heavy cream

1

tbsp

rum
Instructions
For the Rum Syrup:
Combine the sugar and water in a small saucepan over medium high heat.Bring to a boil and stir gently until sugar dissolves.

Cool for 5 minutes, then stir in rum. Set aside and cool fully.
For the Japanese Style Chiffon Cake
Grease and line a 9 x 13" pan with parchment paper. Preheat oven to 325 F.

In a large mixing bowl, sift together cake flour, sugar, baking soda, first set of cream of tartar, and salt. Create a well in the center, add in yolks, oil, vanilla extract, and milk. Stir to combine, then set aside.

In the bowl of a stand mixer using the whip attachment, whip the egg whites on slow speed until frothy. Then, add the second set of cream of tartar. Increase to medium speed and once whites become opaque, add sugar in a slow, steady stream. Increase to high speed, whip until stiff peaks.

Gently fold 1/3 of the meringue into the milk-flour mixture. Once incorporated, fold in the rest of the meringue.

Pour batter into prepared tin from one spot and spread the batter out evenly with an angled spatula. Tap the pan on the counter to release large air pockets.

Bake 14-16 minutes in a preheated oven until the cake springs back in the center.

Let cool 5 mins in the pan.

Place cooling rack over cake and flip cake onto the rack. Gently remove the paper. Let the cake cool a further 5 minutes. Place a fresh piece of parchment on top of cake. Flip the cake, and start rolling, layering the parchment between sections of the cake. It is important to roll the cake before it cools; otherwise it will crack .Let the cake cool wrapped, while making the chestnut cream.
For the Chestnut Cream:
In the bowl of a stand mixer, using the paddle attachment, beat together the butter, rum, and crème de marrons until smooth.

Pour mixture into a separate bowl. Wipe down the bowl of the stand mixer.

Add the heavy cream to the bowl and, using the whisk attachment, whip cream until soft peaks form. Add 1/4 of the whipped cream to the butter-chestnut mixture and stir together. Fold in the remaining whipped cream.
To Assemble:
Unroll the cake and brush very gently with rum syrup.

Spread 3/4 of the chestnut cream over the cake. Re-roll the cake, then let chill for at least two hours.

Trim the ends off the cake, and cover the outside with the remaining chestnut cream. Decorate with candied chestnuts or, if you're feeling cheap, some leftover sprinkles.
Rolling Along
Love a good Swiss Roll but not digging the chestnut flavor?