This peanut butter mousse recipe gets sandwiched between two different chocolate layers, yielding a surprising and delicious fancy-looking cake.
Peanut Butter Lovers Anonymous
We're fortunate that one of our mothers in law is as rabid of a peanut butter fan as we are. Every year we celebrate her birthday with a homemade peanut butter and chocolate flavored cake. It's hard to exceed a classic chocolate peanut butter pie. We think we may have finally done it this year! This cake features a creamy mousse enveloped with not one, but two kinds of chocolate. A crunchy bottom chocolately layer offsets the fluffiness of the mousse and a rich ganache tops it. The range of textures and flavors is pretty spectacular. The traditional French mousse technique, which requires making a custard, mixing in gelatine, and then folding it into whipped cream, yields a fluffy and light, but not overly sweet, filling, with a strong peanut butter flavor.
Can Everyone Bake?
This recipe comes from Dominique Ansel's Everyone Can Bake. This is not an easy recipe. This makes us wonder whether our friend Dominque's perception of the skills of your average home cook are a little different from reality. We've added some comments and tips to make it a little easier. For best results, spread the work out over several days, and try to do this in a cool kitchen while literally keeping your cool. Even if it doesn't look pretty, it will taste great, we promise.
Variations
If you feel overwhelmed by the steps and ingredients in this recipe, you could simply make individual peanut butter mousse parfaits. These would be delicious spooned or piped into a martini glass or a set of mason jars. It will yield 10 six-ounce servings.
Looking for other fancy French mousse cake recipes? Check out our chocolate mousse cake! It is very forgiving since at the end, you're just piling meringue sticks on a blob of mousse.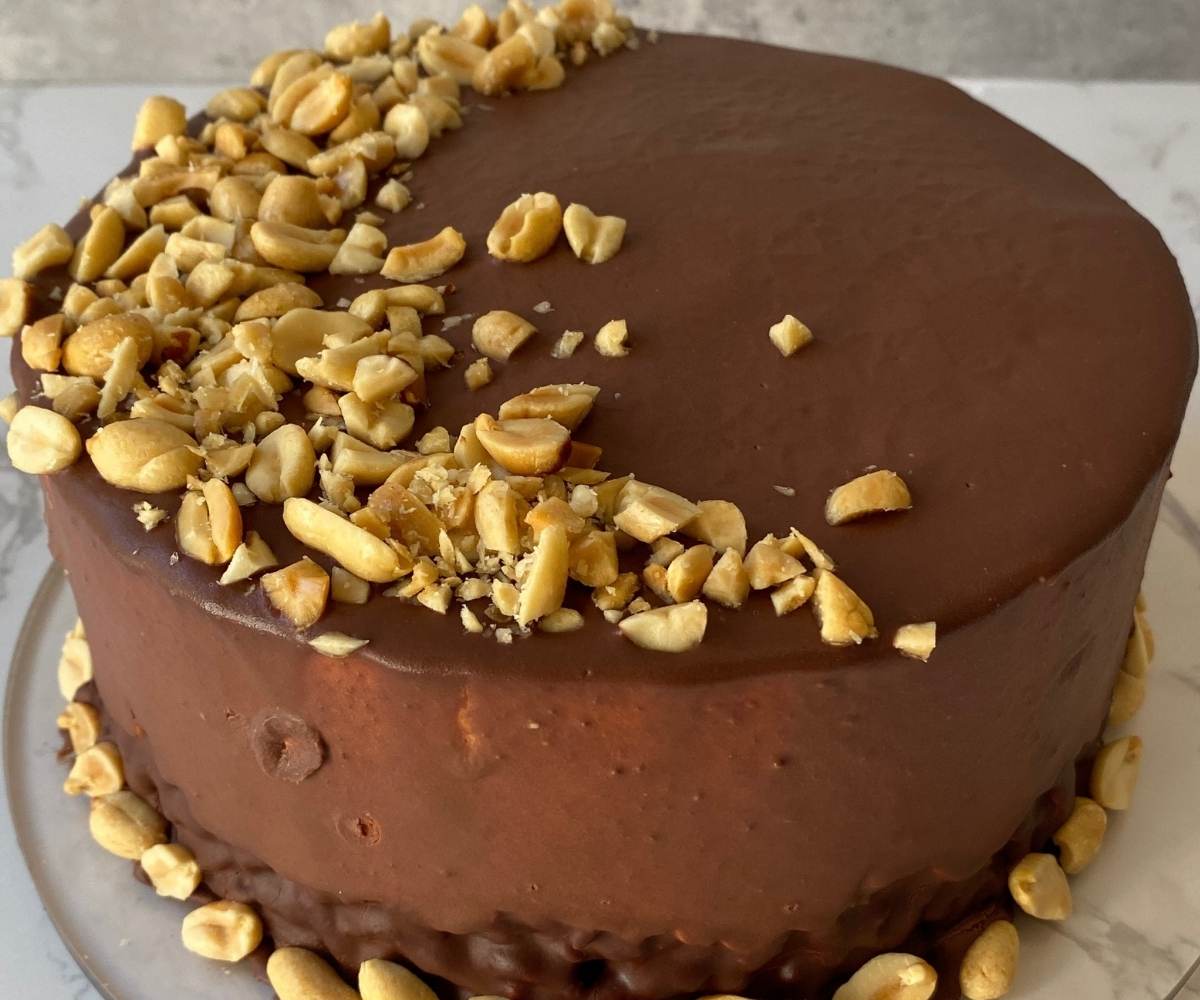 Chocolate Peanut Butter Mousse Cake
This is a fancy French version of a peanut butter pie.
Equipment
mousse ring

acetate strips
Ingredients
For the Caramelized Rice Puffs
2

cups

rice krispies

2

tbsp

light corn syrup

2

tbsp

granulated sugar

2 1/2

oz

milk or dark chocolate
For the Fluffy Peanut Butter Mousse
3 1/2

tsp

unflavored powdered gelatine

1/4

cup

cold water

2/3

cup

whole milk

5

egg yolks

1

cup

creamy peanut butter

do not use natural peanut butter as it will be too grainy

1/2

cup

sugar

1 2/3

cup

heavy whipping cream
For the Dark Chocolate Ganache
Instructions
For the Caramelized Rice Puffs
Put the rice krispies in a large bowl. Microwave the corn syrup for 30 seconds, then pour the melted corn syrup over the rice krispies. Sprinkle with sugar and mix with a spatula to coat evenly.

Transfer the rice krispies to the baking sheet and bake for 10 to 15 minutes until caramelized.

While you are baking rice krispies, melt the chocolate in a separate bowl in the microwave in 10 to 15 second increments. After caramelized, place the rice krispies in a large mixing bowl and pour the melted chocolate over. Fold until coated. Note: This make significantly more rice krispies than you need. Save some to decorate your cake!

Transfer about half the caramelized and chocolate coated rice krispies to the cake ring, pressing it into an even layer, about a quarter of an inch thick. Don't overdo it here, or your cake will be very hard to cut. Put the disk in the fridge while you prepare the peanut butter mousse.
For the Peanut Butter Mousse
Start by combining the gelatine and cold water in a small bowl. Stir with a spoon until the gelatine is fully dissolved to avoid clumps.

Put milk in a medium saucepan and bring to a boil over medium heat. Remove from heat.

Whisk together the egg yolks and sugar in a large bowl until combined. While whisking, slowly pour in a little bit of the hot milk. Whisk until combined.

Pour the eggs and milk back into the saucepan with the remaining milk, whisking as you go. Cook the custard over medium-low heat, gently stirring with a spatula until thick enough to coat the back of the spatula, about 10 minutes.

Remove from heat and while still warm, add the peanut butter and the gelatine. Stir until combined. Cool the peanut butter base to room temperature, about 30 minutes

.In a stand mixer fitted with a whisk attachment, whip the cream on medium speed until it holds soft peaks, about 5 minutes. Slowly pour the peanut butter mixture into the whipped cream a little at a time, gently folding with a rubber spatula until just combined.

Pour the mousse into the ring and smooth the top with an offset spatula. Freeze until frozen solid, 3 hours to overnight.
For the Chocolate Ganache
Bring the cream and milk to a boil over medium heat in a small saucepan. Remove from heat.

Place the chocolate in a large bowl and pour the hot cream over the chocolate. Stir until the chocolate is fully melted.

Add in the butter and stir until combined.

Remove the cake from the freezer and take it out of the cake ring and remove the acetate strip.

Put the cake on a wire rack over a sheet pan. Pour the ganache over the top. You may want to do this twice to fully coat the cake.
To Decorate
Once the cake is coated to your satisfaction, use two large metal spatulas or silicone pancake turners to remove it, without messing up the smooth ganache coating, to your serving plate. Chill in refrigerator until ready to serve, at least 2 hours.

Crumble some of the leftover chocolate coated caramelized rice puffs, and spread them along one side of the top of the cake, along with a smattering of peanuts. If your ganache pools a bit at the bottom of the cake, you can decorate the bottom with leftover rice puffs and peanuts, too.
Affiliate Disclosure: As Amazon Associates, we earn a small commission from qualifying purchases when you click on links embedded in this post.