The Concorde combines meringues and chocolate mousse to win the prize for fanciest chocolate mousse cake recipe.
A Short History of This Chocolate Mousse Cake Recipe
This French Chocolate mousse cake is known in some circles as a Concorde. It is, to us, the perfect dessert for a party. The cake is festive looking and tasting, with layers of meringue sticks hiding a dense chocolate mousse center. It has just the right mix of snobbism (really roll those "r"s when you say "Concorde") and glee. Gaston Lenotre, the legendary French pastry chef, invented this decadent dessert. The cake celebrated the launch of the super elegant high-speed Concorde aircraft.
Why You Shouldn't Be Intimidated By This Chocolate Mousse Cake Recipe
Reading through the recipe, you may think that the cake is impossibly difficult. It has a number of precise steps, some a little terrifying. Pouring hot sugar into egg whites as you beat them is not for the faint of heart. Keep in mind that in the end, decorative meringue sticks can cover all manner of mousse errors. Whipped cream and chocolate, when chilled, will set into some kind of delicious mousse-like substance. This is also a great party cake because you can make it and chill it up to one day ahead. So, be brave, and bake on!
Looking for Other Fancy French Cakes?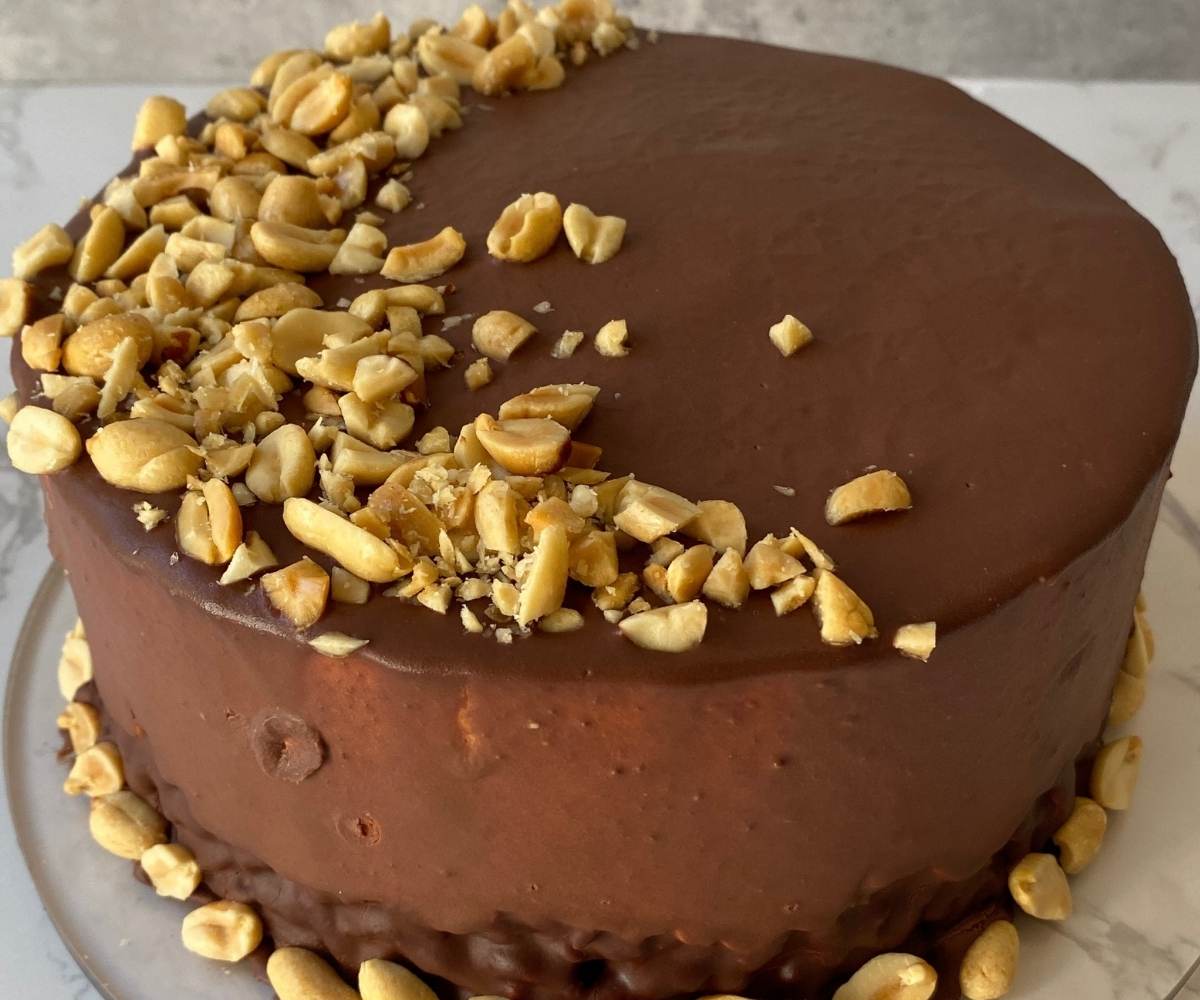 Check out this peanut butter chocolate mousse cake! It's crunchy, creamy, and makes a great multi-day baking project.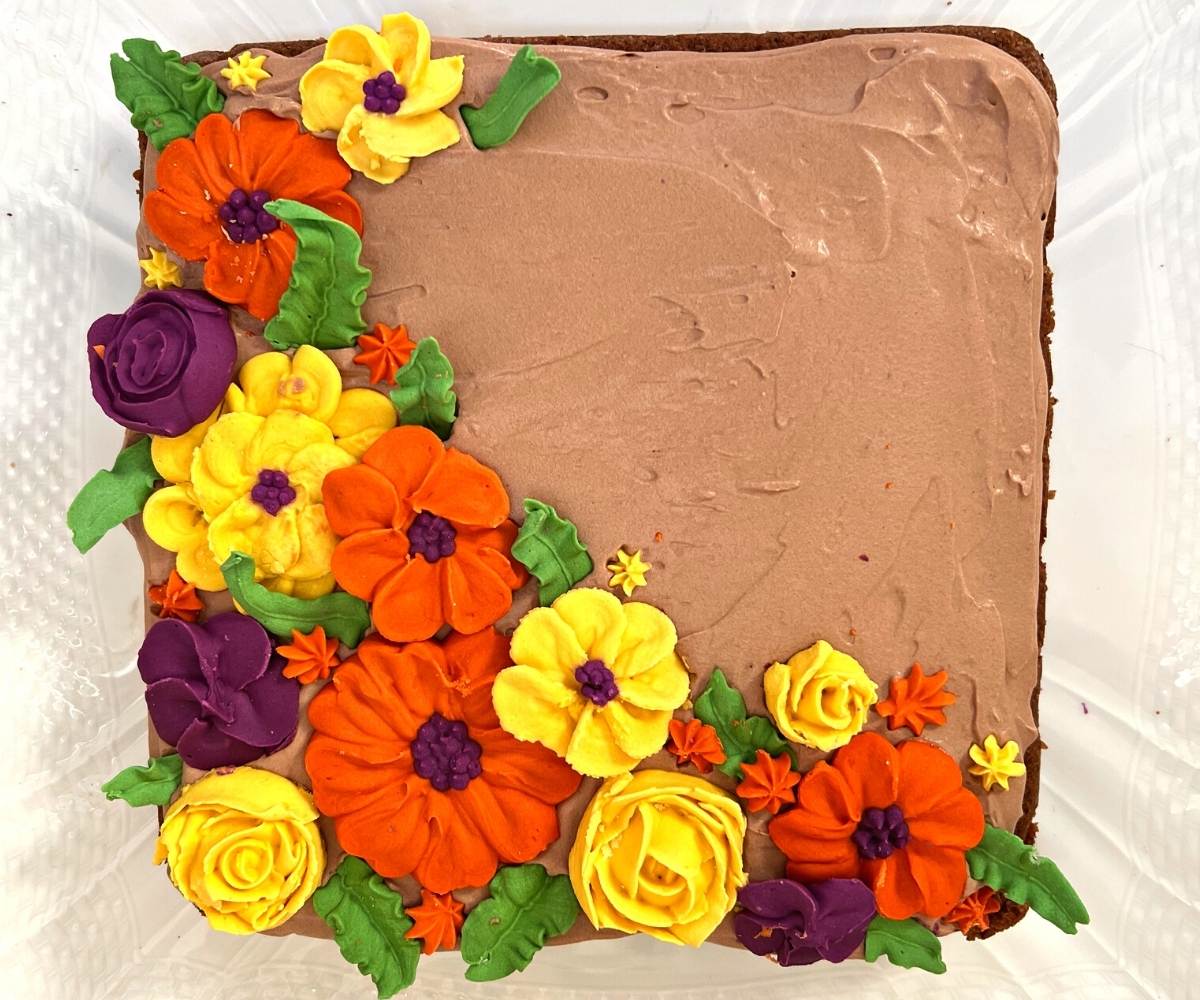 Or, did you come here just looking for chocolate (all chocolate, all the time)? Check out our family's favorite chocolate almond cake.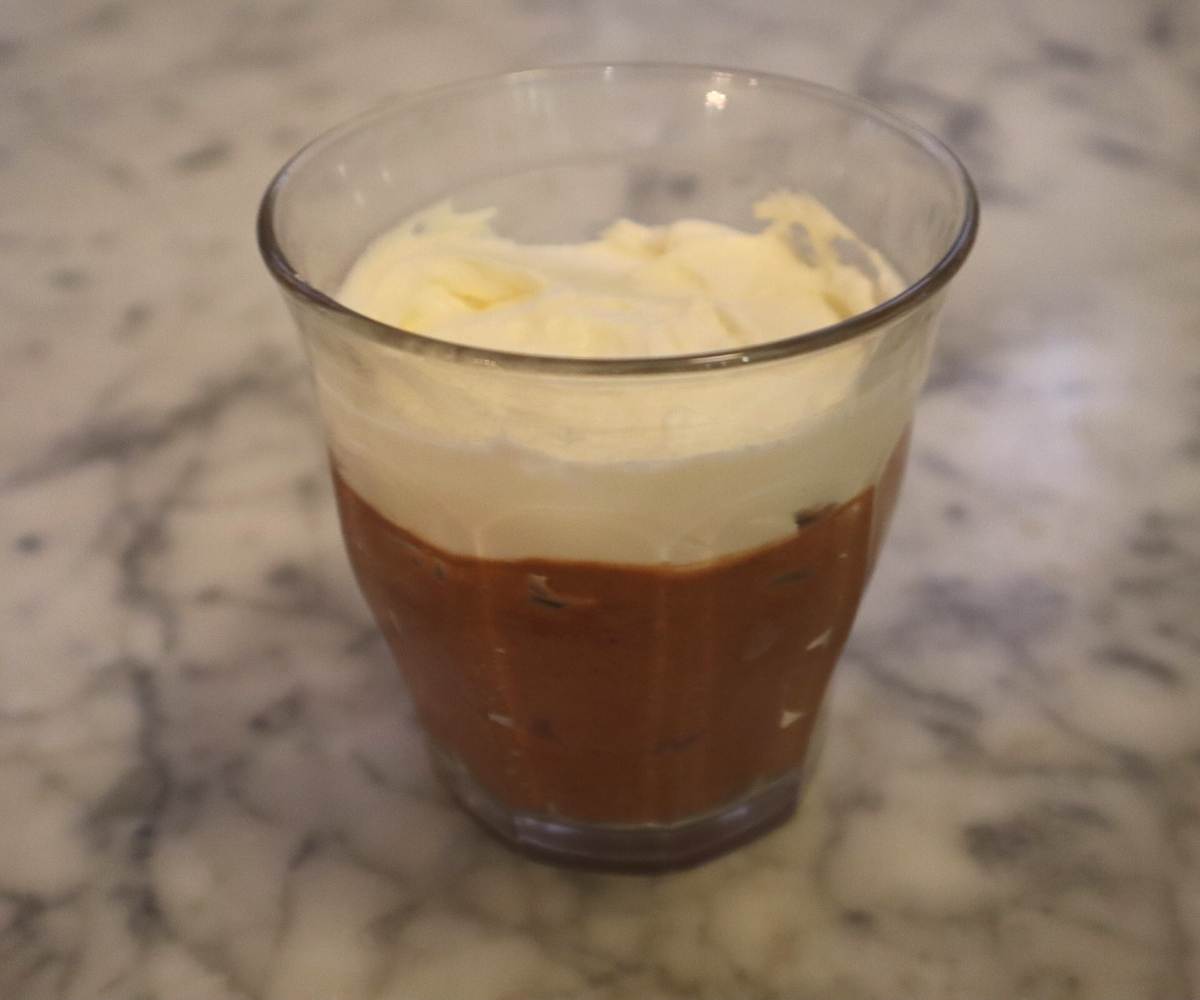 Or, just want straight chocolate mousse, without all the fuss about cake? We've got a great recipe!
Useful Tools for Making this French Chocolate Mousse Cake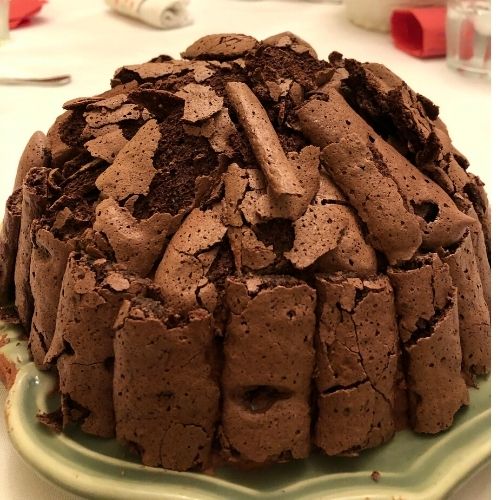 Gaston Lenotre's Concorde: A Fancy French Chocolate Mousse Cake Recipe
This is a classic French pastry consisting of chocolate mousse and chocolate meringue.
Equipment
candy thermometer

electric mixer

piping bag

1/2 inch piping tip
Ingredients
For the Creamy Chocolate Mousse Filling
10

ounces

bittersweet chocolate

finely chopped

5

tablespoons

unsalted butter

cut into small pieces

1/2

cup

plus 3 tablespoons sugar

1/4

cup

water

2

large egg whites

1

tsp

vanilla extract

2

cup

cream

heavy, chilled
For the Chocolate Meringue
2

cups

confectioners' sugar

plus more for dusting

1

cup

unsweetened cocoa powder

9

large egg whites

1 1/3

cups

granulated sugar
Instructions
Make the mousse
Make a double boiler by placing a large heatproof bowl over a medium saucepan of simmering water on the stove. Add the chocolate and butter to the bowl and stir until completely melted and smooth. Set aside.

Boil the sugar and water in a small saucepan, without stirring, until the sugar syrup reaches 240° Farenheit on a candy thermometer, about 7 minutes. (this clip-on instant-read candy thermometer is ideal for this task).

While the sugar boils, in the stand of a mixer fitted with the whip attachment, beat the egg whites at medium high speed until soft peaks form, about 3 minutes. Pause until the syrup is ready.

With the mixer running at medium high speed, gradually pour in the hot syrup in a steady stream and continue beating at medium-high speed until stiff peaks form, about 5 minutes. Pouring the hot syrup into the egg whites cooks them, so if you are squeamish about raw egg whites, have no fear!

Fold the melted chocolate into the egg whites using a large rubber spatula until barely incorporated, but no white streaks remain. Scrape the chocolate mixture into a separate large metal bowl (you will be adding the whipped cream to it shortly, so make sure you have enough room) and wash and dry your mixing bowl.

Whip heavy cream and vanilla extract in the stand mixer fitted with a whip attachment at medium speed until firm. Fold the whipped cream into the chocolate mixture using a rubber spatula in three batches until no white streaks remain. Cover with plastic wrap, or transfer to an airtight container. Refrigerate until firm, at least 2 hours.
Make the Chocolate Meringue
Heat oven to 350 F.

Sift the 2 cups of confectioners' sugar with the cocoa powder into a medium bowl.

Line 4 rimmed baking sheets with parchment paper. Use the bottom of an 8-inch cake pan pan to trace an 8-inch circle on 2 of the sheets.

Beat the egg whites in the bowl of a stand mixer fitted with the whisk attachment at low speed until foamy. Increase the speed to medium-high and beat until soft peaks form. Add in the granulated sugar 3 tablespoons at a time, beating well after each addition.

Beat whites until stiff and glossy, approximately three additional minutes, once all of the sugar has been added.

Transfer the meringue to a large bowl and, using a large rubber spatula, gradually fold in the cocoa powder and confectioners' sugar until just a few streaks remain.

Scrape the meringue into a piping bag fitted with a 1/2-inch tip.

Pipe the meringue into the traced circles in a spiral, beginning at the center; there should be no space between the spirals. On the other 2 prepared sheets, pipe the remaining meringue in long sticks, leaving about 1 inch between them. Let the meringue rounds and sticks stand at room temperature for 30 minutes.

Bake the meringue rounds for about 25 minutes, until they are firm and can be lifted off the parchment with an offset spatula. Bake the meringue sticks for 12-14 minutes.

If possible, turn the oven off, and leave in oven overnight to cool thoroughly and dry out.

Cut sticks into 1 1/2- to 2-inch lengths.

Assemble the Cake

Transfer a meringue round to a cake stand or serving plate.

Spoon half of the chilled chocolate mousse onto the meringue and spread it in an even layer with a large offset spatula.

Cover with the second meringue round and spread the remaining mousse to form the top layer, mounding it slightly in the center.

Cover the cake entirely with the meringue sticks. Refrigerate until the mousse is firm, at least 6 hours or overnight. Dust the cake with confectioners' sugar just before serving.
Affiliate Disclosure: As Amazon Associates, we earn a small commission from qualifying purchases when you click on links embedded in this post.