This is a traditional black forest cake recipe. This dark fudgy cake is layered with whipped cream and cherries.
A Short History of Black Forest Cake
Culinary historians debate the origins of black forest cake. Some attribute it to the Black Forest region of southwestern Germany. This area is famous for its sour cherries and the liquor locals make from them. Others insist that the chocolate curl layer on the outside of the cake resembles a dark forest. This seems a bit dubious to us. In any case, the cake became popular just after the second world war.
It was our father's favorite treat when his family would go out to eat at one of the many German restaurants that dotted Yorkville in the 1950s and 1960s. We also always remember him ordering it when we would go out for a special lunch treat at Patisserie Boissiere in Carmel as children. At the time, we found the kirsch flavoring pretty suspicious and the combination of chocolate and cherry a bit far-fetched. So, we were surprised when one of our kids (unprompted) requested a cake with "chocolate and cherry" in it for dessert one night.
About this Traditional Black Forest Cake Recipe
Traditionally, you make Black Forest Cake with a chocolate sponge. We have, however, never met a chocolate sponge cake that we liked. They have a tendency to be very dry. Instead, we suggest subbing in favorite dark chocolate cake recipe. We like to make this cake in four thin layers. Some recipes also call for stewing the cherries in a bit of sugar. We prefer the flavor of fresh tart cherries with the whipped cream and dense cake. We find it easiest to make this recipe over several days, since it has a lot of components. The chocolate cake freezes well and can be made up to several weeks ahead.
Useful Tools for Making this Traditional Black Forest Cake Recipe
How About Some Other German Treats?
Try these!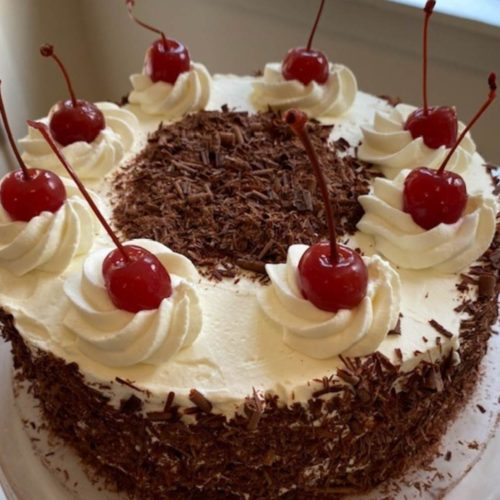 Traditional Black Forest Cake Recipe
Here's a very German, very traditional black forest cake recipe, for all of the chocolate-cherry lovers out there!
Equipment
2 8-inch round cake pan

2 parchment paper

1 disposable piping bag

1 half inch star piping tip

1 cake decorating stand

1 cake comb

1 bench scraper

1 vegetable peeler
Ingredients
For the Favorite Dark Chocolate Cake Recipe
1/2

cup

unsalted butter

room temperature

1 1/2

cups

packed brown sugar

2

large eggs

room temperature

1

tsp

vanilla extract

1 1/3

cups

all purpose flour

3/8

cup

dark cocoa powder

(1/4 cup plus 2 tbsp)

1 1/2

tsp

baking soda

1/4

tsp

salt

2/3

cup

sour cream

1/3

cup

hot water

1/3

cup

hot coffee
For the Kirschwasser (cherry liquor) Syrup
1/2

cup

granulated sugar

1/2

cup

water

1/4

cup

cherry liquor

If you can't find Kirschwasser, you can substitute Luxardo.
Whipped Cream Frosting
3

cups

cold heavy whipping cream

1/4

cup

icing sugar, sifted
To Decorate
1

bar

chocolate

at room temperature

8

maraschino cherries
Filling
1

cup

fresh or frozen cherries

If using frozen cherries, defrost and drain first.
Instructions
For the Cake:
Preheat oven to 350 F. Grease 2 8-inch cake pans and line the bottoms with parchment paper.

Cream butter and brown sugar in the bowl of a stand mixer with a paddle attachment on medium speed until light and fluffy.

Add eggs, one at a time, beating well after each addition.Beat in vanilla and coffee.

Whisk together flour, cocoa, baking soda and salt in a medium bowl.

Add the flour mixture to the wet ingredients in thirds, alternating with sour cream, and beating on low speed after each addition.

Stir in water and coffee until blended.

Pour cake batter into prepared pans. Bake 30-35 minutes in the center of oven, or until a toothpick inserted in the center comes out clean.

Let the cake cool in pans 10 minutes before removing to a wire rack.

Freeze the cake for at least 1 hour, and then level the top of the cake and cut each of the cake layers in half. The cake can be quite crumbly and is much easier to work with when frozen.
For the Kirschwasser Syrup
Place the sugar and water into a small saucepan. Stir and bring to a boil. Simmer until all of the sugar is melted. Let cool for 1-2 minutes, then stir in the cherry liqueur and let fully cool. This can be made up to one week ahead.
For the Whipped Cream Frosting:
Whip heavy cream and powdered sugar until in a stand mixer using the whisk attachment until stiff peaks form.
For the Chocolate Shavings:
Bring chocolate to room temperature. Shave small pieces off the bar using a vegetable peeler. Freeze until you are ready to use as they melt easily!
For Assembly:
Cut each cake in half horizontally. Place the bottom cake layer on the cake decorating stand or serving plate. Brush generously with the Kirchwasser syrup. Top the first cake layer with approximately 1 cup of whipped cream by piping out a spiral on top of the cake, starting at the middle. Top with 1/3 cup of cherries and gently press them into the whipped cream.

Repeat with the second cake layer, followed by the third cake layer. Brush the fourth cake layer with syrup and place it, syrup side down, on top of the cake.

Pipe a spiral of whipped cream on the top of the cake and pipe whipped cream along the side of the cake. Smooth the whipped cream with an offset spatula or cake comb.

Use a bench scraper to toss the chocolate shavings onto the sides of the cake as they melt with frustrating ease on your warm hands!

Pipe 8 whipped cream rosettes onto the top of the cake with the remaining whipped cream and top each with a maraschino cherry.
Affiliate Disclosure: As Amazon Associates, we earn a small commission from qualifying purchases when you click on links embedded in this post.