A mind boggling 32,000 people search the internet each year for "biscuit recipe without cream of tartar." We weren't aware that there were biscuit recipes WITH cream of tartar. So, here is our favorite biscuit recipe without cream of tartar. This easy biscuit recipe calls for baking powder as a leavening agent and skips the cream of tartar.
A Short History of the Biscuit
Chapter 1: European Biscuits
Modern biscuits are a relatively recent culinary innovation, although the term "biscuit" can be traced back to the Middle Ages. The word comes from the Latin "biscotus," which means "twice-cooked." Medieval biscuits, along with their Roman predecessors, were more like modern biscotti. They were an unleavened combination of grain flour and fat. Roman biscuits were typically baked twice, ensuring that it would last for a long period of times.
The combination of portability and durability made biscuits very popular with travelers and, of course, armies. In the 18th century, biscuits (also known as hardtack) were essential in fueling long sea voyages. They were legendarily tough and disgusting to eat. So tough, in fact, that they could also, conveniently, serve as postcards, as in the image below.
Chapter 2: American Biscuits
We now associate biscuits with the Southern part of the United States. They were not, however, refined and perfected there until the 19th century. Prior to that date, wheat flour was very expensive. Corn flour was much more prevalent, which is why cornbread was so popular. In the mid-nineteenth century wheat flour milling technology improved and it became much cheaper and more available. This coincided with the invention and mass-marketing of chemical leaveners to home bakers. And so, the biscuit as we know and love it today was born.
Ironically, given their origins as a durable food product, the American versions of biscuits are remarkable for their extremely short shelf life, so enjoy your tender biscuits right out of the oven. These fluffy biscuits are the perfect accompaniment for your favorite jam or sausage gravy. They also taste great framing eggs and bacon in a breakfast sandwiches!
In the United States, we use the term biscuit in reference to a savory treat. In the United Kingdom, sugar was introduced to the 18th century version of biscuits. "Biscuits" are now what Americans would call cookies.
Biscuit Alternatives
Are these perfect biscuits not meeting your breakfast dreams? Check out some alternative breakfast recipes from the blog:
Some Useful Tools for Making this Biscuit Recipe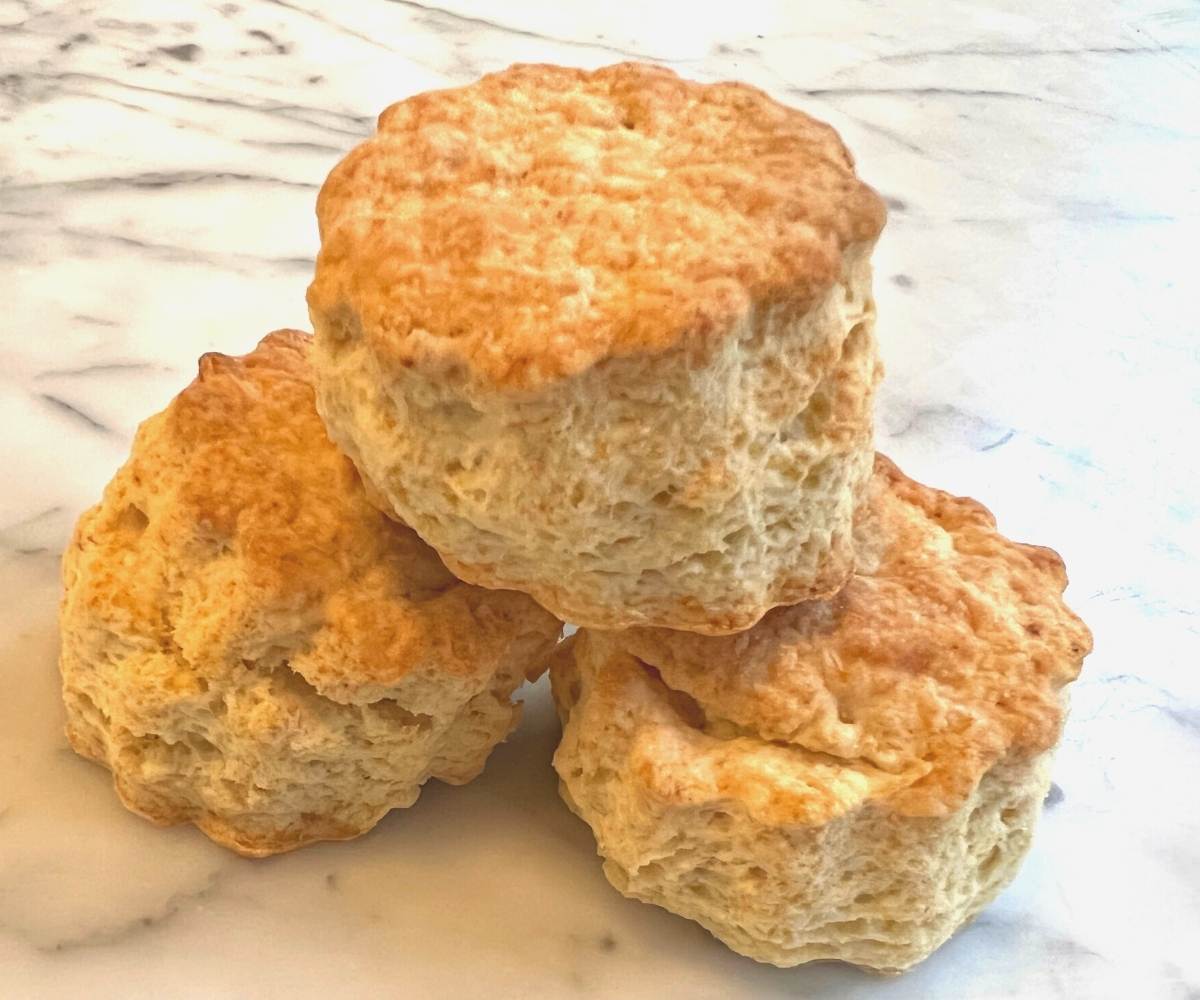 Biscuit Recipe Without Cream of Tartar
This biscuit recipe without cream of tartar produces some of the tenderest, flakiest biscuits you've ever tried.
Equipment
baking sheet

silicone baking mat

parchment paper

pastry cutter

biscuit cutter
Ingredients
1

cup

all purpose flour

1

tbsp

baking powder

1/2

tsp

salt

1

tbsp

sugar

1/2

stick

unsalted butter

cold

1/2

cup

buttermilk
Instructions
In a large mixing bowl, whisk together the dry ingredients (flour, baking powder, sugar, and salt).

Cut the cold butter into half inch cubes and use a pastry cutter to cut the butter into the flour mixture, until the butter pieces are no larger than small peas.

Pour the buttermilk over the flour-butter mixture and use a fork to mix the buttermilk in. Continue stirring until the a crumbly dough begins to form.

Pour the dough onto a floured work surface and knead 2-3 times until the dough comes together.

Roll out the biscuit dough to a 3/4 inch thick rectangle, roughly 9 x 3 inches. Beginning on the short end, fold the left third of the dough over the center, and the right third of the dough over the center (just as you would fold a letter).

Turn the folded rectangle of dough 90 degrees, then re-roll into a 3/4 inch thick rectangle, roughly 9 x 3 inches. Repeat folding. Repeat folding and rolling one additional time (for a total of three folds and rolls). The folding and rolling ensures that the butter is distributed throughout the flour mixture to create flaky layers and a high rise.

Roll the biscuit dough to a rectangle 3/4 inch thick and use a 2-inch round cookie cutter or biscuit cutter to cut the biscuit dough. Place the cut biscuits on the lined baking sheet. Reroll the scraps to 3/4 inches thick and cut out additional biscuits, until all of the dough is used up.

Bake the biscuits on the prepared cookie sheet for 15-25 minutes, or until the tops are golden brown.
Notes
If you don't have any buttermilk, you can use regular milk or heavy cream with a teaspoon of white vinegar or a full tablespoon of lemon juice, or you can thin regular plain yogurt or sour cream with water or milk.
If you have to keep these biscuits, store them in an airtight container or wrapped tightly in plastic. Consider toasting them in a frying pan with melted butter before serving to restore a bit of their flaky textures.
As Amazon Associates, we earn a small commission from qualifying purchases when you click on links embedded in this post.