This pistachio dessert recipe brings a level of sophistication to a dessert category (generally featuring the vibrantly green color of instant pistachio pudding mix and whipped topping in honor of St. Patrick's day) that can use some help. You're welcome, world.
Pistachio Passion
We have had a life-long love affair with pistachio nuts. It all started with French bakery macaron a la pistache (ideally the large size — none of those mini ones, thank you very much). Our passion for pistachios extended into the world of savory foods during a honeymoon in Sicily, which introduced us to Sicilian pistachios, and their optimal use, pistachio pesto. Of course, our sweet tooth always wins, so our favorite use of pistachios is in this pistachio dessert recipe.
We later discovered that pistachios, which have a remarkable ability to grow in drought-like conditions using very little water or brackish water, might as well be the state nut of California. So, we suppose we were born to love pistachios passionately. Apparently, we are not alone as a California resident was recently arrested on charges of stealing 42,000 pounds of pistachios. And, yes, this seems excessive, even to us.
This recipe comes to us from our oldest sister, whose mother-in-law shares our passion for pistachios.
Baking with Pistachios
Like almonds, pistachios can be ground and added into cakes with delightful effect. The secret ingredient in this cake is olive oil, which gives the cake a slight floral flavor and a fork-tender texture, no green goop required!
This cake calls for ground pistachios. To make them, you'll need to take unsalted, shelled pistachios and grind them by quarter cup full in your food processor. If you can only find salted pistachios, you can rinse them, and then bake them at 350 F for 10 minutes to dry them back out. Do not over-grind or you will end up with pistachio paste. The ground pistachios are the trickiest part of this easy dessert, which otherwise comes together quickly with minimum fuss.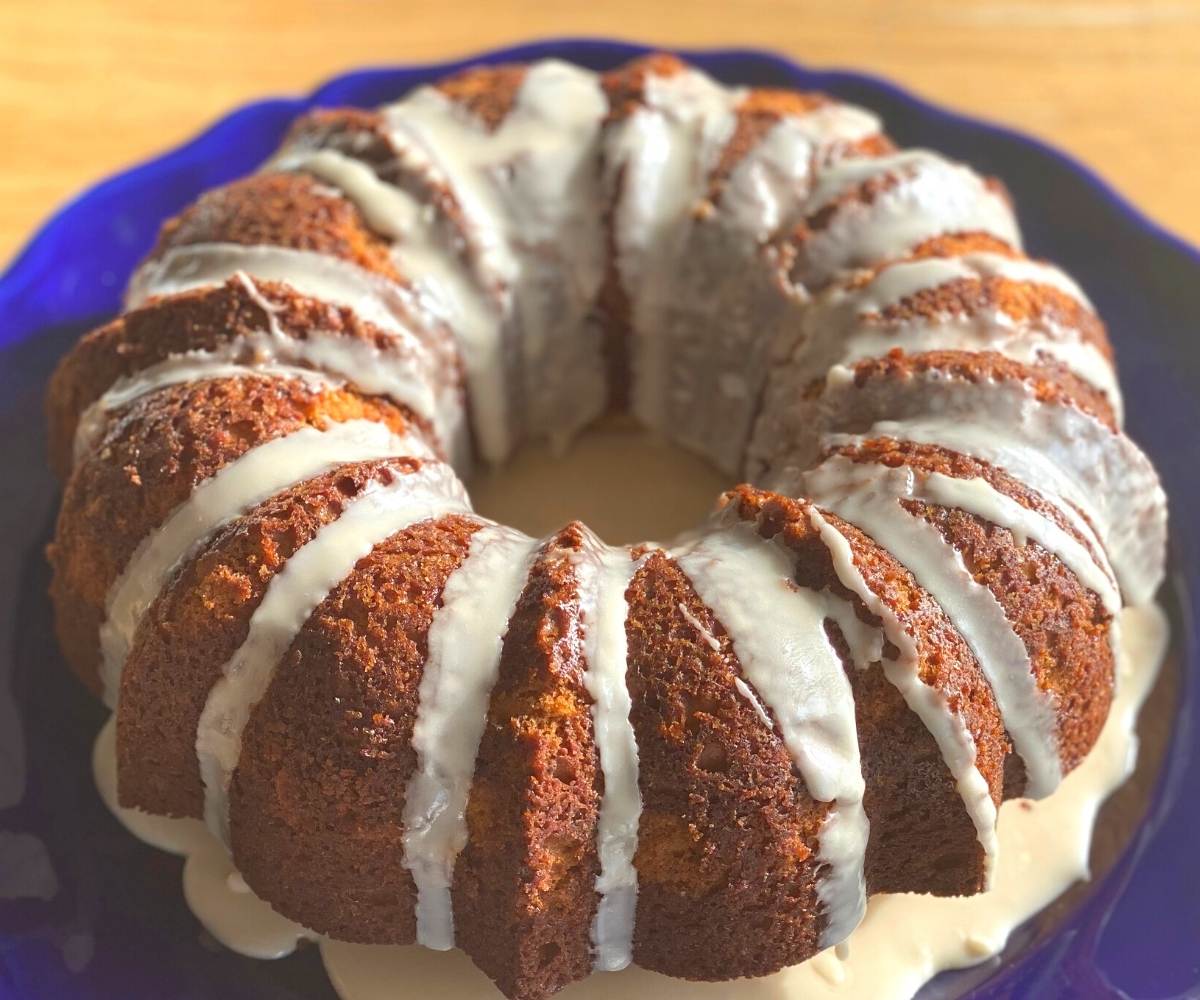 Pistachio Dessert Recipe
Here's a pistachio dessert recipe for the 21st century. No vibrant green pistachio pudding mix. Just delicious pistachio flavor in a moist Bundt cake form.
Equipment
10 inch (12 cup) Bundt cake pan
Ingredients
For the Bundt Cake
3/4

cup

olive oil

3

eggs

large

1 1/2

cups

granulated sugar

3/4

cup

finely ground pistachios

1/2

cup

milk

1

tsp

vanilla extract

2

tbsp

lemon zest

from 1 lemon

1 3/4

cups

all-purpose flour

2

tsp

baking powder

1/2

tsp

salt
For the glaze
1

cup

powdered sugar

2

tbsp

lemon juice

2

tbsp

finely chopped pistachio

to decorate
Instructions
For the Bundt cake
Preheat oven to 350 F.

In the bowl of a stand mixer, using the whip attachment, or on in a large bowl using a hand mixer, on low speed, whisk together olive oil, sugar, lemon zest, and eggs until fluffy, about 1 minute.

Mix in the ground pistachios, milk, vanilla extract, and lemon zest.

Sift the flour, baking powder, and salt into the ground pistachio mixture.

Gently fold the flour into the wet ingredients until well combined.

Pour the cake batter into the prepared bundt pan.

Bake 40-50 minutes, until a cake tester inserted in the center of the cake comes out clean.

Cool for 5 minutes, then invert onto a cooling rack. Do not let the cake sit in the bundt pan more than 5 minutes or you will find it very difficult to remove! Cool fully before icing the cake.
For the glaze
In a small bowl, whisk together powdered sugar and 2 tablespoons of lemon juice. If the mixture is too thick, add the additional tablespoon of lemon juice or 1 tbsp of water.

Pour the glaze over the top of the cake and sprinkle with chopped pistachios. This cake is excellent served with whipped cream on the side, or a scoop of pistachio ice cream!
Notes
This cake keeps wrapped in plastic wrap for several days.
Non-Pistachio Lovers
Stumbled on this recipe but not really a pistachio lover? Check out some of our other favorite recipes that come in bundt form, no green food coloring required:
Affiliate Disclosure: As Amazon Associates, we earn a small commission from qualifying purchases when you click on links embedded in this post.