This is our favorite easy blueberry scone recipe. It's cakey and tender, and everything you might wish for in a blueberry scone.
How This Blueberry Scone Recipe Can Contribute To World Peace
Rumor has it that Starbucks played an outsized role in the development of the American scone in all of its cakey sweet glory. The internet is full of angry bakers (and eaters) disparaging the cloying sweetness of the American version of scones. Worse yet, Americans include all manner of things, like fruit and chocolate in their scones.
As equal opportunity consumers of all dessert forms at all meals, we find this a little confusing and disappointing. Not to go all highbrow on you, but dessert should not be a cultural pissing contest, but a place for us to appreciate our similarities, just as much as our differences. If museums can claim that art builds bridges between cultures, then we assert the same for desserts, even those eaten for breakfast.
Our favorite treat at Starbucks is their blueberry scone, so it gives us great pleasure to share our blueberry scone recipe. It's a little softer and more tender than the Starbucks original, but we think it's better for it.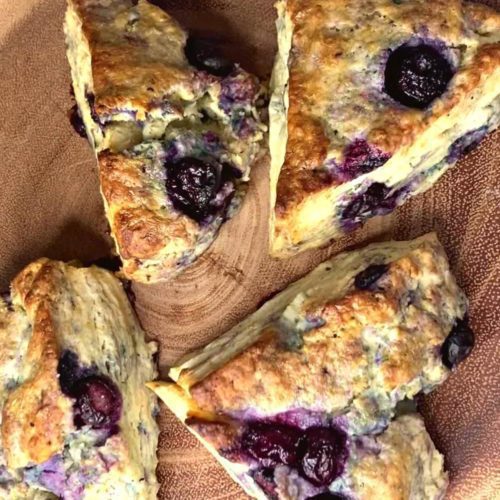 Blueberry Scone Recipe
This blueberry scone recipe will knock your socks off.
Equipment
silicone baking mat

baking sheet

parchment paper

pastry cutter

pastry brush
Ingredients
For the scones:
2

cups

all-purpose flour

1

tbsp

baking powder

1/2

tsp

salt

2

tbsp

sugar

6

tbsp

cold butter (unsalted)

cut into 1/2 inch chunks

1

cup

frozen blueberries

1

cup

heavy cream

1

tsp

vanilla extract

2

tbsp

heavy cream

for brushing
For the sweet vanilla glaze
1/4

cup

powdered sugar

1

tsp

vanilla extract

1

tbsp

water
Instructions
In a large bowl, sift together the dry ingredients (flour, baking powder, salt, and sugar).Use a pastry blender to cut the butter into the flour mixture until the pieces of butter are no larger than the size of peas.

Fold the blueberries into the flour mixture.

In a separate small bowl, combine the cream and the vanilla extract.

Pour the wet ingredients over the flour-blueberry mixture, then use a fork to very gently combine. Continue stirring until a shaggy dough forms.

Turn the scone dough out onto a well floured work surface and knead 2-3 times. Pat dough into a circle, then flatten using a rolling pin or your hands until about 1 1/4 inches thick. If there is too much flour on top, brush it off gently with a pastry brush. Cut into 8 even slices using a sharp knife or a bench scraper.

Place the unbaked scones on the prepared baking sheet. For best results, chill for 15 minutes in the refrigerator before proceeding.

Brush the tops of the scones with a little heavy cream. Bake in a hot oven for 15 to 20 minutes until golden brown.

While the scones bake, make the glaze. Combine the glaze ingredients in a separate bowl. Add more water, if too thick, or more powdered sugar, if too thin. The glaze should have the texture of Elmers glue.

Remove the baked scones to a wire rack to fully cool. Once the scones reach room temperature, drizzle with the glaze. Let the glaze set before serving.
Notes
This blueberry scone recipe really doesn't keep. If you must, make the scones and freeze them unbaked, then bake the frozen scones as needed.
If you're stuck with a leftover scone, stick it in an airtight container, and try to revive it the next day with a moment in a frying pan with some melted butter.
If you don't like a glazed scone, consider simply sprinkling the tops with coarse sugar.
For the Love of Scones
Love scones? Want more? No need to ask twice!
Affiliate Disclosure: As Amazon Associates, we earn a small commission from qualifying purchases when you click on links embedded in this post.