This fresh cranberry pound cake recipe is a perfect way to kick off your holiday season.
A Short History of Cranberries and Cranberry Cakes
Cranberries are native to the Northeast of the United States. The Naragansett people used the berries as food, medicine, and dye. When Dutch and English colonists arrived to New England, they thought that the expanding calyx and stem of the plant resembled a crane. Accordingly, they dubbed them "craneberries" (later shortened to "cranberries"). The colonists used the berries in their cooking (typically in the form of a sauce for meat) and as a dye. As early as 1633, a recipe for a cranberry sauce was recorded in a Pilgrim cookbook. Perhaps anticipating the future popularity of the Cape Codder among undergraduates, cranberry juice was served at early Harvard commencement ceremonies.
In the 20th century, two forces coalesced towards the development of cranberry cakes. Cranberry growers banded together into cooperative marketing and sales organizations. These groups sought to expand the market for their products. They quickly realized that helping home cooks create cranberry-based recipes could help increase sales. Early 20th century advertisements included references to cranberry muffins and cakes. This coincided with the new availability of chemical leaveners to home cooks. With these new leaveners, home cooks could make quick breads, muffins, and cakes with comparative ease. The first cranberry cake recipe was published in the 1930s. With their festive jewel tones, cranberry breads and cakes have remained a popular holiday treat.
About this Recipe
This delicious cake is somewhat unique in that it uses both juice and zest for a very bright orange flavor and a moist crumb. Cranberries keep well in the freezer. This cranberry orange pound cake recipe is a good reason to buy an extra large bag of cranberries when you go to make your cranberry sauce this Thanksgiving. It's also the perfect way to get your holiday season off to a great start.
More Holiday Baking Ideas
Looking for more holiday, but short on time? Check these quickie recipes out: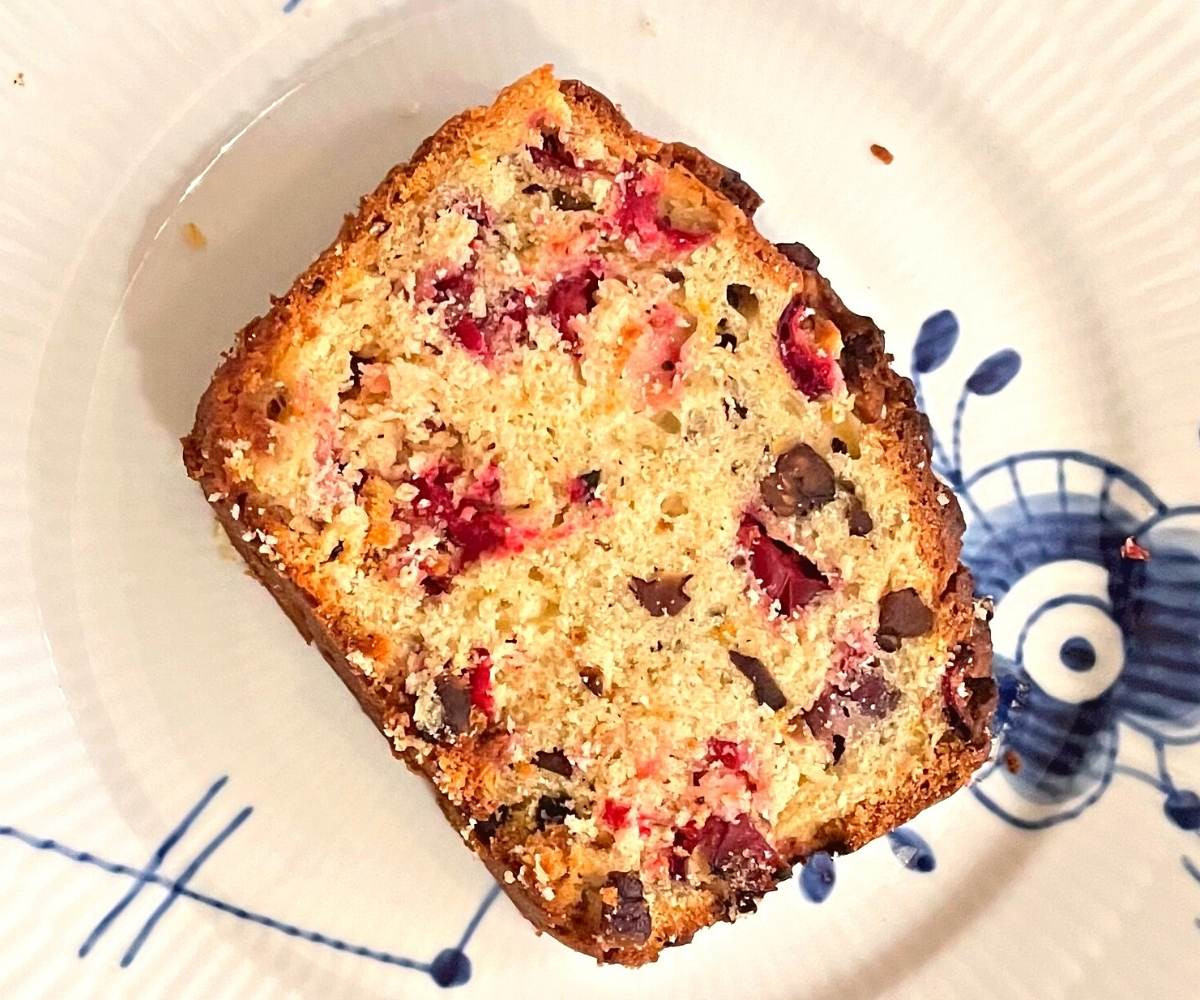 Cranberry Pound Cake Recipe
Here's a lovely wintery pound cake studded with juicy cranberries.
Equipment
8 1/2 x 4 1/2 inch loaf pan

parchment paper
Ingredients
3/4

cup

pecans

1

cup

granulated sugar

2

oranges

6

tbsp

unsalted butter

melted and cooled

1

egg

1/2 to 2/3

cup

sour cream

1

tsp

vanilla extract

1

tsp

salt

1/2

tsp

baking soda

1

tsp

baking powder

2

cups

fresh cranberries

or frozen cranberries, halved

2

cups

all-purpose flour
Instructions
Place pecans in the oven on a baking sheet and toast for 6 to 8 minutes until fragrant. Remove and roughly chop, then set aside.

Place sugar in the bowl of an electric mixer or a large mixing bowl and zest the orange peel into the sugar. Rub with your fingertips to break up the orange zest and spread the orange oil among the sugar granules.

Cut oranges in half and juice them into a liquid measuring cup. Spoon in sour cream until the juice reaches the 1 cup line.

Using the paddle attachment on a stand mixer, or a hand mixer, beat the melted butter, egg, and vanilla extract into the sugar on medium speed. Add in the orange juice and sour cream and beat until just combined.

Sift the dry ingredients (flour, baking powder, baking soda, and salt) into the butter mixture. Beat on low speed to combine flour mixture with wet ingredients.

Stir in the cranberries and pecans until just combined.

Scrape the cake batter into the prepared loaf pan.

Bake in preheated oven 60 to 70 minutes, rotating at the 30 minute mark, until a cake tester inserted into the center of the cake comes out clean and the sides of the cake begin to pull away from the pan. If the top of your cake begins to get too dark but the center of the cake is still wet, you can tent the top of the cake with aluminum foil.

Remove to cooling rack and cool to room temperature.
Notes
We adapted this recipe from Smitten Kitchen. You can double this recipe and bake it in a 12-cup bundt pan or tube pan (serving 14).
This cake keeps well for several days, wrapped tightly in plastic wrap.
Don't like nuts? Make this a white chocolate cranberry pound cake recipe by mixing in 1/2 cup white chocolate chips instead of the pecans.
Affiliate Disclosure: As Amazon Associates, we earn a small commission from qualifying purchases when you click on links embedded in this post.