This is our favorite variation on German butter cookies recipe (there are so many!). Heidesand is a browned butter shortbread with a nutty flavor and a crumbly texture.
A Very Short History of Heidesand
We found a great many rumors abounding the internet on the origins of these cookies' name. Many report that these sandy-textured cookies are named after the heath sands in Luneberg, in Northern Germany. However, all of these rumors could be seemingly traced to a single printed source (Nadia Hassani's Spoonfuls of Germany). Or, they might all be true. Don't let these cloudy origins prevent you from enjoying these truly charming German cookies. The browned butter gives what might have been an ordinary shortbread cookie a flecked appearance. The savory flavor of the brown butter contrasts perfectly with the sweetness of this buttery cookie. This easy cookie recipe comes together quickly and the rewards the home baker with a cookie whose merits far outweigh the effort invested.
More Shortbread
Can you ever have enough shortbread cookies? No, we thought not. Here are a few more of our favorites: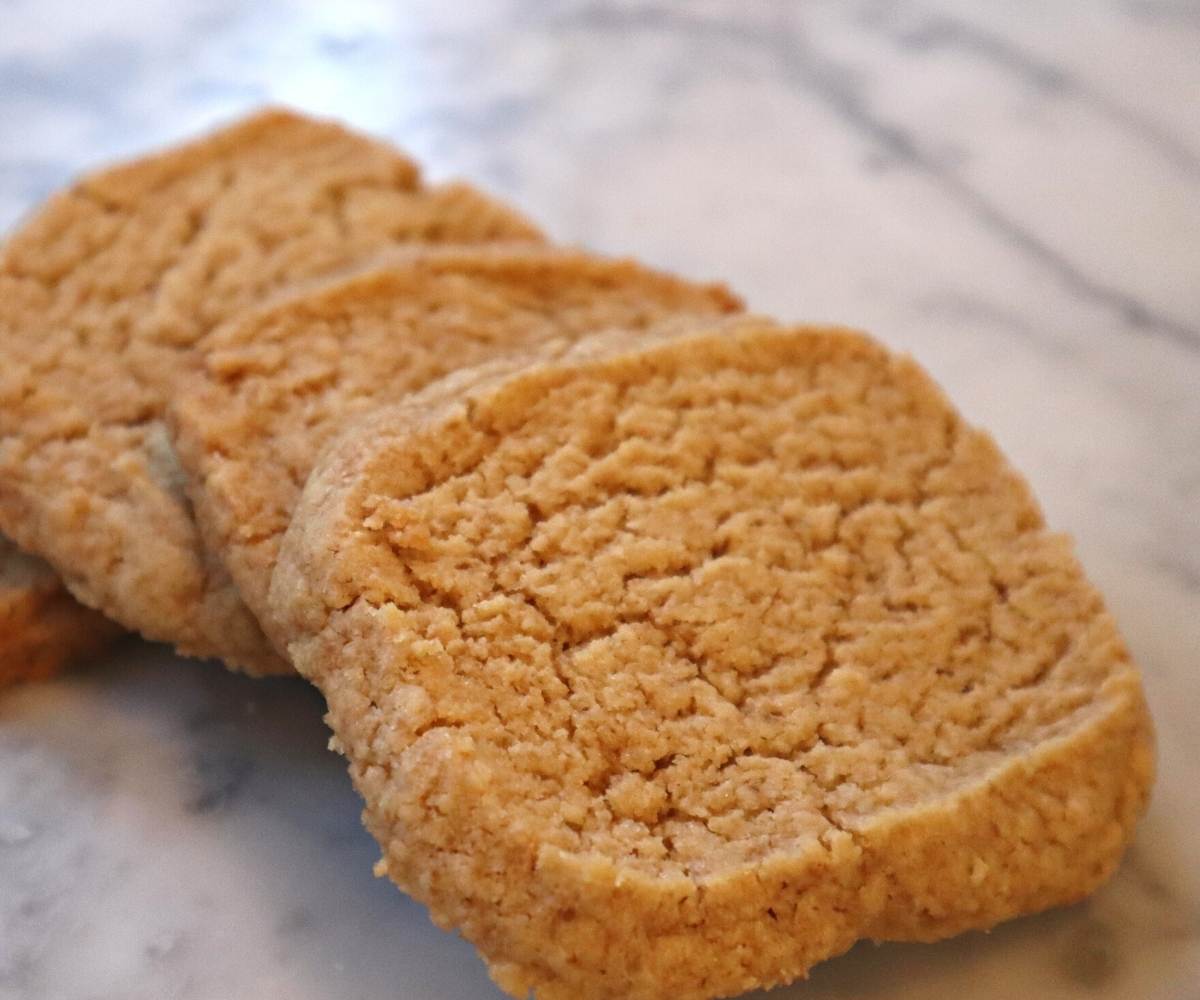 Useful Tools for Making These Delicious German Butter Cookies
Best German Butter Cookies Recipe: Heidesand
These delicious German butter cookies have a crumbly texture and nutty taste from the browned butter.
Equipment
baking sheet

parchment paper

silicone baking mat
Ingredients
1

cup

unsalted butter

3/4

cup

icing sugar

1

tsp

vanilla extract

2

cups

all purpose flour

1/4

tsp

salt

1/4

cup

turbinado sugar for rolling

optional
Instructions
In a small saucepan over medium heat, melt the butter, stirring frequently. Continue cooking 4 to 5 minutes until medium brown flecks appear at the bottom of the pan. Watch carefully as the butter can burn quickly.

Let the butter cool until it is at room temperature.

In a large bowl using an electric mixer, or in the bowl of a stand mixer using the paddle attachment, beat the butter and confectioners' sugar. Add the vanilla and stir to combine.

Sift the dry ingredients (flour and salt) into the butter mixture and mix sifted flour into the butter until a dough forms. The dough will be a little crumbly but hold together when pinched between two fingers.
Cookie Cutting Method 1:
Scrape the cookie dough onto a sheet of plastic wrap and form a log. We like to form a square log, using a bench scraper to get a nice flat surface and sharp corners. Refrigerate for at least an hour, or up to 3 days.

When you are ready to bake, preheat oven to 350 F and line a baking tray with parchment paper.

Remove the dough log from the fridge and set it on the counter to warm up for a few minutes. Dough straight from the fridge will be too hard to cut evenly.

Use a sharp knife to cut the log into 1/4 inch slices. If desired, roll the edge of each cookie in turbinado sugar and place the cookies 2 inches apart on prepared baking sheet.
Cookie Cutting Method 2:
Line a cookie sheet with parchment paper or a silicone baking mat.

Divide dough in half. Wrap half in plastic wrap and chill in refrigerator while you work with the first half. Use a rolling pin to roll dough to 1/4 inch thickness. Use cookie cutters to cut cookies into different shapes. Place cut cookies on prepared baking sheet and chill in refrigerator for at least 20 minutes. Repeat with second dough ball. While the cookies chill, preheat oven to 350 F.

Bake cookie in preheated oven 12-14 minutes or until cookies just begin to lightly brown.

Remove and cool cookies 2-3 minutes on baking sheet before transfering to cooling rack.
Notes
Cookies keep well in an airtight container for 5-7 days.