This brown sugar shortbread is the closest we could get to Pepperidge Farms' iconic Bordeaux cookie recipe. When sliced thin, these crispy cookies have a buttery caramel flavor. We enjoy these cookies dunked in tea or coffee. You may recall that a Covid-induced Pepperidge Farms cookie shortage struck during the 2020 holiday season. We had to learn to make our own.
A Short History of Pepperidge Farms
Today we think of Pepperidge Farms as a faceless corporate entity. However, Margaret Rudkin founded the business on her family farm out of necessity. The 1929 stock market had put her stockbroker husband out of a job. What started as a cottage industry grew quickly, with distribution first expanding within Connecticut and New York City.
The original Pepperidge Farms focused on homemade loaves bread. In the 1920s, commercially baked sliced breads became increasingly popular. Rudkin sensed that even in the midst of the depression, there might be a market for high quality "healthy" bread. Rudkin was a promoter of women in the workplace, if not equal wages. Her starting bread mixing salary was $1.75 for women and $2.15 for men. In 1961, Rudkin sold Pepperidge Farms to Campbell's Soup. She became the first woman to sit on its corporate board. After her retirement, she wrote a delightfully quirky cookbook. The book was part memoir part cookbook. It was the first cookbook to make the New York Times bestsellers list.
A Short History of the Bordeaux Cookie
After World War II, Rudkin traveled to Europe. In partnership with the Belgian manufacturer Delacre, she introduced her "Distinctive" line of cookies. Each cookie was named after a European city. The Distinctive line was intended to be impossible for a home baker to reproduce. In contrast, the "Old Fashioned" line mimicked classic home-cooked favorites.
Pepperidge Farms' Bordeaux cookies are named after the port city of Bordeaux. Bordeaux is a beautiful town in Southwest France on the Garonne River. The surrounding region is famous for its wine. It is not particularly known for its cookies. It does not seem that Pepperidge Farms sought to connect its branding to actual regional recipes. These buttery cookies most closely resemble the Bastogne or Speculoos. These are a Belgian/Dutch cookie. Given Rudkin's reliance on Belgian bakers, this seems like a plausible source.
Useful Tools for this Bordeaux Cookie Recipe
These homemade Bordeaux cookies don't require a cookie cutter. You will be making logs of dough and slicing them. However, a bench scraper is useful for shaping the log and cutting off the slices.
Shortbread Cookies Galore!
We love a good shortbread cookie. Here are a few other favorites: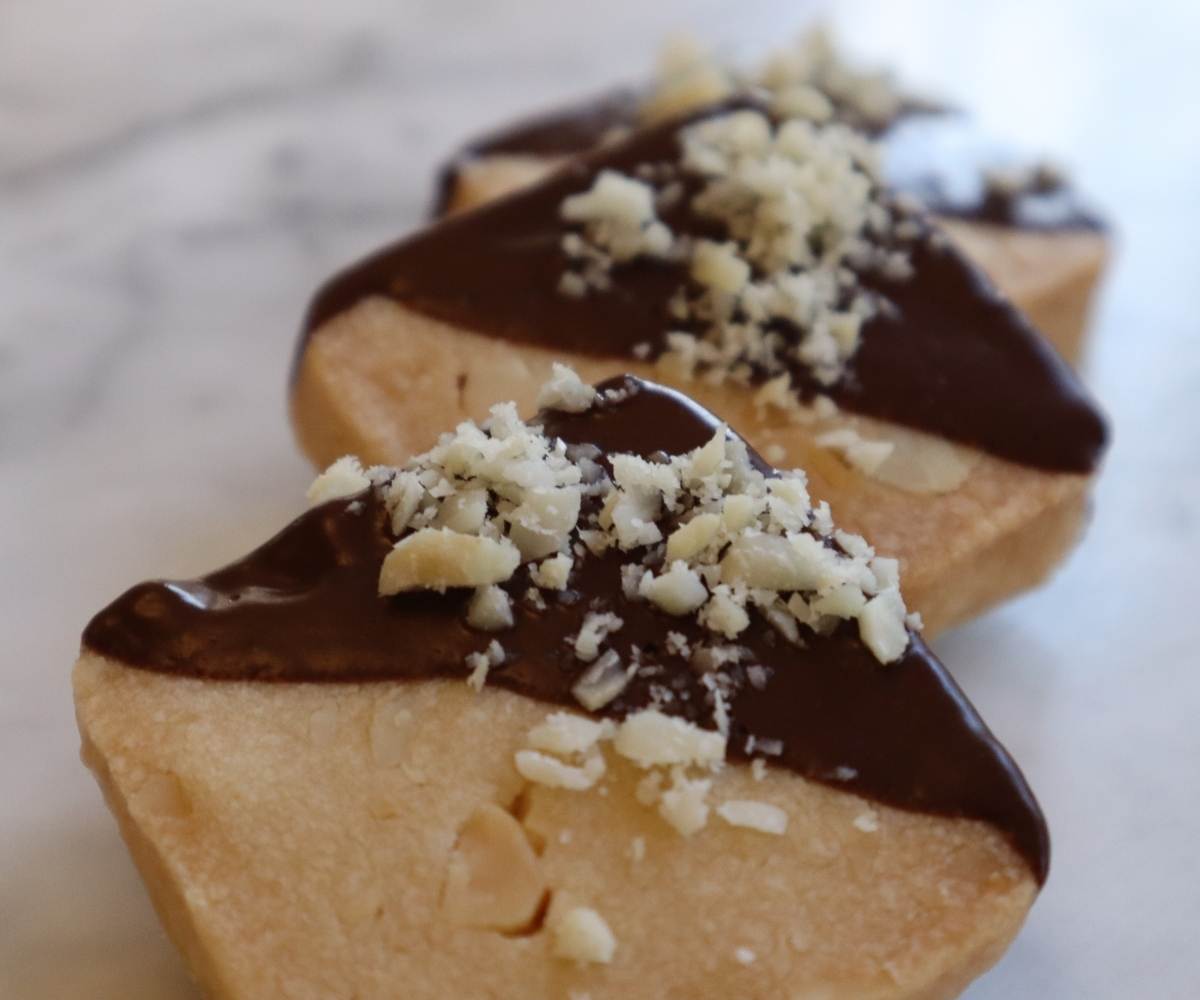 Variations
You can jazz up these sweet caramelized crisp cookies by drizzling them with melted chocolate. There's no universe in which a chocolate bordeaux recipe wouldn't be better than the original! Simply place some good dark chocolate or some chocolate chips in a double boiler over low heat. You can make a double boiler by placing a medium bowl (metal) over a saucepan with about a 2 inch depth of water. Melt chocolate, stirring frequently. Put the prepared cookies on a wire rack placed over a baking rack or a piece of parchment paper. Place a generous amount of the melted chocolate in a ziploc plastic bag and trim off the end. Drizzle away!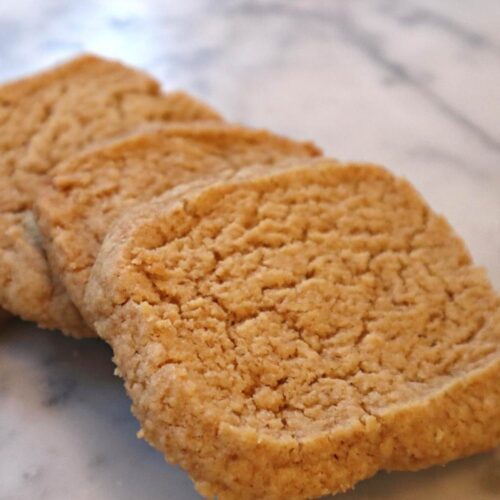 Best Brown Sugar Shortbread: A Bordeaux Cookie Look-Alike
Ingredients
1/2

cup

unsalted butter

at room temperature

2/3

cup

sugar

dark brown sugar or light brown sugar

1/4

tsp

vanilla extract

1

tsp

baking powder

1

cup

all-purpose flour

1

pinch

salt

1

tbsp

milk
Instructions
In a large bowl using a hand mixer, or in an electric mixer with a paddle attachment mixing bowl cream butter and brown sugar on high speed until creamy. Add the vanilla extract and mix thoroughly.

Remove the bowl from the stand mixer, if using, and sift the flour and baking powder into the butter mixture.

Return the bowl to the stand mixer and mix the dry ingredients into the butter mixture until well combined. The dough will be quite crumbly.

Add just enough milk until the dough begins to come together. Continue beating until a soft dough forms.

Turn the dough out onto a piece of plastic wrap. Wrap tightly and shape into the log shape of your choice (we like rectangular here), roughly 1 1/2 x 2 1/2 inches.

Refrigerate at least 2 hours and up to overnight.

Preheat oven to 350 F. Line a cookie sheet wtih parchment paper or a silicone baking mat.

Slice the log of dough into 1/4 inch thick slices. Leave plenty of room around the cookies as they will spread.

Bake cookies 10-15 minutes until golden brown. Let the cookies rest on the cookie sheet for 5 minutes, then remove to a wire rack to cool.
Notes
These crisp cookies will keep several days in an airtight container.
Affiliate Disclosure: As Amazon Associates, we earn a small commission from qualifying purchases when you click on links embedded in this post.