Cake Confusion
This pear cake recipe falls squarely between baking categories. It's like a coffee cake in that it has a layer of moist cake topped with streusel. We like to eat coffee cakes for breakfast. It's also buttery and rich enough that you might think of it more like a bar cookie or blondie. For us, cookies and blondies fall squarely in the mid-afternoon snack and dessert category. So, really, it's a fresh pear cake recipe for all occasions. You should definitely add into your baking roster.
Pear Facts to Impress Your Friends
It's good to come to any party to which you are bringing a cake armed with some fun facts about the star ingredient. So, here we go:
Peak pear season is August to October. Comice pears, however, are known for their later season (September through January) and thus have been dubbed the "Christmas Pear."
Growing season aside, pears keep very well for extended periods at cooler temperatures… Cooler or less aggressively rattled on a regular occasion than our refrigerator, apparently.
Although we now think of "pear shaped" as an insult, the shape of pears was historically considered elegant. Pears were often exchanged as holiday gifts.
Speaking of pear-shaped insults, poor Louis-Philippe I, the last King of France, was often lampooned for his pear-shaped head. We once spent a summer cataloguing prints of Louis-Philippe as a pear. We are happy to report that it did not impact our love of pears.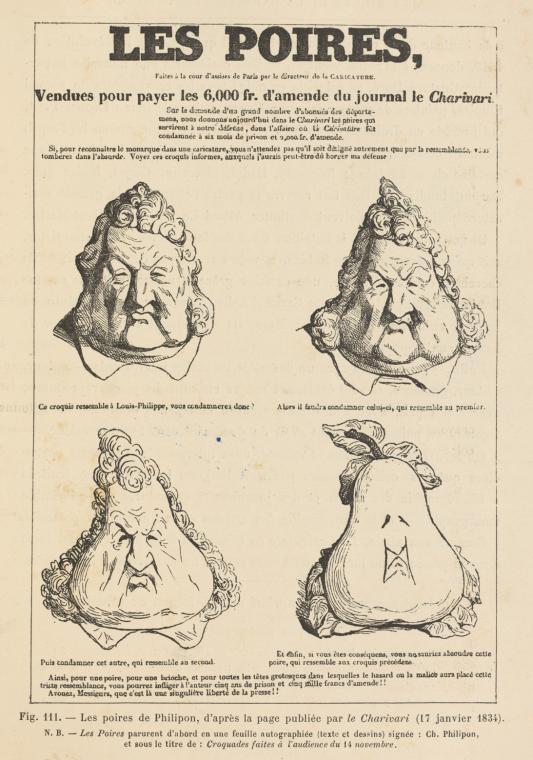 Did those pear heads freak you out? Here's are some apple alternatives to this pear cake recipe: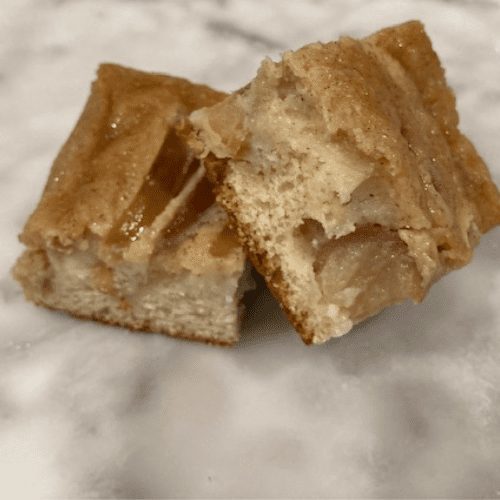 If not, read on!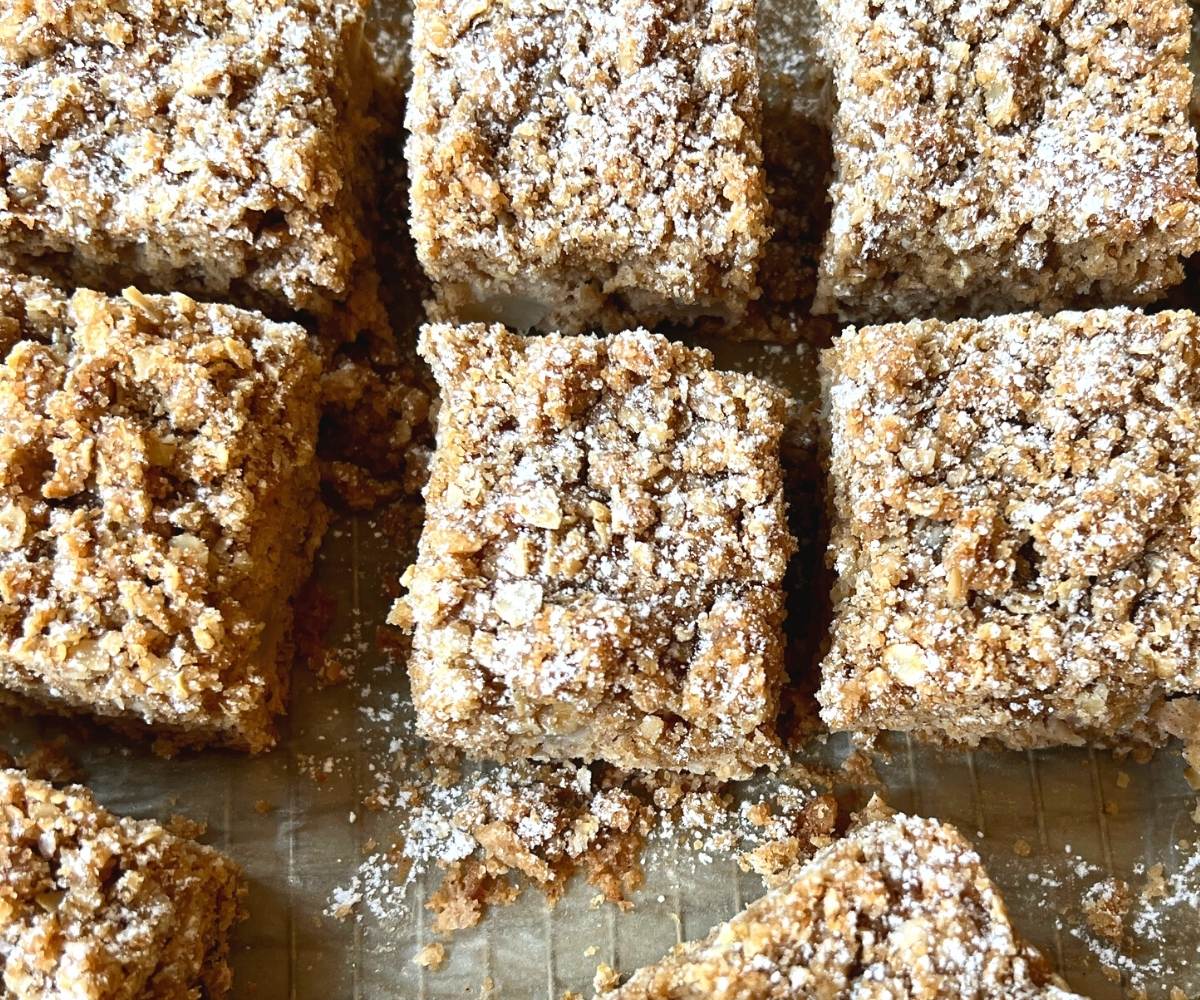 Pear Cake Recipe
This oaty, buttery pear cake is perfect for all occasions.
Equipment
8 x 8 inch baking pan

parchment paper
Ingredients
For the streusel
1/4

cup

all purpose flour

1/4

cup

old fashioned oats

1/2

tsp

salt

1/4

cup

brown sugar

2

tbsp

unsalted butter

cut into 1/2 inch cubes
For the cake
3

tbsp

unsalted butter

1

cup

all purpose flour

3/4

cup

old fashioned oats

1 1/2

tsp

baking powder

3/4

tsp

ground cinnamon

3/4

tsp

salt

1 1/4

cups

light brown sugar

packed

2

large eggs

at room temperature

3/4

tsp

vanilla extract

2

fresh pears (bosc, bartlett, or anjou)

cored and peeled, cut into quarter inch dice
Instructions
For the streusel
In a small bowl, mix flour, oats, brown sugar, and salt.

Use your fingers to mash the butter into the flour mixture until crumbs form. Chill until you are ready to use.
For the cake:
Heat oven to 350 F. Grease and line an 8 x 8 inch square pan with parchment paper. Don't skip this step if you actually want to be able to remove your cake from the pan in one piece. Remember, you're not flipping this cake over at the end, so it has to come out of the pan easily.

Put butter in a small saucepan and stir over medium heat until golden brown. Watch carefully so that it doesn't burn! This should take roughly 5-8 minutes. Cool slightly.

In a medium bowl, whisk together flour, baking powder, cinnamon and salt; set aside.

In a large mixing bowl, whisk together brown sugar, eggs, and vanilla. Pour the browned butter into the egg mixture, whisking constantly until well blended.

Toss the pears in with the dry ingredients to coat. Stir the pears and dry ingredients into the wet ingredients until combined.

Use a rubber spatula to scrape the cake batter into the prepared cake pan. Smooth the top with a rubber spatula.

Sprinkle the reserved streusel over the top of the cake batter.

Bake 30 minutes in the preheated oven or until golden brown and a cake tester inserted into the cake comes out clean.

Let cool on a wire rack for 30 minutes, then remove from the pan and cut into squares.

Dust with powdered sugar just before serving.
Notes
Some notes about pears:

We like to make this cake with slightly overripe pears. The softer pear texture blend nicely into the cake. This makes it a great way to use up any bruised pears you might have lolling about in your refrigerator.
Cake storage:

With its delicate crumb, we'd be lying if we said this cake kept well. So, just enjoy it on the day you make it!
Affiliate Disclosure: As Amazon Associates, we earn a small commission from qualifying purchases when you click on links embedded in this post.