This Italian Almond Torte Recipe calls for almond paste, rather than almond flour, for a very moist texture and mildly sweet flavor.
The Trouble With Italian Desserts
In researching this recipe, we did a deep dive into Italian desserts which, for what some would argue as good reason, get a bad rap. Chef Brooks Headley, for instance, argues that Italian desserts lack inspiration because, well, Italians eat dessert all day long. As firm believers in dessert consumption at all meals, we enthusiastically endorse his explanation. Indeed, no Italian breakfast buffet is complete without a selection of jams, sweet pastries, and the odd cake or tart. This Italian Almond Torte recipe would be a great addition to a breakfast buffet since it isn't too sweet, and the strong almond flavor is cut with a little bit of citrus.
What is A Torte?
You might wonder, as you read this recipe, what is a torte? The difference between a torte and a cake is that a torte contains very little or no flour, relying instead on ground nuts or breadcrumbs for its substance. A torte tends to be short in stature, rich, and dense. Our favorite family chocolate almond cake, by this description, should actually be renamed a chocolate almond torte. Perhaps the most famous of Italian cake recipes (and tortes!) is the Torta Caprese, an extremely dense chocolate almond confection. A cake, in contrast, consists primarily of flour, and is all about height. Cake height is achieved with eggs (separated, whipped, or just mixed in), and with chemical leavening.
What is Almond Paste? How is it Different from Marzipan?
Almond paste is made of almonds ground into a paste with sugar and some almond extract and/or rum. Marzipan is like almond paste, but with MORE added sugar, which makes it denser and crumblier. This is confusing since they are often next to each other in the baking aisle. It's hard to give an exact substitution, if you can only find marzipan, since the amount of sugar can vary from brand to brand. In a pinch, you can make your own almond paste, with blanched almonds, sugar, a food processor, and a lot of patience.
Useful Tools in making this Italian Almond Torte Recipe
More Cakes
Looking for more quick and easy cakes? Check these guys out!
About this Italian Almond Torte Recipe
This moist almond cake is made entirely in the food processor, which makes it super easy and quick. There you go – we've eliminated all possible excuses to not make this simple almond cake. It's fast, easy, and you can eat it for breakfast!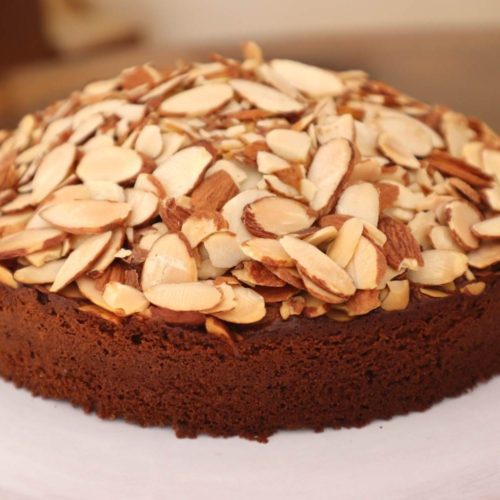 Italian Almond Torte
This Italian almond torte is moist, lightly sweet, and has a pleasant almond flavor cut with citrus.
Equipment
1 8 inch springform pan

parchment paper

food processor
Ingredients
6

oz

almond paste

3/4

cup

sugar

7

tbsp

unsalted butter

at room temperature

1

tbsp

orange zest or lemon zest

3

large eggs

at room temperature

1/2

cup

cake flour

sifted (in a pinch you can substitute all purpose flour, but the cake will be denser)

1/4

tsp

baking powder

1

pinch

salt

1

cup

sliced almonds
Instructions
Set oven temperature to 325 F and arrange the oven rack in the middle position in the oven. Grease a 8-inch spring form pan and line the bottom of the pan with parchment paper.

Place the almond paste and sugar in a food processor. Pulse until the almond paste has been uniformly broken into small pieces and is well combined with the sugar.

Add the softened butter and grated orange zest and pulse until the mixture forms a ball.

Add eggs one at a time, pulsing after you add each egg and scraping down the bottom and sides of the food processor as needed. Continue until all of the eggs have been incorporated. The batter should be creamy looking.

Sift the dry ingredients (baking powder, cake flour and salt) into the bowl of the food processor and pulse another few times until the flour is just combined.

Use a rubber spatula to scrape the cake batter into the prepared pan and smooth the top. Sprinkle the sliced almonds over the top of the cake.

Place the cake into the preheated oven and bake cake 45-55 minutes, until a toothpick inserted into the top of the cake comes out clean.

Let the cake cool for 5 minutes, then run a sharp knife around the sides of the pan and remove the cake from the cake pan to a wire rack to fully cool.

Once the has fully cooled, remove the parchment paper and place the cake on a cake plate. Dust with confectioners' sugar if desired and serve with whipped cream and fresh berries.
Notes
This easy recipe keeps very well wrapped in plastic wrap for several days. You can enjoy it for dessert on a weekend and then have an Italian-style breakfast the next few week days! The almond flavor is particularly nice with a cup of coffee.
Ingredients