This carrot cake recipe without nuts is for those of you who love a moist carrot cake, but can't stand biting into a nut as you enjoy your favorite treat. We see you, and we appreciate you.
Nut Haters
For unknown reason, our children loathe nuts. We were shocked to find that our children are not alone in this plight. "Carrot cake recipe without nuts" is an incredibly popular search term. Who knew that there were so many nut haters out there? Well, folks, this one's for you. A nut-free carrot cake. As much as we were surprised to find that many people don't like nuts in their carrot cake, we emphatically support the anti-raisin-ists of the world. We are however, recent converts to the crushed-pineapple-in-carrot-cake phenomenon.
An Endlessly Adaptable and Popular Recipe!
In the picture here, we baked this carrot cake off in an 8 x 8 inch square pan and made 16 small-ish servings for a potluck. You could double the recipe and make a 9 x 13″ sheet cake, or triple it, pour it into three 9-inch cake pans, and make a triple layer cake. We have done all of these things. The good news is, no matter what you do, it will be incredibly popular. At a recent potluck, a large majority of guests walked up to us and said "Oh my god! You made carrot cake? That's my favorite cake!" Needless to say, they made quick work of our classic carrot cake, and no one complained about the absence of nuts in the cake.
The Leftover Carrot Dilemma
This moist carrot cake is also a great way to use up leftover carrots lingering in our fridge. You only need about 3 carrots to pull off this recipe, which is usually what we find is left at the end of a 5 lb bag of carrots — not quite enough to cook, so really just enough to bake with. Darn. We'll just have to make our favorite cake recipe – AGAIN!
We appreciate that carrots, unlike many fruits, never really go out of season, so this is a great anytime-of-year cake, like our cherry tart.
Is There Such a Thing As Too Much Cream Cheese Frosting? No!!
We like an extra generous portion of cream cheese frosting, so that we have some to decorate, and sometimes we like to cut the cake in half and put an extra layer of frosting in between. We find traditional cream cheese frosting a bit cloying. Our secret ingredient, sour cream, cuts the sweetness a bit. And, we use a smaller proportion of confectioners' sugar to butter/cream cheese. While this makes the frosting a little wetter, we think it's worth it for the improved flavor. But, if it drives you crazy, just add more powdered sugar until you reach the desired consistency.
More Cakes!
Looking for a great cake and not sure this is the one? Here are some other great options: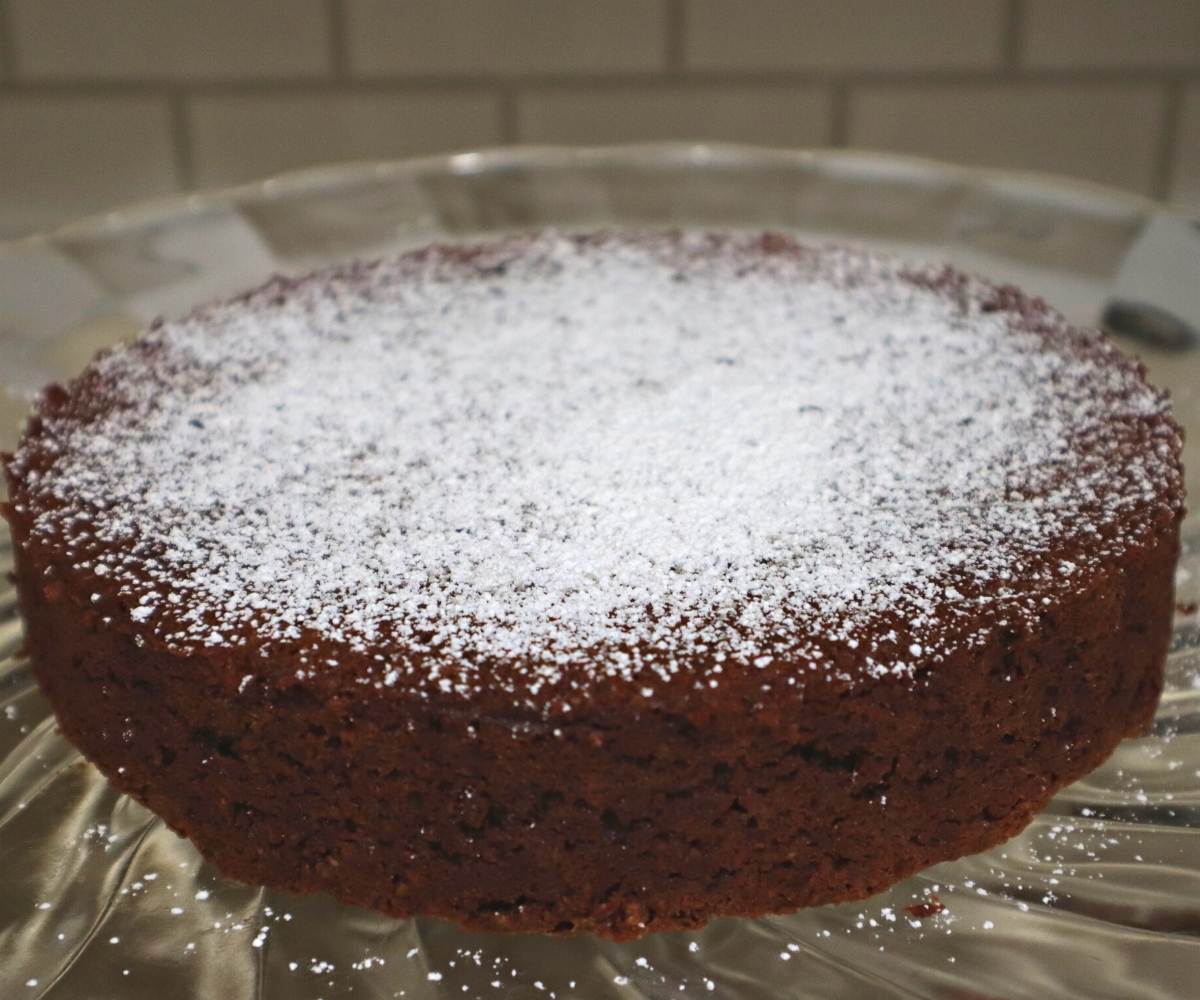 Useful Tools for Making this Carrot Cake Recipe Without Nuts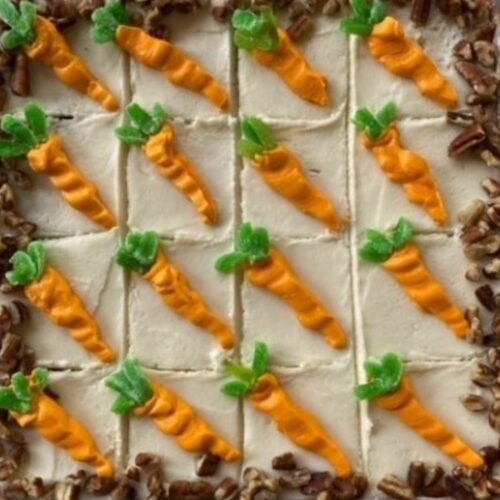 Carrot Cake Recipe Without Nuts
This is our favorite easy carrot sheet cake. You can double the recipe and make it for a crowd, or just host a small party in an 8 x 8 inch pan.
Equipment
8 x 8 inch square pan

parchment paper
Ingredients
Ingredients for a Carrot Cake Recipe Without Nuts
2

eggs

1/2

cup

vegetable oil

1

cup

white sugar

1

tsp

vanilla extract

1

cup

all purpose flour

1

tsp

baking soda

1

tsp

baking powder

1/4

tsp

salt

1

tsp

ground cinnamon

1 1/2

cups

grated carrots from about 3 carrots

if you have a grater attachment for your food processor, this is your moment to LET IT SHINE!
Ingredients for Our Favorite Cream Cheese Frosting
1

package cream cheese at room temperature

1/2

cup

butter at room temperature

1/4

cup

sour cream

3

cups

confectioners' sugar

1/2

tsp

vanilla extract

1

pinch

of salt

orange food coloring

4-5

green gum drops

1/4

cup

of the toasted pecans to decorate

omit if you have some really hardcore nut haters or nut allergies on hand
Instructions
Directions for the Carrot Cake Recipe Without Nuts:
Preheat oven to 350 F.

Grease an 8 x 8 inch square pan or a 9 inch round pan. Line the bottom of the pan with parchment paper.

In a large mixing bowl, using a wooden spoon or rubber spatula, beat together eggs, oil, white sugar, and vanilla.

Mix the dry ingredients (flour, baking soda, baking powder, salt and cinnamon) into the wet ingredients.

Stir in shredded carrots.

Pour the cake batter into prepared pan.

Bake 40 to 50 minutes or until a toothpick inserted into the center of the cake comes out clean.

Then, cool in pan for 10 minutes, then turn out onto cooling rack and cool completely
Directions for Our Favorite Cream Cheese Frosting:
Combine butter, cream cheese, sour cream, confectioners' sugar, salt, and 1 tsp vanilla in the bowl of a stand mixer with a paddle attachment on medium speed and beat until smooth and creamy.
To Assemble:
If you are making a two layer cake, freeze cake for 2-3 hours, then trim the top of the cake and slice in half using a large serrated knife. If using a single layer, freeze, then simply trim the top to flatten.

For a potluck-friendly cake that can travel, return bottom (least flat and attractive) cake layer to pan, add a layer of frosting. If your cake is staying home with you, you can simply place it on your cake plate.

Next, if you are making a double layer cake, add the second cake layer, and a final layer of frosting. Frost the sides of the cake if serving on a cake plate.

Use offset spatula to divide cake into 16 pieces. If using pecans to decorate, scatter around edges (instead of pecans, you could also pipe shell or star pattern around edges). Chill 30 minutes to set.

Tint leftover frosting orange and place in piping bag. Using kitchen shears, cut gum drops into small pieces.

Pipe a carrot onto each slice, and add green gum drops to represent carrot leaves.

This cake may improve the next day. Definitely keep any leftovers (if you have any) covered with plastic wrap in the refrigerator.
Affiliate Disclosure: As Amazon Associates, we earn a small commission from qualifying purchases when you click on links embedded in this post.