The most famous Italian almond cookie recipe is surely the amaretto. However, the prize for most charming goes for the adorably named "Baci di Dama" (Ladies' Kisses). Baci di Dama are perfect cookies. They consist of a luscious glob of chocolate ganache, sandwiched between two tender but crumbly pieces of almond shortbread.
A Short History of this Italian Almond Cookie Recipe
Like so many Italian things, Baci di Dama come with some drama and flair. For one thing, we don't quite know why exactly they are named Ladies' Kisses. Some argue that the cookie is named after the fact that the two cookies seem to be (romantically? If that's a thing for an inanimate object) kissing each other in a puddle of chocolate. Others argue that the round attached round cookies look like a pair of pursed lips, ready for a kiss. As feminists, we would like to advocate that some Baci di Uomo ("Men's Kisses") be invented and popularized soon.
Similarly, the origins of the Italian almond cookie recipe come with quite a bit of legend. One version claims that a royal chef working for King Vittorio Emmanuele II in the 1850s invented this recipe. They quickly became favorite cookies among the royal family. A more pedestrian version intimates that the town of Tortona, a famous hazelnut producing region, developed the cookies to help sell the fruits of an excessive nut harvest. Hence, the essential ingredient for the original recipe was ground hazelnuts. Modern versions of these delicious cookies tend to feature ground almonds. Either almond or hazelnut is very tasty and the nuts flours can be used relatively interchangeably. Modern Italian bakeries also make a chocolate version of the nut dough and sandwich white chocolate in between.
Nut Meal
This recipe calls for hazelnut or almond meal. You can generally find it in a well stocked grocery store and on Amazon, but if you can't get your hands on any, you can also make your own almond flour by grinding whole almonds or hazelnuts in a food processor.
Useful Tools for Making this Italian Almond Cookie Recipe
First and foremost, you'll need a cookie scoop! Wondering what kind of cookie scoop to buy? Check out our in-depth analysis here. And, here are a few other useful tools…
Cookies, Cookies, Cookies
Looking for more cookie ideas? Check these out!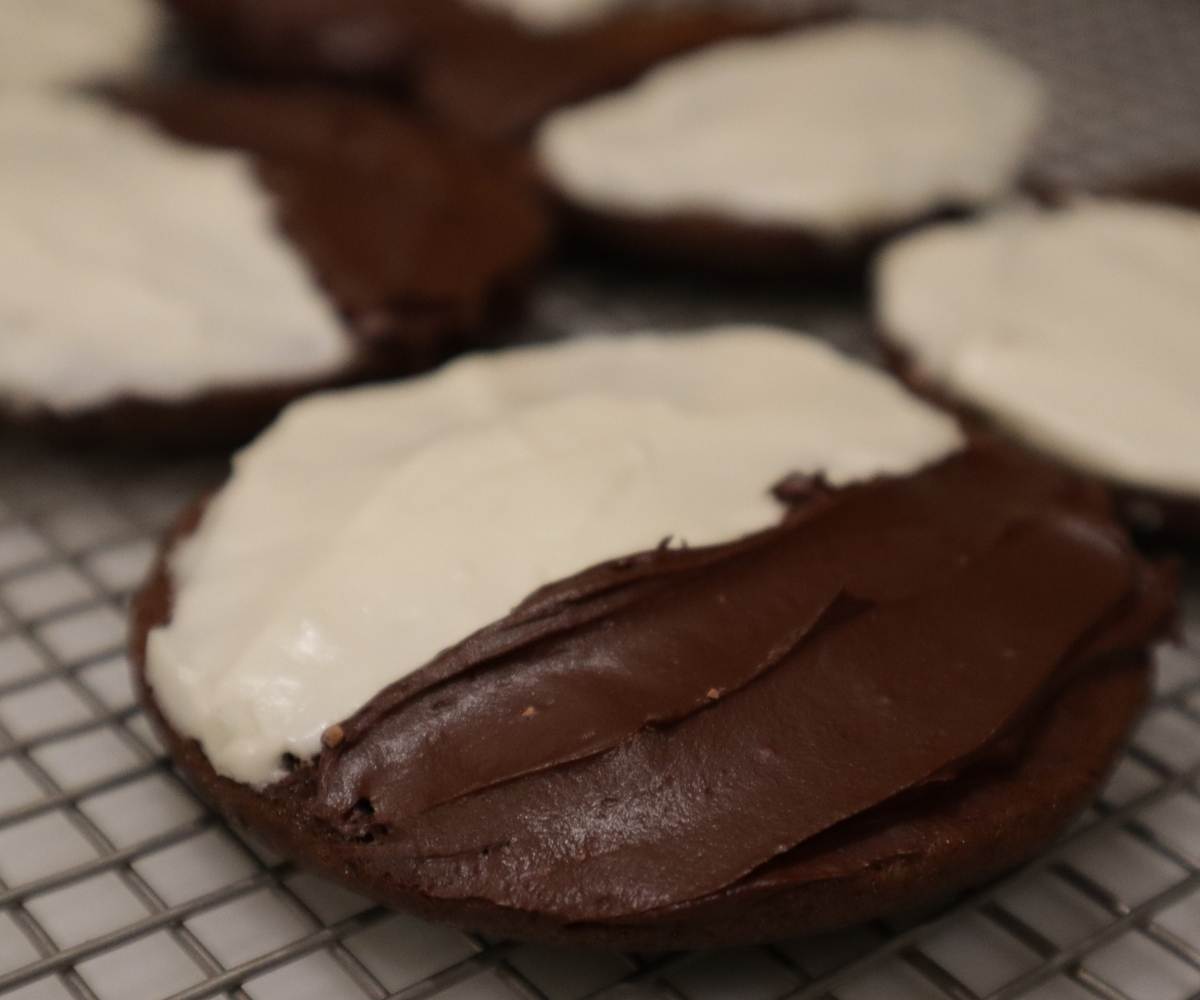 Baci di Dama: An Italian Almond Cookie Recipe
These are the most charming Italian almond cookie recipe, consisting of two pieces of almond shortbread, encasing a sliver of chocolate.
Equipment
stand mixer

baking sheet

parchment paper

silicone baking mat

small cookie scoop

offset spatula
Ingredients
2

cups

hazelnut or almond meal

1

cup

all-purpose flour

2/3

cup

granulated sugar

4

tbsp

cornstarch

1/4

tsp

salt

10

tbsp

unsalted butter

cubed

2

tsp

vanilla extract

1

cup

semi-sweet chocolate chips
Instructions
Line a cookie sheet with parchment paper or a silicone cookie mat.

In the bowl of a stand mixer using a paddle attachment, or in a large bowl using a hand mixer, beat the dry ingredients (nut meal, flour, sugar, cornstarch, and salt) until well combined.

Combine almond flour mixture with the cubed butter and vanilla extract. Mix until a dough forms with no visible streaks of butter.

Using a small cookie scoop or small ice cream scoop (2 tsp), portion the cookie dough out onto the cookie sheet. Flatten the bottom of each ball of dough against the baking sheet, so that each cookie is shaped like a semi circle. Set the cookies on the sheet about 1 1/2 inches apart – they will not spread much as they bake. Lightly tap on the top of each cookie to flatten slightly.

Place baking trays in the fridge and chill cookies at least 1 hour and up to overnight.

About 15 minutes before you are ready to start baking, preheat the oven to 325 F with the oven rack positioned in the middle of the oven.

Bake cookies 17 to 18 minutes, until just starting to brown on the top.Remove from oven and cool completely on a wire rack

While the cookies cool, melt the chocolate chips in a microwave-safe bowl. Heat in 10-15 second intervals, stirring between flashes of heat, until the chocolate chips are about half melted. Continue stirring until the chocolate chips are fully melted.

Use a piping bag with a 1/8-inch tip, or an offset spatula to spread 1 1/2 tsp of chocolate on the flat portion of half of the cookies. Top with the over half of the cookies and press to adhere.

Allow to sit until the chocolate has fully set, about 30 minutes.
Notes
If you can keep your hands off them, these cookies keep well at room temperature for several days in an airtight container. These cookies received rave reviews from our families.
Affiliate Disclosure: As Amazon Associates, we earn a small commission from qualifying purchases when you click on links embedded in this post.