This Kolaski Cookie Recipe is quick and easy and makes any jam you might have hanging around in your refrigerator taste even better.
A Short History of this Kolaski Cookie Recipe
Sometimes we wonder whether we pass taste down through our gene pools. Our family on both sides immigrated from Eastern Europe to the United States in the late 19th century. However, we didn't grow up eating Eastern European desserts. Yet, like magic, we have never found a cookie or cake of Eastern European origin that didn't thrill us. Today, we're talking about Kolaski/Kolacky/Kolacki/Kolache/Kolachy Cookie aka Rugelach. These Polish cream cheese cookies are very simple. If you refrigerate the cookie dough overnight, it's easy to work with.
The Jewish and non-Jewish communities in Eastern Europe were historically intertwined. There are striking similarities between Kolaski and its Jewish cousin, Rugelach. If you fold the dough into squares, they are Kolaski cookies (Polish), and if you fold them into crescents and throw in some chocolate chips and walnuts, they magically become Rugelach (Jewish). In the end, they're both a delightfully pillowy dough with a sweet filling of your choice in the middle, and a welcome treat during the holiday season.
Some Jammy Details To Note
Some recipes call for very thick fruit filling to prevent the fruit from seeping out. However, this is really just a case of less being more. Stick to 1/2 tsp of jam, and all will be fine. We like to make a range of flavors, using whatever jams and fillings are in the fridge. We also love the Solo fillings for nut/poppy seed options. You can generally find Solo pastry fillings in the baking aisle of most grocery stores. While prune is traditional, we think that that particular fruit is best reserved for babies with digestive difficulties, rather than fully grown adults in need of a sweet fix. In the picture above, you can see strawberry, peach, and guava.
Useful Tools for Making this Kolaski Cookie Recipe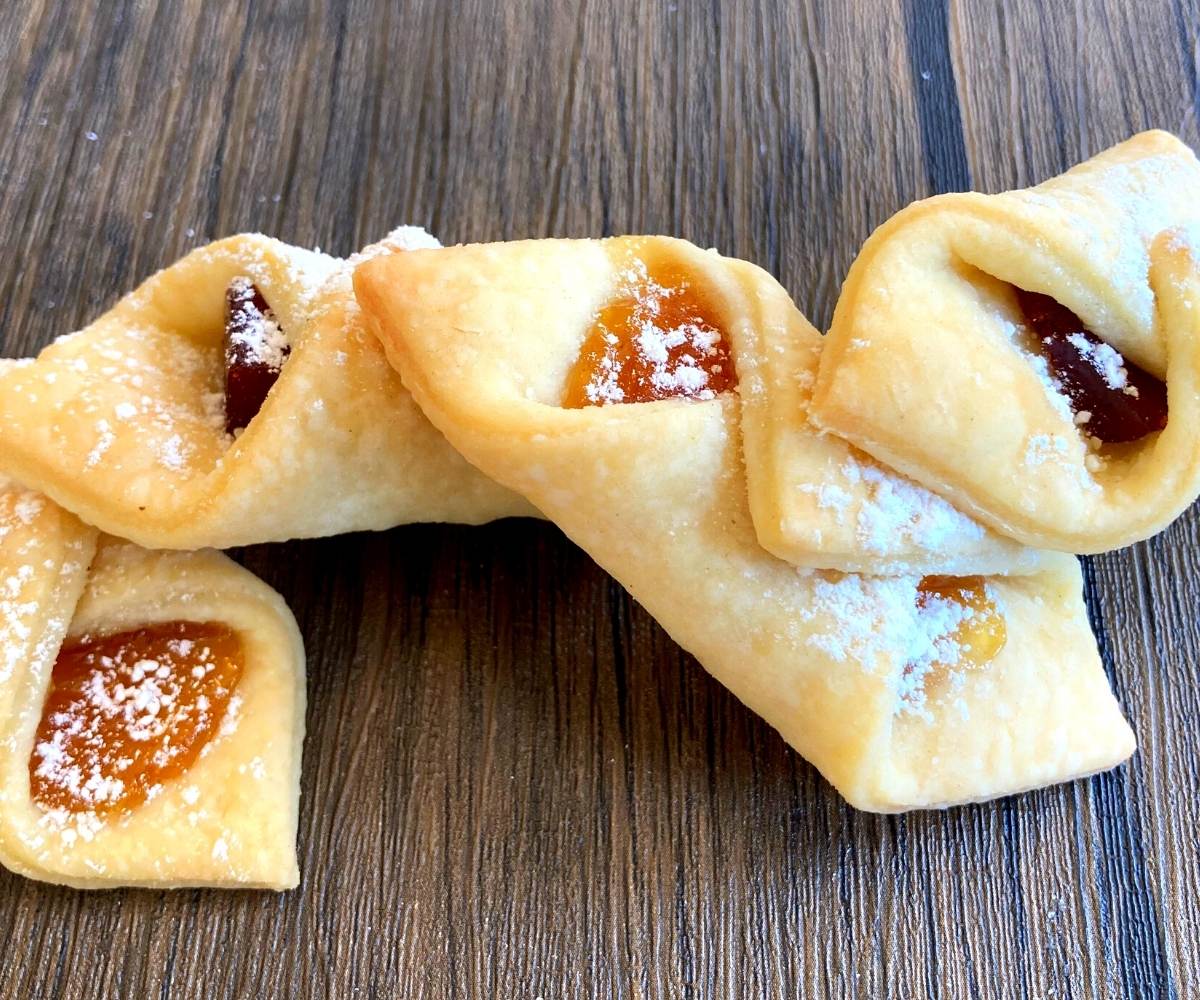 Kolaski Cookie Recipe
This Kolaski Cookie Recipe will make your leftover jam sing!
Equipment
silicone baking mat

parchment paper

baking sheet

Pizza Cutter
Ingredients
Ingredients for the kolaski cookie recipe
3

oz

cream cheese

at room temperature

1/2

cup

unsalted butter

(1 stick), at room temperature

1

cup

all-purpose flour

1/4

tsp

salt

1/2

cup

jam or other pastry filling

(we also like ground nut and poppy seed filling, or you can use the sweet cream filling recipe below)

1

egg white

1/3

cup

powdered sugar

for decoration
Sweet Cream Filling
4

oz

cream cheese

1

egg yolk

2

tbsp

granulated sugar

1/2

tsp

vanilla extract

1/2

tsp

lemon zest

optional
Instructions
For the cream cheese dough
In the bowl of a stand mixer using the paddle attachment on medium speed, or in a large bowl using a hand mixer, combine cream cheese and butter, until smooth.

Add flour and salt slowly until well blended. 

Shape each into a ball, cover in plastic wrap and flatten to about 1 inch thick, and chill overnight or for several hours.
For the sweet cream filling
Beat cream cheese and sugar in the bowl of a stand mixer, using the paddle attachment until smooth. 

Add egg yolk, vanilla and lemon if using.

Refrigerate in an airtight container until you are ready to use.
For assembly
Use a rolling pin to roll dough out into a (roughly) 10 x 10 inch square, 1/ 8-inch thickness on a floured work surface.

Using a ruler and a pizza cutter, cut into 25 2-inch squares. Place about 1/2 teaspoon of filling in the center of the cookies.

Overlap each opposite corner and pinch together, brushing if needed with a little bit of water to seal the edges of the dough.

Bake 14 minutes in preheated oven until golden brown.

If you have scraps, chill and reroll. Repeat with second dough packet.

Transfer cookies to prepared sheet. Cool cookies on wire rack. Sprinkle lightly with confectioners' sugar
Notes
A note on sweet cream filling: If you want to add a Cuban spin to your Kolaski, combine sweet cream filling and guava paste. Take a bite and pump your fist because you just beat our favorite local Cuban bakery Porto's at their own game.
These cookies keep nicely for several days in an airtight container.
Cookies, Cookies, Cookies
Looking for some other cookie ideas? Here are some options: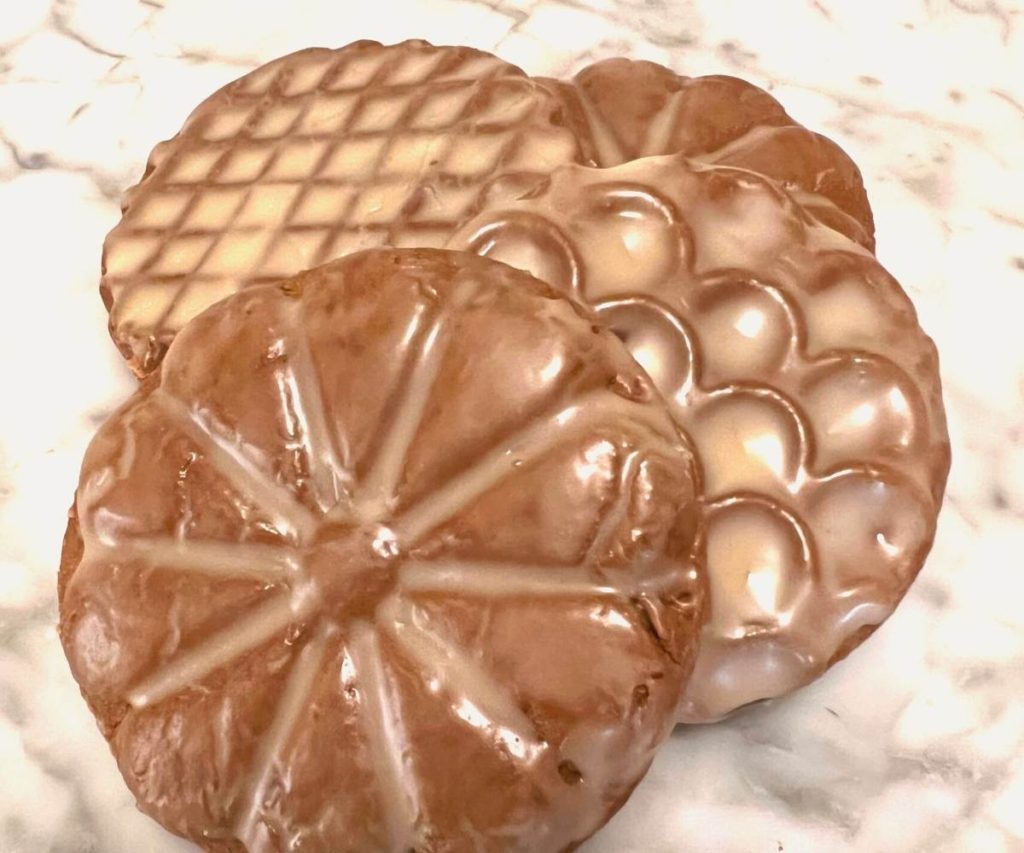 Affiliate Disclosure: As Amazon Associates, we earn a small commission from qualifying purchases when you click on links embedded in this post.