Today we learn about the Waffle House waffle recipe. Try not to read the ingredient list too closely or you may never return to Waffle House.
About This Recipe
Our dad used to joke "What's the best house in the world?….WAFFLE HOUSE!" He was telling Dad Jokes long before they were a meme, and with as much glee as any man can muster. Despite the long-running joke, it wasn't a place that we visited frequently as we tended to eat breakfast at home (often making our own waffles). We mostly used Bisquick mix, so we were surprised when looking for a good waffle recipe how often we saw "waffle house waffle recipe" listed.
While Waffle House tragically closed many of its locations during the pandemic, it made a super secret Waffle House Mix available for sale. Of course, food bloggers of the world united to try to figure out what was in the mix and create a copycat waffle house waffle recipe at home using pantry staples. Waffles remain one of our favorite weekend breakfast dishes, so we were curious to try this recipe and see how it ranked in our personal list of best waffles. It was very sweet and a little cakey. Our kids declared it the "perfect waffle;" adult diners referred to them as "addictive." In our opinion they are more like a dessert than a breakfast, but please weigh in on the dessert vs. breakfast debate in the comments section below!
Substitutions
This recipe calls for ALL the dairy products, most of which many people don't keep lying around. Here are substitution options, should you find yourself short some half and half and in dire need of some waffle house waffles.
If you don't have half and half, you can substitute 1 tbsp melted butter and a scant 1/2 cup milk.
If you don't have buttermilk, you can substitute yogurt or sour cream thinned with a little milk or water. Or, you can add 1/2 tablespoon vinegar or lemon juice mixed into 1/2 cup of milk. Let the milk stand for 10 to 15 minutes, until it thickens very slightly and curdles. A final option is to mix 3/4 teaspoons cream of tartar mixed with 1/2 cup of milk. Shake until the cream of tartar dissolves.
Waffling About
Love waffles and want to explore more delicious options before determining your final breakfast candidates? We're with you!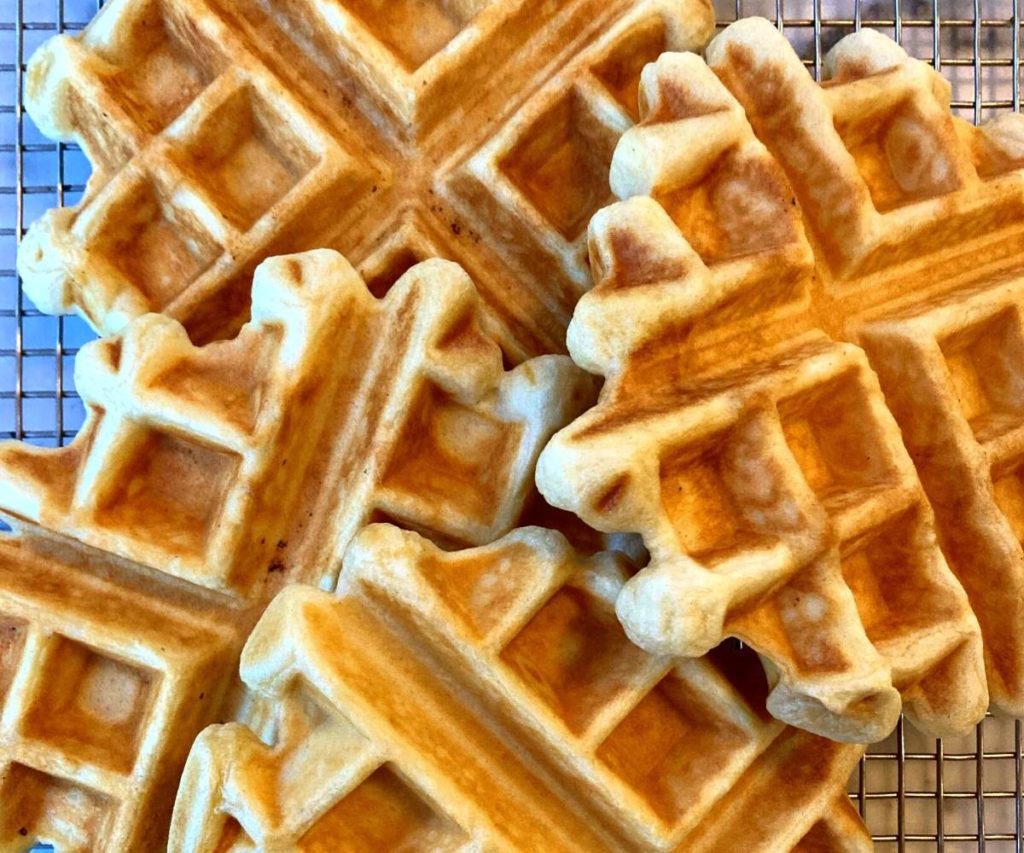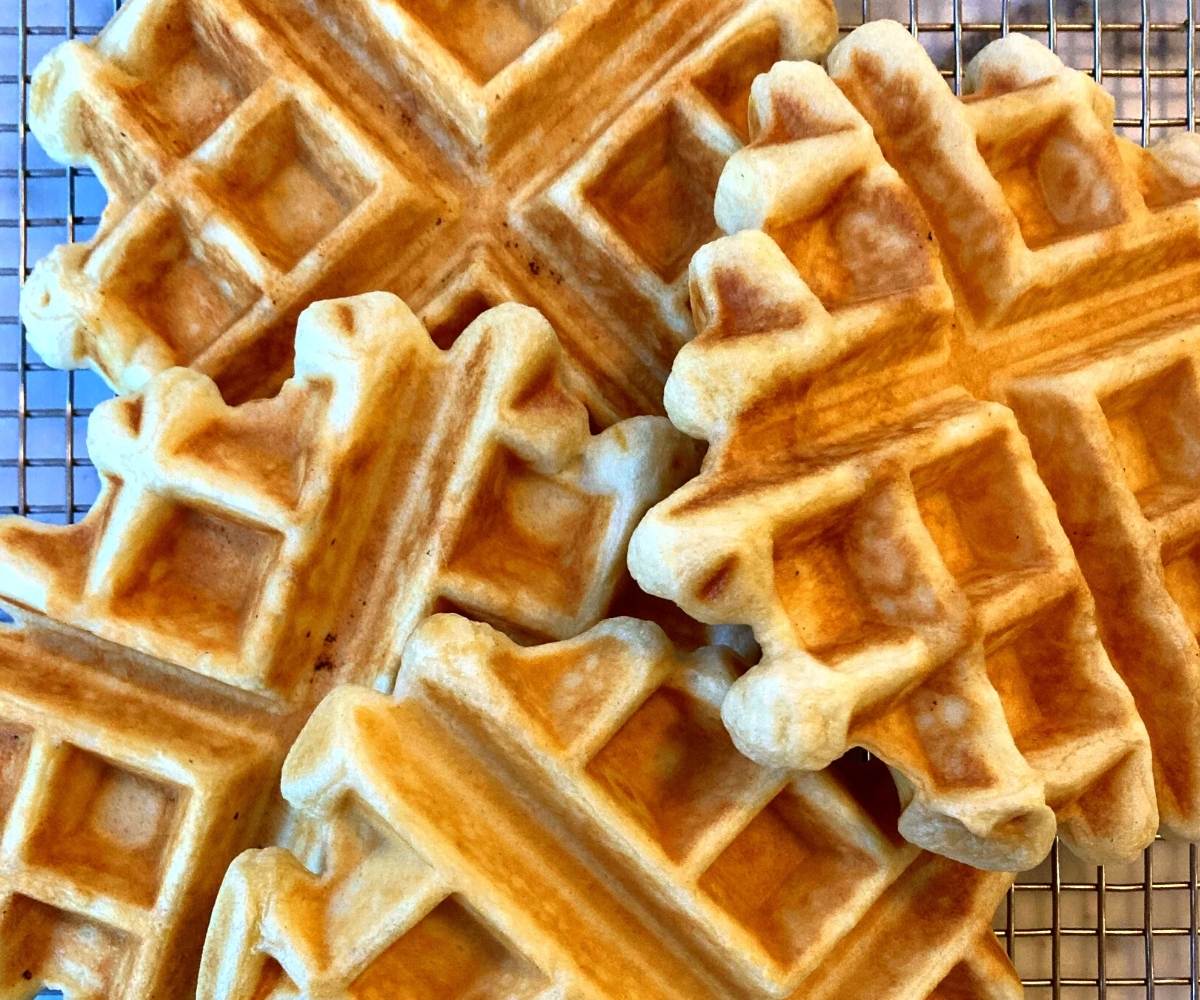 Useful Tools in Making This Recipe
You'll need a waffle iron to make this recipe. Need to buy one? Be sure to check out our Top 7 Criteria in Buying a Waffle Maker!
Here were the two winning waffle makers: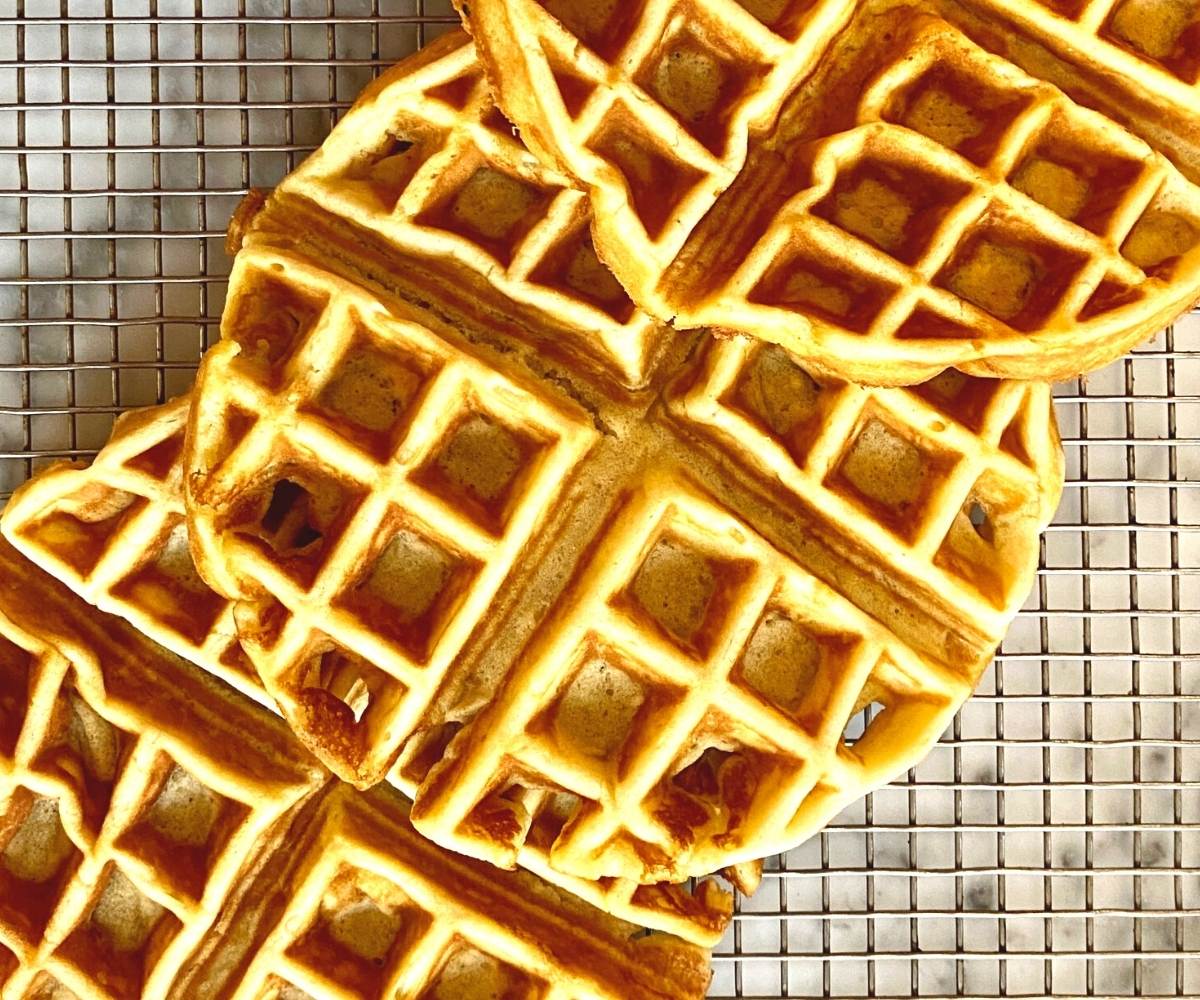 Waffle House Waffle Recipe
This is a copycat version of the waffle house waffle recipe.
Ingredients
1 1/2

cups

all-purpose flour

1

tsp

salt

1/2

tsp

baking soda

1

large egg

at room temperature

1/2

cup

sugar

2

tbsp

butter

softened

2

tbsp

shortening

1/2

cup

half and half

1/2

cup

milk

1/4

cup

buttermilk

1

tsp

vanilla extract
Instructions
Sift together flour, salt, and baking soda in a medium bowl.

Beat sugar, butter, and shortening in a large bowl on medium speed with an electric mixer until smooth.

Add in egg, beating until well combined.

Beat in half and half, milk, buttermilk, and vanilla.

Add the dry mixture to the wet mixture. Mix briefly.

Fire up your waffle maker. When hot, give it a light coating of vegetable oil or cooking spray.

Add 1 cup batter to your hot waffle iron and let it cook until crispy and golden brown.
Notes
Some claim that this tastes better after a good 12-hour chill. Frankly, if we wanted to wait around that long for our waffles, we would be making a Liege-style yeast-based waffle. Just sayin'.
Affiliate Disclosure: As Amazon Associates, we earn a small commission from qualifying purchases when you click on links embedded in this post.