These chocolate crinkle sprinkle cookies are the best of the cocoa powder cookie recipes we've ever tried. And they look adorable.
About Chocolate Crinkle Sprinkle Cookie Recipes
We love cocoa powder cookie recipes. You can have all of the chocolatey goodness with none of the hassle of melted chocolate. These chocolate cookies not only have a great tongue-twister of a name, but are also ridiculously adorable. If you use red and green nonpareils, they make a great addition to your holiday season gift boxes. They disappear extraordinarily fast in our house. Maybe it has to do with the addictive combination of fudgy insides and crunchy outsides. If you want to amp up the chocolate flavor of this recipe, stir in the chocolate chips at the end, or freeze some nutella and assemble cookie balls around the frozen nutella clumps.
A Short History of Nonpareils
These cookies call for the adorable little colored balls that are known in some circles as nonpareils ("without equal"). Other popular names include hundreds and thousands (a reference to how difficult it would be to count them, particularly since they seem to really like to roll off the table and onto the floor!), and liebesperlen ("love pearls"). They seem to have evolved out of an 18th century French medicinal use of sugar. At some point, French pastry chefs began to use them for decoration, a task for which they were perceived to be without equal ("non pareil"!). These little treats seem to have been widely available to home cooks as early as the 19th century, in a range of colors.
Some Other Cookies and Cocoa Powder Cookie Recipes
Looking for some other cocoa powder cookies?
Check these guys out: Inside Out Cookies
Or, just wanting some cookie alternatives? Here are some nice options: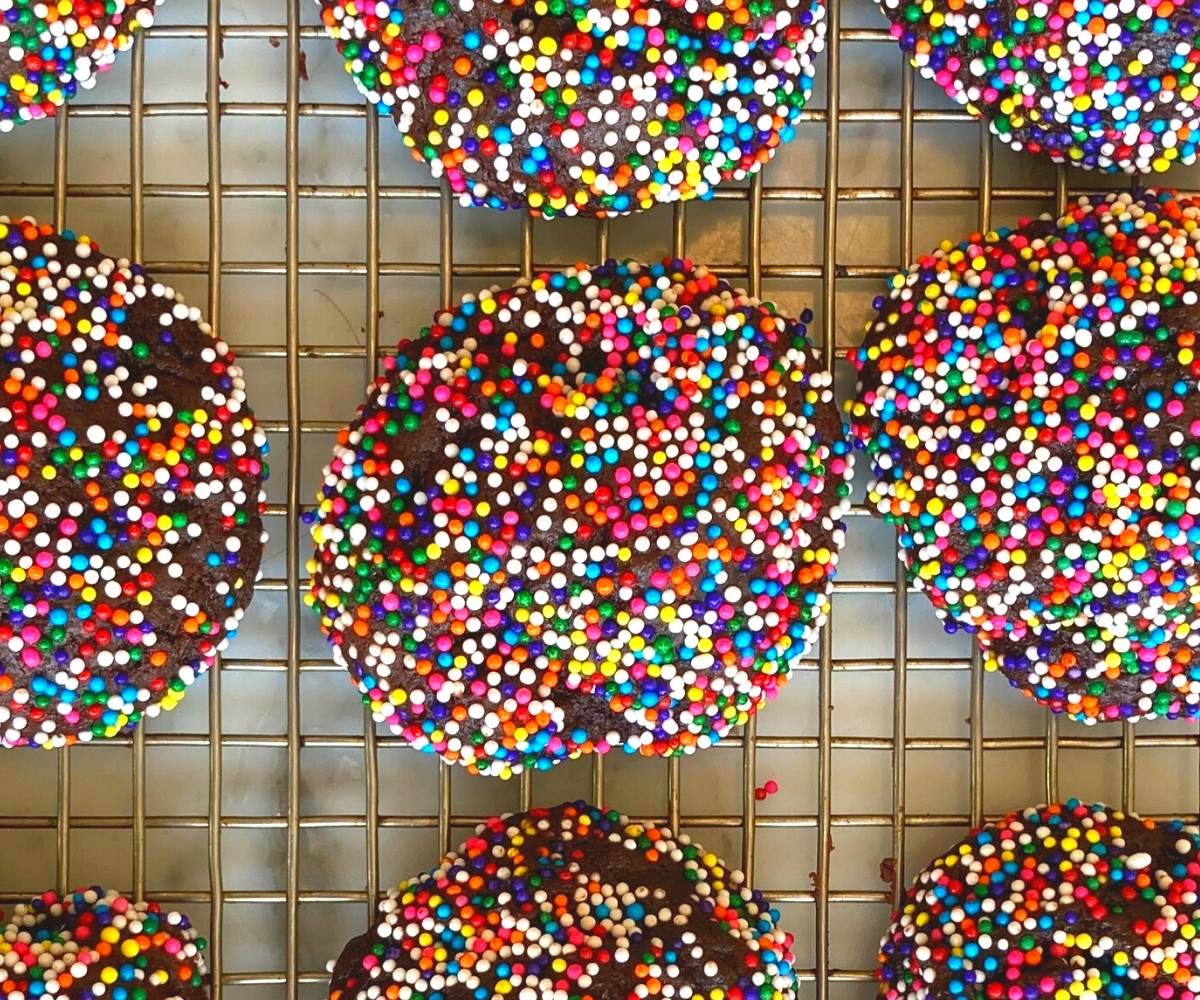 Chocolate Crinkle Sprinkle Cookies: Best of the Cocoa Powder Cookie Recipes
Introducing the best of the cocoa powder cookie recipes: The Chocolate Crinkle Sprinkle Cookie. A crunchy exterior encasing a dense fudgy chocolatey bite. YES!!!
Ingredients
1

cup

all-purpose flour

1

tsp

baking powder

1/2

tsp

salt

1/2

cup

unsweetened cocoa powder

3/4

cup

granulated sugar

1/3

cup

shortening or vegetable oil

2

eggs

at room temperature

1

tsp

vanilla extract

1/2

cup

sprinkles
Instructions
Whisk together the flour, baking powder and salt in a small bowl.

Mix cocoa powder, sugar, and oil in a large bowl or in a stand mixer using the paddle attachment.

Add the eggs, one at a time, beating on low speed after each addition.

Stir in the vanilla extract.

Sift the dry ingredients (flour, baking powder, salt) to your wet ingredients and beat until combined, scraping the bottom of the bowl as needed.

Transfer the dough to a bowl and cover with plastic wrap or transfer to an airtight container. Refrigerate for at least 4 hours or overnight.

Scoop cookie dough into 1 1/2 tbsp balls (the dough will still be sticky. Remain calm and keep scooping).

Place balls of dough one at a time on a plate and cover with sprinkles.  Roll in additional sprinkles if needed to fully coat. 

Place cookies 2 inches apart on the prepared baking sheet.

Transfer the cookie sheet to preheated oven. Let the cookies bake until just set, about 10-12 minutes. The cookies will spread a little, but will still be soft.

Let the baked cookies cool completely before transferring to a wire rack.
Notes
These little cookies keep nicely in a airtight container for several days, if you can resist eating them!
Affiliate Disclosure: As Amazon Associates, we earn a small commission from qualifying purchases when you click on links embedded in this post.