This delicious almond flour cookie recipe will keep in an airtight container for several days. These soft cookies are dedicated to all of our friends with gluten allergies and pots of leftover jam in their fridge. Please don't assume that gluten free cookie recipes with almond flour are healthy, however. Take a look at the butter content (aka the main ingredients) of these delicious cookies, and dream on.
About this Almond Flour Cookie Recipe
Perhaps inspired by a bit of leftover guava paste, we've been on quite the thumbprint cookie trip lately. Guava paste is magical in that it doesn't dribble all over the place in the oven and tastes delicious. A classic thumbprint cookie is a fun, easy way to bake with our kids. The dough comes together very quickly the night before, and then the rolling and poking feels made for tiny fingers.
We've noticed that a lot of our friends and family members have gluten allergies, so were were interested in working up gluten free thumbprint cookies that would be tasty and not require any un-pronounceable chemicals (we're looking at you, xanthan gum, vegan butter, and flax egg). Here's our most recent attempt, which was crumbly and flavorful while warm, but held together nicely with some crispy edges once cooled. We find the sticky jam is a nice complement to the slightly crumbliner almond flour texture and we would crown these (so far!) the best almond flour cookies we have tried.
A Short History of Thumbprint Cookies
To be honest, we assumed that thumbprint cookies originated in a preschool somewhere, along with all of the other kid-digit-art (are you also the owner of an adorable kid-foot snowman?). We imagined that it came into being right around the same time that 1-2-3-4 cake (aka hurry-up cake at our preschool), ca. 1965, and perhaps even invented by Maria Montessori. Breaking news, though, we were wrong. The recipe apparently originated in Sweden, where it is known as Hallongratta, or raspberry cave. This name makes us wonder if our dear friends the Swedes were having some trouble with their understanding of geography. It looks more like a valley than a cave to us, but despite the misnomer, these delectable treats blossomed into the popular cookies we know and love today.
Uses for this Almond Flour Cookie Recipe
These buttery gluten free thumbprint cookies are wonderful any time of year, but filled with raspberry or strawberry jam are a particularly great recipe to include in a christmas cookie box. At their core, they contain only four simple ingredients (the rest is flavoring and decoration!), so don't hold back on this basic recipe with endless potential jam variations.
Holiday Cookies!
Looking for some other holiday cookie ideas? Check these out!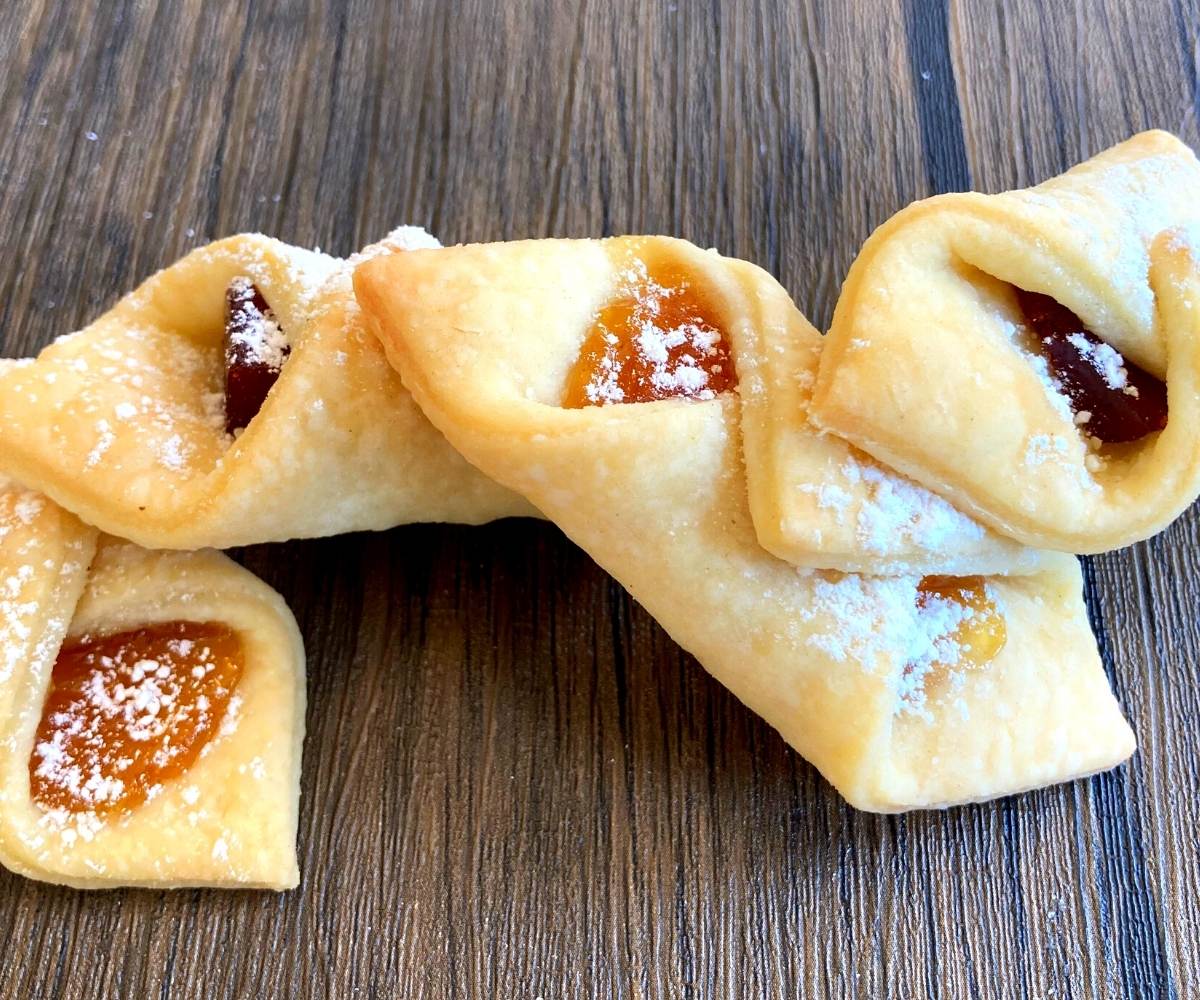 Useful Tools for Making this Jam Thumbprint Almond Flour Cookie
First and foremost, you'll need a cookie scoop! Wondering what kind of cookie scoop to buy? Check out our in-depth analysis here. And, here are a few other useful tools…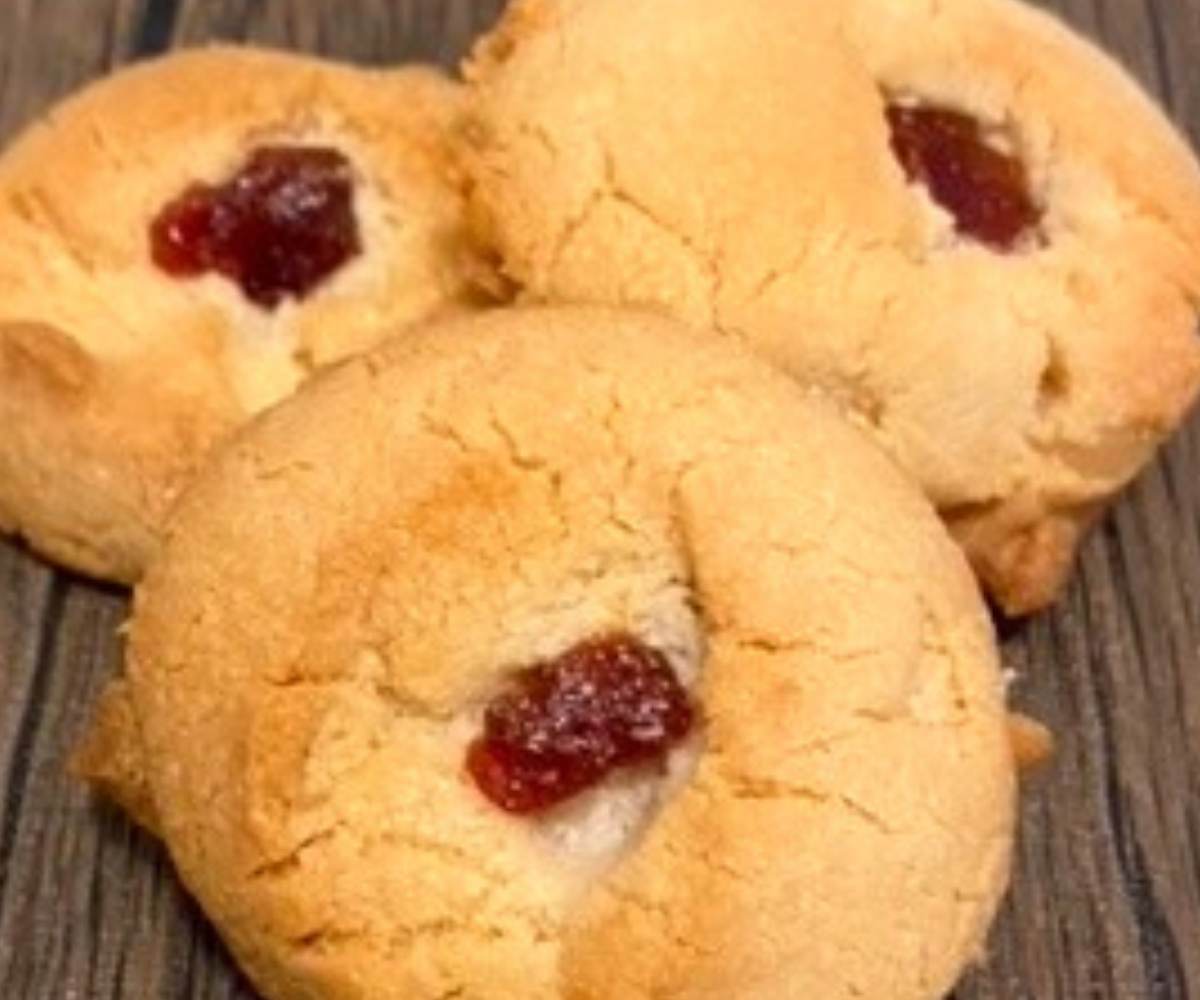 Jam Thumbprint Almond Flour Cookie
These almond flour cookies are crumbly and sweet, with a tart jam center.
Equipment
baking sheet

parchment paper

silicone baking mat

medium cookie scoop
Ingredients
1/2

cup

butter

at room temperature

1/3

cup

white sugar

1/2

tsp

almond extract, vanilla extract, or lemon extract

(depending on your jam choice, below)

1/2

tsp

lemon zest

optional

2

cups

almond flour

(we prefer Bob's Red Mill Almond Flour)

1/2

cup

jam

1/4

cup

confectioners' sugar

to sprinkle after baking
Instructions
In a large mixing bowl, or in the bowl of a stand mixer with the paddle attachment, cream together butter and white sugar until smooth.

Mix 1/2 tsp of almond extract to the butter mixture. Combine almond flour with butter mixture and mix until well combined.

Form dough into one ball, cover in plastic wrap or place in freezer bag and let chill in refrigerator for 2-4 hours or overnight.

Use a medium cookie scoop or 1 tbsp spoon to scoop out balls of dough onto the lined baking sheet. Poke a hole in the center of each cookie dough ball using the end of a wooden spoon and fill the thumbprint hole with a scant quarter teaspoon of jam.

For best results, let chill in refrigerator for 15 minutes to ensure that the cookies keep their shape as they bake.

Bake cookies 14 to 18 minutes in a preheated oven until golden brown.

Let cool on sheet for a couple of minutes, then remove to wire rack.

Sprinkle with a little bit of confectioners' sugar to serve.
Notes
About Almond Flour: There are now a wide range of brands of almond flour that can be found in the baking aisle of most grocery stores, but our favorite is

bob's red mill almond flour

as it is a nice fine almond flour. If you're in a pinch, you can also make your own ground almonds by running whole blanched or unblanched almonds through the food processor, but the texture won't be as fine.

About Jam: All manner of jams and jam-like substances taste delicious with this recipe.  Here are some of our favorites:

raspberry jam, blueberry jam, strawberry jam, apricot jam, orange marmalade, guava paste, lemon curd, and homemade

passionfruit curd.
Affiliate Disclosure: As Amazon Associates, we earn a small commission from qualifying purchases when you click on links embedded in this post.