Want to know the secret to making banana bread that is crunchy on the outside with an airy texture on the inside? It's this delicious banana bread recipe with shortening!
A Short History of Shortening
The word "shortening" can be traced back to the 18th century. It was applied to any fat (typically animal fat) that was solid at room temperature. The fat was mixed with flour to make a crumbly (or "short") mixture. Today, when we refer to shortening, we typically mean a hydrogenated vegetable oil like Crisco.
Crisco was introduced to the market in 1911 by Procter & Gamble, its name a contraction of "crystalized cottonseed oil." Wilhelm Normann had originally patented the process for making hydrogenated oil in 1903. He had developed the process with the idea of applying it to soap fabrication. P&G launched Crisco with a massive advertising campaign. P&G touted Crisco as healthier than lard and cheaper than butter. Crisco's pristine white color and packaging conveyed the idea that it was somehow "cleaner" than alternatives. The campaign included a cookbook by Marion Harris Neil. Inside, readers could find a short history of Crisco, as well as 615 (!) recipes including the ingredient. The advertising campaign was wildly successful. In just five years, some 60 million cans of Crisco were flying off of grocery store shelves per year.
How does Shortening Work?
While Crisco is 100% fat, butter contains 80% fat and 20% water and milk solids. This means that the texture of the bread made with Crisco is softer and loftier. The exterior is pleasantly crunchy ("short"!). The trade-off, however, is flavor. Crisco is completely flavorless. You'll need some extra ripe bananas and a generous serving of vanilla to make up for it.
Banana Tips
Did you buy underripe bananas and have a burning desire to try this recipe? No problem – 24 hour in a brown paper bag will accelerate the ripening of your bananas.
Have an overripe banana on your counter and don't have time to bake? Fear not – your mushy bananas will keep perfectly in the freezer. Warm them up in the microwave for 60 seconds and then follow the recipe as written.
Banana Dessert Round-Up
If you are looking for a more moist banana bread, or a banana dessert with more chocolate, here are some other ideas to consider. You'll have to decide for yourself which is your favorite banana bread recipe. We keep overripe bananas in our freezer since we never know when the urge to make homemade banana bread will strike us.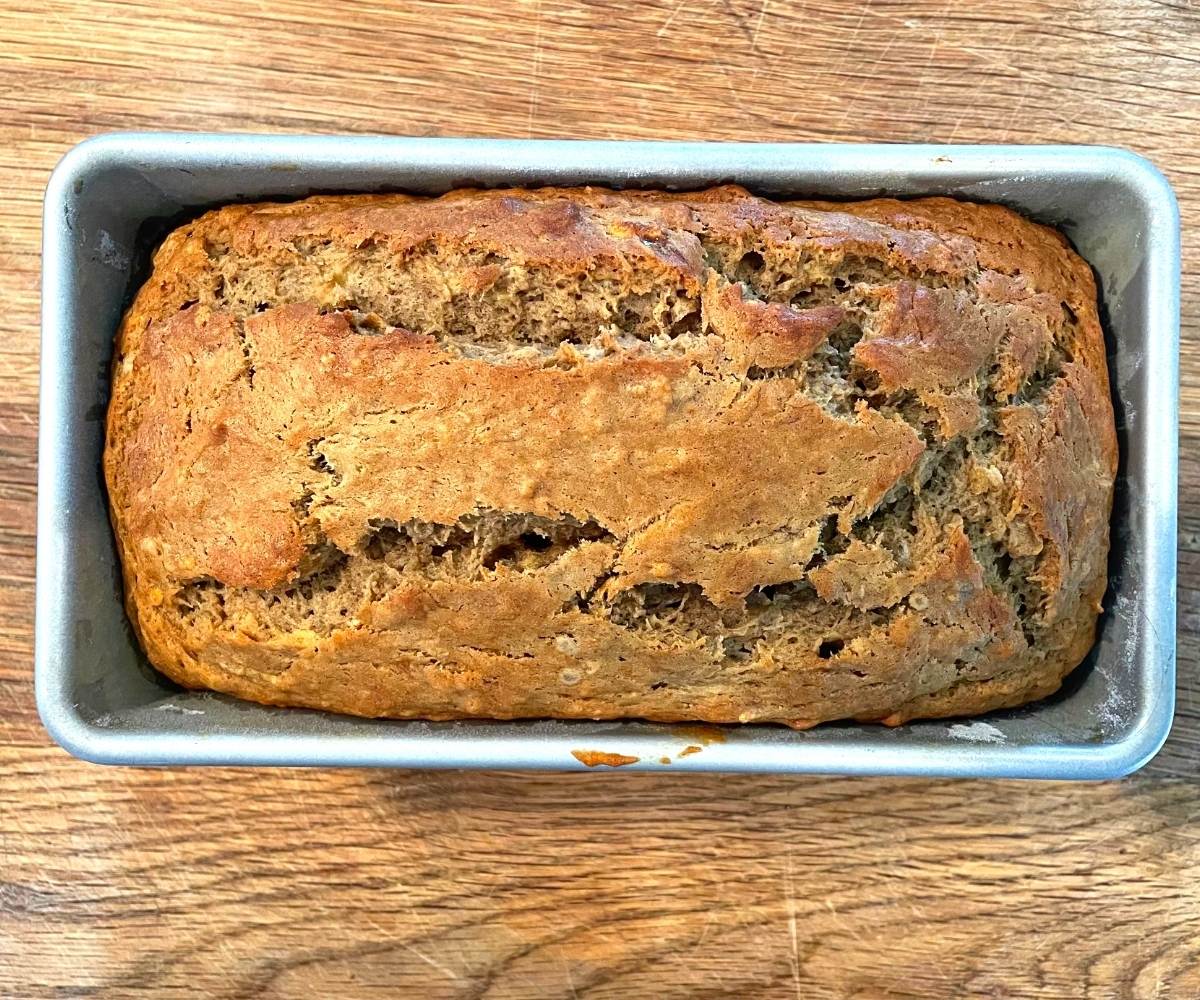 Useful Tools for Making this Banana Bread Recipe with Shortening
Banana Bread Recipe With Shortening
Equipment
8 x 4 inch loaf pan

parchment paper
Ingredients
2 1/2

cups

all-purpose flour

1

tsp

salt

1

tsp

balking soda

1/2

cup

crisco or other all-vegetable shortening

1 1/2

cups

white sugar

4-5

overripe bananas

about 2 cups mashed bananas

3

large eggs

1

tsp

vanilla extract

1/2

cup

chopped walnuts or pecans

optional or chocolate chips
Instructions
Heat oven to 350 F. Grease and line an 8 x 4-inch loaf pan with parchment paper.

In the bowl of a stand mixer, using a beater attachment, or in a large bowl using a rubber spatula, beat the shortening and sugar until well combined.

Mash bananas in a small bowl.

Add the banana, followed by the eggs, one at a time, mixing between eggs, and the vanilla.

Remove the bowl from the mixer and sift the dry ingredients (flour, salt, and baking soda) into the banana mixture.

Return the bowl to the mixer and turn on medium-low speed, beating the flour mixture into the batter until just combined and no streaks of flour remain.

Pour the batter into the prepared pan and tap gently to remove any large air butters.

Bake 70-90 minutes in a 350 F oven, or until a toothpick inserted in the center of the loaf comes out clean and the top of the bread is golden brown.

Remove from oven and let cool in the pan for 10 minutes.

Invert onto a wire rack and let fully cool before slicing.
Notes
This classic banana bread recipe keeps well for several days in an airtight container, or wrapped tightly in plastic wrap.
Affiliate Disclosure: As Amazon Associates, we earn a small commission from qualifying purchases when you click on links embedded in this post.