This sour cherry coffee cake recipe is the perfect mix of sweet and sour to start your day off right.
A Short History of Coffee Cakes
Coffee arrived in Europe in the 17th century. Eastern and Northern Europe already had a deep tradition of sweet yeasted breads (known as kuchen or kugelhopf, and the perfect compliment to bitter coffee). A passion for coffee spread quickly in those regions. By the end of the 18th century, coffee was more popular than any other beverage – including beer! Immigrants from Germany (inventors of the kaffeeklatsch, or coffee chat), Holland, and Sweden brought coffee cake to the United States. American versions of coffee cake typically use chemical leaveners, rather than yeast, and incorporate sour cream or buttermilk, resulting in a moist cake-like texture.
What is a Sour Cherry?
Sour Cherries are native to Eastern Europe and Southwestern Asia. Traditionally considered to sour to be eaten raw, they are typically included in baked goods with added sweetener, where their tangy flavor provides the perfect balance to a sweet crust or cake. In the United States, Traverse City, Michigan is the self-declared home of the Sour Cherry and produces over 70% of US sour cherries. Outside of Traverse City, it's almost impossible to find fresh sour cherries, but jars of preserved sour cherries can be found in the baking section of a grocery store.
More Coffee Cakes
Love a good cake in the morning to get you moving? Here are a few more ideas for a delicious breakfast to amp up your morning sugar consumption.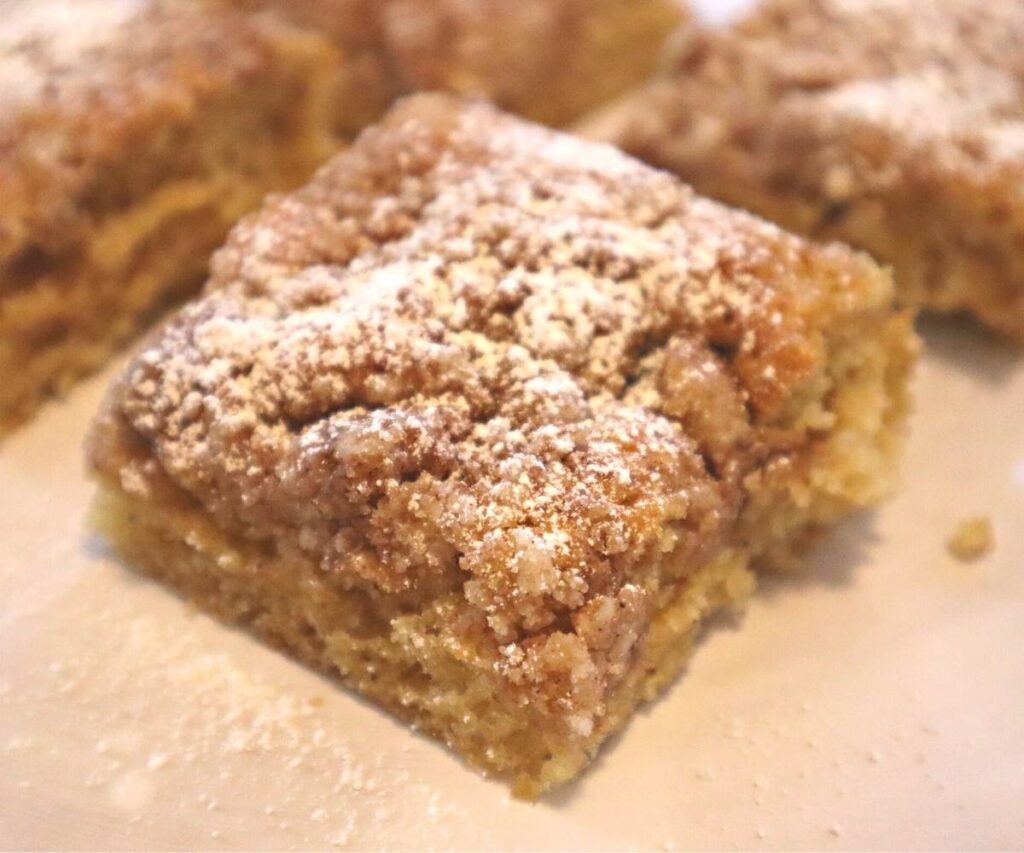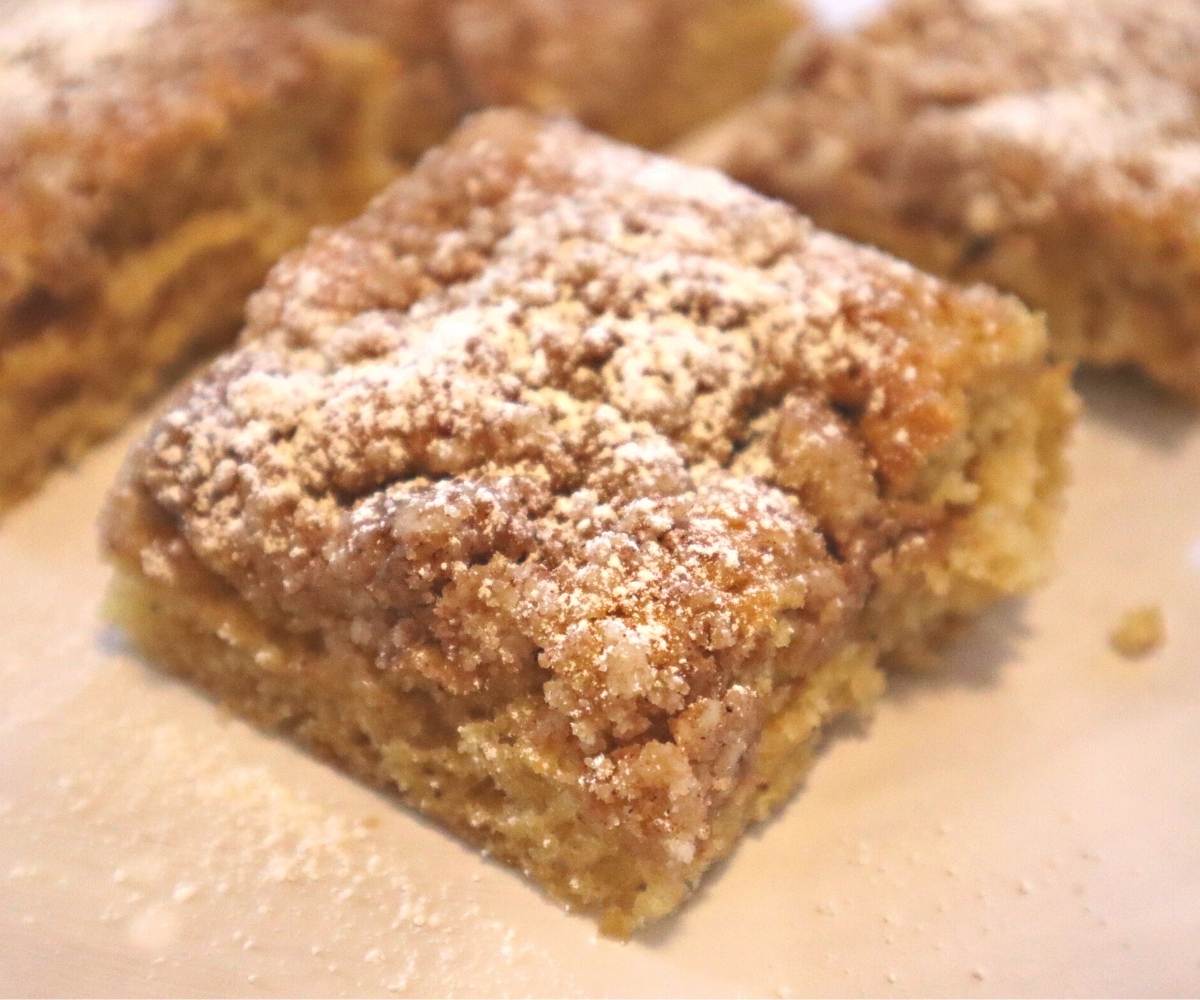 German Baking
The sour cherries in this coffee cake give it a distinctly Germanic flare. Here are a few more of our favorite German recipes: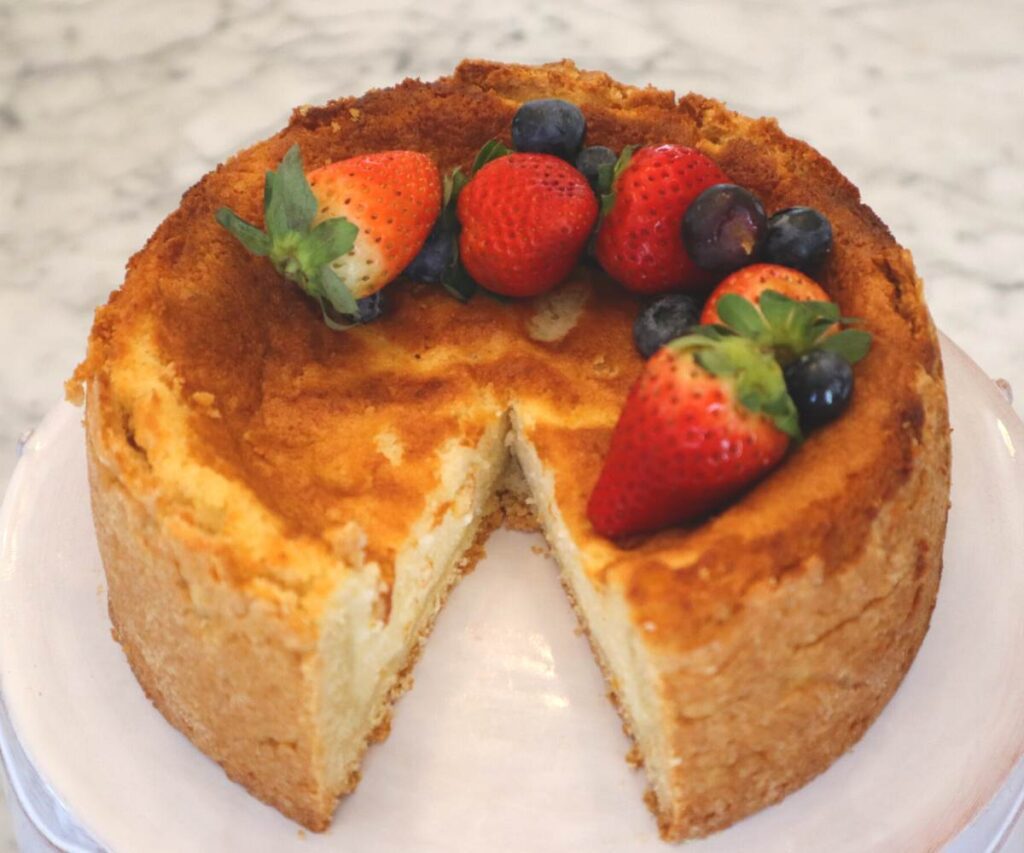 Useful Tools For Making this Sour Cherry Coffee Cake Recipe
Sour Cherry Coffee Cake Recipe
This sour cherry coffee cake recipe is the perfect mix of sweet and sour to start your day off right.
Ingredients
2 1/2

cups

all-purpose flour

1

cup

brown sugar

packed

1/2

cup

sugar

1

tsp

salt

1

tsp

nutmeg

1/2

cup

vegetable or canola oil

1/4

tsp

cinnamon

1

tsp

baking soda

1

tsp

baking powder

1

large egg at room temperature

2/3

cup

buttermilk

1/4

tsp

almond extract

1

cup

sour cherries
Instructions
Heat oven to 350 F. Grease and line an 8 inch round springform pan with parchment paper.

In a large bowl, combine the first six ingredients. Mix until crumbly. Set aside 1/2 cup of crumb mixture in a small bowl.

Add the remaining ingredients to the oil-flour mixture and stir until well combined.

Pour the cake batter into the prepared pan. Dot with sour cherries. Crumble the crumb topping over the top of the cherries.

Bake 45-60 minutes until golden brown on top and a cake tester inserted into the center of the cake comes out clean.

Remove to wire rack to cool for 10 minutes, then remove cake from the cake pan to fully cool.

Dust with confectioners' sugar before serving.
Notes
Cake keeps well for several days wrapped tightly in plastic wrap or stored in an airtight container.
Affiliate Disclosure: As Amazon Associates, we earn a small commission from qualifying purchases when you click on links embedded in this post.