Vacation in a pan alert! This Maui banana bread recipe will transport you to the lush island, without the expensive planefare.
A Short History of Hawaiian Banana Bread
Culinary historians believe that Polynesian explorers first brought bananas to Hawaii. Bananas, along with taro, sweet potatoes, and breadfruit, and fish, were the primary food staples in ancient Hawaii. A wide variety of bananas proliferated in the Hawaiian islands. Bananas grow especially well in Maui. In Maui, a smaller variety known as an apple banana is especially common. The story goes that during the Depression, the need to consume even slightly rotting fruit led to the innovation of banana bread. We find this story a bit circumspect, however. Banana bread would have required a number of expensive ingredients, like sugar. It seems more likely to us that banana bread rose to fame along with Hawaii's tourism industry. This occurred in the 1950s as the islands became much more accessible via jet plane, rather than steamship.
About This Recipe
The internet is full of modern tourist odes to the main road to Hana. Aside from its natural beauty, it is most famous for being lined with little stands selling banana bread. The famous banana bread along Maui's road to Hana comes in several flavors (coconut, pineapple, chocolate). All varieties share a particularly moist, mild flavor, due to the inclusion of Maui apple bananas (also known as dwarf Brazilians), rather than the Cavendish variety we find in supermarkets in the continental United States. A Hawaiian banana bread recipe is also typically studded with local macadamia nuts, and relies on coconut oil and butter for a moist texture and lightly coconutty flavor. Banana bread connoisseurs will also tell you that rather than relying on overripe bananas like traditional recipes, Hana banana bread is made with perfectly ripe, lightly freckled fruit.
Famous banana bread purveyors include Aunty Sandy's banana bread stand, a family-run business. Tourists famously can't even wait to pull out of the parking lot to begin consuming their moist loaf. At mile marker 34, Hana Farms is another favorite. A true foodie will save room and sketch out a trip, hitting multiple stands along the Hana highway to ensure that they find their (personal) best loaf of banana bread.
More Banana!
We love banana breads and baking with bananas, so here are a few other of our favorite banana themed treats: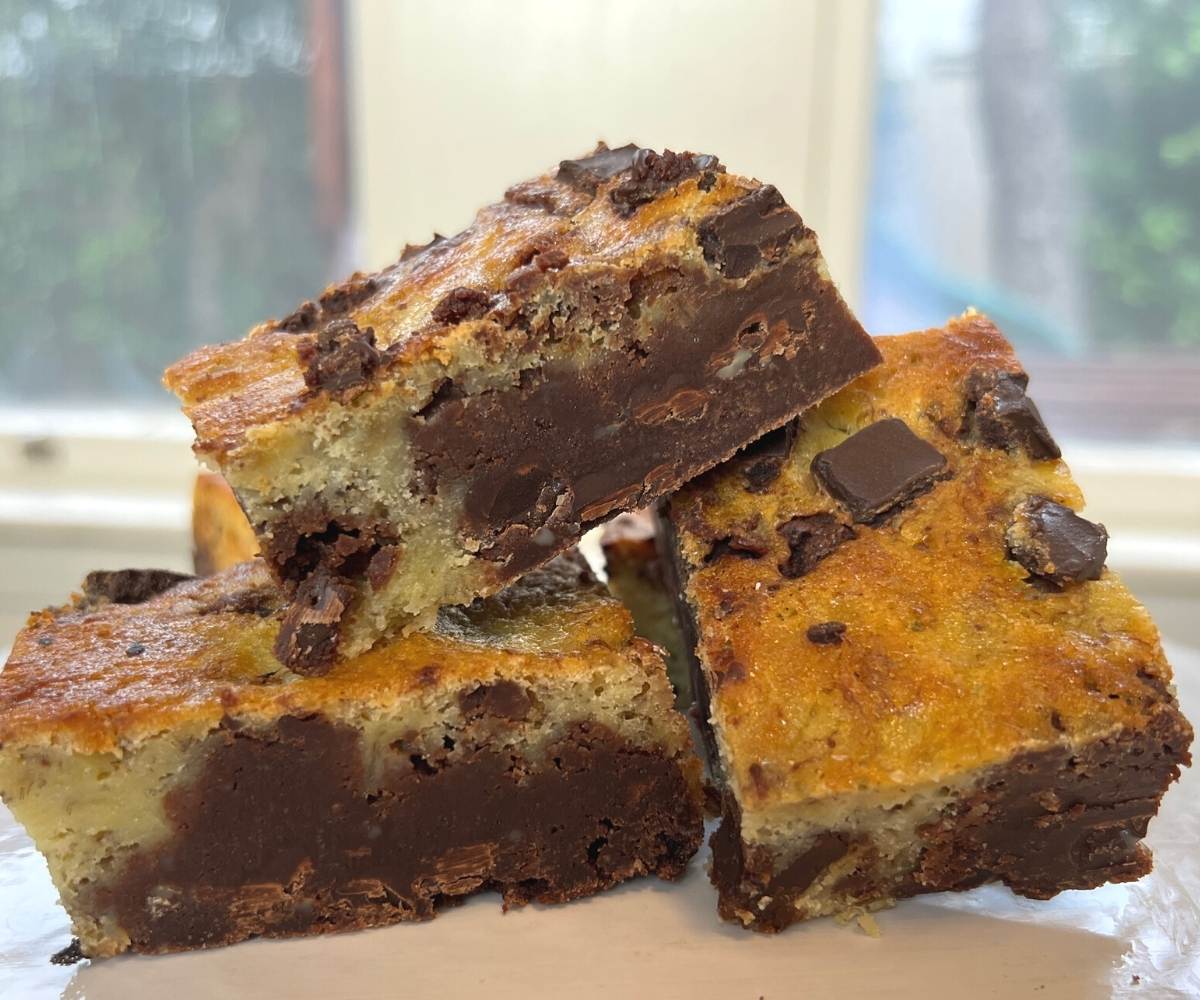 Love Hawaiian Recipes?
Here are a few more to help you channel a Maui vacation without leaving your kitchen: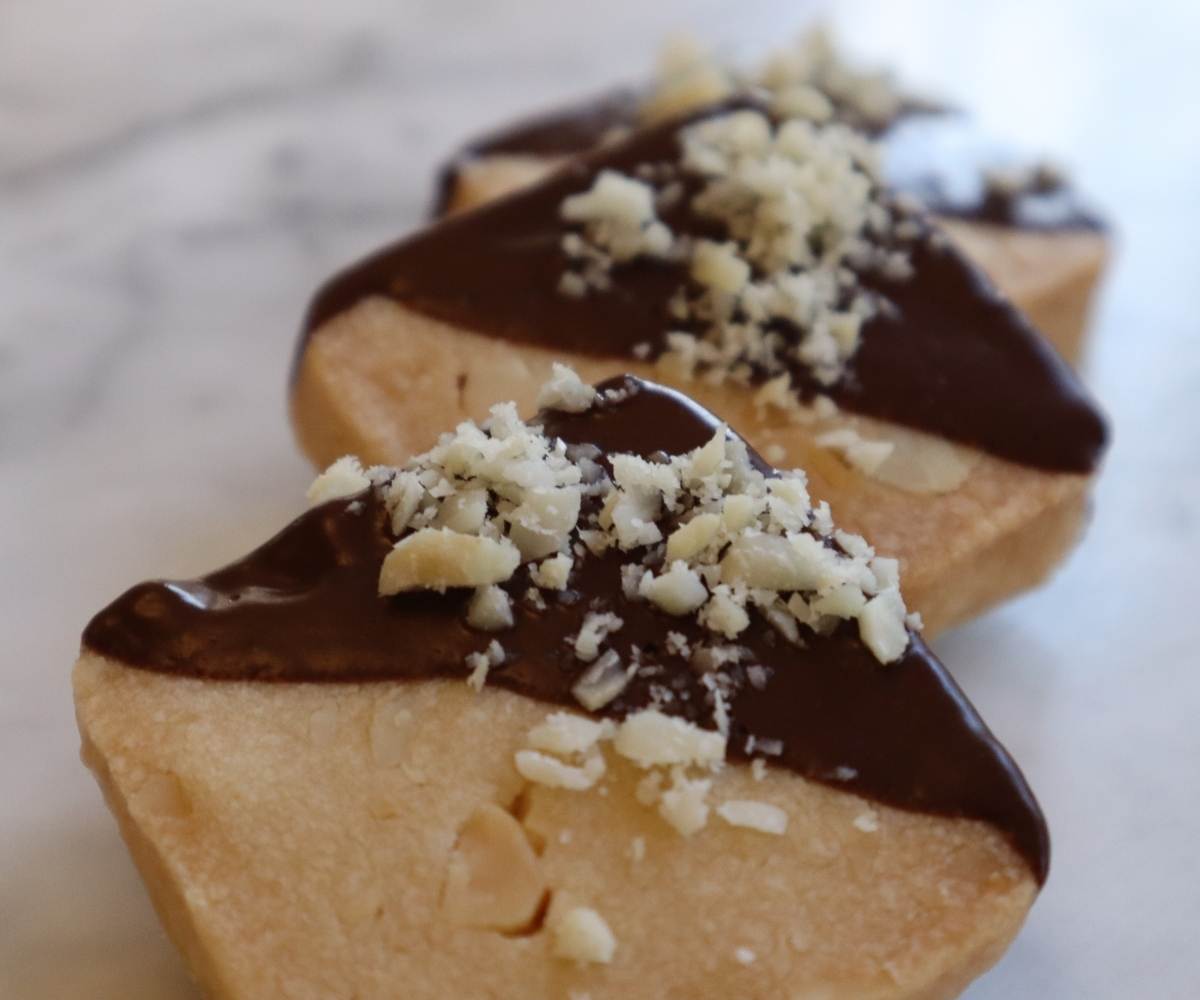 Useful Tools For Making this Recipe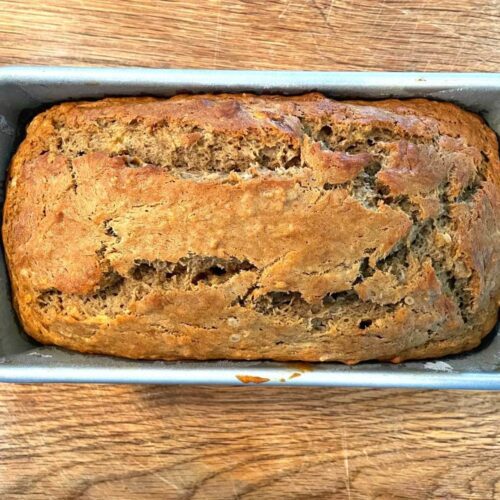 Maui's Best Banana Bread
Channel your last vacation to Hawaii with this moist and delicious banana bread.
Equipment
8 1/2 x 4 1/2 inch loaf pan

parchment paper
Ingredients
1 3/4

cups

all purpose flour

1 3/4

tsp

baking powder

1/2

tsp

baking soda

1/4

tsp

kosher salt

1/4

tsp

ground cinnamon

1

cup

light brown sugar

1/2

cup

butter

1 stick

2

tbsp

solid coconut oil

2

large eggs at room temperature

1

tbsp

vanilla extract

1/4

cup

sour cream

1 1/2

cups

mashed bananas

yellow with spots, not all the way brown. 3-4 bananas.

1

cup

chopped roasted and salted macadamia nuts

lightly toasted

1/2

cup

coconut flakes

optional

1/2

cup

chocolate chips

optional
Instructions
Preheat oven to 330 F. Position rack in lower third of oven. Grease and line a 8 1/2 x 4 1/2 inch loaf pan with parchment paper.

In a small bowl, sift together the dry ingredients (flour, baking powder and soda, salt, and cinnamon). Add in the chopped macadamia nuts and stir to coat the nuts. This will keep the nuts from sinking to the bottom of the pan.

In a small microwave safe bowl, melt the butter and coconut oil.

Pour the melted butter and coconut oil into a large bowl and whisk in the eggs, sugar, vanilla and sour cream.

Add in the mashed bananas, stir well.

Add the flour and nuts into the banana mixture, and stir to combine.

Pour the banana bread batter into the prepared loaf pan.

Bake pan 45-60 minutes. Check loaf at 45 minutes for doneness by inserting a toothpick or cake tester into the center of the loaf. If there is still raw batter in the middle, keep baking, checking at 5 minute intervals, until the cake tester comes out clean. If the top is getting too brown, you can tent it with foil.

Let cool in the pan for 10 minutes, then invert onto a wire rack to cool completely.
Notes
The banana bread will keep nicely wrapped tightly in plastic wrap.
We suggest slathering this delicious Maui banana bread with either salted butter or cream cheese.
If you want to share your vacation vibes with a friend or two, you can make three mini banana bread loaves (Maui Banana Bread Co. style), using mini loaf pans (5 3/4 x 3 1/4 in).
Affiliate Disclosure: As Amazon Associates, we earn a small commission from qualifying purchases when you click on links embedded in this post.