Brownie lovers divide into two camps – lovers of cake brownies and lovers of deep dark fudgy brownies. This brownie recipe without cocoa powder relies on a lot of chocolate for its deep, dark, fudgy texture.
A Short History of Brownies
Like many great baked goods, brownies evolved over an extended period of time and many chefs claim a role in their invention. Mrs. Palmer of Chicago's Palmer House Hotel (now the Palmer House Hilton Hotel) is said to have asked her chefs to develop a dessert that could easily be transported by hotel guests to the Columbian Exposition World's Fair in 1893. The resulting brownie topped with walnuts and apricot jam remains a favorite of Palmer House guests. Right around the same time, Fannie Farmer published a confection that she called a "brownie" in the 1896 edition of her Boston Cooking-School Cookbook. Her version, however, was really more like a small molasses cake. By 1906, Farmer had come to her senses and the later edition of the cookbook included a version that included chocolate and was much closer to what we know of and love today as a brownie.
Cake Brownie vs. Fudgy Brownie
Like many great American debates (waffles vs. pancakes, to name one we care deeply about), their are passionate opinions on both sides as to how to make the best brownies. "Cake Brownies" have a cakier texture and typically rely on only cocoa powder, rather than chocolate, for their chocolate flavor. Cakey brownies have less butter and sugar, resulting in a lighter, cakier brownie. "Fudge Brownies," on the other hand, are typically a brownie recipe without cocoa powder. The rich chocolate flavor comes from real chocolate, not cocoa powder. They have a much higher fat to flour ration than their cakey counterparts, with the main ingredients being butter, chocolate, and sugar, resulting in a flatter appearance and fudgier texture. The flavor of this type of brownie is very reliant on the quality of chocolate you use, so we like to use a higher quality chocolate like Caillebaut when we can.
One Bowl Brownies
If ever there was a prize for "easy dessert", these brownies would be sure to win. A few easy steps and one bowl produce scrumptious fudgy brownies.
More Brownies
Love brownies? Here are a few more of our favorite variations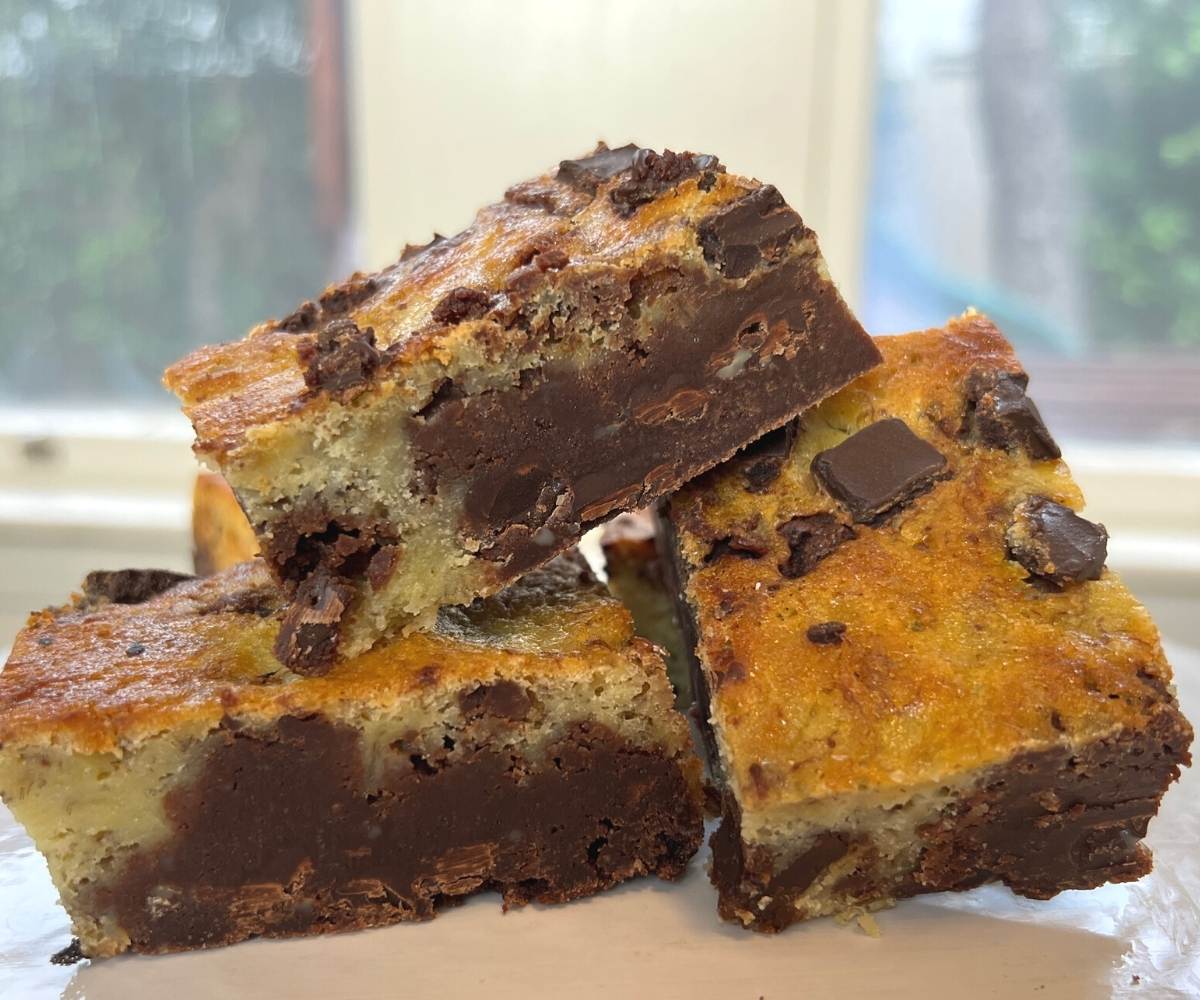 Useful Tools for Making These Brownies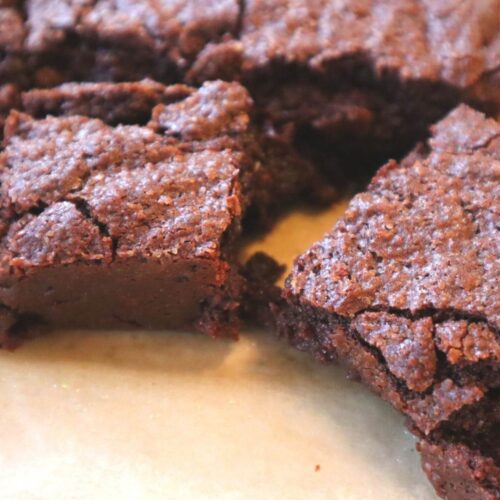 Best One-Bowl Fudgy Brownie Recipe
Brownie lovers divide into two camps – lovers of cake brownies and lovers of deep dark fudgy brownies. This brownie recipe without cocoa powder relies on a lot of chocolate for its deep, dark, fudgy texture.
Equipment
8 x 8 inch square pan

parchment paper
Ingredients
12

tbsp

unsalted butter

chopped

6

oz

unsweetened chocolate

finely chopped

1 1/2

cups

white sugar

2

tsp

pure vanilla extract

3

large eggs

1

cup

all-purpose flour

1/2

tsp

flaky sea salt
Instructions
Preheat oven to 350 F.

Grease and line an 8 x 8 inch square baking pan with parchment paper, leaving a bit to overhang on two sides so you can easily lift out the brownies.

In a small sauce pot, bring about 1 inch of water to a simmer.

Place a large bowl (metal) on top of the sauce pan. Add the dark chocolate and butter stirring frequently over low heat.

Remove the butter-chocolate mixture from the heat. Whisk in eggs, sugar, and vanilla into the melted chocolate until very smooth.

Add the dry ingredients (flour and salt) to the wet ingredients, and stir to combine.

Scrape the brownie batter into prepared square pan and spread evenly.

Bake until puffed and just barely set, 40 to 50 minutes.

When done, brownies will be slightly domed with a crinkly top and they will feel set, not liquidly when gently tapped with your finger. The batter will still be gooey should you stick a toothpick inside, resulting in fudgy middles when you cut the brownies open.

Let the brownies cool in the pan to room temperature.

Once cool, lift the brownies out of the pan using the parchment paper, and cut into 9 or 16 squares to serve. This is a very rich brownie, so small pieces work just fine.

Leftover brownies keep very well in an airtight container for several days.
Notes
Variations on this classic brownie
1/2 cup semi-sweet chocolate chips or chopped chocolate can be sprinkled over the top of the brownies for some extra crunch
1/2 cup semi-sweet chocolate chip or chopped nuts can be mixed into the brownie batter
Delicious served a la mode with a scoop of your favorite ice cream.
Affiliate Disclosure: As Amazon Associates, we earn a small commission from qualifying purchases when you click on links embedded in this post.