Are you team waffle or team pancake? In the war of pancakes vs waffles, who would win?
Breakfast is the most important meal of the day, so we thought it best to thoroughly research this topic by evaluating our favorite breakfast item(s) against a set of objective criteria. Read through this set of tests to learn who the breakfast table champion is — waffles or pancakes?
Just here because you love a good food debate? We get it, so do we. Check out this awesome article outlining classic food fights.
1. Waffles vs Pancakes: The Chocolate Chip Test
Our kids love chocolate chips in their breakfast items, so we are constantly looking for ways to incorporate them into whatever we are making. Who would win in the battle for "best use of chocolate chips"? We've found that chocolate chips can sometimes burn in the waffle iron, so the easy winner here is team pancakes. In order to ensure that even the most chocolate addicted person can still enjoy waffles, we developed an excellent chocolate waffle recipe and, we also reworked our favorite waffle recipe to accommodate chocolate chips.
Winner: Team Pancakes
2. Waffles vs Pancakes: Best With Ice Cream
With their deep pockets and crunchy texture, waffles are the clear winner in the battle of best vehicle for ice cream. Bonus points for Belgian waffles , with their super deep crevasses.
Winner: Team Waffles
3. Waffles vs Pancakes: Most Fool-Proof Cooking Process
While waffles require more equipment, they have a much easier cooking technique. You simply pour the waffle batter into a hot waffle iron and wait for the light to turn green, telling you your waffles are ready to eat. Good waffles emerge every time. Pancakes, on the other hand, can be quite finicky. If you really want to perfect your technique, you'll need to read every one of the Pancake Doc's rules and obey them carefully. The perfect pancake should have crisp exterior and a fluffy center. Without proper technique, a lifetime of soggy or burnt pancakes await you. For the impatient or less detail-oriented cook, waffles are clearly the better choice.
Winner: Team Waffles
4. Waffles vs Pancakes: Fun Shapes
Because they are made in a waffle maker, waffles can really stunt your creativity. Sure, there are some cute heart-shaped options, and mini animals, but the average waffle comes in a circle or square, and that's about it. Meanwhile, if you are a true artist, you can color your pancake batter and artfully spread it in your frying pan in a mind boggling array of different ways. Dr. Seuss pancakes? You got it!
Winner: Team Pancakes
5. Waffles vs Pancakes: Savory Toppings
Have you ever tasted a Liege waffle smothered in melted cheese and topped with a poached egg? If you haven't yet, you're missing out on one of the best way to enjoy a waffle. The sweet, crispy yeasty batter is the perfect offset to the savory egg and cheese. Also, there's no such thing as pancakes with fried chicken, while waffles and chicken is a classic combo.
Winner: Team Waffles
6. Waffles vs Pancakes: International Variations
Waffles come in all kinds of shapes and sizes all around the world, from the caramelly Dutch Stroopwaffels to the puffy Bubble Waffle whose origins can be traced to Hong Kong. Similarly, pancakes come in a wide array of flavors and textures, from the Korean kim-chi filled Pa Jun to fluffy japanese souffle pancakes leavened with egg whites.
Winner: Tie!
7. Waffles vs Pancakes: Most Famous in Hollywood
There has never been a more uncomfortable use of the phrase "Blueberry Pancakes" than the famous line in Pulp Fiction. Waffles, on the other hand, seem to have most prominently been featured in…Shrek. While Shrek is cute, we like our breakfast staples with some drama, giving pancakes a slight edge.
Winner: Team Pancakes
Overall Winner
It's a tie! Since we can't decide, we'd better go ahead and share a bit of both. See below for our favorite pancake recipes, and our favorite waffle recipes. Any one of these will set you up for a tasty Sunday morning.
So What's the Difference, Really?
Both waffles and pancakes are made with a batter consisting of simple ingredients like flour, sugar, eggs, baking powder, milk, and melted butter or vegetable oil. However, generally speaking, the primary difference between waffles and pancakes is that the typical waffle contains higher amounts of sugar and a little extra fat, which (along with the nice hot waffle iron) contribute to their crispy edges.
OK, OK, Get to the Good Stuff–the Recipes
Without further ado, here are some of our favorite recipes!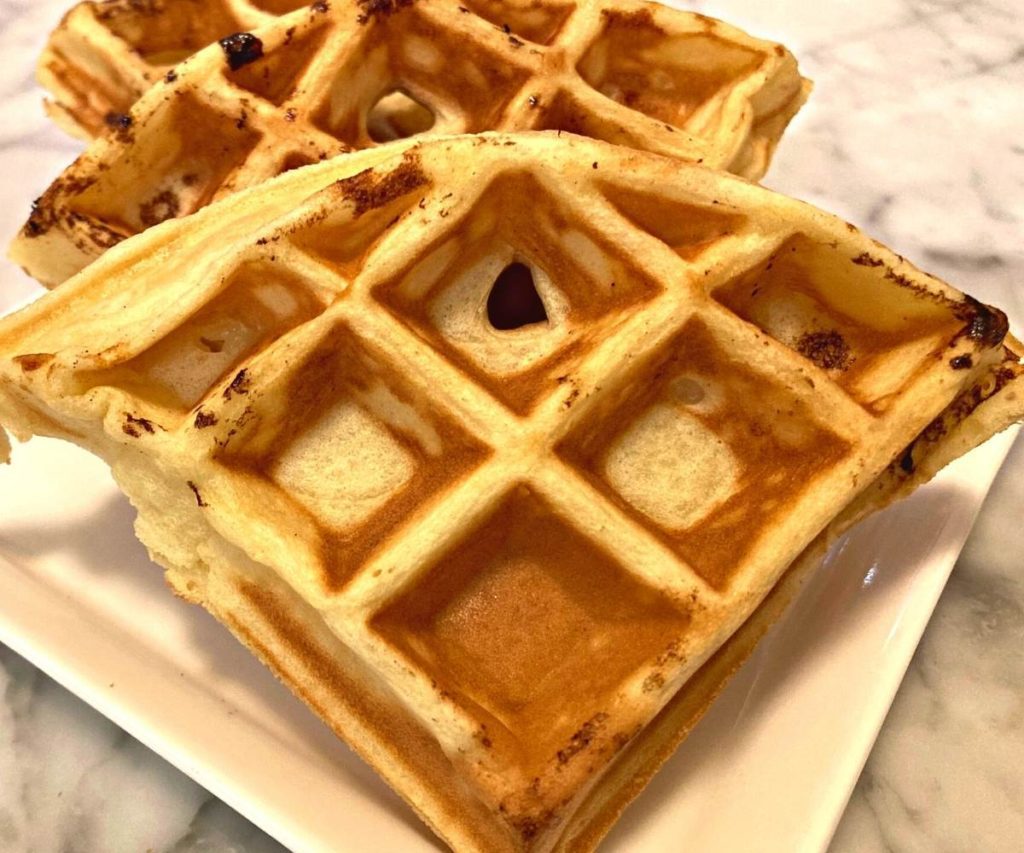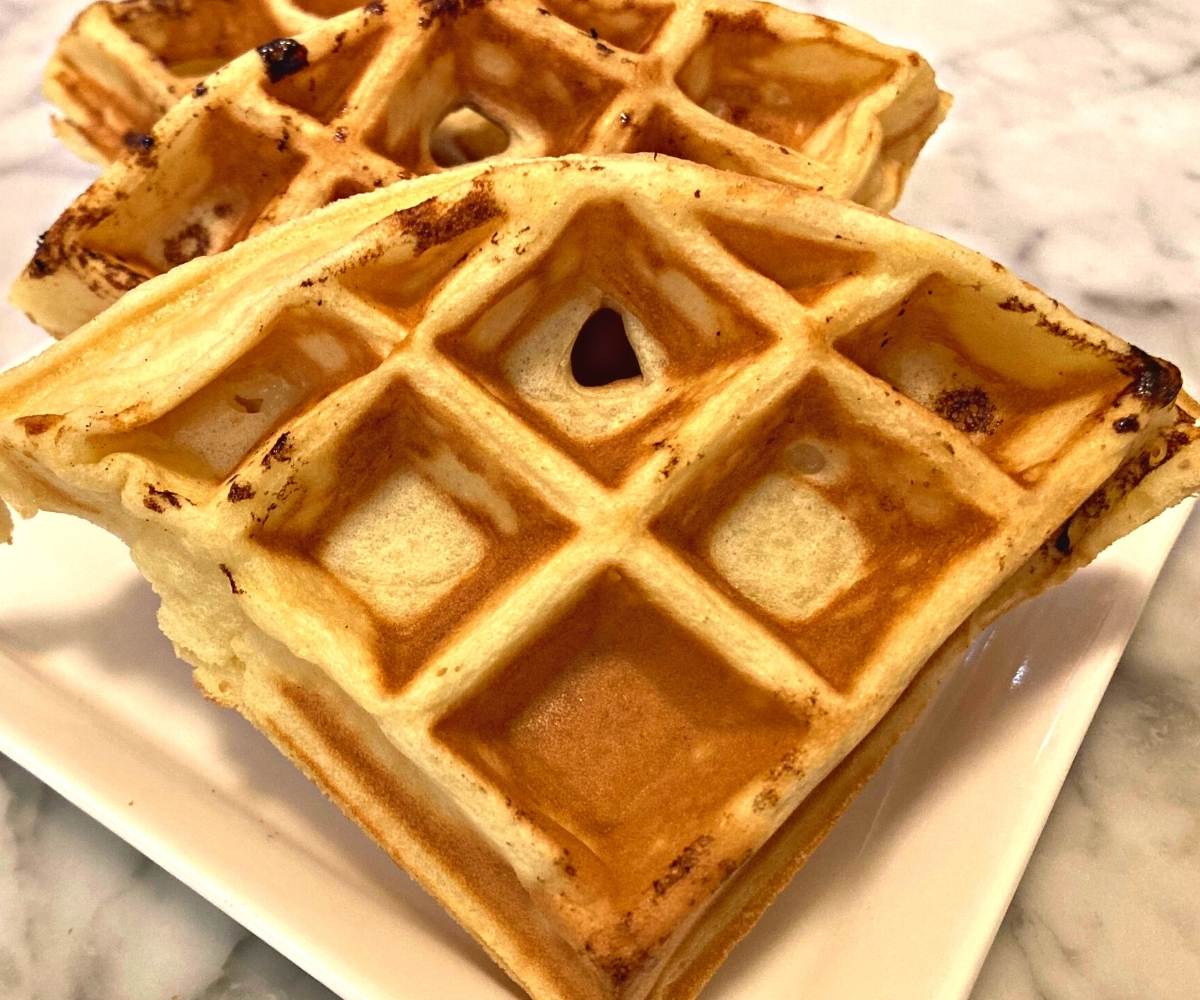 Useful Tools in Making This Recipe
You'll need a waffle iron to make this recipe. Need to buy one? Be sure to check out our Top 7 Criteria in Buying a Waffle Maker!
Here were the two winning waffle makers:
Useful Tools
You'll need a waffle iron to make many of these recipes. Need to buy one? Be sure to check out our Top 7 Criteria in Buying a Waffle Maker!
Here were the two winning waffle makers:
And, if you're more of a pancake guy or gal, here's our favorite skillet (with a lid, for optimal steam cooking in addition to frying!):
Affiliate Disclosure: As Amazon Associates, we earn a small commission from qualifying purchases when you click on links embedded in this post.