This cinnamon chip scone recipe allows you to infuse your scone with flecks of cinnamon sugar deliciousness.
A Very Short History of Cinnamon Baking Chips
The only thing harder to find that cinnamon chips themselves is the history of the cinnamon chip. What genius combined cinnamon, shortening, and corn syrup to make a delicious little nugget of cinnamony goodness that you can include in cookies, scones and pancakes? In all likelihood, a chemist at Hershey, the leading distributor of cinnamon chips during the winter months. If you can't find the Hershey's brand at your grocery store, you can plan ahead and order online from Olive Nation if you don't think you'll be able to work your way through the 25 lb bag you can buy from Web Restaurant Store. If you didn't plan ahead and simply must have some cinnamon chips in your life, a recipe for homemade cinnamon chips can be found here.
He Who Casts the First Scone
Dying to know more about all things scone? Good news! We wrote a full post to answer your burning questions like: Who invented scones? Can I freeze my scone dough?
Sconing About
Love fresh scones? So do we! Here are a few of our favorites, ranging from pumpkin scones to gluten-free scones.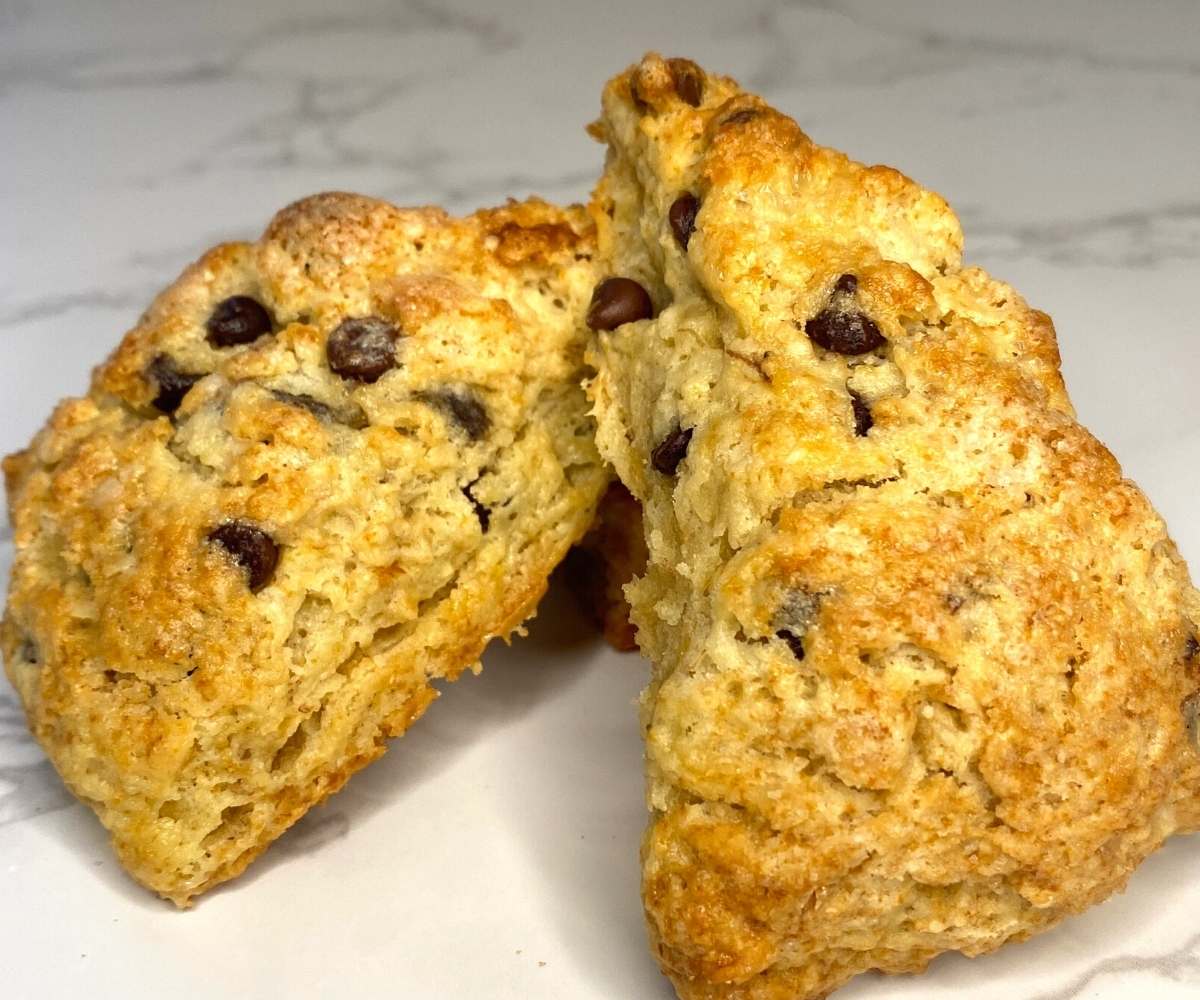 Useful Tools for Making this Cinnamon Chip Scone Recipe
Cinnamon Chip Scone Recipe
This cinnamon chip scone recipe allows you to infuse your scone with flecks of cinnamon sugar deliciousness.
Equipment
baking sheet

parchment paper

pastry cutter

pastry brush
Ingredients
2

cups

all-purpose flour

1

tbsp

baking powder

1/2

tsp

salt

2

tbsp

sugar

5

tbsp

unsalted butter

cold, cut into small pieces

1

cup

mini cinnamon chips

1

tsp

orange zest

optional

1

tsp

vanilla extract

1

cup

heavy cream

plus more for brushing the scones
Instructions
Preheat oven to 400 F. Line a baking sheet with parchment paper.

Sift the dry ingredients (flour, baking powder, salt, and sugar) into a large bowl. Add the cold butter to the flour mixture and use a pastry blender to combine flour and butter until the butter chunks are the size of small peas and coarse crumbs form. Don't overmix, as the larger chunks of butter will melt as the scones bake, releasing steam, making for a flaky scone.

Gently fold the orange zest and the cinnamon chips into the flour-butter mixture.

Combine the heavy cream and vanilla extract in a measuring cup or small bowl. Make a well in the center of the bowl and pour the wet ingredients into the middle. Use a fork to gently stir until a crumbly batter begins to form.

Pour the scone batter onto a lightly floured surface and knead 2-3 times until the dough is cohesive. Split the dough in half and form two balls. Use the palm of your hand to press each ball into a 6-inch circle. Use a sharp knife or a pizza cutter to cut each circle in six.

Separate wedges and place scones on prepared baking sheet. Brush top with heavy cream. Bake in heated oven for 15-20 minutes until golden brown.

Remove from oven and let cool to room temperature on wire rack.
Notes
Leftover scones can be stored wrapped tightly in plastic wrap or in an airtight container for several days.
Affiliate Disclosure: As Amazon Associates, we earn a small commission from qualifying purchases when you click on links embedded in this post.