Craving scones but short an egg or two? Have egg allergies but still craving the best tasting scones? We're here to help you out with a delicious, fluffy scone recipe with no egg, requiring just a few simple ingredients.
Casting Scone Aspersions
The internet is full of bloggers casting scone aspersions. Obviously, this is better than casting stones, but not by much. There is a hot debate going on about British vs. American scones. Whose scones contain more butter? Which scones require egg? Whose scones are fluffier and lighter? Whose are heavy as bricks? Which are truly traditional scones? Which are truly interlopers masquerading as classic scones ?
The most amusing part about this debate is the consistency of its inconsistency. So many different explanations about the different scone recipes and the different ways they are made. We wish we could say that we had sleuthed and sleuthed and could say with certainty that British scones do or don't contain more fat, do or don't contain eggs, and are or aren't superior. But, that would be untrue. BBC Good Food and Mary Berry (doyenne of British baking that she is) each present contradicting recipes on that topic.
It's enough to make one's head spin, which means that you're definitely in need of a cup of tea and some (duh) good scones. Since we can't figure out the origins of the egg-ful vs. eggless scone recipe, we thought we share an egg-free recipe for fluffy scones, for those days when you want a scone but can't make it to the grocery to refill the egg carton, or just in case you have a whopping egg allergy.
What To Serve With An Eggless Scone
Presumably, if you're making an egg-free scone recipe, you're not going to put an egg on top. But, these eggless scones have a relatively savory flavor profile, so that wouldn't actually be the worst idea. Some other options to accompany this easy scone recipe:
Nutella (household favorite over here) and salted butter
Clotted cream and strawberry jam (if you're going for the full cream tea experience)
Scone Technique
We've talked at great length about our phobias around butter piece size and temperature when a food processor is used for scone making. We'll keep it short and sweet here. Just buy a pastry cutter, will ya? They're inexpensive and your tastebuds will thank you when you start churning out flakier, fluffier baked goods.
Sconing About
Not satisfied with these plain scones whose primary claim to fame (aside from being delicious) is their lack of egg? Here are a few other sweet scones, with and without eggs. Somewhere among them, you may find the best scone recipe (we're not sure which one).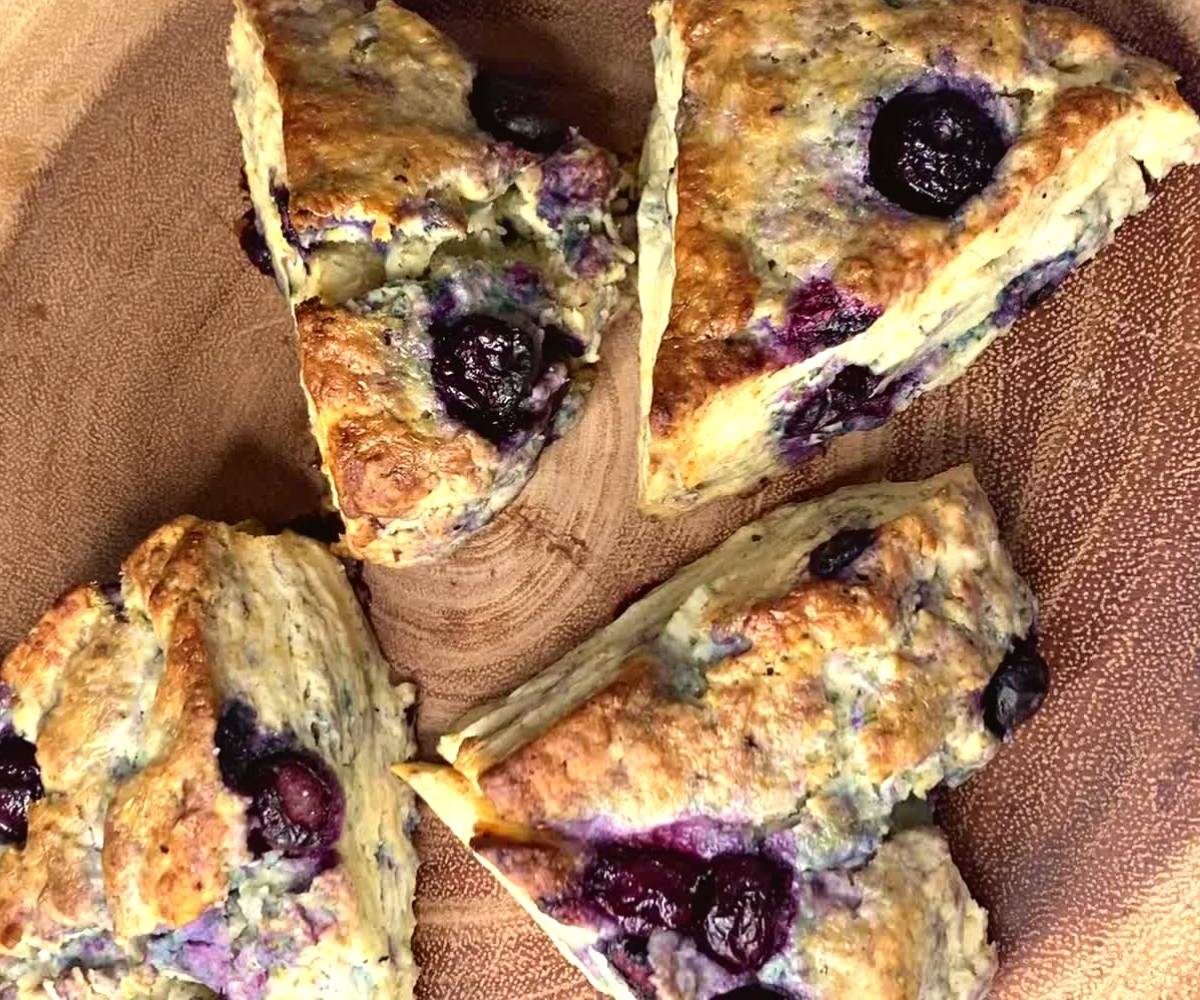 Useful Tools for Making this Scone Recipe With No Egg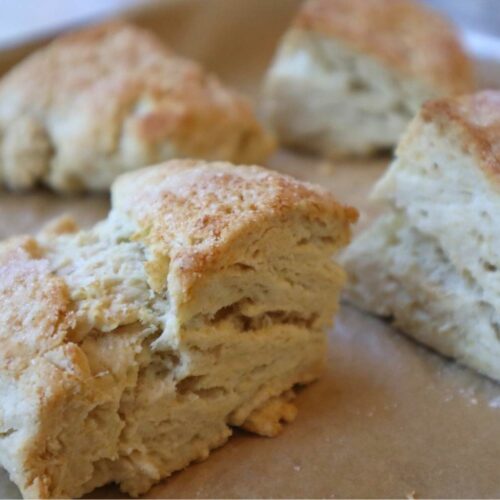 A Scone Recipe Requiring No Egg
Craving scones but short an egg or two? Have egg allergies but still craving the best tasting scones? We're here to help you out with a delicious, fluffy scone recipe with no egg, requiring just a few simple ingredients.
Equipment
pastry cutter

baking sheet

parchment paper

silicone baking mat

silicone pastry brush
Ingredients
2

cups

all-purpose flour

2

tbsp

sugar

4

tsp

baking powder

1/2

tsp

salt

3

tbsp

unsalted butter

cold

2/3

cup

milk

or buttermilk

1

tsp

lemon juice

1

tsp

vanilla extract

1

tbsp

heavy cream to brush the tops of the scones

1

tbsp

coarse sugar or plain white sugar to sprinkle over the tops of the scones
Instructions
Preheat oven to 425 F. Line a baking sheet with parchment paper or a silicone baking mat.

Set a sieve over a large bowl. Sift the dry ingredients into the bowl (flour, sugar, baking powder, salt).

Cut the cold butter into 1/4 inch cubes. Put the butter in the bowl with the dry ingredients and use a pastry cutter or two sharp knives to cut the butter into the flour mixture, until butter is cut into very small pieces and the mixture resembles fine breadcrumbs.

Pour the wet ingredients (milk, lemon juice, and vanilla) into the bowl and use a fork to stir gently to combine. As soon as a shaggy dough starts to come together, pour some flour onto your work surface. Turn the dough out onto the floured surface and gently knead 2-3 times. Don't over work scone dough, or you'll end up with a tough scone.

Divide the dough in two and pat each half into a circle, roughly 5 inches wide and 1 inch tall. Cut scone into quarters using a sharp knife. Separate the pieces slightly to bake.

Since we're skipping out on the traditional egg wash, but still want a golden brown color for the tops of our scones, you can brush the top of the scones with a little bit of heavy cream and sprinkle with coarse sugar.

Place scones in the heated oven and bake 12-15 minutes until golden brown. Let cool for 5 minuts in pan, then remove to wire rack to fully cool.
Notes
While these scones will technically keep in an airtight container, their texture does not improve with age. Eat immediately if you can.
Affiliate Disclosure: As Amazon Associates, we earn a small commission from qualifying purchases when you click on links embedded in this post.