This old fashioned chocolate mayonnaise cake is rich and moist, and comes together in just a few minutes.
A Short History of this Old Fashioned Chocolate Mayonnaise Cake Recipe
Mayonnaise was first invented in the 18th century. However, it didn't really come into its own in the 1920s, when two momentous things occurred. First, it became available on grocery store shelves. Second, President Calvin Coolidge claimed it as his "favorite food." The commercial availability of mayonnaise was made possible by German-American immigrant Richard Hellman. Hellman, like many food manufacturers in the 1920s, developed the market for mayonnaise by printing recipe booklets showing consumers how is product could be used. One of these such booklets included a recipe for this chocolate mayonnaise cake.
The cake has stood the test of time, going through waves of popularity, perhaps because its name is rather polarizing. Perform a straw poll of your friends, and you will find that some are rabidly curious, while others find its secret ingredient disgusting. In the end, however, mayonnaise is merely emulsified egg yolks and oil. So, it should really come as no surprise that chocolate mayonnaise cake is darn good. The oil gives it a nice moist texture. The emulsified egg keeps this delicious chocolate mayo cake nice and light. Perhaps because this old fashioned homemade chocolate cake recipe is so simple, it has endured the test of time.
Beyond the Chocolate Mayonnaise Cake
Love chocolate cake? So do we. Here are a few more ideas for a rich chocolate cake to whet your appetite.
Useful Tools for Making this Old Fashioned Chocolate Mayonnaise Cake Recipe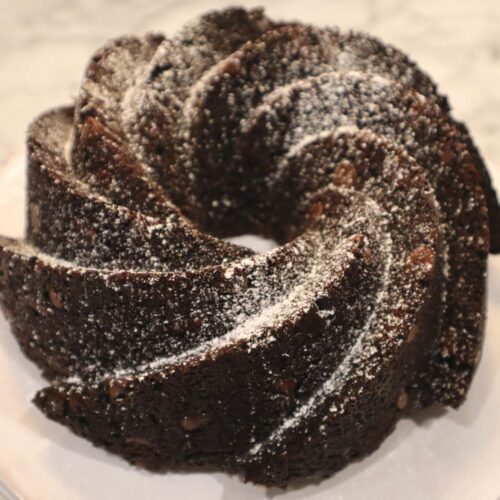 Old Fashioned Chocolate Mayonnaise Cake Recipe
This old fashioned chocolate mayonnaise cake is rich and moist, and comes together in just a few minutes.
Equipment
10 inch (12 cup) Bundt cake pan

2 9-inch cake pan
Ingredients
2

cups

all-purpose flour

2

tsp

baking soda

1

cup

white sugar

1/2

cup

cocoa powder

1 1/2

tsp

vanilla extract

1

cup

water

hot

1 1/4

cup

mayonnaise

1/2 to 1

cup

of nuts or chocolate chips

Powdered sugar for decorating
Instructions
Preheat oven to 350 F and grease a 10-cup bundt pan. If you are making a layer cake, grease and line two 9-inch round cake pans with parchment paper.

In a large bowl, sift together the flour, baking soda, sugar and cocoa.

In a medium bowl, whisk together the vanilla, hot water, and mayonnaise until it looks like milk. Pour the wet ingredients into the dry ingredients and stir into the flour mixture until well combined. Fold in the chocolate chips or nuts, if using.

Pour cake mixture into greased bundt pan. Cake batter should fill pan 3/4 of the way full. Bake in heated oven for 60 minutes until a cake tester inserted into the center of the cake comes out clean.

Let the cake cool 10 minutes in the pan, then flip bundt onto a wire rack.

Dust the top of the cake with powdered sugar before serving.

Frost with your favorite cream cheese frosting or a chocolate buttercream frosting, if you made a layer cake. We like to serve slices from a bundt pan with a little bit of whipped cream or vanilla ice cream on the side.

This easy chocolate cake recipe keeps well in an airtight container or wrapped tightly in plastic wrap for several days.
Affiliate Disclosure: As Amazon Associates, we earn a small commission from qualifying purchases when you click on links embedded in this post.