What are the best cherry scone recipes? The kind that have chocolate chips in them, obviously!
Chocolate and Cherry for the Win!
Chocolate and cherry are a pretty magical combination. Apparently the sweetness of the cherries and the bitterness of dark chocolate offset one another perfectly. The combination is so fantastic that chocolate covered cherries have their own special national day, January 3rd. Still don't believe us? Try these other chocolate cherry recipes: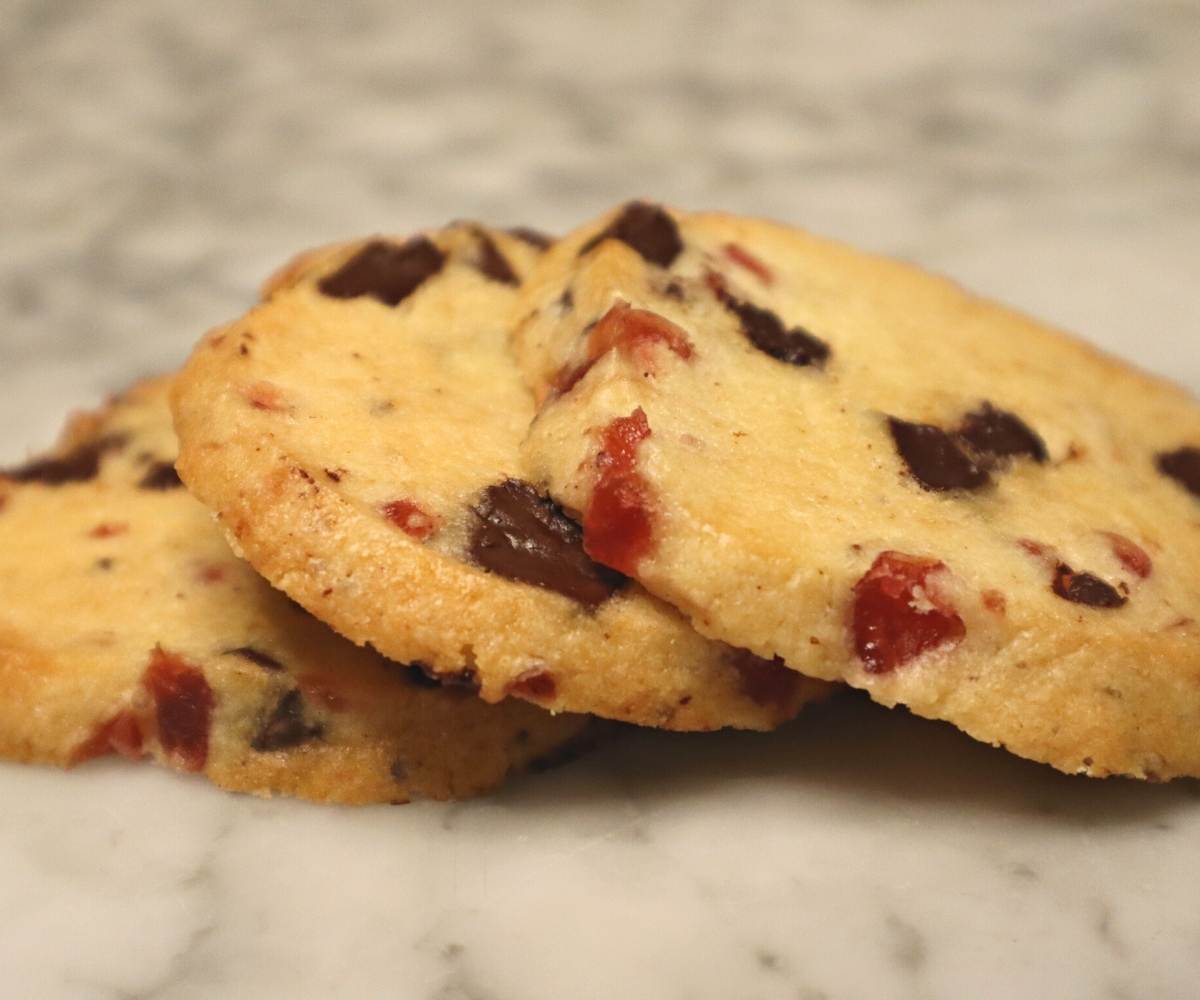 Sconing About
Love scones? Here are a few more to choose from if you need to expand your scone horizons beyond these cherry-chip scones. For an exciting debate about whether or not to use your food processor in making scones, check out our Chocolate Chip Scone Recipe.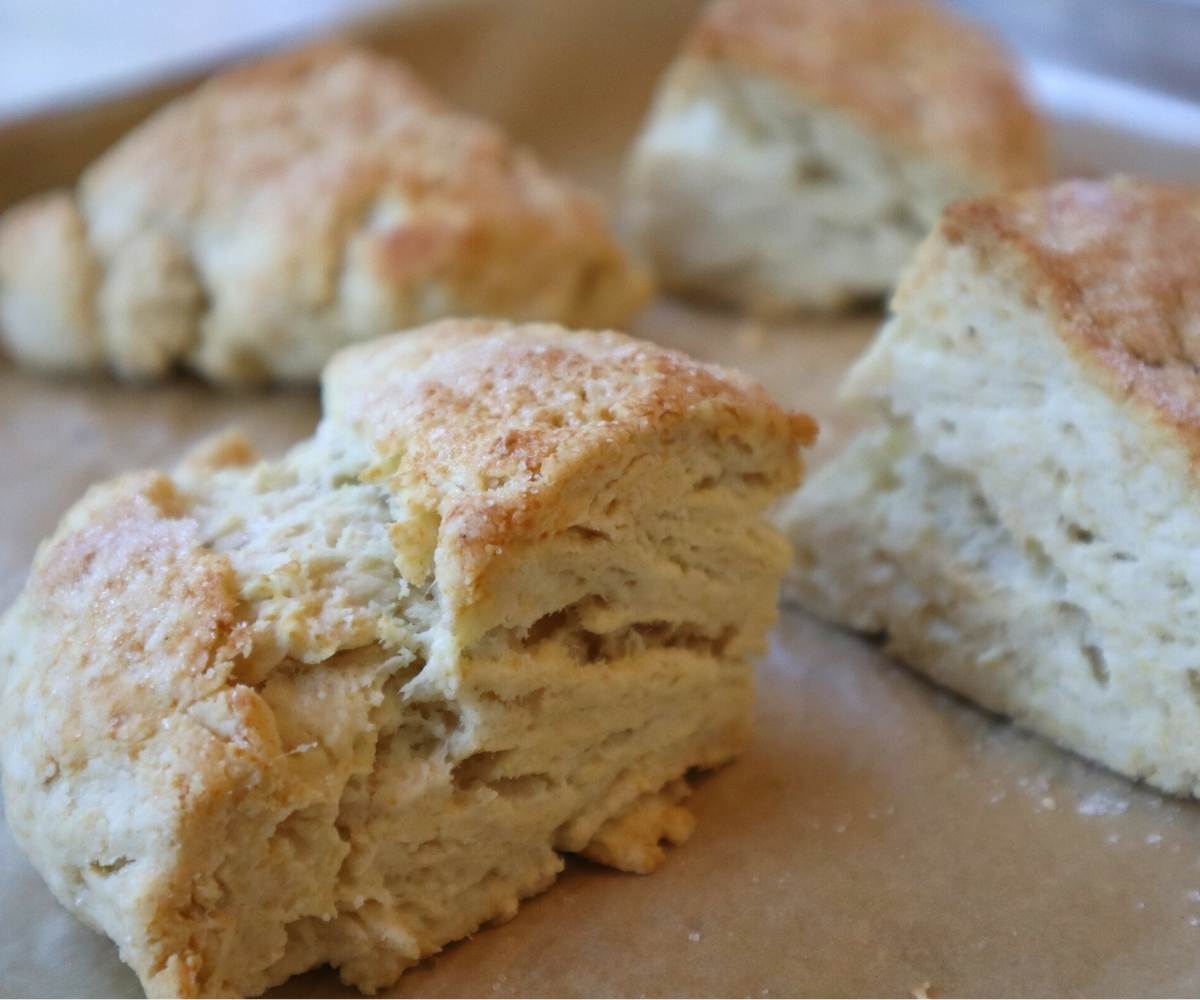 Useful Tools for Making Cherry Scone Recipes
Cherry Chip Scones
What are the best cherry scone recipes? The kind that have chocolate chips in them, obviously!
Equipment
pastry cutter

Pastry Scraper

baking sheet

parchment paper

silicone baking mat
Ingredients
2 1/2

cups

of all purpose flour

1/2

cup

sugar

1

tbsp

baking powder

1/2

tsp

salt

6

tbsp

unsalted butter

very cold

1/2

cup

heavy cream

1

tsp

vanilla extract

1/2

tsp

almond extract

1

large egg and 1 large egg yolk

at room temperature

1 1/2

cups

fresh cherries or frozen cherries

defrosted and drained, pitted and cut into quarters. Tart cherries, like bing cherries, work especially well with the dark chocolate in this recipe. In a pinch, you can also use dried cherries, but the texture will be quite different.

1/2

cup

dark chocolate chunks or roughly cut dark chocolate
For the topping:
2

tbsp

heavy whipping cream

Raw sugar for sprinkling
Instructions
Preheat oven to 425 F and line a baking sheet with parchment paper or a silicone baking mat.

Sift the dry ingredients (flour, sugar, baking powder and salt) together into a large bowl.

Cut the cold butter into 1/2 inch cubes. Combine flour mixture and cold butter. Cut the butter into the flour mixture using a pastry blender until the butter pieces are no larger than the size of small peas.

In a small bowl, whisk together the heavy cream, vanilla extract, almond extract, egg, and egg yolk.

Stir the wet ingredients into the flour mixture until the butter-flour mixture with a fork until a shaggy dough begins to come together.

Add the cherries and chocolate to the scone dough and stir gently with a wooden spoon to combine.

Turn the dough out onto a floured surface and knead 2-3 times until well combined.

Shape dough into a circle that is roughly 2 inches thick and use a bench scraper or a sharp knife to cut scones into 8 equal wedges.

Place scones to the prepared baking sheet, leaving an inch or two between each scone. Let chill in refrigerator for 15 minutes for optimal rise.

Brush scones with the heavy cream and then sprinkle with sugar.

Bake 18-20 minutes until golden brown.
Notes
These buttery scones won't keep well once baked. If you need to make these sweet scones ahead of time, you can make the dough and freeze unbaked scone on trays before transferring to a ziploc bag. When you're ready to bake, preheat oven, place the scones on a tray, and brush with heavy cream and sprinkle with sugar. Bake time will increase by several minutes – likely to roughly 25 minutes. Scones are done when they are golden brown and cooked through.
Affiliate Disclosure: As Amazon Associates, we earn a small commission from qualifying purchases when you click on links embedded in this post.