Rumor has it that the Mississippi Mud Cake originated in the American South in the 1970s or 1980s. The cake is supposedly named after the muddy banks of the Mississippi river. This treat is a chocolate lover's dream. It consists in a layer of moist chocolate cake, topped with gooey marshmallows, and then another layer of chocolate frosting.
A Short History of Mississippi Mud Cake
There is no clear single source for the Mississippi Mud Cake. This chocolate cake recipe began to appear in newspapers in the 1970s. The recipe closely resembles a Texas sheet cake (with the addition of marshmallows). The two recipes emerged around the same time. While the brownies and frosting are consistent, there is tremendous variability in the remaining ingredients. Some recipes include nuts. Others broil the marshmallows, then frost them. Some frost, then top with marshmallows. All in all, it's clear as mud. This leaves the field wide open for you to interpret this sweet version of mud as you like.
More Brownies
We love the way brownies (and their cousin, blondies) come together quickly in a single bowl and bake in less than a half hour. They are the perfect in-a-hurry dessert. Should you need a few more brownie/blondie/bar cookie ideas, here are a few to get you started: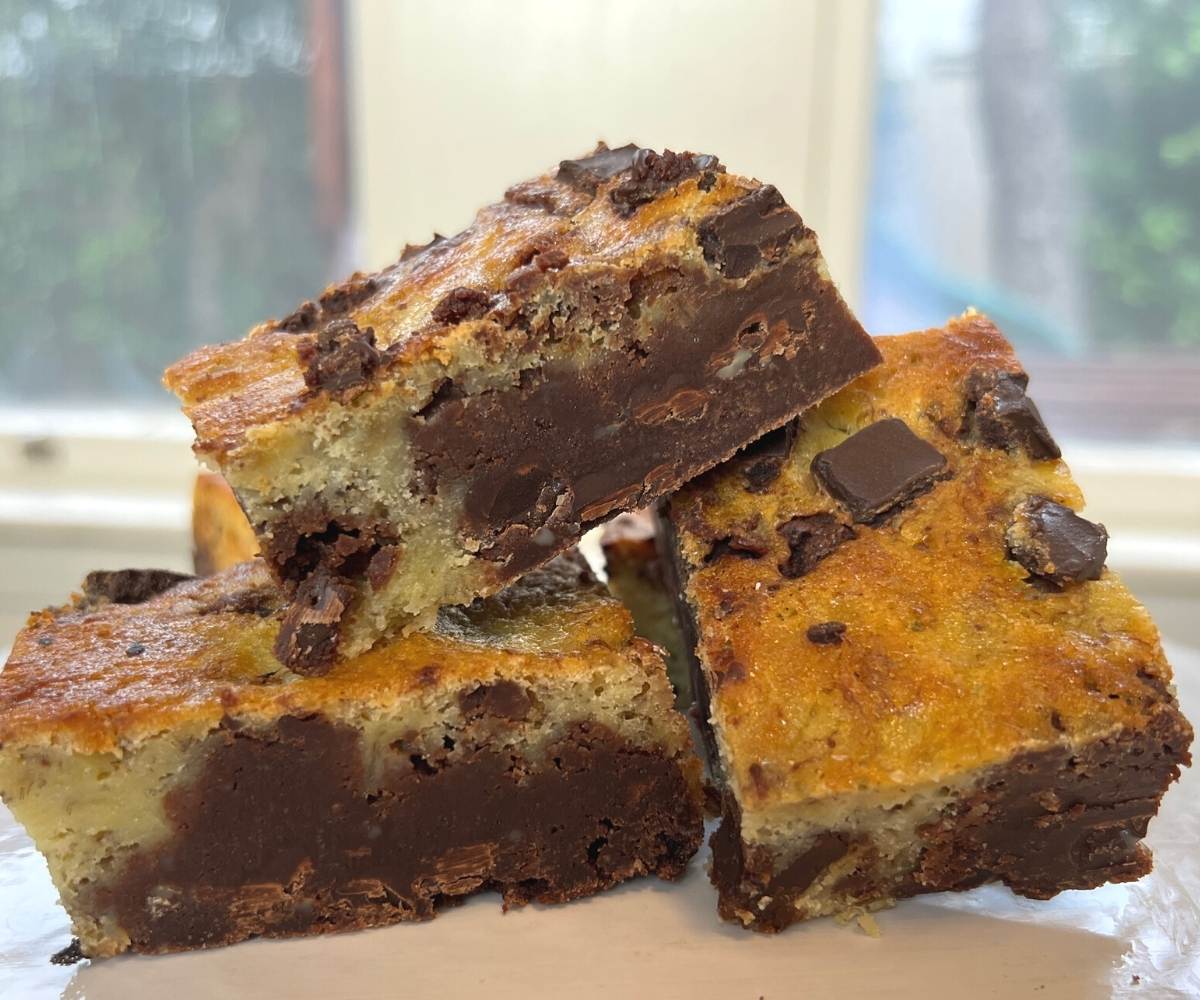 Useful Tools for Making this Mississippi Mud Cake Recipe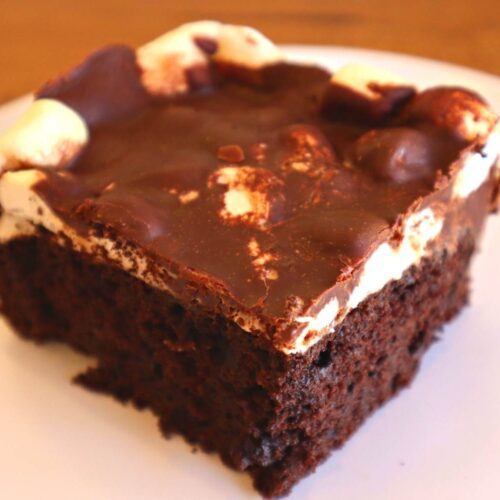 Mississippi Mud Cake
This Mississippi Mud Cake consists in a layer of cakey brownies topped with marshmallows and chocolate ganache. A chocolate lover's dream!
Equipment
1 8 x 8 inch square pan

parchment paper
Ingredients
For the brownie base
1

cup

all purpose flour

1/2

cup

granulated sugar

1/4

cup

brown sugar

packed

1/2

cup

unsweetened cocoa powder

1

tsp

baking powder

3/4

tsp

baking soda

1/2

tsp

salt

1/2

cup

vegetable oil

or canola oil

1

egg at room temperature

3

tbsp

whole milk

2

tbsp

sour cream

1/2

cup

boiling water

1

tsp

vanilla extract
For the topping:
5

oz

miniature marshmallows
For the chocolate ganache frosting:
3

oz

semisweet chocolate

1/3

cup

cream
Instructions
Heat oven to 350 F. Grease and line an 8 x 8 inch square cake pan with parchment paper.

In a large mixing bowl, sift together dry ingredients (flour, sugar, cocoa powder, baking powder, baking soda, salt).

Add wet ingredients (oil, eggs, milk, vanilla extract, and sour cream) to the flour mixture and use an electric mixer on medium speed to combine.

Pour hot water in and mix on low speed to combine.

Pour batter into the prepared pan and bake for 20-25 minutes, or until a toothpick inserted into the center comes out clean.

Remove hot cake from the oven and sprinkle marshmallows over the top, covering it completely.

Return to oven for 2-3 minutes until mini marshmallows are slighlty puffed. Cool cake before drizzling the warm frosting over the top of the fluffy marshmallows.
For the chocolate ganache frosting:
In a small saucepan, bring cream to a simmer.

Stir in finely chopped semisweet chocolate. Continue stirring until chocolate mixture is smooth, glossy, frosting forms.

Pour the warm icing over the top of the cake. Let ganache set in refrigerator before slicing and serving.
Affiliate Disclosure: As Amazon Associates, we earn a small commission from qualifying purchases when you click on links embedded in this post.