What's better than a crunchy, tender waffle? One with Nutella swirled through it, obviously. This Nutella waffle recipe comes together quickly for an easy, indulgent weekend breakfast.
A Short History of Nutella
Nutella, like so many great inventions, emerged from scarcity. In 1806, Napoleon's continental system prevented British goods from entering French-controlled ports, putting cocoa in short supply. A chocolatier in Turin named Michele Prochet extended what little cocoa he had by blending it with sugar and hazelnuts. He named the confection Gianduja, after a local carnival character.
A century later, major trade interruptions from the aftermath of World War II yet again made cocoa scarce. Pietro Ferrero, another inventive chocolate-maker from a hazelnut-growing region of Italy began marketing blocks of Gianduja as a topping for bread. In 1951, he tweaked his recipe slightly to make a creamier, more spreadable version, naming it "Supercrema Gianduja." A wise soul in Ferrero's factory rebranded the product "Nutella" and set out to market it across Europe. It was a runaway success and remains wildly popular to this day. 27,854 devotees participated in the world's largest continental breakfast, featuring Nutella toast, in 2005. World Nutella day was launched in 2007 and is celebrated annually (for unknown reasons) on February 25. This recipe honors the fact that Nutella is one of our favorite things and that, in our opinion, every day should be Nutella day.
Waffling About
Love waffles? So do we! It's hard to beat a waffle in the "easy breakfast recipes" category. Here are some of our favorites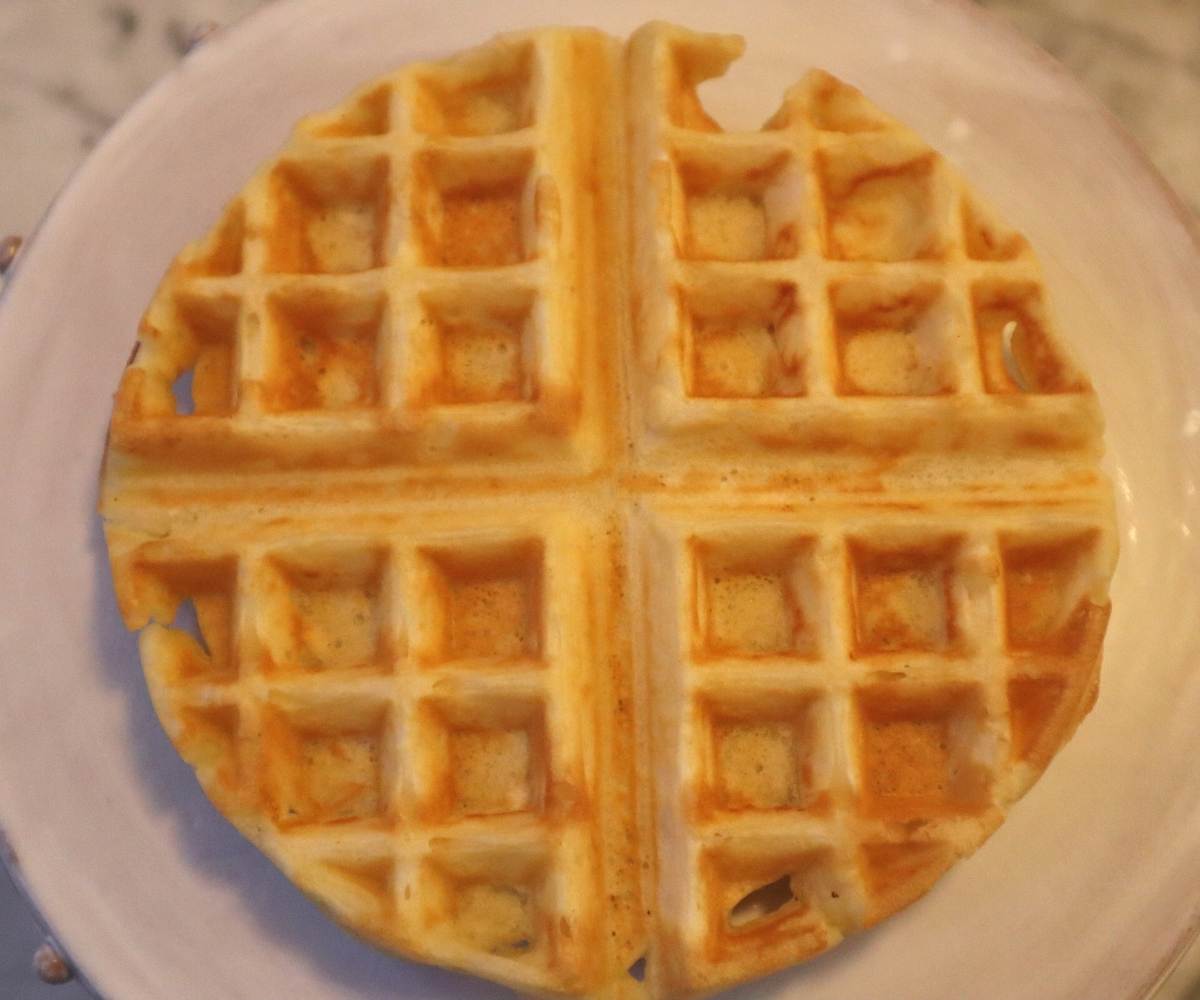 Useful Tools to Make this Nutella Waffle Recipe
In search of a good waffle maker? Here's our favorite:
Nutella Waffle Recipe FAQ
What if I need to make these for a crowd?
Ideally, these Nutella waffles should be eaten immediately. In a pinch, you can preheat your oven to 150 F and keep prepared waffles warm on a baking sheet while you cook up a bunch.
Can I freeze these nutella waffles?
Unfortunately, Nutella does not freeze well, so we don't recommend storing leftovers in the freezer. However, any of the waffle recipes listed above will work for long-term emergency waffle storage in your freezer. You can refresh your Belgian waffles with a quick trip to the toaster oven.
If I can't freeze these, can I store the batter?
Yes! As long as your eggs and buttermilk weren't on the verge of expiration, you can keep the batter (minus the Nutella) in the fridge in an air-tight container for several days. This is a great thing if you crave a quick breakfast of perfect waffles swirled with nutella at a moment's notice.
Nutella Swirl Waffle Recipe
What's better than a crispy, tender waffle? One that's swirled with Nutella, obviously!
Ingredients
3/4

cup

flour

1/4

cup

corn starch

1

tsp

sugar

1/2

tsp

baking soda

1/2

tsp

salt

1

cup

buttermilk

1/3

cup

oil

1

egg

1/3

cup

Nutella
Instructions
Fire up your belgian waffle iron (we like ours on medium-high heat).

In a large bowl, sift together the dry ingredients (flour, corn starch, sugar, baking soda, and salt).

Pour the buttermilk, oil, and egg into the dry mixture and stir to combine.

Place your nutella in a small bowl and microwave in 30-second increments until nice and runny.

Spray your hot waffle iron with non-stick vegetable oil spray.

Pour waffle batter into the waffle iron and drizzle the melted Nutella mixture over the top in a swirl as quickly as you can.

Close lid of the waffle maker and let your waffle cook according to your waffle iron instructions, until golden brown waffles emerge.

Serve immediately, so that you can best enjoy the amazing caramelized, crunchy and melty nutella bits embedded in your delicious waffles.
Affiliate Disclosure: As Amazon Associates, we earn a small commission from qualifying purchases when you click on links embedded in this post.