This strawberry blondie recipe is a perfect antidote to the winter blues. Homemade strawberry jam turns even the most anemic of winter strawberries into a sticky sweet mess. Alternatively, these strawberry blondies are the perfect way to show off perfectly ripe juicy strawberries during strawberry season. The nutty aroma of the browned butter sets off the creamy white chocolate beautifully. This strawberry dessert would be the perfect end to a summer picnic, but is hearty enough to survive the most frantic bake sale.
A Short History of Blondies
Blondies are Brownies' older, wiser, sister. We say this not as an older sister, but as a consumer of blondies, of course. In any case, blondies, emerged in the late 19th century, at a time that molasses was a common sweetener. A recipe for blondies (named Brownies, in the book, perhaps because of their molasses-tinted hue) was first published in Fannie Farmer's 1896 The Boston Cooking-School Book.
The popularity of the name "brownie," which was applied to all manner of things including the "brownie" camera, seems very mysterious to us at a distance of 150 years. Palmer Cox wrote a wildly popular series of books with adorable elfin characters named Brownies, inspiring all kinds of brownie-named things. These 19th century Brownies were perhaps the great grandparents of the Trolls of the 1990s. We're just glad we didn't grow up eating "troll" cakes.
By 1906, Farmer updated her book and included two recipes for "brownies," one chocolate, and one vanilla. The name "blondie," short for "blonde brownies" seems to have emerged as the popularity of chocolate brownies soared, and as molasses was gradually replaced with brown sugar, giving the blondie its iconic blonde color.
Bar Cookies
We love a good dessert bar. They are quick and easy and store well. Here are some other bar cookies (and of course brownie!) ideas: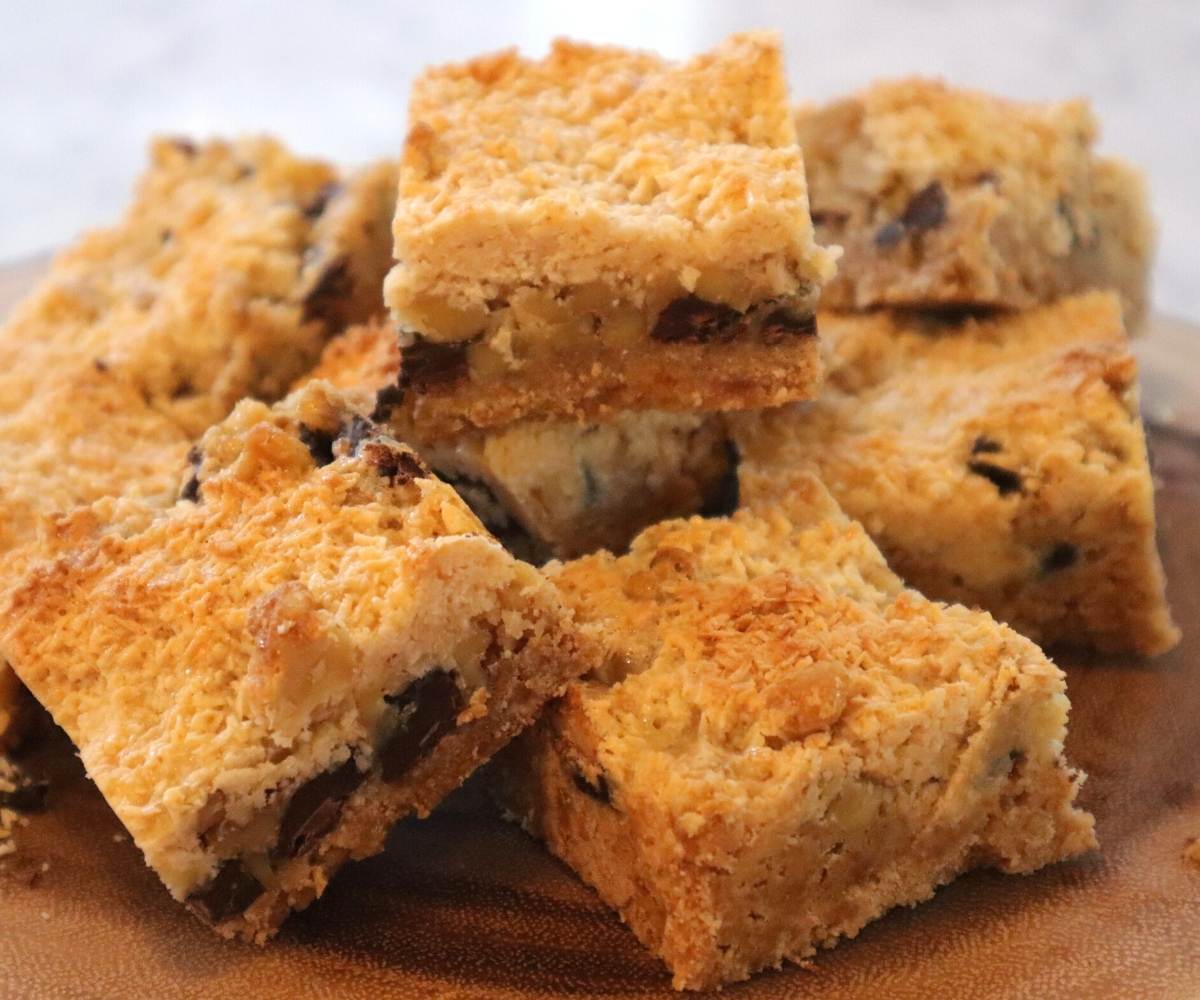 Useful Tools for Making this Brown Butter Strawberry Blondie Recipe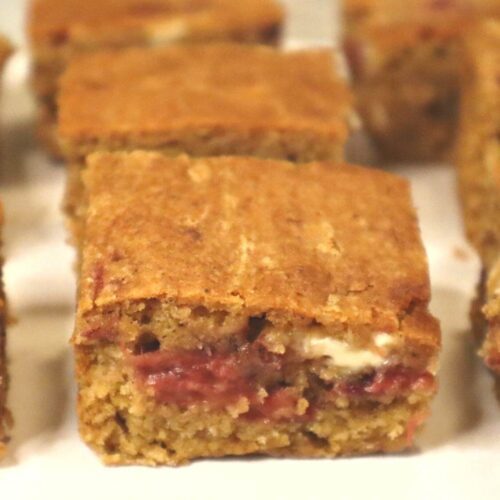 Best Brown Butter Strawberry Blondie Recipe
This brown butter strawberry blondie recipe is perfectly fudgy, with an earthy brown butter flavor and studded with creamy white chocolate and tangy homemade strawberry jam.
Equipment
8 x 8 inch square baking pan

parchment paper
Ingredients
Quick Strawberry Jam
10

fresh strawberries or frozen strawberries hulled and halved

1

tbsp

granulated sugar

1

tsp

vanilla extract
Brown Butter Blondies
1 1/2

cups

all-purpose flour

1

tsp

baking powder

1/4

tsp

salt

1 1/2

sticks

unsalted butter

1 1/4

cups

light brown sugar or dark brown sugar

2

large eggs

2

tsp

vanilla extract

1/2

cup

roughly chopped white chocolate bar or white chocolate chips
Instructions
Make the strawberry jam:
In a medium saucepan, place all jam ingredients and bring to a boil.

Reduce heat and simmer, stirring occasionally with a wooden spoon, until the liquid is thick and sticky, roughly 15 minutes.

Set the strawberry mixture aside and allow to cool completely before using.
Make the blondies:
Preheat oven to 350 F. Line an 8 x 8 inch square baking pan with parchment paper, leaving enough overhang on all sides to allow you to lift the bars out at the end.

In a small saucepan, melt the butter. Over low heat, allow the butter to brown, watching carefully so that it doesn't burn.

Pour the melted butter into a large bowl. Whisk in the brown sugar, eggs, and vanilla extract.

Sift the dry ingredients (flour, baking powder, and salt) into the wet ingredients. Stir to fully combine the flour mixture and the egg mixture.

Fold in the strawberry jam and white chocolate chunks.

Pour the blondie batter into the prepared pan.

Place pan in preheated oven and bake 30 minutes until the top is just golden brown and the center is just set. For the best texture (fudgy blondies!), do not overbake. No one likes a dry blondie.

Allow to cool to room temperature on a wire rack, then remove cooled blondies from the pan to a cutting board and cut into squares.
Notes
Leftover blondies keep well in an airtight container or ziplock bag for several days.