This Polish apple cake recipe consists of lightly stewed apples baked between two layers of crunchy short crust recipe.
A Short History of this Polish Apple Cake Recipe
Apples were first introduced to Poland in the 7th century by Cistercian monks. They quickly became a staple food of the region, appearing in pancakes, stews, and soups, among many other things. Apples remain wildly popular in Poland. Today Poland is one of the largest growers and exporters of apples in the world.
The first recorded recipe for an apple cake comes to us from Medieval England. It's entirely possible, given how much Poles love apples, that contemporaneous versions emerged in Medieval Poland. The name Szarlotka traces its origins back to Antoine Careme's Charlotte Russe. The dessert is thought to have been named after Queen Charlotte of England, the unfortunate consort of (Mad) King George III. Careme's version layers stewed apples with stale bread slices and spices. The Polish szarlotka recipe we're making today is an altogether different beast. It has a cake-like crust, perhaps more closely resembling an apple pie or an apple crumble bar. Szarlotkas famously come in a wide variety of forms, with some containing a layer of meringue, others having a more puff pastry like topping, and some, like this one, a bit more rustic.
More Apple Desserts
Love Apples? You've come to the right place!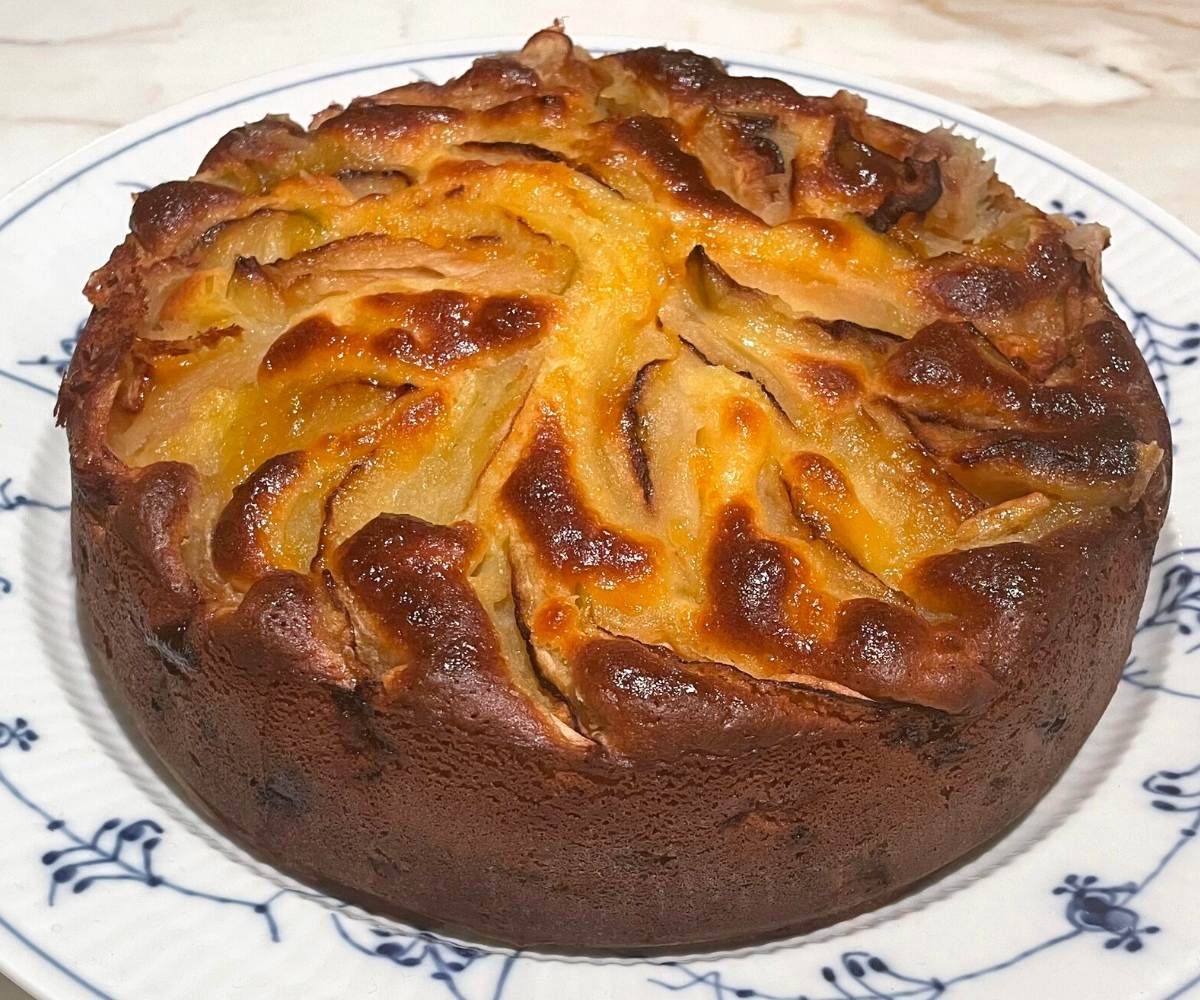 Useful Tools for Making this Polish Apple Cake Recipe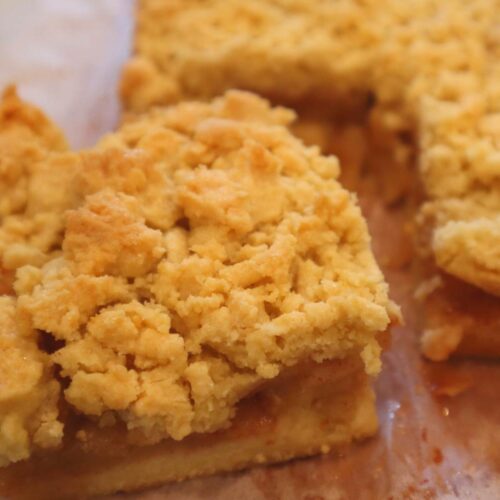 Apple Szarlotka: A Polish Apple Cake Recipe
This Polish apple cake recipe consists of lightly stewed apples baked between two layers of crunchy short crust recipe.
Ingredients
For the apple filling:
1

tbsp

lemon juice

3

large cooking apples

granny smith is a good kind

2

tbsp

soft brown sugar

1/2

tbsp

ground cinnamon
For the dough:
1 3/4

cups

all purpose flour

1/2

tsp

baking powder

7

tbsp

cold butter

unsalted, cut into small cubes

1/2

cup

sugar

1

egg yolk and 1 egg

1/2

tbsp

yogurt or sour cream

1/2

tbsp

lemon zest

1/2

tsp

vanilla extract

To serve:

powdered sugar

for dusting

vanilla ice cream
Instructions
Preheat oven to 375 F. Grease and line an 8 x 8 inch square baking pan with parchment paper.

To make the dough, combine flour and baking powder in a food processor or a large bowl and stir to combine. Add the butter and pulse in the food processor, or mix with a pastry cutter until the mixture is sandy. Add the sugar, egg yolk and egg, yogurt, lemon zest, and vanilla extract. Mix together. Tip onto a flour surface and knead gently until a ball forms.

Split dough in half and wrap one half in plastic wrap and freeze for 1 hour. Put the remaining dough half in the baking pan and use the palm of your hand and your fingertips to evenly distribute into a uniform dough layer across the bottom of the baking pan and halfway up the sides of the pan. Prick the dough with a fork and bake in the oven for about 15 minutes until it is golden and lightly springy to touch. Set aside to cool.

For the filling, peel, core, and thinly slice the apples. Pour the lemon juice over the apple slices in a medium bowl. Place the sliced apples in a large pan and add sugar, 100 ml water, and cinnamon. Cook for 5 mins over medium heat then remove from heat and leave to cool in the liquid.

Spoon the apple mixture over the base, including about half of the cooking liquid. Set aside. You should have a thick layer of apples.

Remove the dough from the freezer and coarsely grate the dough over the top of the apple layer.

Bake 45-50 minutes until the topping is golden and cooked through.

Leave to cool fully, then dust with icing sugar and cut into squares.

Serve slightly warmed topped with a scoop of vanilla ice cream.
Affiliate Disclosure: As Amazon Associates, we earn a small commission from qualifying purchases when you click on links embedded in this post.