This strawberry mousse cake recipe produces a light and airy confection, with a strong strawberry flavor. It's the perfect way to use up some juicy spring berries. This strawberry mousse cake is rather fool-proof since it consists of a gelatin-based mousse, which is much more forgiving than the whipped egg whites version.
A Short History of Gelatin
Gelatin was first discovered in 1682 when a French scientist invented a method for removing the glutinous material in animal bones by boiling them. What was left was pure protein, containing no flavor or odor. It was also, well, boiled animal bones. Perhaps this idea was repulsive enough that it wasn't until 200 years later that Peter Cooper (of Cooper Union fame) first applied for a patent for gelatin-based desserts. Despite owning the patent, we have no evidence that he marketed or promoted his gelatin desserts. Perhaps he was too busy building an art school.
This would have to wait for Pearl B. Waite, a failing cough syrup manufacturer who bought Peter Cooper's patent. Waite was tired of creating products for sick people, since sick people inevitably either get better or die. Something that might appeal to anyone and everyone seemed to be a better bet. Waite added fruit syrup to the gelatin and his wife named it Jell-O. Jell-O's success, however, would have to wait for Frank Woodward, who bought Waite's patent and developed a successful advertising campaign. Either Woodward was a marketing genius, or his efforts were well-timed. Right around 1900, Jell-O became the de rigeur dessert to end an elegant dinner party. Today, Jell-O is the largest prepared dessert sold worldwide. Which leads us back to, well, animal bones.
In any case, please set your fear of boiled meat aside for this one (or opt for agar agar, a seaweed-based gelatin, if it disturbs you too much). The gelatin here gives the whipped cream structure and makes this a very easy make-ahead dessert for strawberry season.
Variations
We like our strawberry mousse cake with a graham cracker crumb base, but you could equally substitute in one of the following:
1) An almond-flour dacquoise (like the one in our in our Fancy French Chocolate Mousse Cake)
2) A sponge cake (like the one in this Fraisier Cake)
3) A rich chocolate brownie (like the cake layer in our Big Boy Birthday Ice Cream Cake)
4) You can replace the graham crackers with a golden oreo crust, or a gingersnap crust, or any crumbled cookie of your choice.
In that case, bake the base cake ahead of time and cut it to fit in the bottom of your springform pan. Then pour your luscious strawberry mousse over, and top with the strawberry gelatin.
You are also welcome to replace the fresh strawberries in this recipe with the fresh fruit of your choice. Ideally, pick something with a nice, strong flavor and a mushy texture. Raspberries are delicious. Ripe summer peaches can be good. You get the idea!
Fancy Cakes
Did we inspire to explore the world of fancy cakes? Hooray! Here are a few more of our favorites: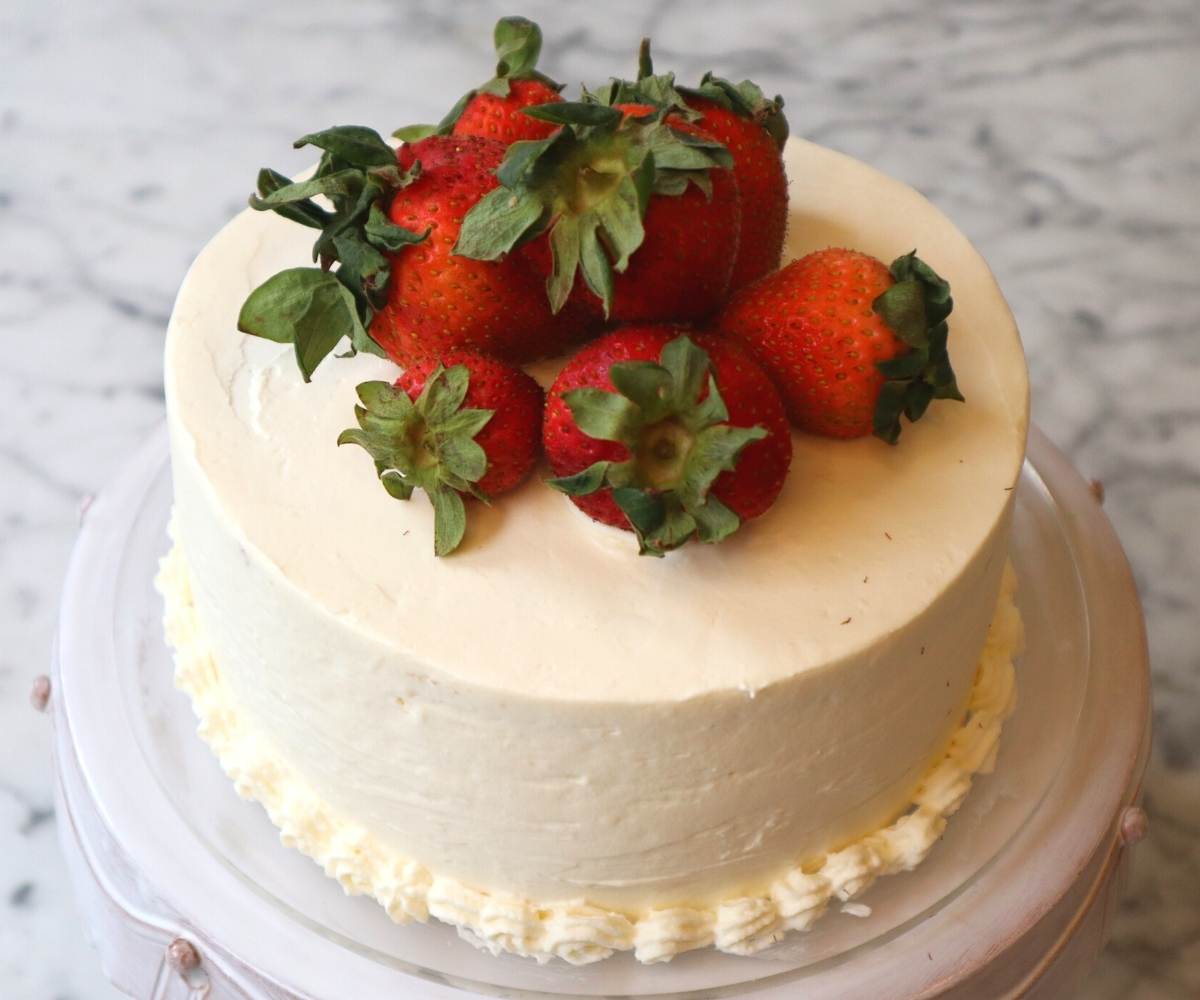 Useful Tools for Making this Strawberry Mousse Cake Recipe
Strawberry Mousse Cake
This strawberry mousse cake recipe is easy, light, and fluffy. A perfect addition to your strawberry season menu.
Equipment
9-inch round springform pan

acetate cake collar

10-inch cake card

disposable piping bag

small offset spatula

star tip piping set
Ingredients
For the cookie base
1 1/2

cups

graham crackers

4

tbsp

butter

melted
Strawberry mousse and gelatin base:
4

cups

fresh strawberries

hulled and quartered
For the strawberry mousse
4

tsp

unflavored gelatin powder

3

tbsp

cold water

1 3/4

cups

heavy cream

4

oz

mascarpone cheese or cream cheese at room temperature

1

cup

confectioners' sugar

1

tsp

vanilla extract

1/2

tsp

salt

1

tbsp

lemon juice
For the strawberry gelatin topping
1/4

cup

granulated sugar

2

tsp

unflavored gelatin powdered

2

tbsp

cold water
To decorate:
Homemade whipped cream

2

strawberries

thinly sliced into small pieces

6

mint leaves

thinly sliced
Instructions
Place a 10-inch cake card on the counter.

Remove the bottom from a 9-inch spring form pan. Put the pan on top of the cake card. Line the inside of the pan with an acetate cake collar.

Put the graham crackers in a large ziploc bag and bash with a rolling pin until fine crumbs form. Pour the melted butter into the ziploc, and mash around with the cookie crumbs to fully combine.

Put the buttery graham cracker crumbs in the bottom of the pan and press to form a flat surface. Store the base in the refrigerator while you make the mousse.

Prepare the strawberry base by pulsing the strawberries in a food processor until fully pureed. Run the puree through a fine-meshed sieve into a large bowl. Set aside 1/4 of the strawberry base in a separate bowl for the strawberry topping. The remaining 3/4 will be used for the strawberry mousse.
Make the strawberry mousse
Sprinkle the gelatine over the water and let sit for 30 seconds to bloom while you stir the lemon juice into the larger portion of the strawberry puree. Pour 1/4 cup of the the strawberry puree and bloomed gelatin into a small saucepan and stir over low heat until the gelatine is fully dissolved. Combine the strawberry-gelatine mixture with the remaining strawberry puree. Let cool while you beat the whipping cream.

In the bowl of a stand mixer using the whisk attachment, or in a large bowl using an electric mixer, whip cream, mascarpone cheese, powdered sugar, and salt on low speed until whipped and fluffy, about 5 minutes.

Pour the cooled strawberry mixture into the whipped cream mixture. Use a rubber spatula to fold the strawberry mixture into the whipped cream until no more streaks remain.

Pour the strawberry mousse in an even layer into the prepared crust. Use an offset spatula to cover the top. Cover the cake with plastic wrap. Refrigerate 2 hours until set.
Make the strawberry gelatin topping
Sprinkle the gelatine over the water and let sit for 30 seconds. Combine the gelatine, remaining strawberry puree, and sugar, in a small saucepan. Stir over low heat until all of the gelatine is melted. Let cool for 15 minutes.

Pour the strawberry topping over the mousse to evenly cover the mousse surface. Let cool until set, at least six hours or overnight.

Just before serving, pipe whipped cream and sprinkle fresh berries and mint leaves over the top.
Affiliate Disclosure: As Amazon Associates, we earn a small commission from qualifying purchases when you click on links embedded in this post.