Did you make the same mistake we did and buy some overpriced and underflavored winter blueberries? Fear not. This baked blueberry cake donut recipe is here to rescue you from your flavorless blueberry nightmares. A quick bath in a sweet cake doughnut dough, followed by a dollop of glaze and those sad, sad blueberries will be darned delicious. You can enjoy homemade donuts without trekking out to the donut shop. These yummy blueberry donut holes are perfect with a cup of coffee.
Blueberrying About
Inspired by this sad tale of winter blueberry woe to do more mid-winter berry baking? Fear not! We've got you covered.
Also…donut lover? Check out these jelly donut muffins. All the donut deliciousness without the frying.
About this Baked Blueberry Cake Donut Recipe
We don't believe in specialty baking pans, so we baked these in a mini muffin tin and christened them baked blueberry donut holes. In donut hole form, you get an increased glaze to donut ratio, which no one can really complain about. And, you don't have to fiddle with piping the donut batter into the donut molds!
Useful Tools for Making this Baked Blueberry Cake Donut Recipe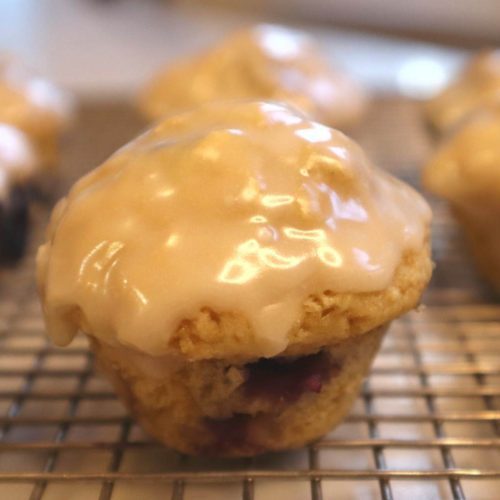 Baked Blueberry Cake Donut Recipe
This baked blueberry cake donut recipe will save you from the worst winter berries and help you get your sugar fix first thing!
Ingredients
For the donuts:
1

cup

flour

1/2

cup

light brown sugar, packed

1/2

tsp

salt

1

tsp

baking powder

1/2

cup

buttermilk

(or yogurt or sour cream)

2

tbsp

unsalted butter

melted

1

large egg

at room temperature

1

cup

fresh blueberries

if you're feeling fancy, go for wild blueberries
For the glaze:
1

cup

confectioner's sugar

1/2

tsp

vanilla extract

2-3

tbsp

milk
Instructions
Preheat oven to 425 F. Grease 2 mini muffin pans (you'll need 24 mini muffin holes) with butter or cooking spray. Set aside.

In a large mixing bowl, whisk together buttermilk, melted butter, and egg.

Sift the dry ingredients (flour, sugar, salt, and baking powder) into the wet ingredients, stirring until the flour mixture is well combined with the milk mixture.

Fold blueberries into the batter gently.

Scoop donut batter into the mini muffin tin. Tap the muffins on the counter top to remove any large air bubbles.

Bake for 5 minutes, then reduce heat to 350 F and bake an additional 10 minutes until golden brown and puffed.

Let donuts holes cool in pan for 10 minutes, before removing to wire rack to fully cool.

While the donut holes cool, in a small bowl, whisk the glaze ingredients together until a runny glaze forms.

When the donuts are completely cooled, dip tops of the donut into the glaze. Return to cooling rack and let sit until glaze is fully set (10-15 minutes).
Notes
Note: We live with some lemon-loathers, but these blueberry donuts would be enhanced by the addition of some lemon zest to the batter, and the replacement of the vanilla glaze with a simple lemon glaze. To do so, simply substitute one of the tablespoons of milk for some lemon juice.
Affiliate Disclosure: As Amazon Associates, we earn a small commission from qualifying purchases when you click on links embedded in this post.