This confetti pancakes recipe combines classic pancakes with rainbow sprinkles, sweet glaze, and homemade whipped cream. We challenge you to find a better way to start your saturday morning.
Who Invented this Confetti Pancakes Recipe?
While we're not too sure who had the genius idea of throwing rainbow sprinkles into regular pancake batter, it's pretty clear that they were inspired by Pillbury brand funfetti cake mix. If sprinkles can make a vanilla cake better, wouldn't they make a pancake better too? In fact, you may also call these funfetti pancakes because they are indeed the funnest of fun pancakes.
What Kind of Sprinkles Should I Use with This Confetti Pancakes Recipe?
It's important to use the cylindrical long thin jimmies, rather than the spherical nonpareils for this recipe. While neither holds up perfectly to being drenched and then heated, the jimmies have a better shot at not bleeding rainbows all over the place. The nonpareils, on the other hand, are a sure bet for a rainbow mess.
When Should I Make These Delicious Pancakes?
These are the perfect birthday pancakes. They're also lots of fun for any other random celebration, like father's day, or just a random Saturday calling for a delicious breakfast. These pancakes can be eaten one-by-one or assembled into a towering pancake cake (and sprinkled with additional colorful sprinkles) for that extra special occasion.
What Do You Like to Put on These Funfetti Pancakes?
This recipe comes with a sweet vanilla glaze and a homemade whipped cream. If you wanted to throw a maraschino cherry on top, we'd be ok with that too.
How Do You Make Your Pancakes Fluffy?
We like to use a combination of steaming and frying to get fluffy pancakes. Read the instructions carefully below, and for more info, check out our page on pancake tips!
Pancaking about!
Love a good pancake recipe? Check these guys out!
Useful Tools for Making This Confetti Pancakes Recipe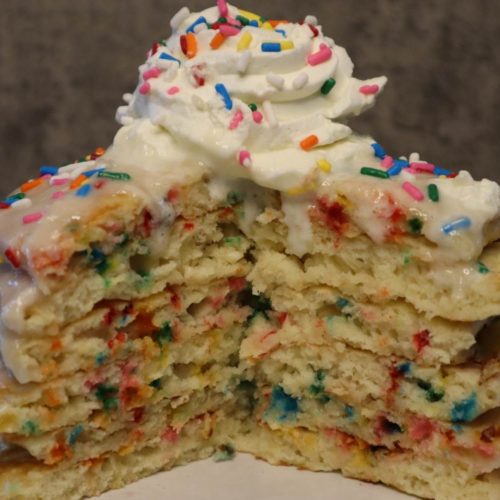 Confetti Pancakes Recipe
These fluffy pancakes are festooned with rainbow sprinkles, for the perfect special occasion breakfast!
Equipment
12 inch nonstick skillet

disposable piping bag

1/2 inch star tip
Ingredients
For the glaze
1 1/2

cups

powdered sugar

2

tbsp

milk

1

tsp

vanilla extract
For the whipped cream
1/2

cup

heavy whipping cream

1

tbsp

powdered sugar

1/2

tsp

vanilla extract
For the pancakes
1

cup

and 2 tbsp all purpose flour

2 1/4

tsp

baking powder

2

tbsp

granulated sugar

1

pinch

salt

1

large egg

1

cup

milk

1/2

tsp

vanilla extract

2 1/2

tbsp

melted butter

(unsalted

1/3

cup

sprinkles (jimmies)

plus extra to decorate
Instructions
Make the vanilla glaze:
Add the powdered sugar, milk, and vanilla to a small bowl. Use a wire whisk to stir until the glaze is smooth and whithout lumps.
Make the whipped cream:
Pour the heavy whipping cream into a medium mixing bowl. Add the confectioners' sugar and vanilla extract. Beat until fairly stiff. Scoop the whipped cream into a disposable piping bag fitted with a 1/2 inch star nozzle and store in the refrigerator until you're ready to use.
Make the pancake batter:
Whisk together the egg, milk, vanilla extract and butter in a large bowl.

Sift the dry ingredients (flour, sugar, baking powder, and salt) into the wet ingredients. Stir until well combined and no small lumps remain. Fold in the jimmies.
Cook the pancakes:
Preheat oven to 150 F and place a wire rack over a baking sheet in the oven.

Heat a large nonstick skillet over medium low heat. Coat it with nonstick cooking spray. You'll know the pan is hot enough when you flick a few droplets of water into it and it sizzles.

Pour a 1/3 cup of batter into the pan. Pour in 1 tbsp water, then cover the pan. Let cook for 2-3 minutes until small bubbles emerge throughout the pancake surface and the edges are set.

Flip the pancake. Cook for an additional 2-3 minutes until the pancake is golden brown.

Keep the pancake warm in the oven while you use the remaining batter to cook the 5 additional pancakes.
Assemble the pancake cake:
When you are done, you should have six roughly 6-inch pancakes. Stack them on a cake plate. Pour the glaze over the top, being sure to drip around the edges and down the sides. Pipe a rosette of whipped cream onto the top and sprinkle with the extra sprinkles
Affiliate Disclosure: As Amazon Associates, we earn a small commission from qualifying purchases when you click on links embedded in this post.