Craving homemade donuts? Hate deep frying and don't have a donut pan gathering dust in your basement? Yeah…neither do we. Good news! Here's a baked donut recipe with no yeast that you can use without a donut pan.
About This Baked Donut Recipe
Our older son loves donuts. He told us recently that the best day of his life was the day we flew home from our visit to New York and we let him get Dunkin' Donuts for breakfast at the airport. Apparently this was better than the plethora of desserts that his mother and aunts baked over a two week vacation. Yep, tough customer. Luckily for him, we live in a city that loves donuts. Unluckily for him, his mother only rarely takes him out for donuts, but makes up for it on occasion by making him homemade baked donuts and other breakfast treats.
A Short History of Donuts
It is, in fact, impossible to write a short history of donuts since their history is so darn long, but we'll try. Food historians are not entirely sure when and where the fried baked glob of dough that we came to call a donut emerged – there is evidence of its popularity as far back as Roman times, when it was served doused in fish sauce. Nevertheless, between the Roman dough blobs and the donuts we enjoy today, several important innovations occurred.
First, at some point, likely in the seventeenth century, bakers began poking holes in the dough before frying them to ensure that they were evenly cooked throughout. Then, in the nineteenth century, when chemical leaveners first became widely available, what we now call cake doughnuts were invented. Because the chemical leaveners were more reliable and faster to use, they quickly became more popular than the old-fashioned yeast donuts. Finally, during World Wars I and II, donuts became firmly attached to American identity, as Donut Girls (WW1), followed by Donut Dollies (WWII) (is it just us or do these names make your inner feminist cringe?) supported the troops on the frontlines by frying donuts. Many WWI and WWII vets returned from the front lines to open their own donut shop, further contributing to the expansion of the donut's popularity.
Our Kind of Donuts and a Short List of Things We Hate While Baking
There are a couple of things we really hate when it comes to baking and cooking. At the very top of that list is deep frying. It makes a huge mess, filling the kitchen oily smells and coating every surface with slippery scum. Yuck. So, any donuts we make are baked, not fried. Second only to deep frying on our list of hated things are single-use items. So, it should come as no surprise that we don't own a donut pan or an air fryer. Instead, we make something more like doughnut holes in a mini-muffin pan. And so, we come to the gloriously named (thanks, Search Engine Optimizer!) "Donut Recipe No Yeast Baked" that we're making today.
More Delicious Breakfast Ideas!
Looking for more delicious breakfast ideas? Here are a few to get you started.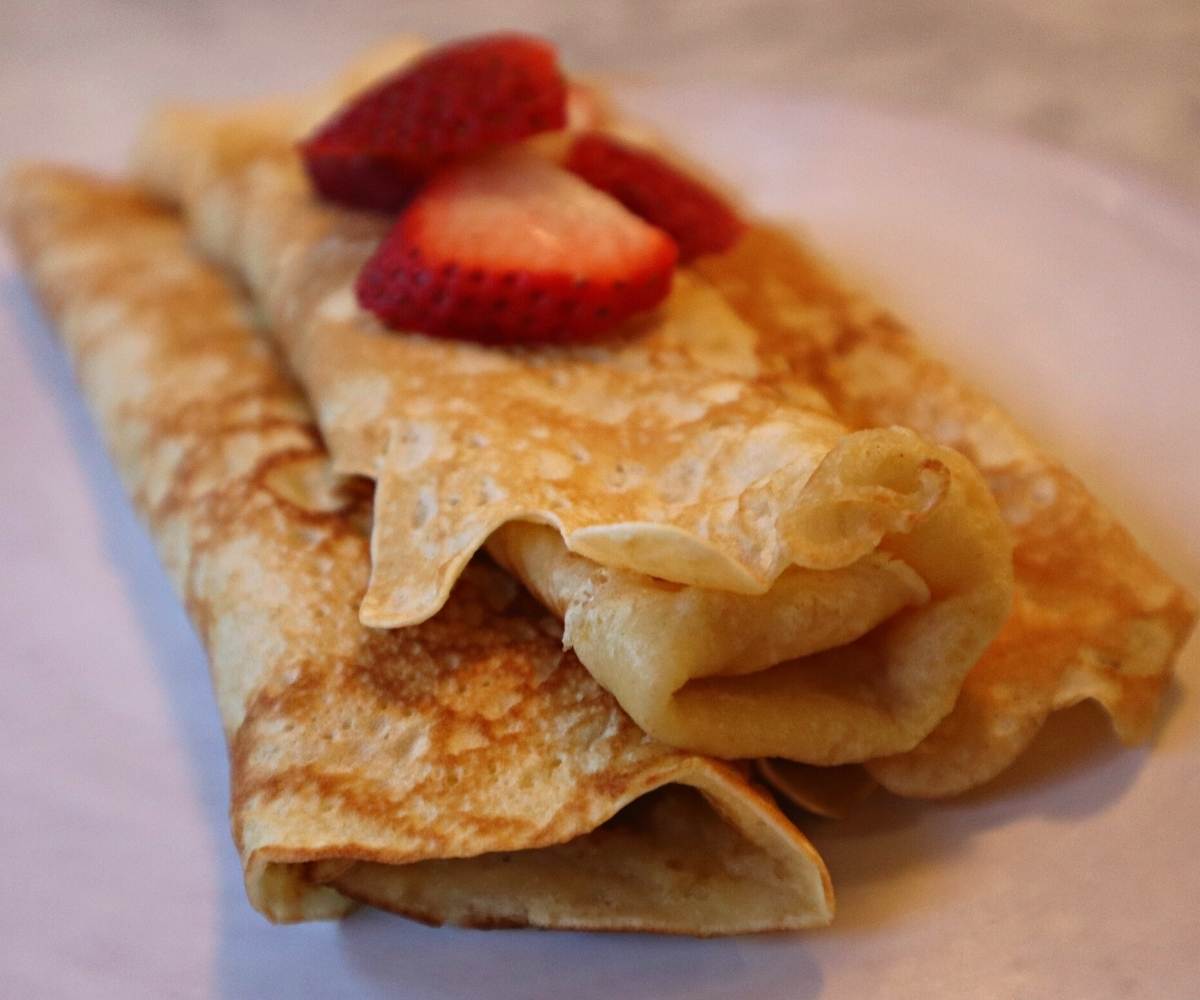 Useful Tools for Making these Jam Filled Baked Donut Mini-Muffins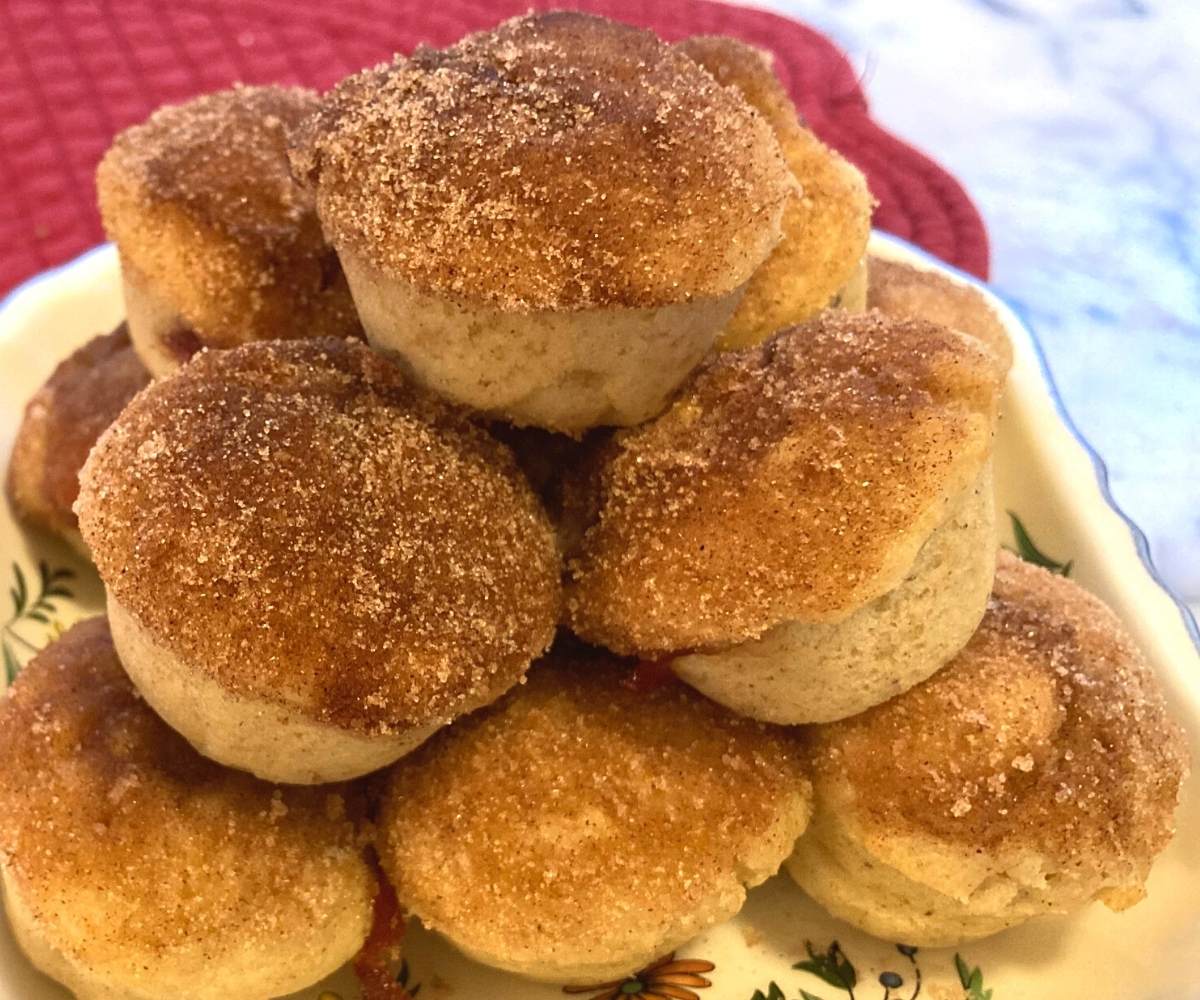 Jam Filled Baked Donut Mini-Muffins
These jam filled baked donut mini-muffins give you all of the deliciousness of a jam donut, without any of the grease.
Ingredients
For the Donut Holes:
1

cup

all-purpose flour

1/4

tsp

salt

3/4

tsp

baking powder

1/4

tsp

ground nutmeg

1/4

tsp

ground cinnamon

1/3

cup

sugar

1/4

cup

vegetable oil

1/2

tsp

vanilla extract

1

large egg

at room temperature

1/3

cup

buttermilk or sour cream

6

tsp

seedless strawberry jam
Topping:
2

tbsp

butter

1/4

cup

sugar

1

tsp

cinnamon sugar
Instructions
Preheat oven to 350 F. Grease a mini-muffin tin.

In a large mixing bowl, whisk together flour, baking powder, salt, nutmeg and cinnamon.

In a small bowl, whisk together sugar, oil, egg, vanilla extract, and buttermilk.

Stir wet ingredients into flour mixture until just moistened.

Spoon batter to fill each muffin cup halfway full.

Use a piping bag with a 1/4 inch round tip, or a small spoon to add 1/2 tsp of jam into each muffin cup.

Cover jam with enough donut batter to fill muffin cups almost all the way to the top.

Bake 5-10 minutes until golden brown.

While the muffins are baking, make the topping. Put the butter in a small bowl and melt in the microwave in short bursts. Stir the cinnamon and sugar together in a separate bowl.

Remove the muffins from the oven and let cool 5 minutes. Using tongs, remove the muffins from the pan and dip in the melted butter, and then in the cinnamon sugar mixture.

Let the muffins cool on a wire rack. For best results, eat the warm doughnuts immediately.
Affiliate Disclosure: As Amazon Associates, we earn a small commission from qualifying purchases when you click on links embedded in this post.