It's January, which means it's cold and grey. Who doesn't need a little tropical inspiration? This classic Hawaiian butter mochi recipe will transport you to a sandy beach with gentle waves.
A Short History of Hawaiian Butter Mochi Recipe
The New York Times did a feature on this classic Hawaiian treat last year. The author interviewed a large number of mochi makers and eaters. However, they were unable to trace the origins of the butter mochi recipe.
In researching this blog post, we discovered a fascinating post by the KauKau Chronicles. The author notes that Hawaiian bakers also call butter mochi "bibingka." He suggests that recipe may originally have come from Goa, rather than Japan. A Goan recipe known as bebinca is strikingly similar. It consists of layers of coconut-flavored cake made of eggs, coconut milk, and either coconut or wheat flour, and caramel. The recipe may then have traveled the trade routes connecting Portuguese colonies from Goa, to Malaysia, to Indonesia and the Philippines, and finally to Hawaii. As the cake traveled to the Philippines, it lost its layers, and gained the more gelatinous texture associated with sweet glutinous rice flour. Hawaiian bakers added butter to the recipe, giving it its rich and gently sweet flavor.
What's this Mochi Stuff All About?
The primary ingredient in Hawaiian butter mochi is Mochiko. Mochiko is a very fine glutinous rice flour. It is made from mochigome which is glutinous short-grain Japanese rice. Despite its name, glutinous rice flour is naturally gluten-free, as is this recipe! In Japan, bakers traditionally use mochiko flour to make mochi. Do not replace the Mochiko flour with all purpose or some other kind of rice flour, as it will radically alter the chewy texture.
You can find Mochiko Flour in Asian grocery stores. We like either the Koda Farms brand, or the Bob's Red Mill variety. If you can't find any near you, it's also easy to order online.
Playing Around with this Butter Mochi Recipe
There are endless variations on this Hawaiian Butter Mochi recipe, with more or less coconut flavor added, and a range of fruit (passion fruit, strawberry, or mango, for example) embellishing it. We like the plain traditional version. It is often described as tasting like a cross between a butter cake and a Japanese mochi.
Desserts for a Crowd
This recipe makes enough for an 8 x 8 inch square pan, or 16 pieces. If you want to make a more traditional 9 x 13-inch size pan, simply double the recipe.
These butter mochi are easy to transport and serve. They are traditionally featured at bake sales, family parties, and soccer games. Looking for more desserts for a crowd? Check out these options: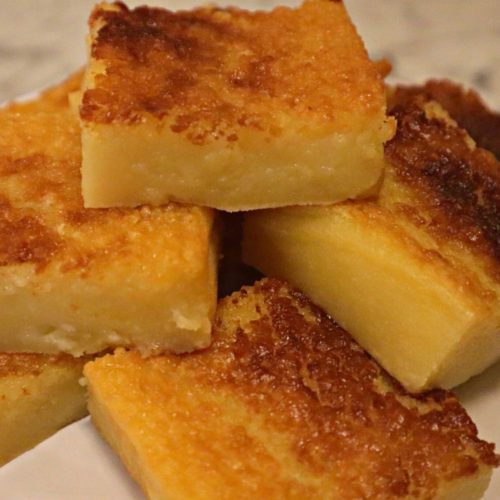 Butter Mochi Recipe
This is a traditional Hawaiian butter mochi recipe. It is typically described as a cross between a butter cake and a Japanese mochi, with a delicate, buttery flavor and a chewy texture.
Equipment
1 8 x8 square pan

parchment paper
Ingredients
1

cup

whole milk or evaporated milk

1

cup

granulated sugar

2 1/4

cups

mochiko flour (aka glutinous sweet rice flour or Japanese sweet rice flour)

1/2 box

1/2

14-oz can

coconut milk

2

eggs

at room temperature

3

tbsp

unsalted butter

1/2

tsp

baking powder

1/2

tsp

vanilla extract

1/2

cup

coconut flakes or shredded coconut

optional, if you want a stronger coconut flavor

1

pinch

kosher salt
Instructions
Place the butter in a microwave-safe bowl. Melt butter in the microwave in 20 second increments, then set aside to cool for a little bit.

In a medium bowl, beat the milk, sugar, rice flour, coconut milk, eggs, melted butter, baking powder, coconut flakes/shredded coconut, and vanilla extract together with a whisk until thoroughly combined.

Pour the butter mochi batter into the prepared pan.

Bake 60 minutes until the top is brown and cake tester inserted into the center comes out clean.

Remove to a wire rack, then let cool completely.

Once completely cooled, cut into 16 roughly 2-inch pieces with a sharp knife.
Notes
Store in an airtight container at room temperature for up to 2 days.
You can also wrap individual servings tightly in plastic wrap and freeze for up to a month.
If you just can't wait, eat straight out of the baking pan with a spoon.  If you're more civilized,  serve topped with ice cream or whipped cream.
Affiliate Disclosure: As Amazon Associates, we earn a small commission from qualifying purchases when you click on links embedded in this post.