We wanted to love the s'mores cake recipe that we tried, but it just didn't have enough graham cracker flavor or marshmallow-ey goodness. Stick to these s'mores bars!
About Our Search For the Perfect S'mores Cake and S'mores Bars
We are writing to you this week from Long Island, where we are all enjoying some summer vacation with seven cousins in tow. With this many children in the house, it seems that s'mores (the perfect summertime treat) were an inevitability. Sadly, we did miss national s'mores day (August 10, for those of you who want to get in on the celebrations next year).
However, it's been rainy. And we don't like burning our fingers. So, we decided to test some alternatives. Extensive recipe research followed. First, we tried making s'mores in cake form. While a s'mores layer cake is aesthetically pleasing and does allow you to whip out a kitchen torch (and you know how we LOVE that), it was dry and lacking in graham cracker taste (our favorite part!). Also, a toasted marshmallow buttercream pales in comparison to the silky sweetness of real marshmallow creme. Something closer to, but better than, the real thing was called for.
So, we researched some more — good thing we were on vacation and had all of this spare time to bring the best s'mores recipes to our loyal readers (all one of them, hi mom!). I wonder who was watching those 7 children? These have become one of our favorite things for summer, with tons of delicious graham cracker flavor packed into not one crunchy graham cracker crust, but two. However, the sugar content was a little bit shocking, even for us. We've toned it down a bit for you, but it's still a bit of a sugarbomb. Make them with a specific plan to run your children in circles, or you will regret it.
Love This S'mores Cake Recipe? How About Some More Marshmallows!
Love marshmallows? Want more? Check these out!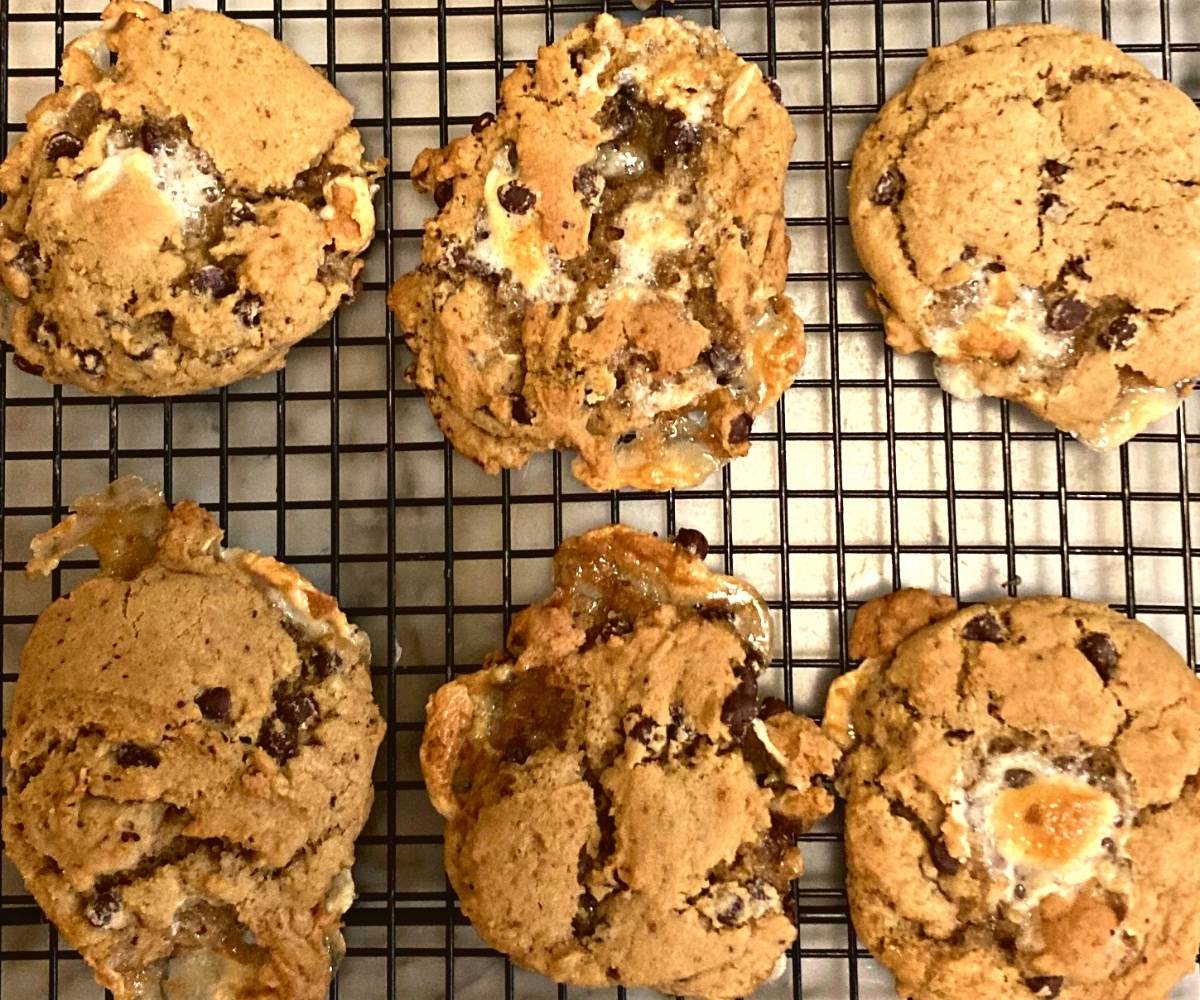 Love Bar Cookies?
We do too! They're so easy and quick to make. Here are some more of our favorite bar cookies: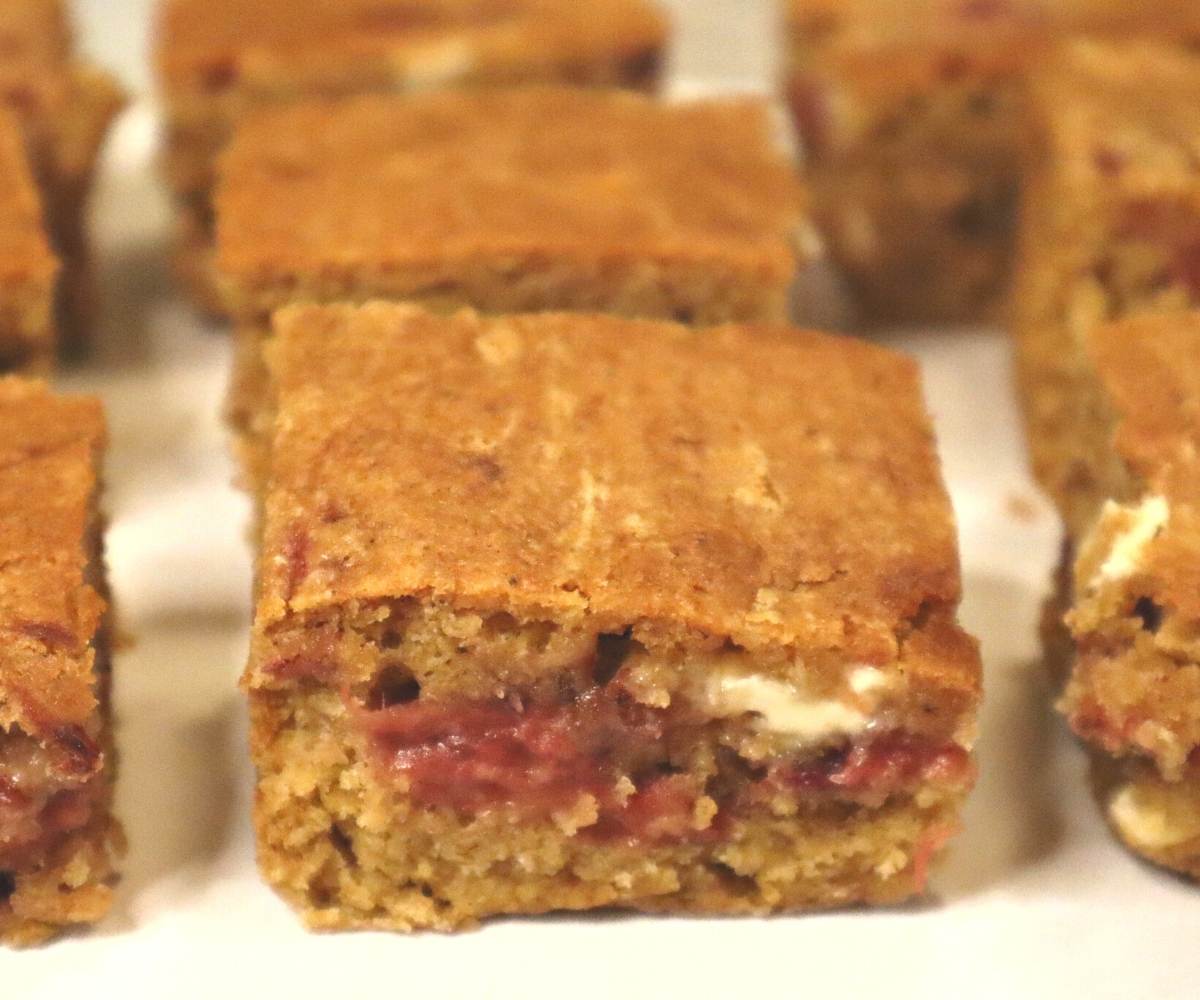 Useful Tools for Making These S'mores Bars
S'mores Bars
These s'mores bars taste just like the campfire treat, without the campfire. Yay for summer in winter!
Equipment
8 x 8 inch square pan

parchment paper
Ingredients
1 1/4

cups

flour

6

graham crackers

(This will make 3/4 cup graham cracker crumbs)

1/2

tsp

baking soda

1/2

tsp

table salt

1

cup

unsalted butter, at room temperature

(2 sticks)

1/2

cup

sugar

1/2

cup

brown sugar

1

large egg

1

tsp

vanilla extract

6

oz

chocolate bars or chocolate chips of your choice

1

7 1/2 oz

jar marshmallow fluff
Instructions
Make the graham cracker crumbs by either blitzing them in the food processor or putting them in a zip lock bag and beating them with a rolling pin (our preferred method).

Heat oven to 350 F. Grease and line an 8 x 8 inch square pan with parchment paper.

Whisk together the flour, graham cracker crumbs, baking soda, and salt in a small bowl.

Cream butter and sugar in the large bowl of a stand mixer using the paddle attachment, on in a large mixing bowl using a hand mixer, on medium speed.

Add egg and vanilla extract to the butter mix.

Add dry ingredients to the wet ingredients and stir on low speed until combined, scraping the bottom of the bowl to ensure that it is fully incorporated.

Divide batter in half. Use an offset spatula to spread half of the graham cracker crumble mixture in the bottom of the pan to make the graham cracker cake bottom.

Top with the chocolate bars (or chocolate chips), followed by an even layer of marshmallow creme.

Roll out the remaining graham cracker mixture between two sheets of parchment paper into a roughly 8 x 8 inch square.

Remove the top layer of parchment paper. Flip the top graham cracker layer on top of the marshmallow creme. Remove the second layer (now top) of parchment paper.

Bake for 30 minutes or until golden brown. Cool on top of a wire rack to room temperature.

Chill in refrigerator until cold before slicing, if you like them to look nice and neat. Otherwise, eat immediately for maximum gooey marshmallow-ness.

Serve on cake plate sprinkled with confectioner's sugar.
Notes
These bars keep well in airtight container for several days.

Chill before slicing, if you like them to look nice and neat. Otherwise, eat immediately for maximum gooey marshmallow-ness.  
Affiliate Disclosure: As Amazon Associates, we earn a small commission from qualifying purchases when you click on links embedded in this post.