Still using that waffle maker your mom gave you in 1990? Bad news – it's releasing toxic fumes. Good news, it's now time to buy a new eco friendly waffle maker!
A waffle maker, like so many kitchen appliances, represents a significant investment of both money and storage space. A well-made waffle maker will last for several decades, so you will hopefully only have to make this decision once or twice in your lifetime. To make the process of shopping for a waffle maker a little easier, here are 7 top criteria to consider in purchasing your waffle maker.
1. Is it an Eco Friendly Waffle Maker?
Back in the 1980s, when kids rode their bikes without helmets and the use of seat belts in cars was encouraged, but not required, we also thought that cookware coated with Teflon to make it non-stick was the cat's pajamas. Since then, we've learned many valuable things – helmets and seatbelts save lives, and the American Cancer Society has let us know that perfluorooctanoic acid fumes produced by heated Teflon is toxic to humans. So, if you've had your waffle maker for a long time, chances are that it was may be producing toxic fumes along with the fluffy waffles you enjoy.
In that case, good news! It's time to throw your teflon waffle makers out and go shopping for a new waffle maker. There are tons of non-stick waffle makers on the market that don't also come with a side of toxic chemicals. So, make sure that your waffle maker's nonstick coating has a ceramic coating is ceramic or copper.
2. Does It Have an Adjustable Temperature?
If you're like us, your family may have an array of waffle tastes and the temperature dial lets us meet everyone's needs. Some like them pale golden and a wee bit mushy, and others like them dark brown and crispy.
We also like to use a variety of batters, which each need different cooking temperatures. Liege style waffles require a lower cooking temperature to prevent the sugar bits from burning. High temperatures are needed for American-style waffles, which need to cook quickly to produce crispy waffles. So, for us, an adjustable temperature control is a requirement in a waffle maker.
3. Does It Have Indicator Lights?
One of the joys of making waffles is that it requires relatively little thinking or culinary skill. Unlike pancakes, where one wrong move in the temperature setting, timing, or flipping can produce a soggy undercooked mess, a waffle maker with a ready light takes all of the guesswork out of the waffle cooking process. This means that you can cook waffles while supervising your fractious small children even before you've had your first sunday morning coffee.
4. Can You Flip It?
Our favorite waffle makers can be flipped. A flippable waffle maker ensures that the waffle batter gets distributed evenly and quickly along the cooking surface. A waffle maker with a flip feature doesn't guarantee even heat distribution, but it does increase the odds that your waffle will cook more evenly.
5. Does It Have an Extra-Thick Grid?
We like the deep pockets found in thick belgian waffles, since it just leaves more space for a well of maple syrup. The extra-thick grid on waffle makers that are designed for belgian-style waffles maximizes the waffle to syrup ration.
6. Can You Clean It Easily?
Removable drip tray and cooking plates are key to easy cleanup. Our favorite Liege style waffles tend to leave caramelly skid marks on the waffle iron, so it's ideal to be able to take them off the waffle maker for an easy cleaning . We are also a bit messy before we've had enough coffee in the morning, so being able to remove the drip tray and wash it thoroughly is ideal.
7. Can You Cook for a Crowd?
There are several double waffle makers on the market. These are ideal if you have a large family, or like to host waffle parties.
Some of Our Top Choices for Eco Friendly Waffle Makers
The Crux Double Rotating Belgian Waffle Maker meets all of our criteria, except that the plates are not removable. It has:
copper waffle plates with deep indentations
adjustable temperature
indicator lights
can be flipped
removable dishwasher safe drip tray
makes two waffles at a time!
The Hamilton Beach 26201 Belgian Waffle Maker with Removable Nonstick Plates, Double Flip meets all of our criteria except that it doesn't have an adjustable temperature. It has:
ceramic waffle plates with deep indentations
indicator light
can be flipped
removable waffle plates and drip tray
makes two waffles at a time
Enough About these Eco Friendly Waffle Makers, Let's Make Some Waffles!
Now that we've outlined the top 7 criteria to consider in buying a new eco friendly waffle maker, it's time to share some recipes for delicious waffles!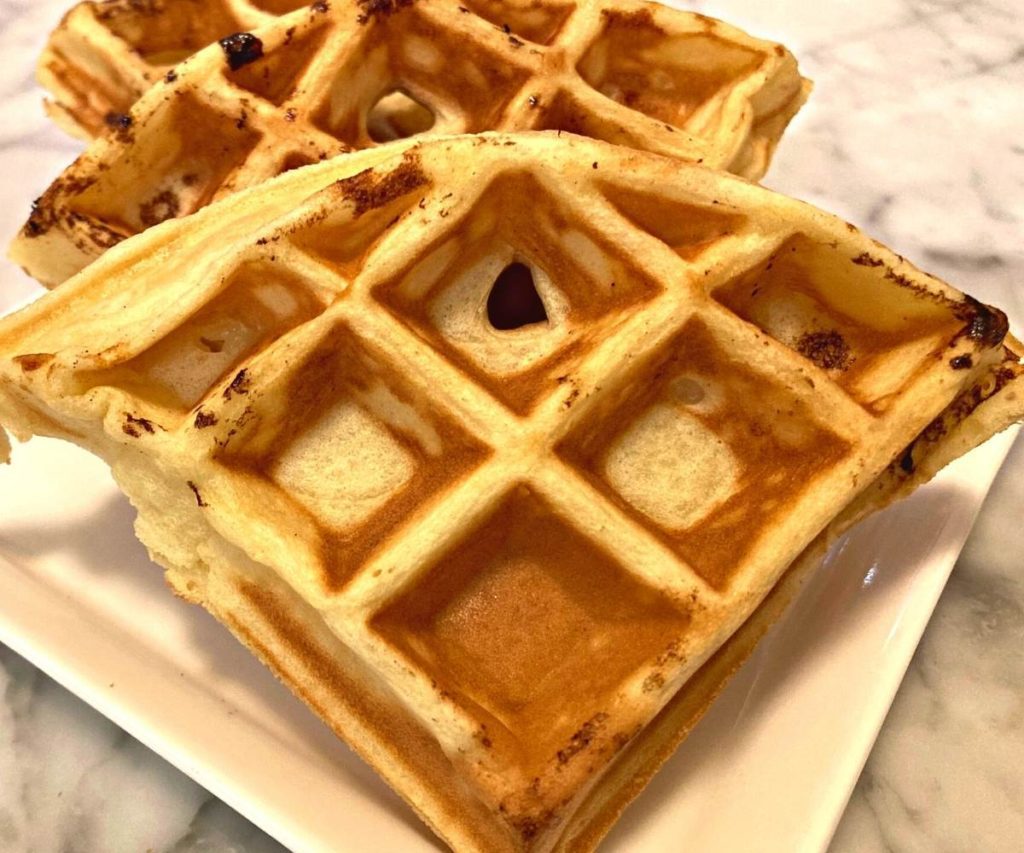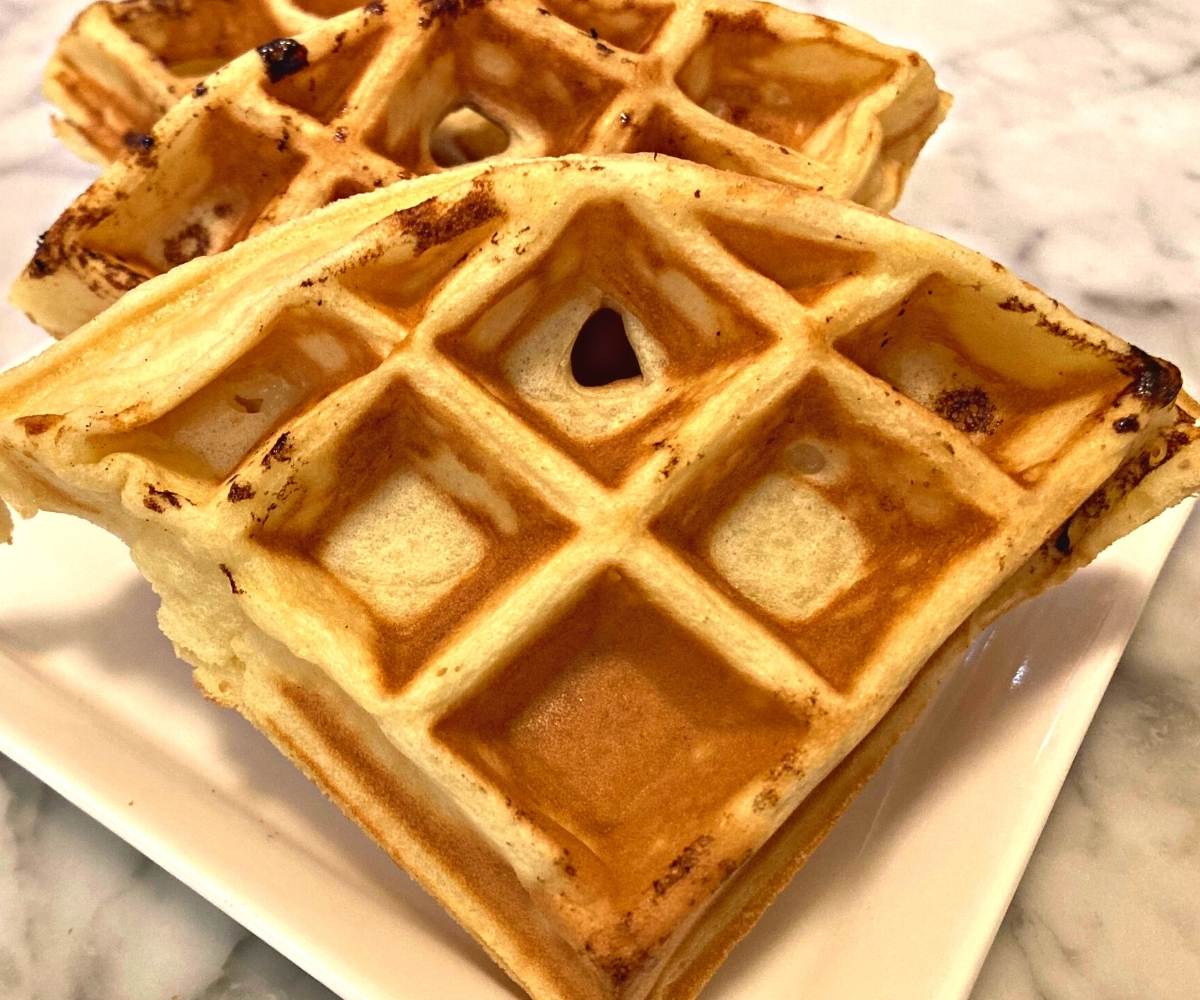 Affiliate Disclosure: As Amazon Associates, we earn a small commission from qualifying purchases when you click on links embedded in this post.