If you've ever googled either a black and white or a halfmoon cookie recipe, you'll find a lot of smack talking. There is a war going on between the residents of Utica, New York, and the bakers of New York City. It is possible that it is a one-sided war, that only the residents of Utica are aware of. It might be kind of like the intense rivalry between San Francisco and Los Angeles, that only native San Franciscans know about Angelenos are too busy worrying about their one-sided rivalry with New York City. In any case, we were intrigued. We had to try this halfmoon cookie recipe that was the subject of so much passionate debate.
A Short History of the Halfmoon Cookie Recipe
According to the residents of Utica, Harry Hemstrought either invented or brought the halfmoon cookie recipe with him from Pennsylvania Dutch country. He moved to Utica and founded Hemstrought's bakery in the 1920s. Hemstrought was a former architect and perhaps his architectural training inspired the cookie's geometric design. The Pennsylvania Dutch connection seems reasonable to us. The cookie portion of the halfmoon is light and cakey, like a traditional Amish whoopie pie.
At Hemstrought's Bakery, half moons come with chocolate or vanilla cookie base, and are always frosted with a rich buttercream. The cookie part is really much more like a light cake batter. Half of the cookie is frosted with a vanilla buttercream icing. The other half is frosted with a chocolate fudge frosting, giving the cookie its halfmoon appearance. To be truly traditional, the cookie must have its chocolate frosting laid on a bit more thickly and covering just more than half of the cookie because…well…chocolate is better, isn't it?
Team Utica or Team NYC?
From their central New York perch, residents of Utica were horrified to discover that New York City had not only copied, but, really, ruined, their halfmoon cookies. The renamed Black & Whites have a slightly denser and lemon-flavored cookie base. Black and Whites come topped with a corn syrup based fondant, rather than buttercream. This may give them a shinier look, but is shinier ever really better? Angry blog posts ensued. After tasting these cookies, we're pretty confident that you'll land in Team Utica, but let us know below!
Cookies, Cookies, Cookies
Looking for more cookie ideas? Check these guys out: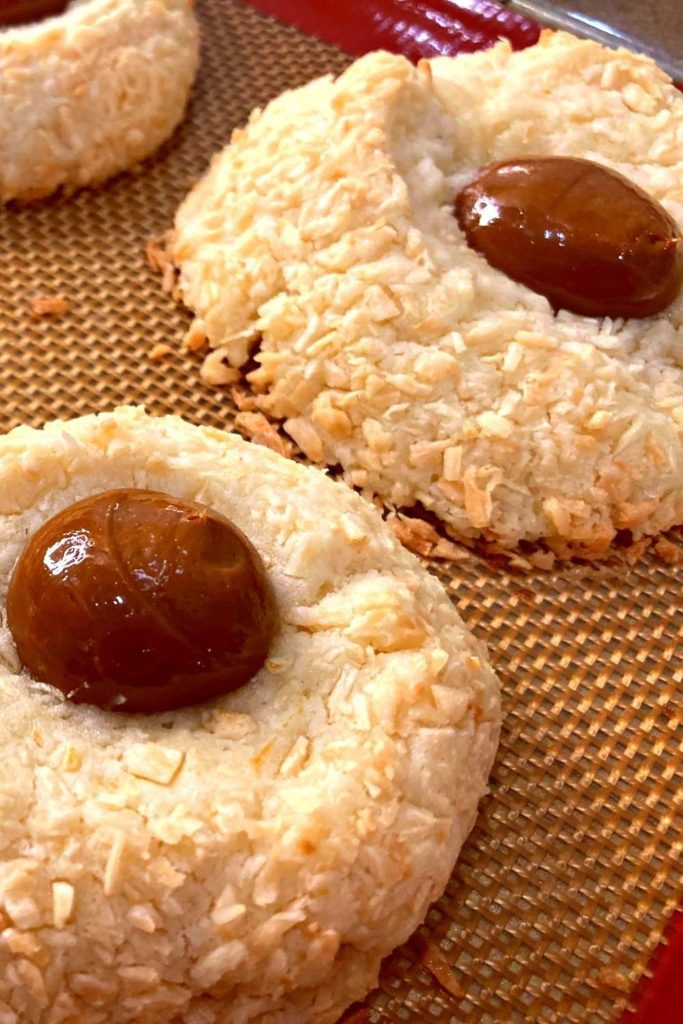 Recommended Products for Making this Recipe:
First and foremost, you'll need a cookie scoop! Wondering what kind of cookie scoop to buy? Check out our in-depth analysis here. And, here are a few other useful tools…
This recipe is loosely adapted from Saveur Magazine, who kindly extracted the original recipe from Hemstrought's Bakery and published it in 2000. Want to do a taste test for authenticity? Hemstrought's remains in business (although it has been sold several times) and you can order their cookies online here.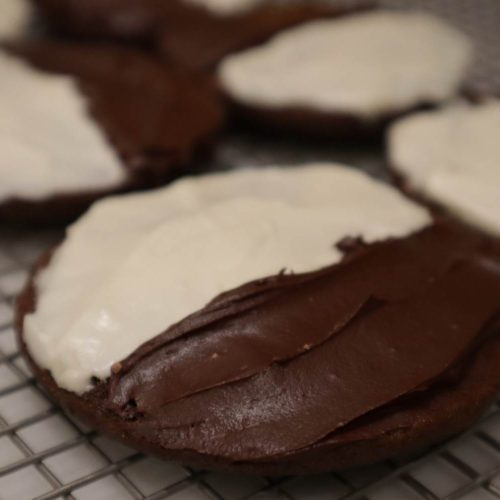 Halfmoon Cookie Recipe
This halfmoon cookie recipe hails from Utica, New York and is emphatically different from a New York City style black & white cookie. It's a light chocolate cookie base, with a half vanilla and half chocolate frosting top.
Equipment
baking sheet

parchment paper

silicone baking mat
Ingredients
For the cookies:
1 1/4

cups

all purpose flour

1/4

tsp

baking powder

3/4

tsp

baking soda

3/4

cup

sugar

5

tbsp

unsalted butter

at room temperature

1/4

cup

cocoa powder

sifted

1

pinch

salt

1

egg

at room temperature

1/2

tsp

vanilla extract

1/2

cup

milk
For the vanilla icing
2

tbsp

butter

at room temperature

1

cup

confectioners sugar

1

tbsp

milk

1/2

tsp

vanilla extract
For the ganache chocolate icing:
1

oz

bittersweet chocolate

1

oz

semisweet chocolate

1/2

tbsp

butter

1 1/2

cups

confectioners sugar

1

tbsp

corn syrup

1/2

tsp

vanilla extract

1

pinch

salt
Instructions
For the cookies:
Preheat oven to 350 F. Line a baking sheet with parchment paper or a silicone baking mat.

In a small bowl, sift together the flour, baking powder and baking soda.

Place the butter in the bowl of a stand mixer fitted with a paddle attachment and cream on low speed for one minute to loosen.

Add the sugar and cocoa powder to the butter and beat on medium speed until light and fluffy

.Add the egg and vanilla, beating to combine.

Add half the flour mixture, followed by the milk, followed by the other half of the flour mixture.

Use a large (3 tbsp) cookie scoop to scoop the cookie dough onto the sheet, leaving plenty of room around each cookie as they will spread to roughly 3-inches in diameter.

Bake for 12 minutes until the cookies are puffy and spring back when touched.

Remove cookies to a cooling rack to fully cool.

Meanwhile, make the vanilla buttercream frosting.
For the vanilla frosting:
Cream butter and confectioners' sugar until smooth in a large bowl.

Add the vanilla extract, then gradually add the milk, pour just enough to thin icing to a spreadable but not drippy consistency.
For the chocolate fudge frosting
Make a double boiler by pouring enough water in a small saucepan so that it is about 2 inches deep. Place a medium bowl on top of the saucepan and heat the water gently over medium low heat until it comes to a simmer.

Add the bittersweet and semisweet chocolates and butter into the bowl.

Add the confectioners' sugar, corn syrup, vanilla and salt, and 6 tbsp boiling water and mix until a smooth, stiff paste forms with a rubber spatula.

If needed, thin the icing with additional boiling water until it is spreadable.

Keep icing warm over simmering water until you are about to use it. You can chill and rewarm later in a double boiler over low heat when you are ready to use it, if needed.
To assemble:
Once the cookies have fully cooled and the ganache has a creamy, spreadable consistency, flip the cookies over and use an offset spatula to spread half of the flat side of each cookie with a thick coating of ganache chocolate fudge frosting.

Then spread the other half of each cookie with the vanilla frosting.
Affiliate Disclosure: As Amazon Associates, we earn a small commission from qualifying purchases when you click on links embedded in this post.