This is our best berry chantilly cake recipe. A New Orleans newspaper interviewed original Whole Foods baker, who invented this cake combination. The recipe left some details to the imagination, so we've clarified it as much as possible here.
About New Orleans Chantilly Cake Recipe
We are embarrassed to say that we first met this food at Whole Foods. We like to think a sophisticated and unique palate. And yet, we really, really, love a homemade version of a great grocery store cake. This is a beautiful special occasion cake. Chantilly cake consists of a white cake base, layered and topped with Chantilly Cream, with fresh berries studded throughout.
Magical Chantilly Cream
Chantilly Cream tastes like cream cheese frosting and whipped cream got together and had a party. You know this is an invitation that you would want! The main difference between the white cake and a traditional vanilla sponge cake is that it is quite a bit moister, and the absence of yolks gives makes room for the almond flavor to really shine. Whole Foods bakers sprinkle berries between the layers. However, the cake is equally good with a strawberry cake filling, or a lemon curd in place of fresh berries, should you decide you can't make it through January without making this cake, and can't readily find fresh fruit.
Tips and Tricks When Making this Chantilly Cake Recipe
Don't be intimidated by the long ingredient list and extensive set of directions. Each part of this recipe can be prepared ahead of time and stored in the refrigerator or freezer (for the cake). That way, you can make this cake over several days, simply assemble and decorate on the day you serve it.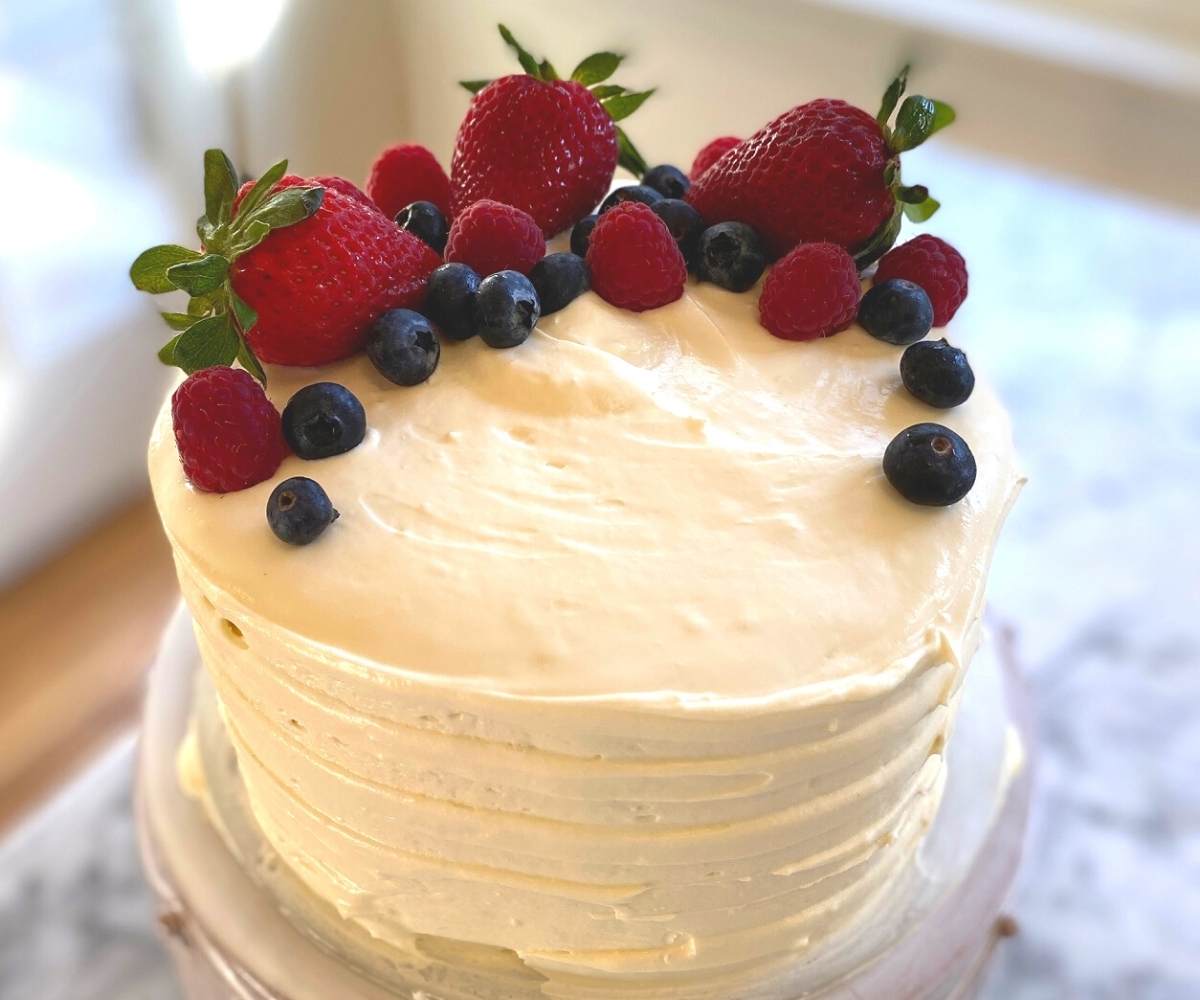 Chantilly Cake Recipe
This Chantilly Cake recipe is a creamy, dreamy summer treat. It's a rich cake, studded with berries, topped with a light Chantilly frosting.
Equipment
8-inch cake pan

parchment paper

cake turntable

silicone brush

cake comb

offset spatula

disposable piping bag

large piping tip
Ingredients
For the cake layers
2 1/4

cups

cake flour

3

tbsp

corn starch

1/2

tsp

salt

1 1/2

tsp

baking powder

3/4

cup

sugar

1/2

cup

unsalted butter

1 stick, at room temperature

3

egg whites

3/4

cup

milk

1/4

tsp

almond extract
For the sugar syrup
1/4

cup

water

1/4

cup

sugar
For the chantilly cream
8

oz

mascarpone cheese

8

oz

cream cheese

1 3/4

cups

powdered sugar

1

quart

heavy whipping cream

1/4

tsp

almond extract
For assembly
1

pint

raspberries

1

pint

blueberries

1

pint

blackberries
Instructions
For the cake
Preheat oven to 350 F.Grease two 8-inch pan and line them with parchment paper.

Cream butter and sugar together in the bowl of a stand mixer, using the paddle attachment. Beat until light and fluffy.

Whisk together flour, cornstarch, salt and baking powder in a large bow.

Gradually add egg whites with the mixer on low to medium speed, mixing until incorporated.

Slowly add milk and almond extract, with the mixer on medium speed.

Add dry ingredients to wet ingredients, 1/3 at a time, with the mixer on low speed.

Pour the batter into the cake pan. Bake for 25-30 minutes until the cakes are golden on top and spring back when pressed. The sides of the cake should begin to pull away from the pan.

Let cakes cool for 10 minutes, then remove from pan and cool on wire rack. Wrap in plastic wrap and freeze at least one hour.
For the sugar syrup
Combine water and sugar in a small saucepan and stir until all the sugar is dissolved. Set aside.
For the Chantilly Cream
Chill mixing bowl in refrigerator and keep all ingredients chilled until ready to use.

Mix cream cheese and powdered sugar in a stand mixer with the paddle attachment, until well blended. Ensure that there are no lumps.

Add the mascarpone, scraping down the sides and bottom of the bowl with a rubber spatula. Mix until fully combined.

Slowly add the heavy cream at low speed, stopping and scraping down the sides of the bowl as needed.

Add the almond extract.

Fit the mixer with a whisk attachment and whip at medium-high speed until the icing resembles the consistency of a whipped cream or mousse, standing in soft peaks on a spatula. Keep chilled until ready to use.
Assemble the cake
Trim the top of the cakes. Split each layer in half, if making a four layer cake.

Put the chantilly cream in a piping bag with a half inch tip.

Place the bottom layer on your cake turntable (we like this set, which has a turntable, offset spatula, and cake combs).

Brush with sugar syrup.

Pipe a layer of chantilly cream, as well as a dam around the edge. Top with fresh fruit. If you're intimidated by a piping bag, just slather it on with an offset knife and no one will be the wiser.

Repeat with the second cake layer.

Pipe chantilly around the sides and top of the cake. Smooth with a cake comb or offset spatula.

Decorate the top of the cake with fresh fruit or piped rosettes for a finishing touch.
More Cake!!!!
Looking for more cake ideas? Here are some great options:
Affiliate Disclosure: As Amazon Associates, we earn a small commission from qualifying purchases when you click on links embedded in this post.