Have you ever wished that chocolate babka came in a more portable (and dare we say more portion-controlled) form? Well, this chocolate cinnamon rolls recipe is here to make your dreams come true.
A Short History of Chocolate Babka
Babka seems to have originated in Eastern Europe. Bakers in Jewish communities would wind left-over challah dough was with a sweet filling (typically jam or nuts) and bake it along with the challah. The word "babka" refers to the grandmothers ("baba" or "bubbe") who would have baked the challah. Chocolate would have been prohibitively expensive in pre-war Eastern Europe, so it's unlikely that it was part of the equation at that point. Babka travelled with the Jewish communities to both the United States and Israel. In the United States, the dough remained yeast-based and un-laminated, while in Israel, a more croissant-like dough is now more commonly used. Around 1950, Eastern European style bakeries in both Israel and the United States started adding chocolate to their babkas (because, why not?) and the rest is history.
From Babka to Cinnamon Roll
We know that we are not alone in consuming an entire chocolate babka in a single sitting. So, this chocolate cinnamon roll provides all the babka-y deliciousness in twelve portions that you can easily and elegantly share with your friends, rather than wolf down immediately.
Breakfast Delights
Love your breakfast on the sweet side? So do we. Here's a short selection of our favorite most ourageously sweet breakfast items.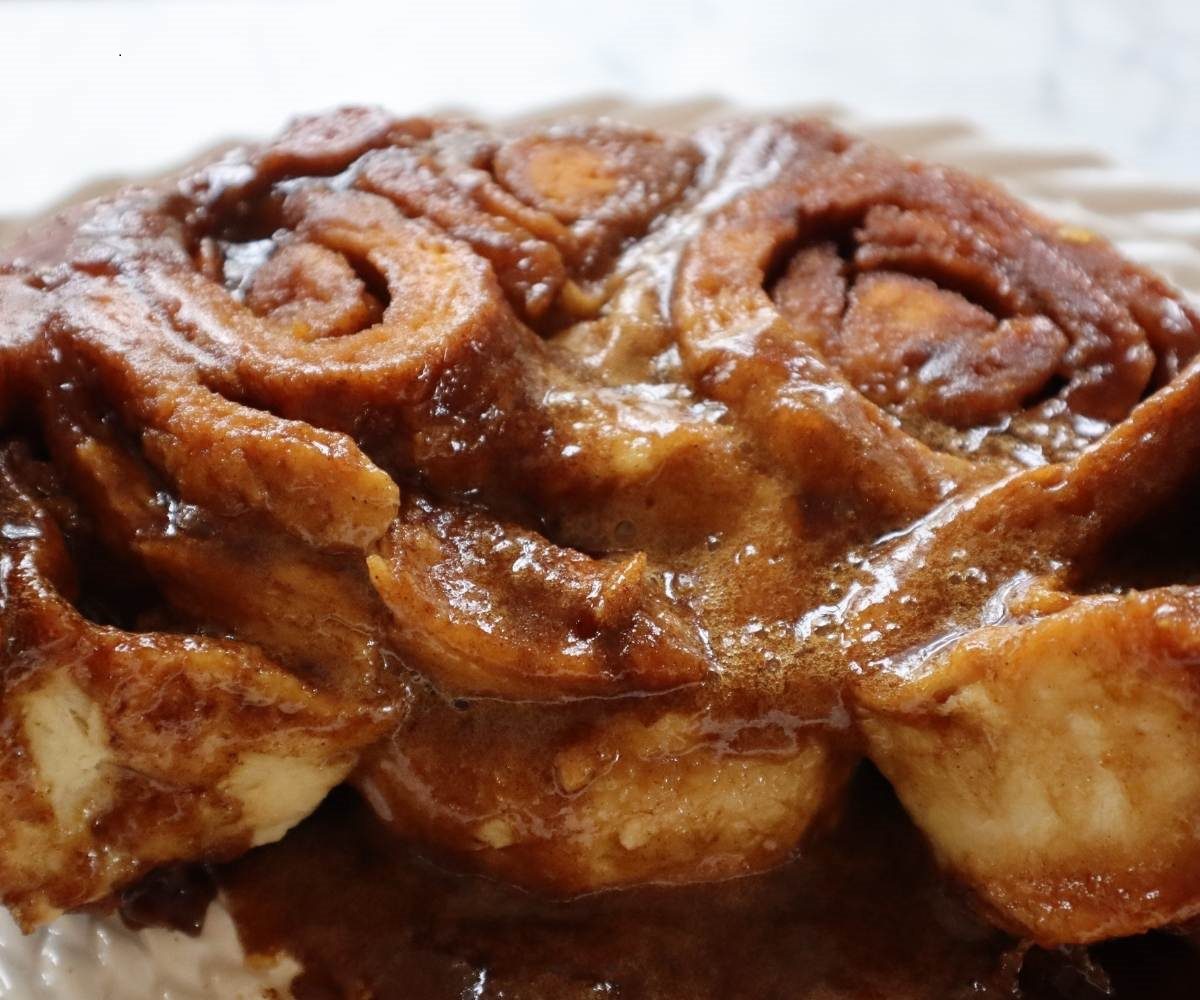 Useful Tools for Making this Chocolate Cinnamon Rolls Recipe
Chocolate Cinnamon Rolls Recipe
Have you ever wished that chocolate babka came in a more portable (and dare we say more portion-controlled) form? Well, this chocolate cinnamon roll recipe is here to make your dreams come true.
Equipment
12-cup muffin tin

stand mixer

food processor

offset spatula
Ingredients
For the dough
1/2

cup

whole milk

1/4

cup

granulated sugar

1 1/2

tsp

active dry yeast

1

large egg at room temperature

2

cups

all-purpose flour

plus more to dust your work surface

1/2

tsp

salt

3

tbsp

unsalted butter at room temperature

plus additional for greasing muffin tins
Filling
3

tbsp

unsalted butter

at room temperature

1/4

cup

granulated sugar

8

oz

semisweet chocolate or chocolate chips

pinch

of salt

3/4

tsp

cinnamon
Egg wash
1

egg yolk

2

tsp

heavy cream
Instructions
For the dough:
In a medium saucepan, heat milk and a pinch of sugar to between 110 and 116 F. Don't overheat, or you will kill your yeast. Sprinkle the yeast over the warm milk and let it stand until foamy, about 5 minutes. In a small bowl, whisk together the egg and usgar, then slowly whisk in the yeast mixture.

In the bowl of a stand mixer, fitted with a paddle attachment, combine flour and salt. Add egg mixture to the flour mixture, mixing on low. Add butter and mix on medium speed.

Switch to the dough hook attachment and knead for 10 minutes on low speed. You should end up with a very soft dough.

Grease the bottom and sides of the bowl and place the dough in it. Cover bowl loosely with plastic wrap or a kitchen towel and let dough rise in a warm place until doubled in size (1 hour).
For the filling:
Roughly chop the chocolate. Add the chocolate, salt, cinnamon, and sugar to a food processor. Pulse until the chocolate is finely chopped. Add softened butter and pulse until well combined with the chocolate.
To assemble:
Generously butter or spray with non-stick cooking spray a 12-cup muffin tin.

Once dough has doubled, place dough on a well-floured surface. Roll dough using a rolling pin into a large rectangle rouhgly 12 x 20 inches.

Use an offset spatula to spread the chocolate filling evenly over the dough's surface. Starting at the short end, roll the dough tightly, forming a tight log, roughly 12 inches in length. Place the log seam side down. With a sharp serrated knife or dental floss, gently cut into 12 equal pieces, roughly one-inch wide. Place each of the 1-inch rolls in a prepared muffin cup. Loosely cover with plastic wrap and let rise another 20 minutes.

Preheat oven to 350 F.

While you wait for the second rise, whisk together the egg yolk and cream until smooth and brush the egg wash over each muffin top. Bake rolls 15 to 20 minutes until puffed and golden brown.

Let rolls cool for 10 minutes in the pan, then turn out onto a wire rack.
Notes
Rolls can be fully prepared the night before and then baked the next morning straight from the refrigerator. They will take a little longer; roughly 25-30 minutes.
Eat warm rolls immediately, ideally with a cup of coffee. If necessary, you can store in an airtight container, but you will notice a severe drop-off in tastiness.
Affiliate Disclosure: As Amazon Associates, we earn a small commission from qualifying purchases when you click on links embedded in this post.