This strawberry pop tart recipe consists of a homemade strawberry jam sandwiched between two layers of pie crust, topped with some vanilla icing. The small child in us would like to thank whoever determined that we could reasonably eat strawberry pop tarts for breakfast. Having made them ourselves, we can confirm that they are most definitely a dessert.
A Short History of Pop Tarts
Kellogg can lay claim to inventing what we refer to today as a pop tart. However, this modern invention would not have been possible without Cornish hand pies, also known as pasties. Pop tart's Cornish precedents came about as a handy way to use up leftover stew. 19th century miners and farmers alike appreciated their portability and convenience. Pasties travelled with British colonial ambitions. Both Australia and New Zealand developed their own versions, with more or less flaky dough (think pie crust to puff pastry in variation).
In the 1960s, Post first developed new technology to wrap a food in aluminum foil to keep it fresh. The method was first applied to dog food, but Post soon sought more lucrative human adaptations. Post developed a pre-prepared fruit hand pie that could be warmed in the toaster, thinking that it would complement its cereal range. Post unwisely announced the forthcoming project, named "Country Squares" in 1963, in advance of the product being actually ready for market. Kellogg, Post's biggest competitor, used this six month gap to rush its own version, named "Pop Tarts" into supermarkets. Pop Tarts sold like proverbial hotcakes. Kellogg's advertising campaign apologizing for the empty shelves, only further spurred demand. Country Squares, meanwhile, never made it off the starting block.
Pop Tarts have been the subject of much controversy over their use of the term "real fruit," which is frankly debatable given what is done to the fruit to give it endless shelf life. In other fun Pop Tart facts, Kellogg was also sued when a man's Pop Tart got stuck in his toaster and started a house fire.
Your (Metaphorically) Burning Pop Tart Questions Answered:
1) This recipe looks really long, but I want to make these pop tarts. What do you suggest?
All of the parts of this recipe keep well for several days. You can make them over the course of several days, then assemble on one day, and bake on the next.
2) Can I Substitute…?
As mentioned above, pie crust is a subjective thing. We don't want to get between you and your favorite crust. You can substitute your favorite pie crust recipe in place of the one we provide here. Or, substitute in pre-made pie dough or puff pastry.
You can also replace the fruit in the filling with another kind of berry or a stone fruit. Raspberry, blueberry, and peach are all very nice.
Useful Tools for Making this Homemade Strawberry Pop Tart Recipe
Dessert for Breakfast!
Love eating dessert for breakfast? Don't worry we have tons of ideas for how to get your day started in the sweetest way possible: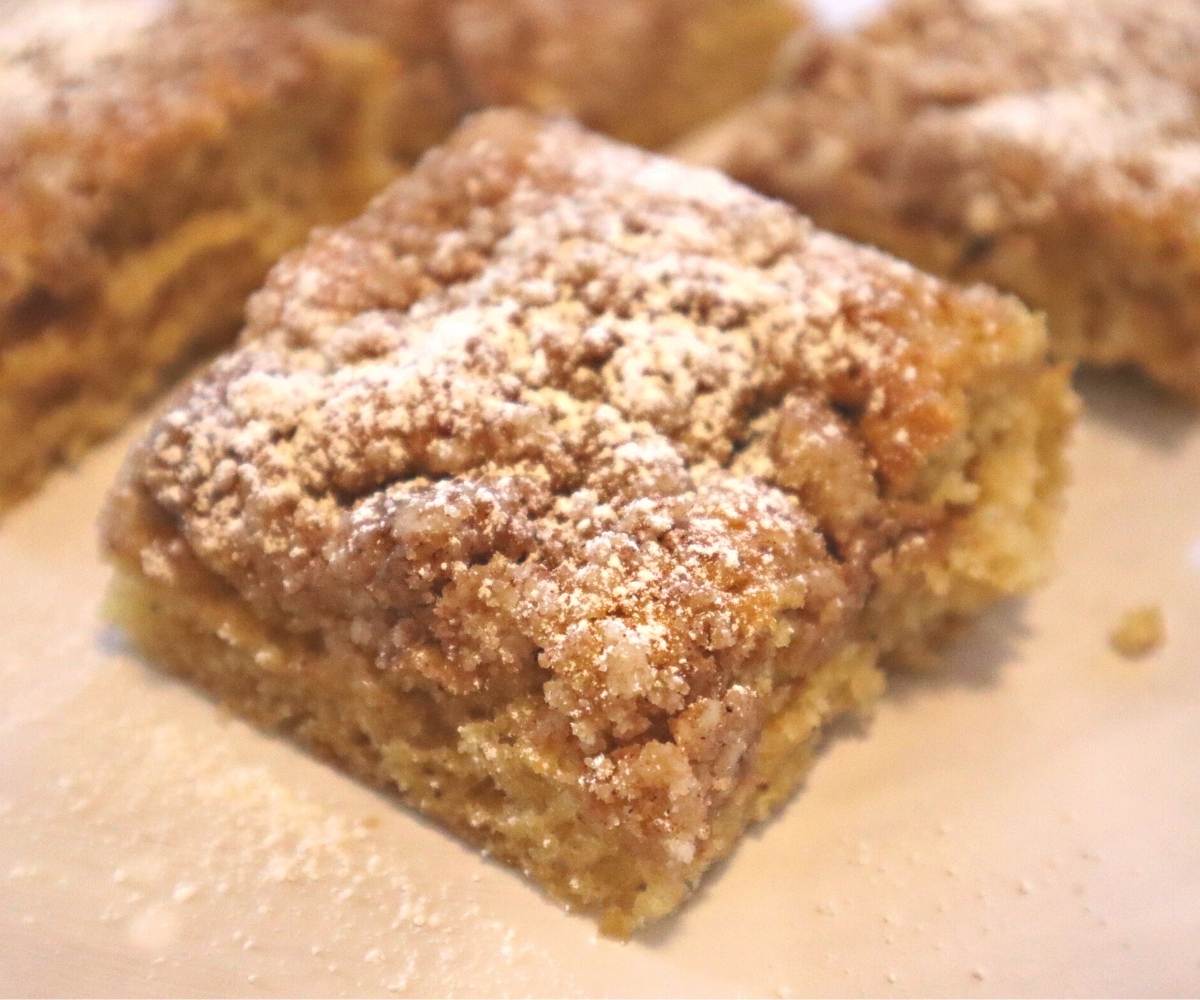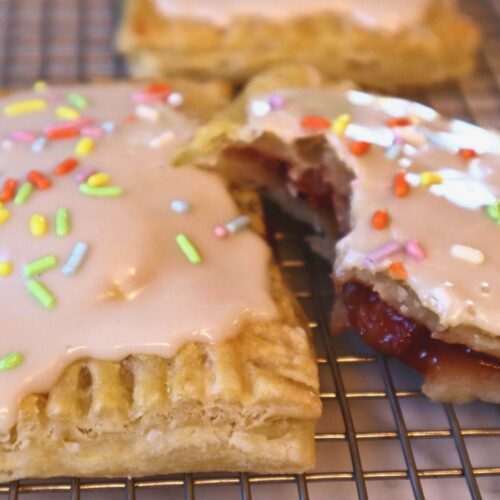 Strawberry Pop Tart Recipe
This homemade strawberry pop tart recipe is really an elaborate excuse to eat a strawberry pie for breakfast. Now that we've revealed the secret, don't let that stop you!
Ingredients
For the flaky pie crust
2 1/2

cups

all purpose flour

1

tbsp

granulated sugar

1/2

tsp

salt

1

cup

unsalted cold butter

6

tbsp

ice cold water
For the fresh strawberry jam filling
1

tbsp

granulated sugar

2

tsp

cornstarch

8

oz

fresh strawberries

(halved) or frozen strawberries

2

tsp

lemon juice
For the glaze
1 1/2

cups

powdered sugar

2

tbsp

milk

1

tbsp

light corn syrup

1/4

tsp

vanilla extract

rainbow sprinkles or nonpareils to decorate
Instructions
First, make the pie crust:
In a large bowl, combine flour, sugar, and salt.

Add the butter to the dry ingredients, and cut the butter into the flour mixture until it resembles a coarse meal using a pastry cutter.

Pour 1-2 tablespoons of water into the dough at a time, and stir gently with a fork until the dough forms a ball, adding more water as needed. Divide dough into two balls of equal size, then wrap tightly in plastic wrap and allow to rest in the refrigerator at least 30 minutes. This dough keeps very well in the refrigerator for several days.
Next, make the sweet strawberry filling:
Combine all ingredients in a small saucepan over medium heat. Let cook 10-15 minutes until the strawberries can be mashed with the back of a spoon and form a thick jam. Place the jam in a small bowl and let cool in the fridge while you roll the dough.
Next, form and bake the hand pies:
Line a baking sheet with parchment paper or a silicone baking mat.

On a well floured work surface, or on a silicone baking mat, roll out one of the balls of pie crust into a large rectangle about 1/4-inch thick and roughly 14 x 9 inches. You can use a rectangular cookie cutter or a pizza cutter or a sharp knife and a ruler, to divide the dough into roughly 10 squares, about 2.5 x 4 inches. Set the 10 rectangles on the prepared baking sheet and let chill in the refrigerator while you roll and cut out the other half of the dough into 10 rectangles.

Remove the first ten rectangles from the refrigerator, along with the cooled strawberry filling. Place 1 tbsp of strawberry filling in the center of each rectangle. Brush the edges of each rectangle with a little bit of water. Place a second dough rectangle on top and use the tines of a fork to crimp and seal the edges. Use a fork to poke a few holes in the top layer of dough to allow the filling to vent as it bakes.

Preheat oven to 400 F.

Return the prepared pop tarts to the refrigerator to cool for 20 minutes while you preheat the oven (this prevents shrinkage). You can also leave the prepared pop tarts in the refrigerator on the baking sheet, wrapped tightly in plastic over night, or even freeze them. Then they'll be ready to bake when you're ready to eat.

Just before putting the pop tarts in the oven, whisk together the egg wash. Brush egg wash over the top of each pop tart.

Bake 18-20 minutes until the top each pop tart is golden brown. If staring from frozen, it may take an extra 5-10 minutes.

Allow the pop tarts to cool on the baking sheet while you make the icing.
Finally, time to ice the pop tarts!
Whisk together the icing ingredients. It is the correct consistency when you lift the spoon from the icing and the ribbon that drizzles off the spoon holds its shape for several seconds before dissolving into the bowl. Add more powdered sugar or milk as needed to achieve the correct consistency.

Use an offset spatula to cover the top of the pop tart with icing, then sprinkle with sprinkles, if using. Let the frosting harden for about 10 minutes before enjoying.
Affiliate Disclosure: As Amazon Associates, we earn a small commission from qualifying purchases when you click on links embedded in this post.