The word "mousse," roughly translated from French, means "foam." The perfect chocolate mousse should achieve a near-impossible balance of sweet, rich, and light. This recipe achieves this magical combination of richness and lightness with beaten egg whites, rather than heavy cream.
A Short History of Chocolate Mousse
Mousses are a base (often consisting of egg yolks and a favoring agent) lightened with either beaten cream or beaten egg whites. They first became popular in the 18th century. Early mousses tended to be savory, rather than sweet.
By the late 19th century, Chocolate became more affordable and widely available. Several recipe authors, including most notably famous post-Impressionist painter Henri Toulouse-Lautrec, separately combined Chocolate with mousse technique to make a chocolate flavored version. Toulouse-Lautrec's version was almost lost, perhaps due to his poor name choice. Who would want to eat "chocolate mayonnaise"? The great Escoffier, in his definitive "Guide Culinaire," included a number of frozen and savory mousses, but no chocolate mousse!
Around this same time, versions of the recipe were printed in America on the occasion of the 1892 Food Exposition that took place in Madison Square Garden. In the 1970s, a white chocolate version of traditional chocolate mousse became de rigueur for fine diners. Since then, however the very traditional dark chocolate mousse has re-emerged as popular favorite over white chocolate mousse. Mousse is a fantastic make ahead dessert for dinner parties.
Mousse Alternatives
This version of chocolate mousse is made with raw eggs. The yolks are cooked over a double boiler, but the whites are not. Raw eggs can contain salmonella. If this creeps you out, or if you are making this mousse for someone very young or very old, you can consider using fresh egg yolks and a pasteurized egg whites (from a carton). You can also purchase pasteurized eggs at the grocery store. If that still creeps you out, just make this cream-based version of chocolate mousse. Life is too short to worry about salmonella!
And, here are a few other mousse recipes and mousse-like recipes, should this intrigue you further: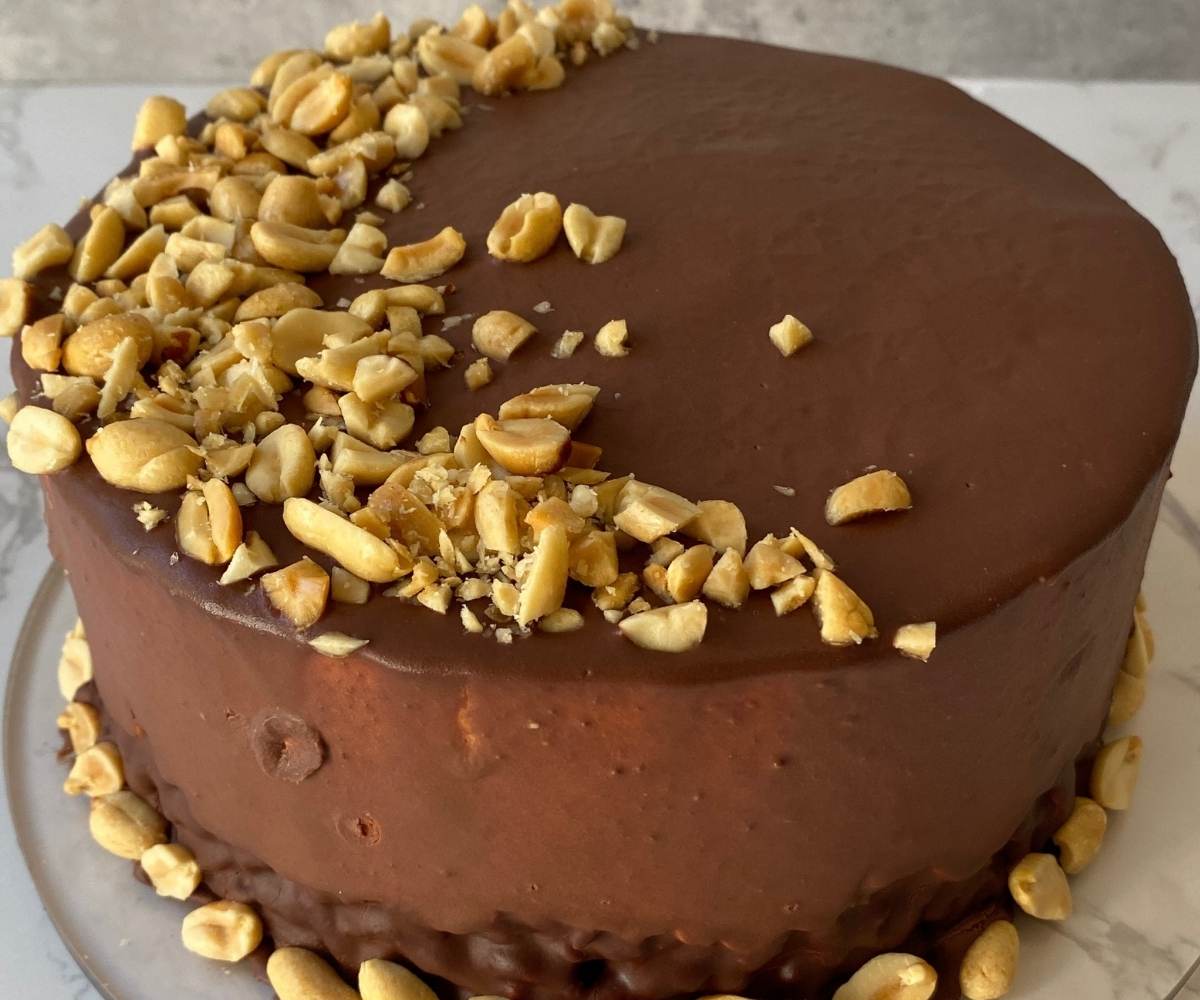 Mousse Tools
It is VERY annoying to make a mousse without an electric hand mixer or a stand mixer to help beat the egg whites. Here are our some of our favorite mousse tools:
Serving Your Mousse
While we like to make this mousse without cream, it is delicious topped with some whipped cream. We like to serve it out of small drinking glasses, but ramekins would be equally nice. If you're going for a whipped cream topping, you can also put some chocolate shavings on top.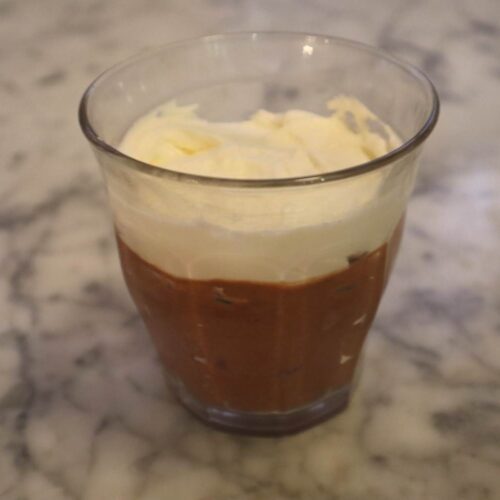 Best French Chocolate Mousse Recipe
This chocolate mousse recipe is lightened with egg whites, rather than whipped cream. This gives it an extra rich flavor, and extra light texture.
Ingredients
For the Chocolate Mousse
6

oz

bittersweet chocolate or semi-sweet chocolate

chopped

6

oz

unsalted butter

cut into small pieces

1/4

cup

coffee

4

large eggs

separated

2/3

cup

and 1 tbsp sugar

2

tbsp

dark rum

1

tbsp

water

pinch

of salt

1/2

tsp

vanilla extract
For the Whipped Cream Topping
2/3

cup

heavy whipping cream

1

tbsp

powdered sugar

1

tsp

vanilla extract
Instructions
Make a double boiler by setting a medium metal bowl over a small saucepan containing 2-3 inches of water over low heat. Be sure that the bottom of the medium bowl is not touching the hot water, as this would defeat the purpose of the double boiler, which is preventing your chocolate from splitting by heating it very gently. Heat the water to a simmer, then add the chopped chocolate, butter, and coffee to the bowl. Melt chocolate and butter into coffee. Remove from heat and let sit until the melted chocolate mixture is lukewarm.

Put some ice and cold water in a large bowl. Be sure that the bowl that you will use in the next steps fits inside the large chilled bowl while maintaining contact with the ice water and without risking water splashing into the bowl.

Take a fresh metal bowl, and place the egg yolks, sugar, rum, and water together over the saucepan of simmering water. Beat with an electric handmixer until the mixture is thick and pale yellow. Remove the egg yolk mixture to the bowl of ice and beat until they are room temperature and further thickened. Remove from the ice and dry off your ice water bowl – you'll want to use it to beat your egg whites.

Gently fold the chocolate mixture into the egg mixture.

In the dry large bowl, or in the bowl of a stand mixer using the whip attachment, beat the egg whites with a pinch of salt until frothy. Continue beating until they start to hold shape, then add 1 tbsp sugar. Continue beating until thick and shiny with soft peaks, then add the vanilla.

Fold the whipped egg whites into the chocolate base in thirds. You will want to fold until there are no more visible streaks, but try not to overmix or your mousse will lose some its aeration.

Spoon or pipe the chocolate mousse into small cups or ramekins. Let sit until set, at least 4 hours.

Make the whipped cream topping by beating all ingredients together in a stand mixer with a whisk attachment or using an electric mixer. Spoon or pipe the whipped cream topping over the chocolate mousse. Top with chocolate shavings, a dusting of cocoa, or all by itself!
Affiliate Disclosure: As Amazon Associates, we earn a small commission from qualifying purchases when you click on links embedded in this post.