This monster cookie recipe is the best strategy we've found for prying leftover Halloween candy away from our kids.
Halloween Candy Excesses
It seems to be a peculiar Los Angeles thing, perhaps because so many people here work in Hollywood and entertain for a living, to be obsessed with Halloween. We're talking enormous spiders spinning webs filled with mummies, artistically lit graveyard scenes, and terrifyingly realistic evil nurses. Really, after Halloween here, Christmas is a letdown. The corollary of all of this Halloween decoration is, of course, a surfeit of candy. To keep up with the pre-pandemic crowds in our neighborhood, we had to have several thousand pieces of candy on hand.
Now that our kids are part of the herd of tiny gleeful miscreants on Halloween eve, they also come home with obscene amounts of candy. If we let them eat through it all at a only somewhat dentist-disapproved rate of two pieces per day, they would likely be in college before they got through this year's candy.
Witch vs. Monster?
Casting about desperately for anything, really anything, to extract all of this candy from our kids' distinctly sticky fingers, we asked the oracle of all oracles, Facebook, what to do. Wise people we have never met but who seem very nice suggested a concept called the Switch Witch. Essentially – in modern America, you have to bribe your children with toys to get the candy away from them. While bribery (along with white lies and subtle manipulation) are among our favorite parenting strategies, we wondered if another option might exist. And so, we present, this Leftover Halloween Candy Monster Cookie Recipe. Because, really, how better to deal with an excess of candy than bake it into a cookie?
A Short History of Cookie Monsters and Monster Cookies
We couldn't possibly talk about Monster Cookies without talking about their cuter but less tasty twin, Cookie Monster.
It turns out that Cookie Monster and this monster cookie recipe have more in common than just their names. They were invented within four years of one another and harken back to a period that seems to have been both more wholesome and more weird. Cookie Monster came along first, invented by Jim Henson. Despite being obsessed with cookies, our friend also apparently displayed an interest in teaching young children about healthy food by sharing his love of eggplants (a distinctly child-unfriendly vegetable, if you ask us). Also, by the way, his real name is Sidney Monster. So, be polite next time you meet him.
Monster Cookies emerged a short four years later, when a father of six (?!) and Michigan State University photographer ran out of flour while making his favorite peanut butter cookies. Strangely, this caused him to both throw in everything but the kitchen sink (oatmeal! M&Ms! Any and all other candy!) and make his cookies enormous. There a few details about this story that ring a little false, but we'll leave it at that and hope that the next time we run out of a random ingredient, our recipe will become an internet legend too.
Other Ways To Feed Your Cookie Monster
Looking for some other cookie ideas? Check these guys out!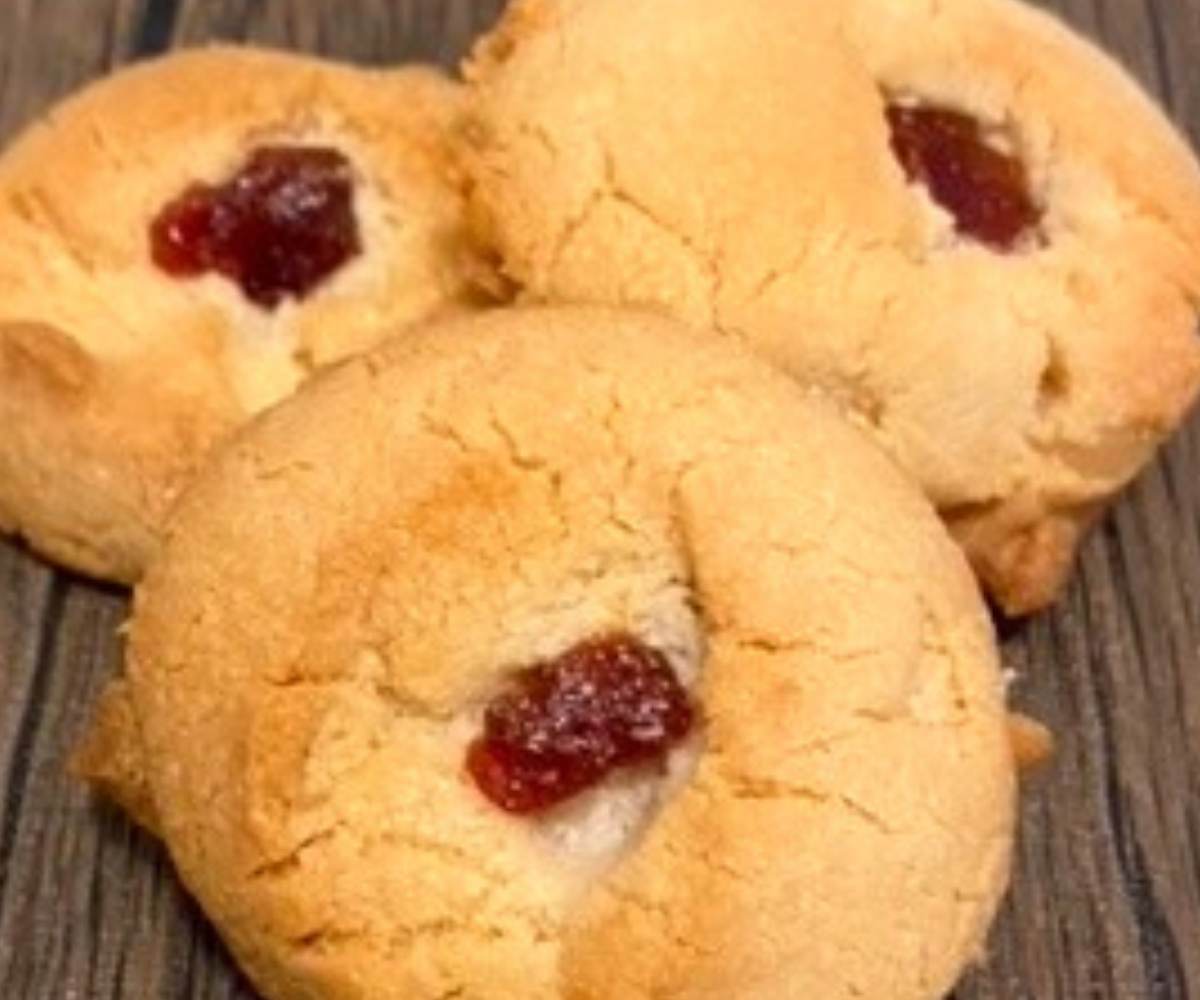 Halloween Treats!
Looking for other Halloween treats? Check out some other options here:
Useful Tools for Making this Monster Cookie Recipe
Wondering what kind of cookie scoop you should buy? Check out our in-depth analysis here. And, here are some other useful tools!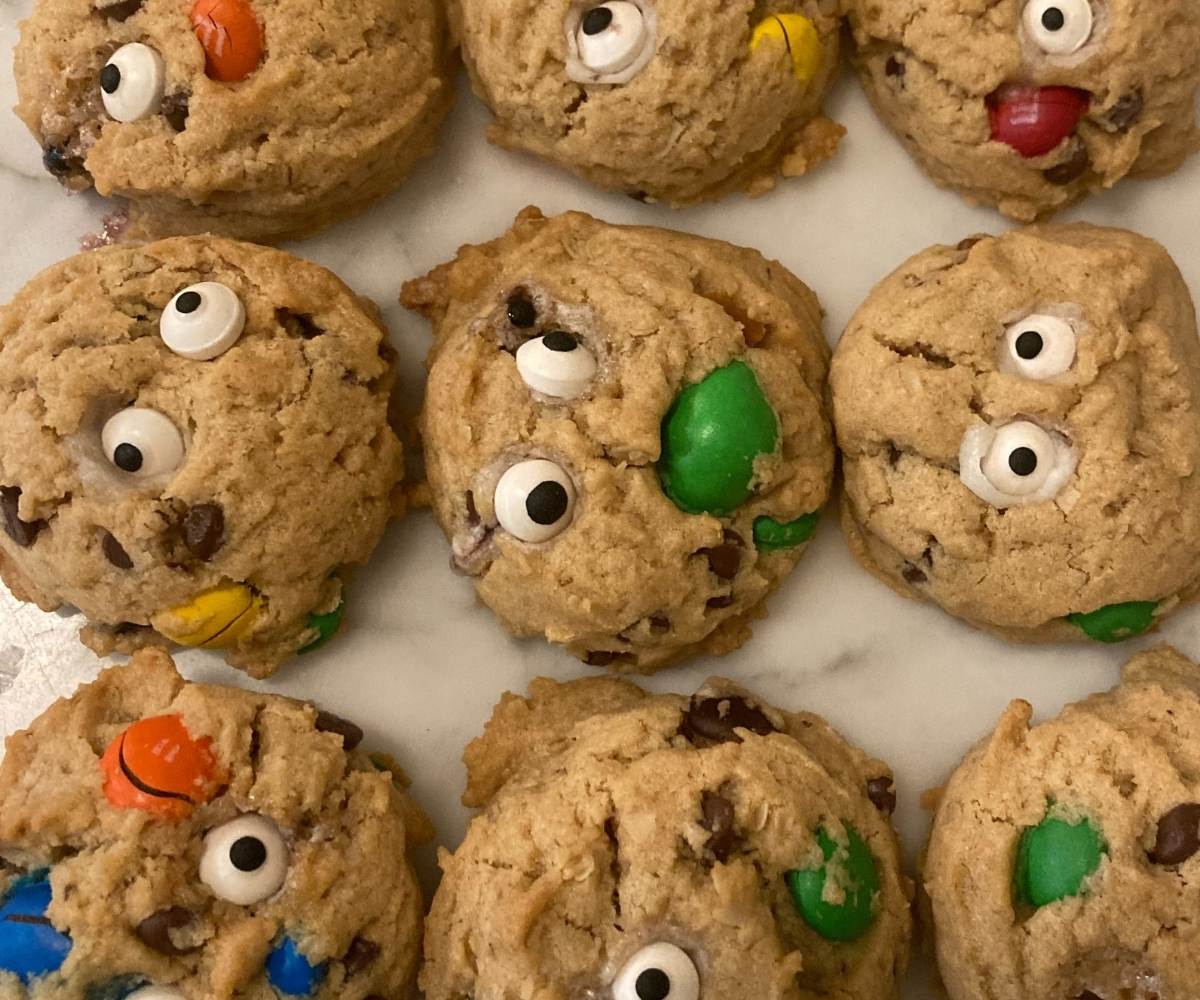 Monster Cookie Recipe
This monster cookie recipe is delicious anytime, but especially right after Halloween when you need to use up all that candy!
Equipment
silicone baking mat

parchment paper

cookie sheet

2 tbsp cookie scoop
Ingredients
1/2

cup

unsalted butter

(1 stick)

1/2

cup

light brown sugar

1/4

cup

granulated sugar

3/4

cup

peanut butter

1

large egg

at room temperature

1

tsp

vanilla extract

1/2

tsp

baking soda

1/2

tsp

salt

1 1/4

cups

all-purpose flour

1/2

cup

quick oats

3/4

cup

M&Ms

roughly 12 fun-sized packets

1/2

cup

chocolate chips

1/4

cup

salted pretzels

crushed

48-60

candy eyeballs

(optional but darn cute!)
Instructions
In the bowl of a stand mixer using a paddle attachment, or in a large bowl using an hand mixer, cream together the butter and sugars until pale, light, and fluffy.

Sift the baking soda, salt, and flour into the bowl and beat to combine.

Add in the oats and mix thoroughly.

Crumble the pretzels, then stir in along with the M&Ms and chocolate chips.

Use a large cookie scoop (or roll into 2 tbsp balls) to scoop dough onto the prepared sheet.

Bake 10-15 minutes until golden brown.

Remove from oven and press candy eyeballs into the cooked cookie while still warm.

Cool 5 minutes on sheet, then remove to wire rack to fully cool.
Affiliate Disclosure: As Amazon Associates, we earn a small commission from qualifying purchases when you click on links embedded in this post.