This Halloween Dirt Cake Recipe is the star of our Halloween celebrations. It's rich and chocolatey, and very, very silly.
It's Halloween Baking Month!!!
Halloween is coming. Do you know what the best thing about Halloween is (other than pets in totally ridiculous costumes)? Halloween Desserts! We stockpile recipes all year round to adequately prepare for what might be our favorite baking holiday.
A Short History of Dirt Cake
Dirt cake is evolved from Mississippi Mud Pie, which was first published in the mid-1960s. Mud Pie traditionally consisted of a fudge-topped and swirled ice cream pie in an oreo crust. Mud pie was one of the signature desserts of the 1970s and 1980s, when it was promoted by large chain restaurants like Chart House as the "chocoholic's dessert." Dirt Cake, despite its name, like its Mud Pie precedent, is traditionally a no-bake treat, consisting of layers of chocolate pudding, crushed oreos, and whipped cream. It's origins might more accurately be traced to English trifles, which layer a cookie or cake component with whipped cream and custard. Dirt Cake received a definitive boost from the arrival of gummy worms (introduced by German candy manufacturer Trolli) in 1981.
A slightly non traditional Halloween Dirt Cake Recipe
As you'll see, this cake is a little bit different from a traditional dirt cake. Shockingly, it actually is what it says it is. We like to use our favorite dark chocolate cake, topped with our fudgy chocolate icing, more like a Mississippi Mud Cake, its close relative. It's definitely not no-bake. From there, it's all about the decorations, starting with the oreo crumbs standing in (obviously) for the graveyard dirt. Then, it's all on you to find the creepiest Halloween candies on the market! We've recommended some below, should you need some help.
More Halloween Treats
Looking for more creepy treats to celebrate Halloween? Look no further!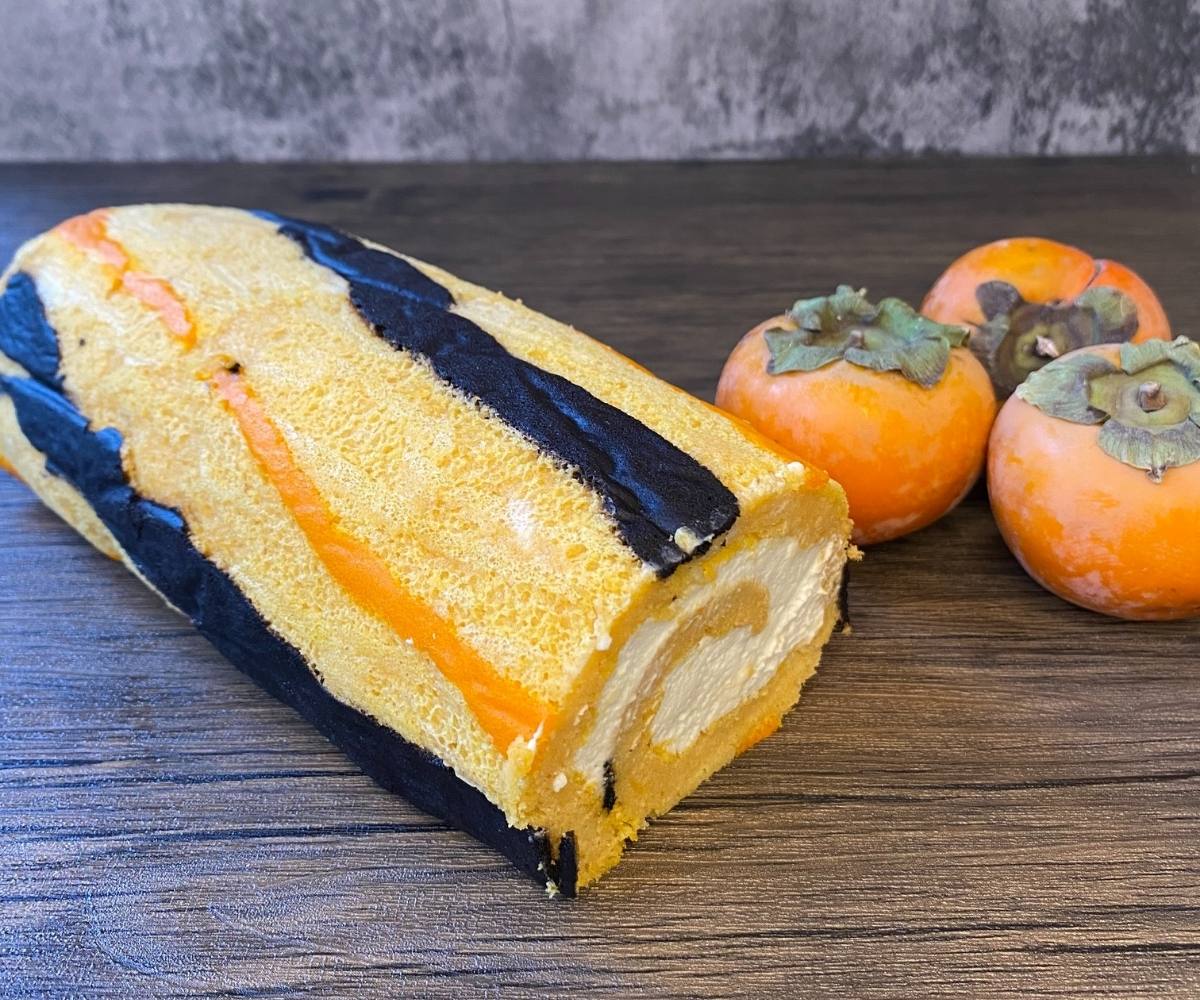 Useful Tools for Making this Halloween Dirt Cake Recipe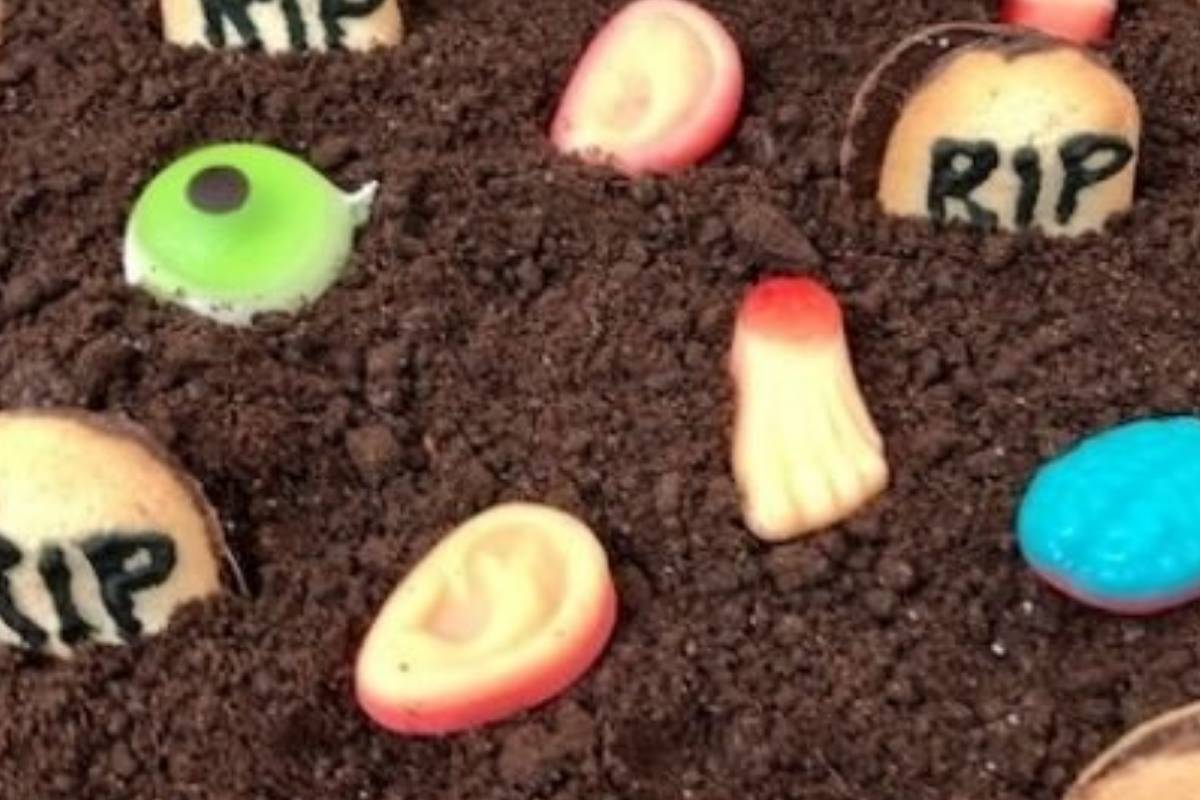 Spookiest Halloween Dirt Cake Recipe
This Halloween Dirt Cake Recipe is the star of our Halloween celebrations. It's rich and chocolatey, and very, very silly.
Equipment
8 x 8 inch square pan

parchment paper
Ingredients
Ingredients for the Cake:
5

tbsp

butter

1

cup

packed brown sugar

1

large egg at room temperature

2/3

tsp

vanilla extract

1

cup

all purpose flour

1/4

cup

cocoa

1

tsp

baking soda

1/8

tsp

salt

1/2

cup

sour cream

1/2

cup

boiling water
Ingredients for the Frosting:
1

oz

unsweetened chocolate

chopped

3

tbsp

butter

cubed

1

oz

semisweet chocolate

chopped

1 2/3

cups

confectioners' sugar

1/3

cup

sour cream

2/3

tsp

vanilla extract
Ingredients for the Decorations:
6

Milano cookies

1

tube black icing

gummy body parts and/or gummy worms

candy pumpkins, or any other gummy candies that strike your fancy

20

oreo cookies or other chocolate sandwich cookies
Instructions
Instructions for the cake:
Preheat oven to 350 F.

Grease and line one 8 x 8 inch pan with parchment paper.

In a large bowl, cream butter and brown sugar until light and fluffy.

Add egg.

Beat in vanilla.

In a separate bowl, whisk flour, cocoa, baking soda and salt.

Add to creamed butter mixture, alternating with sour cream, beating at medium speed after each addition.

Stir in water until blended.

Transfer to prepared pan and bake 30-35 minutes until a toothpick inserted in the center comes out clean, and the cake is springy when touched.

Cool in pan for 10 minutes, then remove from wire rack to cool completely.
Instructions for the frosting:
In a metal bowl over simmering water, melt butter and chocolates.

Stir until smooth. Cool slightly.

In the bowl of a stand mixer, using the paddle attachment, combine confectioners' sugar, sour cream and vanilla.

Stir in chocolate and beat until smooth.
Aaand the Best Part: Decorating!
Decouple each oreo and scrape the frosting off. Place oreos in a food processor. Pulse until fine crumbs are formed. Alternatively, put the oreo cookies in a plastic bag and crush with a rolling pin.

Carefully cut milano cookies in half and write RIP or any other spooky message you desire on them.

Slather a layer of frosting over the cake, then sprinkle with crushed cookies on top.

Tuck the milano gravestones into the top of the dirt cake.

Scatter the creepy things, candy worms, and/or pumpkins.
Notes
We make this as an 8 x 8 inch square, but you could easily make individual servings of this graveyard dirt cake in a clear plastic cup. As a reminder, should you be facing a busy Halloween season, this chocolate cake keeps extremely well wrapped in plastic wrap in the freezer and defrosts quickly in the refrigerator.
Affiliate Disclosure: As Amazon Associates, we earn a small commission from qualifying purchases when you click on links embedded in this post.