This Italian sesame seed cookie recipe tells the history of Sicilian cuisine in one bite. The sesame seeds speak to the Arab conquest in the 9th century and its lasting impact on Sicilian agriculture and food. The fact that these taste best when dipped in an espresso tells you everything you need to know about Sicilian baking.
A Short History of the Sesame Seed and Sicily
Sesame seeds originated in Asia or East African. Both ancient Egyptians and Romans are known to have incorporated sesame seeds in their cuisine. It's thus possible that the sesame seed's presence in these cookies predates the Arab conquest. Proponents of the Arab origins of the sesame seeds in these cookies will point to the Barazek cookie. This, virtually identical confection (although it also includes pistachios), is very popular throughout the Middle East. Sesame seeds continue to be cultivated in Sicily today, in the southeastern region of the island. The Ispica variety that is harvested in Sicily has a particularly dark brown color. It looks almost already toasted upon cultivation (some say it is thanks to the particularly strong Sicilian sun). These cookies are known as Reginelle or Biscotti Regina (Queen's Cookies). Some say these cookies are from Palermo. They can, however, be found throughout the island of Sicily.
One Recipe, Many Ways
There are two primary versions of these traditional Sicilian cookies. In one verion, you cream the butter and sugar, just like an American cookie, before adding the wet ingredients, followed by the dry ingredients. It relies on baking powder for its leavening. A second version is more like a sesame-encruted pie crust, relying on "pasta frolla" – or the Italian version of French pate brisee. You cut butter into the flour and then the wet ingredients are added to bring the dough together. This version relies on the steam from the melting butter for much of its rise. We like both equally, but are sharing the more "cookie" like version here.
Since we have some non-sesame seed loving children in the house, we also made a version that replaced the sesame seeds with nonpareil sprinkles (same crunch, no delicious sesame flavor). Some versions of this recipe also use anise extract for flavoring. Some recipes also call for toasted sesame seeds.
Cookies, Cookies, Cookies
Love cookies? So do we! Here are some other cookie ideas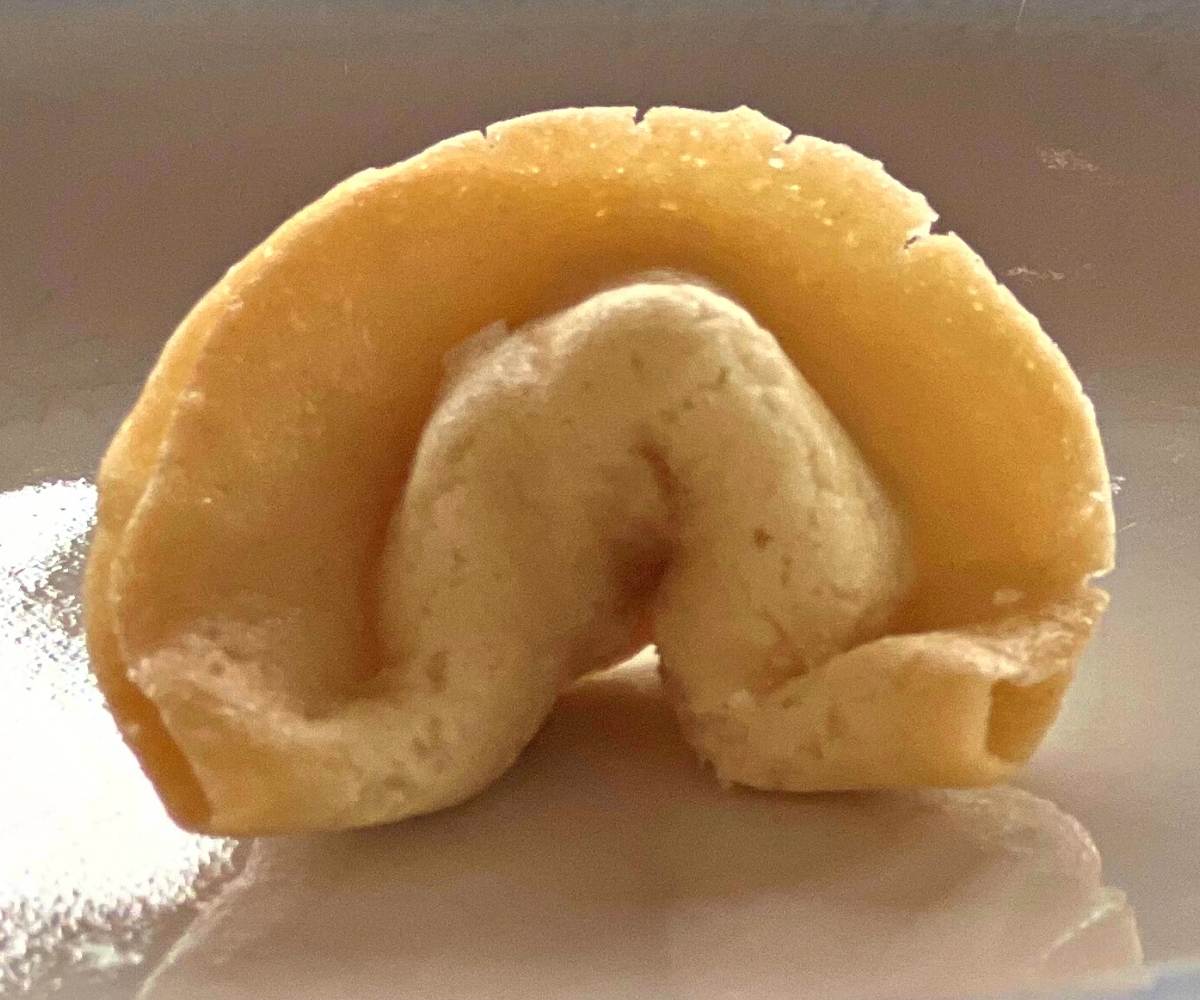 Useful Tools For Making this Italian Sesame Seed Cookie Recipe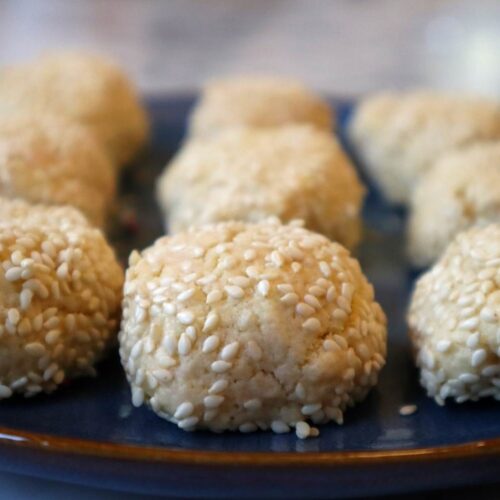 Italian Sesame Seed Cookie Recipe
This crunchy cookie has a slightly savory, earthy exterior, and a sweet interior.
Equipment
small cookie scoop

baking sheet

parchment paper

silicone baking mat
Ingredients
1

cup

unsalted butter at room temperature

1

cup

sugar

2

large eggs

1/2

cup

plus two tablespoons whole milk

1

tsp

vanilla extract

1

tsp

baking powder

3 1/2

cups

of all purpose flour

2 1/2

cups

sesame seeds

toasted, or not or nonpareils
Instructions
Cream butter and sugar together in the bowl of a stand mixer, using a paddle attachment, or in a large bowl using an hand mixer.

Add eggs, one at a time to the butter mixture. Beat to combine.

Add 2 tablespoons of milk, along with vanilla and mix until just combined.

Sift together flour and baking powder into a separate bowl.

With the mixer runing, gradually add flour mixture to the wet mixture until you have added 3 1/2 cups. Check consistency of dough. You should have a soft dough, but it should not be sticky.

Dust the counter with flour and knead dough for a few minutes. Let rest for 15 minutes.

Meanwhile, preheat oven to 375 F and line baking sheet with parchment or a silicone baking mat.

Pour milk into a small vessel and place sesame seeds and nonpareils each in a small bowl.

Use a small (2 tsp) cookie scoop to scoop out 36 portions of dough onto the counter, using up all the dough. Roll each dough ball to make an even sphere.

Take a piece of dough at a time and dip dough in milk, then roll in the sesame seeds. The dough that you plan to dip in nonpareils does not need the milk to stick (and the milk will make the color run).

Press each coated ball until the dough forms a rectangle roughly half an inch high, and place the little logs on your prepared baking sheets. Repeat with all 36 balls.

The dough will not rise or spread much, so you can space fairly tightly on your cookie sheet.

Bake 15-18 minutes, one pan at a time on the top oven rack until golden brown. Remove to a cooling rack.
Affiliate Disclosure: As Amazon Associates, we earn a small commission from qualifying purchases when you click on links embedded in this post.