These easy homemade fortune cookies put you in control. Will you create your own fortunes, or fill your fortune cookies with no fortune?
A Short History of Fortune Cookies
No meal at a Chinese restaurant in the United States is complete without a handful of fortune cookies arriving along with the check. We think of fortune cookies as part of Chinese cuisine, and yet their origins are much more complicated.
In the late 19th century, centuries-old small family bakeries near shrines in Japan began producing a proto-fortune cookie. These treats were known as Tsujira Senbei ("fortune cracker"). The crackers were made with miso and sesame. They were folded to conceal a hidden paper slip containing a fortune inside.
The fortune crackers traveled with Japanese immigrants to California, where Japanese bakeries began to produce them. In the early 1900s, a San Francisco bakery named Bendyoko claims to have invented the sweet cookie that we today call the fortune cookie. These crunchy cookies have a unique flavor combination of vanilla and almond. And, they of course contain a fortune! Whether Bendyoko's claim is actually correct is open to debate. Fugetsu-Do and the Hong Kong Noodle Company in Los Angeles's Little Tokyo make a similar claims. Makoto Hagiwara famously sold Bendyoko's cookies San Francisco's Japanese Tea Garden in Golden Gate Park.
In addition to owning bakeries, many Japanese immigrants also owned and operated Chinese restaurants. Japanese restaurants were not popular at the time. This was a moment when much creative license was being taken with Chinese food. Chop Suey, a strange Americanized-version of Chinese food, was a hallmark of "Chinese" cuisine at the time. Adorable little cookies containing soundbite "Chinese" wisdom were the perfect end to such a meal.
During World War II, many family-run Japanese bakeries and restaurants were forced out of business as their owners were deported to internment camps. Chinese entrepreneurs bought many of the businesses, tightening the association between fortune cookies and Chinese culture, which persists today.
Is It Bad Luck to Have an Empty Fortune Cookie?
New York-based Wonton Foods produces a staggering 4 million cookies per year. To say that fortune cookies are mass produced is an understatement. Therefore, it doesn't seem crazy that the little piece of paper containing the pithy fortune statement might have slipped out on the factory floor. In fact, when were were kids, we used to buy bags of fortune cookie seconds from the Golden Gate Fortune Cookie Factory in San Francisco. No fortunes there, but we survived.
So, the good news is that a fortune cookie with no fortune probably doesn't mean that you'll have bad luck for the rest of your life. It does mean that without the fortune cookie's list of lucky numbers, you may miss your chance to win powerball lottery. Some like to say that it means that you get to write your own fortune. We would argue that you should just enjoy your crisp cookie (or move on to the next cookie) and relax.
Why You Should Make Your Own Fortune Cookies
The best part about making your own fortune cookies is that it allows you to customize the fortunes. Here are a few good fortune cookie sayings, should you be ready to enjoy the fun of fortune cookies, but not be feeling terribly creative:
The fortune you seek is in another cookie.
We don't know the future, but here's a cookie.
Help! I am being held prisoner in a fortune cookie factory.
Someone will invite you to a Karaoke party.
That wasn't chicken.
You have rice in your teeth.
This cookie contains 117 calories.
You should eat a second fortune cookie.
Eat the entire cookie and your future will become clearer.
You may eat this message. (Be sure to write this one on a piece of edible paper)
We also added some straightforward ones. You'll have to guess which sister is joining the circus.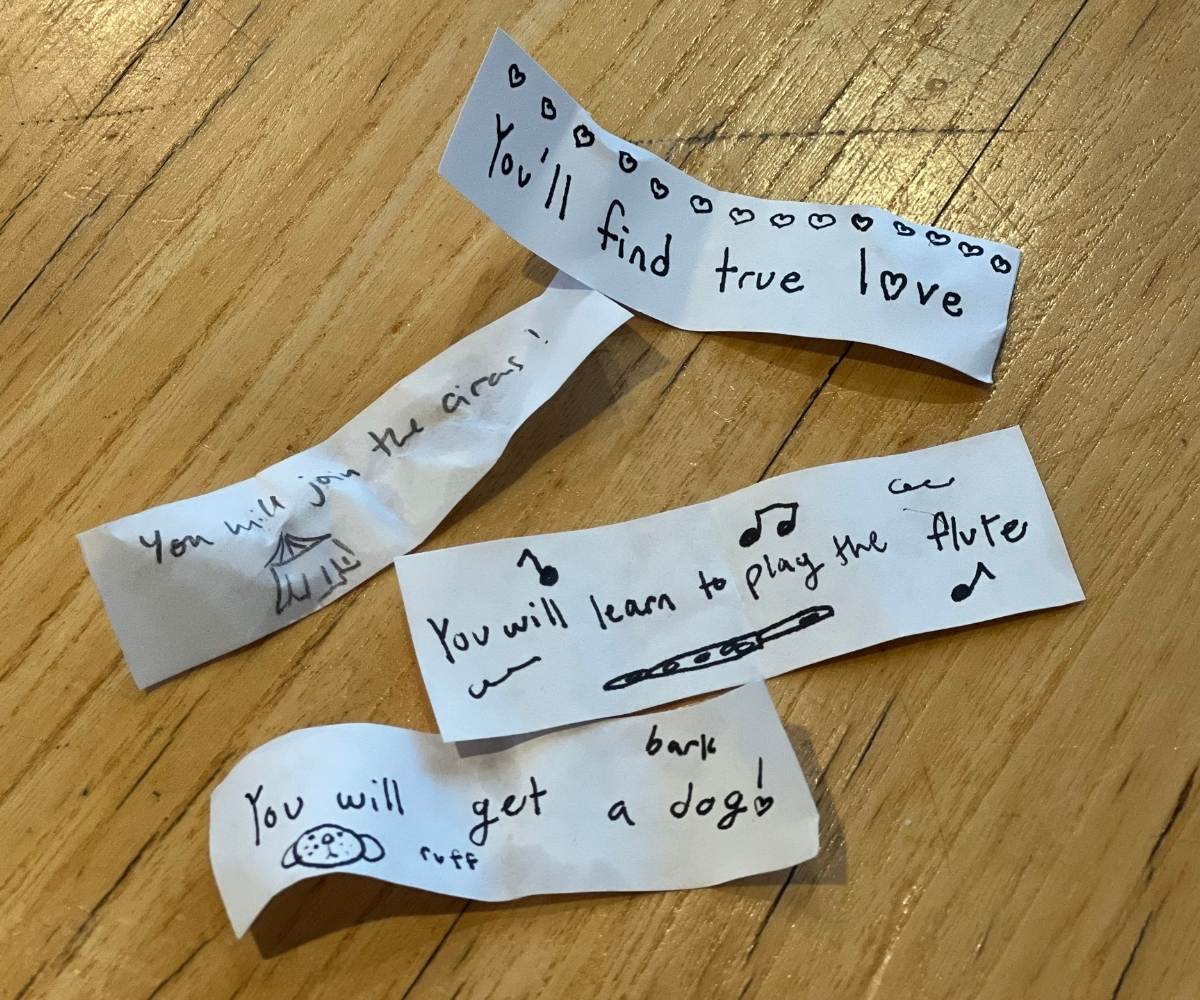 How Fortune Cookies Get Their Distinctive Shape
Forming each thin, light almond cookie into fortune cookies looks much harder than it is. Cookies are baked in rounds, then a fortune is placed in the middle. After that, you simply fold the cookie in half, then gently bend the edges downward over the rim of a glass or around a wooden spoon. Finally, let each sugary cookie rest in a muffin cup so that they will keep their shape as they cool.
Cookies, Cookies, Cookies
These cookies don't contain fortunes, but they're just as tasty, should you be seeking additional inspiration!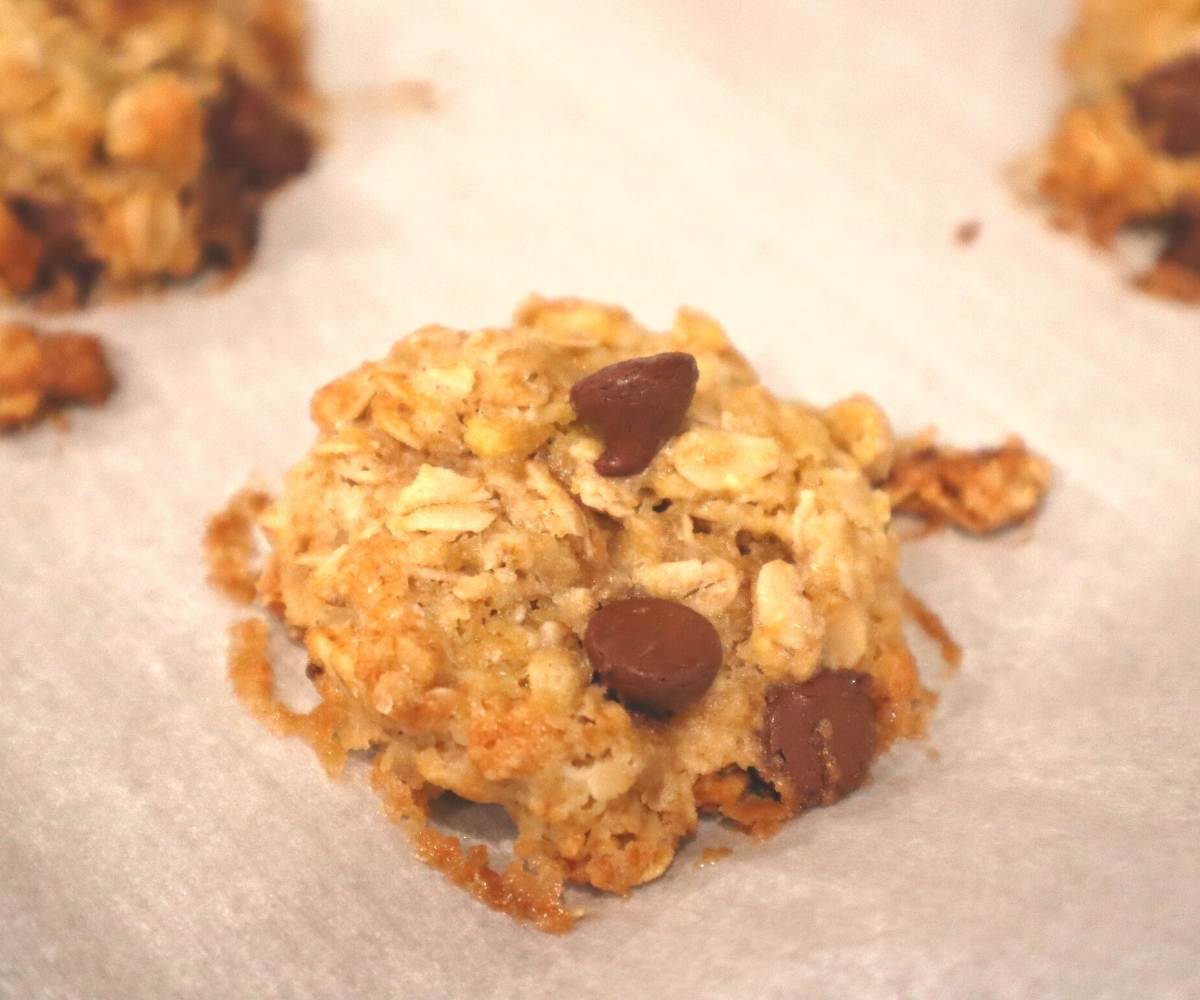 Useful Tools for Making these Fortune Cookies With No Fortune (or With a Fortune!)
Homemade Fortune Cookie Recipe
We like to make this homemade fortune cookie recipe because they taste delicious, and you can add all manner of silly fortunes inside.
Ingredients
2

large egg whites

1/2

tsp

pure vanilla extract

1/2

tsp

almond extract

3

tbsp

vegetable oil

1/2

cup

all-purpose flour

1 1/2

tsp

cornstarch

1/4

tsp

salt

1/2

cup

sugar

3

tsp

water
Instructions
Prepare your fortunes by writing the pithiest of phrases you can think of on pieces of paper that are 3 1/2 inches long by 1/2 inch wide.

Preheat oven to 300F. Grease 2 baking sheets.

In a medium bowl, lightly beat the egg white, vanilla extract, almond extract, and vegetable oil until frothy but not stiff.

Sift the flour, cornstarch, salt, and sugar in a separate bowl.

Stir the water into the flour mixture.

Add the flour mixture to the egg white mixture and stir until you have a smooth batter. The cookie batter should not be runny, but should drop easily off a wooden spoon.

Use a medium cookie scoop to pour six portions of cookie batter onto each cookie sheet, spacing them at least 3 inches apart. Gently tilt the baking sheet back and forth and from side to side so that the batter forms a cookie that is roughly 4 inches in diameter.

Bake unil the outer edges are golden brown, roughly 14-15 minutes. While the cookies bake, prepare your shaping implements: a flat spatula, a wooden spoon, and a 12-cup muffin tin.

Working quickly, remove the cookie with a spatula and flip it into your hand. Place a fortune in the middle of your hand and put a fortune in the middle. Fold the cookie in half, then gently pull the edges downward around a wooden spoon or the edge of the cup. Place each formed cookie in the cup of the muffin tin to fully cool.
Affiliate Disclosure: As Amazon Associates, we earn a small commission from qualifying purchases when you click on links embedded in this post.