Picture this: It's a typical Sunday morning and you're craving waflles. You open your pantry and discover, to your horror, YOU DON'T HAVE ANY BAKING POWDER! Will you allow this grocery-shopping oversight to ruin your weekend, or can you come back from this setback and waffle again? Good news: With this easy waffle recipe without baking powder, you can have your waffle, and eat it too.
A Short History of Waffles Without Baking Powder
Waffles are very old – people have been making a batter of eggs, flour, and milk, and cooking them up between two metal plates since the Middle Ages. Thomas Jefferson not only brought back fancy French waffle irons from his adventure as first American ambassador to the Court of France, but also made his waffles without baking powder, since it hadn't been invented yet. And so, in fact, this isn't really a short history, but a long one. Waffles have been made without baking powder for far longer than they have been made with it. Baking powder wasn't widely available until the early 20th century. Now, there's a good reason to use baking powder to make your waffles rise. It's a bit more reliable, and a bit less labor intensive. But, should you find yourself without baking powder in the future, know that it is within your power to nevertheless make a darn good waffle.
A World Without Baking Powder
So, what are your options, should you find yourself craving waffles but short on baking powder?
1) Baking soda + acid: Our favorite waffle recipe uses baking soda and buttermilk to make the waffles rise. The sodium bicarbonate in the baking soda will react to the acid in buttermilk. The chemical reaction releases carbon dioxide gas. The gas is what gives you fluffy waffles every time. If you don't have buttermilk, you can use milk with lemon juice or vinegar as an acid.
2) Egg whites: You can treat your waffles just like your favorite sponge cake, which is traditionally only leavened with egg whites. Beat your egg whites to a firm peak, and then gently fold them into the batter. Don't be intimidated by the beating and folding. It sounds harder than it is. You'll find that even with this extra step, these are very easy waffles.
3) Yeast: We find it unlikely that you might have active dry yeast stored in your refrigerator, but not baking powder, but should that be the case, you might prefer to opt to make an authentic Belgian waffle recipe, which relies on yeast as a leavening agent.
This waffle batter uses options 1 and 2 for a light as air waffle recipe without baking powder. The best part about this recipe is that it removes the risk of finding clumps of baking powder in your waffles (which can be very bitter).
This recipe also includes a little bit of cornstarch, a key ingredient in giving you crispy waffles every time. Feel free to use this cornstarch secret on your favorite waffle recipe. This will ensure that you never experience soggy waffles (a travesty) again.
Things To Serve With These Delicious Waffles
The great thing about making homemade waffles is that you can have an array of toppings (and multiple waffles to try them on when no one's looking). Our favorite sweet toppings include fresh fruit, ice cream, maple syrup. Feeling a bit adventurous? It's hard to improve on melted swiss cheese, crispy bacon, and a poached egg.
Waffling About
Ended up here by mistake and just looking for a great waffle recipe? Here are a few of our favorite waffles: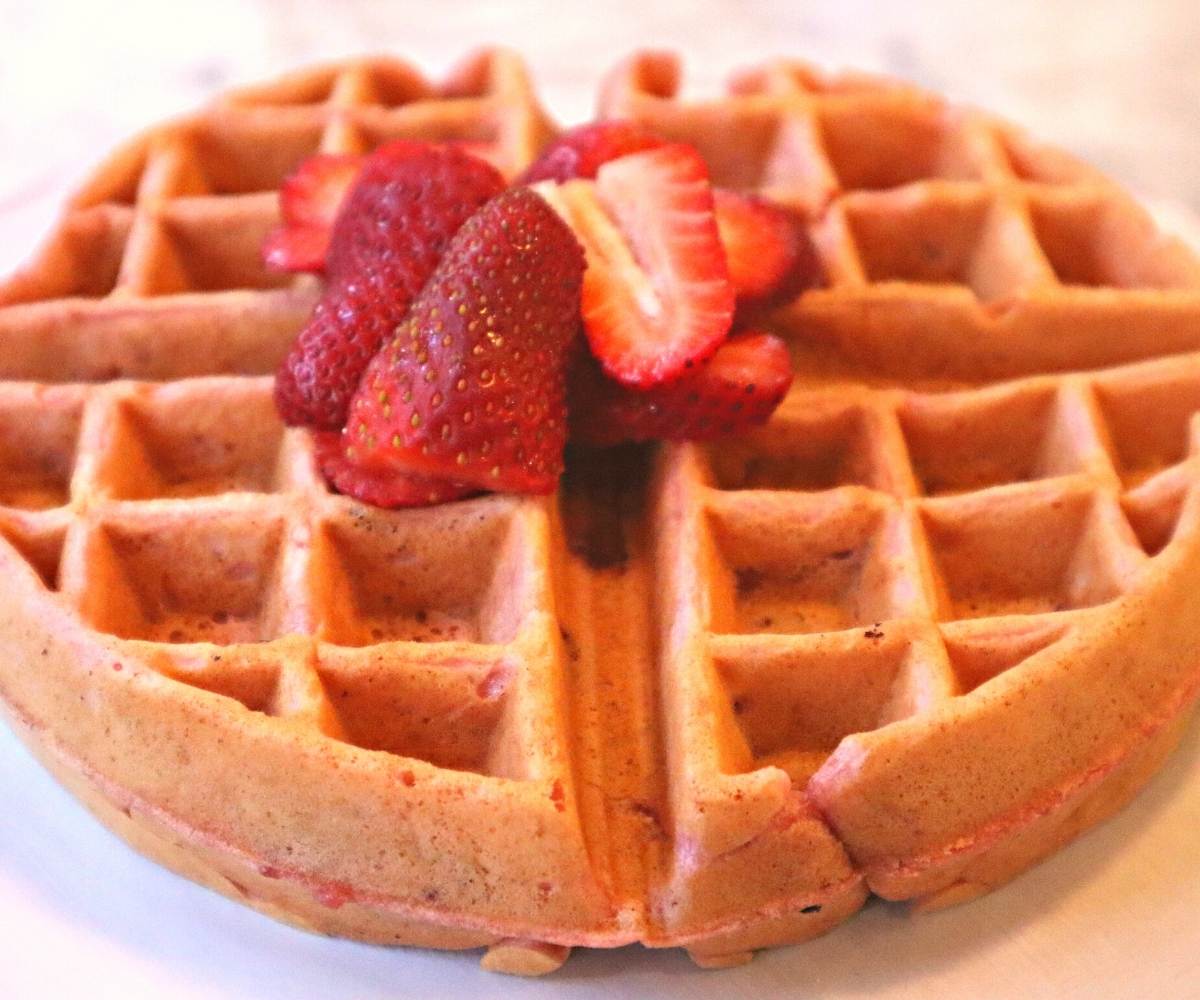 Useful Tools For Making this Waffle Recipe Without Baking Powder
You'll need a waffle iron to make this recipe. Need to buy one? Be sure to check out our Top 7 Criteria in Buying a Waffle Maker!
Here were the two winning waffle makers: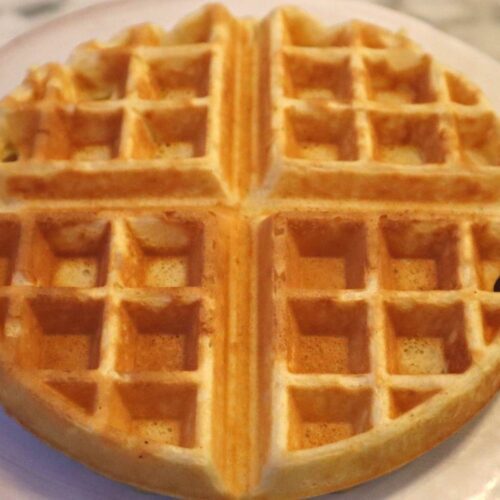 A Waffle Recipe Without Baking Powder
You can have waffles even when you're out of baking powder! Enjoy this easy waffle recipe without baking powder.
Ingredients
2

cups

all purpose flour

2

tbsp

corn starch

2

tbsp

white sugar

1

tsp

baking soda

1/2

tsp

salt

2

cups

low-fat buttermilk

or substitute 2 cups milk + 2 tbsp vinegar or lemon juice

1/3

cup

vegetable oil or melted coconut oil

2

large eggs

1

tsp

vanilla extract
Instructions
Fire up your waffle iron so that it can preheat while you assemble the batter.

Separate the eggs, placing the whites in a medium bowl, and the yolks in a large bowl.

Whisk the buttermilk, butter, and vanilla into the egg yolks.

Sift the dry ingredients (flour, baking soda, corn starch, and salt) into the wet ingredients and whisk to combine.

Use an electric hand mixer or a whisk to beat the egg whites and sugar until stiff peaks form (this is the work-out portion of the program, so you can burn some calories before you eat your weight in waffles and maple syrup). You've made a meringue!

Very gently fold the fluffy meringue into the waffle batter.

Following the directions on your belgian waffle maker, pour an appropriate amount of batter (our waffle make needs about a half cup of batter) into the preheated waffle iron and cook waffles.
Notes
Because this homemade waffle recipe relies partly on beaten egg whites for leavening, it does not keep. Do not let the batter rest – use it as quickly as you can as soon as you have combined the egg whites with the rest of the ingredients.
Making these delicious waffles for a crowd? Preheat your oven to 150 F and place waffles, as you cook them, on a baking sheet in the oven.
Affiliate Disclosure: As Amazon Associates, we earn a small commission from qualifying purchases when you click on links embedded in this post.